Before I answer the question of how seriously Liverpool Football Club should take the cup competitions, I think it is important to first do something that Liverpool fans are famous for: talk about our history; it is vital to understand the philosophies that this great club was built on.
Going back to, in my opinion, the most important day in this great clubs history – 1st December 1959 when Liverpool was a Second Division Team, which nowadays is known as the Football League Championship – a Scotsman by the name of Bill Shankly came to the club. A quote on which he built this club was as follows: "My idea was to build Liverpool into a bastion of invincibility. I wanted Liverpool to be untouchable. My idea was to build Liverpool up and up until everyone would have to submit and give in". Bill Shankly wanted to build a team capable of conquering the world of football; not just English football, but European dominance.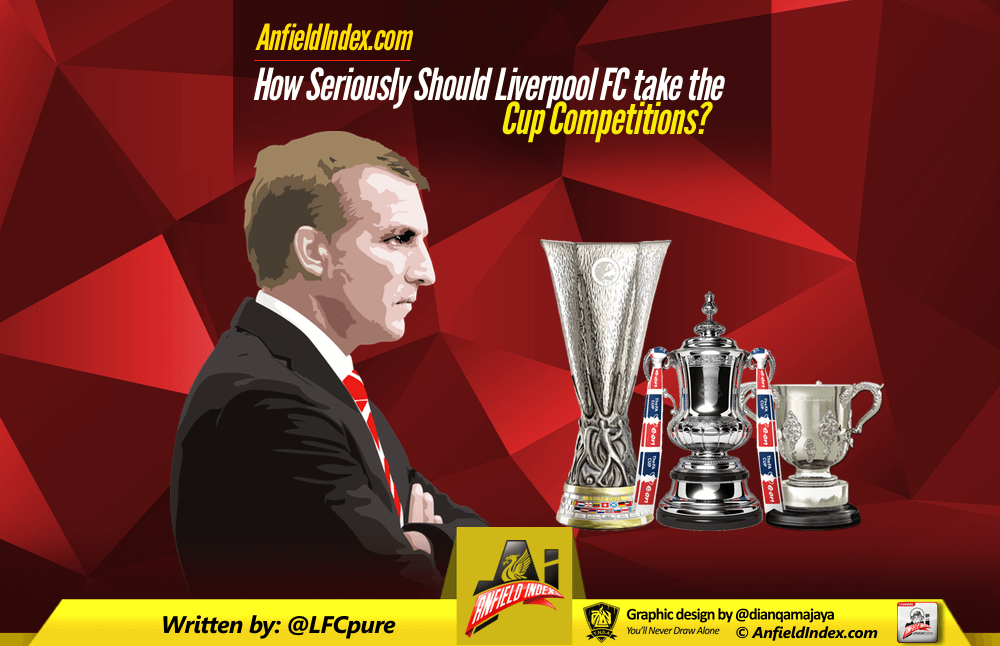 By 1962 Liverpool had won Division 2, two years later we had won Division 1. Put in its simplest form, it took Bill Shankly four years to turn Liverpool from a Division 2 team into the Champions of English football. He went on to win another 2 league titles, as well as 2 FA Cups. In 1973, his penultimate season, Bill Shankly finally achieved a huge goal – to conquer Europe. That season Liverpool became the champions of England, followed shortly by winning the Europa League. Europe finally knew the potential force of Liverpool Football Club.
Bill Shankly had laid the foundations of a team that had the potential to dominate the world of football. It was then the turn of Bob Paisley, who was appointed manager on 26th August 1974. He was the most successful manager in Liverpool's history, and arguably the most successful ever. In nine years, Bob Paisley won 14 major trophies, including 3, yes 3, European Cups.
Bob Paisley built further on the philosophy of Bill Shankly; a quote to sum up his mind set: "mind you, I've been here through the bad times too – one year we came second". Liverpool was frighteningly good, it had a top down mentality, the manager had a beautiful arrogance, and this was echoed by the players and summed up by a man at the heart of the dominance: Graeme Souness. I was reading the Torres autobiography and Souness was talking to Fernando Torres about the Liverpool players' mentality during his time at the club – "every year was fantastic because we always won something, if we only won one trophy it was a bad year".
That was a whistle stop tour on why Liverpool Football Club is one of the most glorified clubs ever. And so now to bring this back to the real question: how seriously should Liverpool Football Club take the cup competitions?
On Twitter I scroll through fans opinions, expectations and hopes for the season. And the goal? Coming 4th is all that matters; if we win a cup then great, but 4th is the key. To an extent, I can understand why – the revenue that comes from being in the top 4 is great, you are in the best competition in the world, and as there are 5 main rivals – City, Chelsea, United, Arsenal and us – you are allowed bragging rights over one of them. As well as this, during the transfer market the key to signing big players is that the players want a 'Champions League Club'. Naturally fans want all of this. Football is no longer a game about trophies, it is about money. Liverpool do not have owners that can spend the vast amounts that our rivals do and so, by getting top 4, Liverpool, financially, can compete with the main rivals in the transfer market.
I do not think that this is the right attitude, nor is this the correct philosophy to run this great club. Liverpool Football Club is the most glorified club in English Football, with 45 Major Trophies. However, the worrying thing is that our main rival, Manchester United, is gaining on this as they have 42 Major Trophies. No one else comes near; the closest is Arsenal with 29 trophies but, realistically, their history is not even in the same league when you factor in Europe, where Liverpool have 5 UEFA Champions League titles, and United have 3. Arsenal are yet to win one.
Did Liverpool get to that staggering amount of trophies by concentrating solely on the league position? No. Going back to Souness – 'to win one trophy was a failure'. That is our pedigree; as a club that is who we were. But suddenly 4th place is an achievement. Granted the finances in football mean that the league is much harder now, there are more top teams and the standard has increased, but the reason Liverpool fans take pride in their history is not because 'we got into Europe every year' but because we won things; every year, without question, we won silverware.
And now to look at the three cup competitions that we are in this year: Capital One Cup, FA Cup and Europa League.
The Capital One cup was our last trophy back in 2011. I was fortunate enough to be there to see us win on penalties against a championship club, in a competition unfairly labelled 'The Mickey Mouse Cup', but did I care? No! I was celebrating us winning a trophy, adding to our impressive tally, and, at that moment, given the choice, would I have swapped that for 4th? No way. It is a trophy which is relatively easy to go far in if you focus; after a few wins against lower clubs you can find yourself somehow in the later stages and with a chance to go off to Wembley for a semi-final. Of course, I am in the minority as most would say it is a waste of resources. However, I believe our squad depth is good enough to balance the task and it is a huge chance to give players such as Ibe, Origi, Sinclair and Rossiter a proper run out.
The other domestic trophy was of course the FA Cup, a truly magical competition and one I have enormous admiration for. Every year there seems to be shocks and amazing goals and fantastic games that go right to the wire. In 2006 we won the FA cup. I was lucky enough to be there, at the Millennium Stadium. It was a football match that changed my love of the game. The year before we pulled off one of the greatest comebacks of all time in the Champions League, but I was a 10 year old watching it on TV and not truly understanding the importance of it all. This game was different. I was there, in amongst the crowd. I remember being in shock, gutted, my emotions being pulled apart as a defiant West Ham were ripping up the script and looking to cause a huge upset. Fans were quietly debating whether they would leave with minutes to spare. Then, suddenly, experiencing an emotion that is hard to put into words, Steven Gerrard drilled the ball into the top corner of the goal and the stadium absolutely erupted. That was the day I truly fell in love with Liverpool Football Club.
Those days are few and far between and yet those days are why I love football; I don't care if it was only domestic – those days hold memories that I will cherish forever more than the years where we get top 4.
The Europa cup has different implications and rewards. A huge issue for me with the Europa Cup is the traveling; this year we have a trek all the way to Ruben Kazan. That being said, this is to be expected regardless of whether the competition is the Champions League or the Europa League. It is a competition played on Thursdays, which isn't great, as it leaves you little time to prepare for the game on Sunday. But they, for me, are the only two issues.
Europa league is about as prestigious a competition as you are going to get. Some of the teams in it this year are fantastic and the lack of respect for the tournament is insulting. If it is such an easy competition, then why have only Liverpool and Chelsea won it once each since the turn of the century? Why have no other English Clubs won it? In the last 6 years the winners have been: Atletico Madrid x2, Sevilla x 2, Porto, and Chelsea. I think that speaks for itself.
The key addition to this competition is the reward for the winner. If we were to win the Europa League, our league position would not matter as we would automatically qualify for the Champions League. The only difference between this and getting 4th is that we would have another piece of silverware.
They are the three competitions and my views on each of them. Finally, I want to state that, this year, a cup run is vital. Liverpool's confidence looks all but gone; a cup run can help solidify the group and give them something to believe in and fight for. As well as this, I believe there is great pressure on Brenden Rodgers now that he has spent an astronomical amount of money, is 3 years into his tenancy with Liverpool, and he has nothing to show for it apart from a second place finish. If he wants to be considered a successful manager it is quite clear what he needs to do – win things! Shankly, Paisley, Fagan, Dalglish, Souness, Evans, Houllier, Benitez and Dalglish all added silverware to the trophy room within three years. Currently, Rodgers is not on this list of successful managers and, as such, he must take his seat next to Roy Hodgson who was also not able to bring a trophy to the club.
Do we need to take the cups seriously? Absolutely. In numerous years' time are you going to remember that time when we came fourth? I'm not; I am going to remember the Champions League comeback, the Carling Cup (as it was known then) and the FA Cup. Those are the days this club was made for.
Finishing an article about Liverpool and trophies must end with a quote from Bob Paisley – "I'm surprised they don't charge me rent and rates" (Bob Paisley after his 11th trip to Wembley).