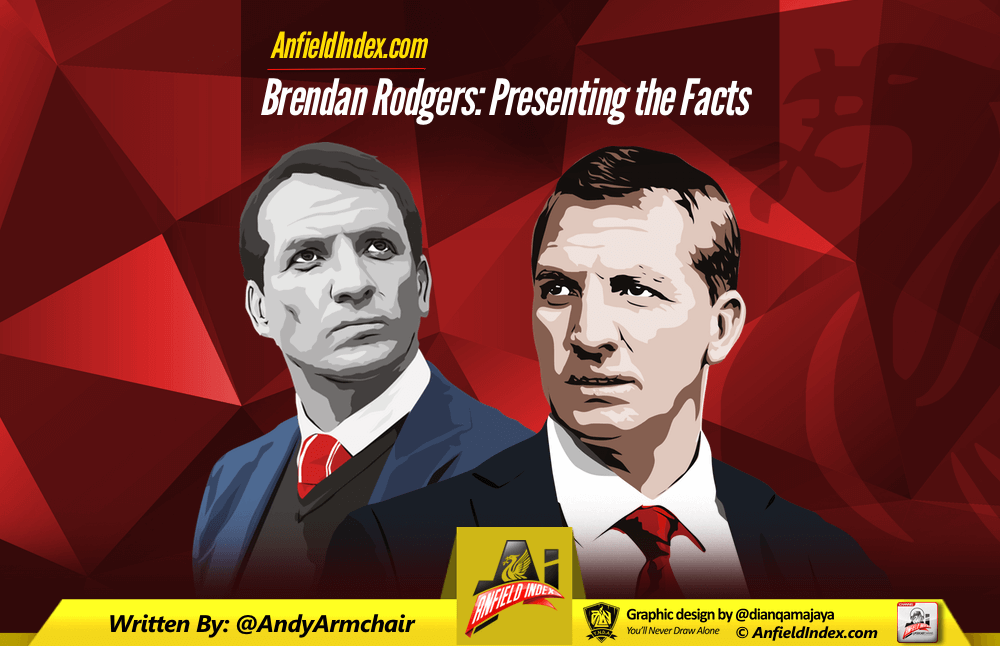 Brendan Rodgers: Presenting the Facts
For the dwindling number of Liverpool supporters who still had faith in Brendan Rodgers or were still willing to give him another chance this season, it seems the timid defeat away to Manchester United was the straw that broke the camel's back. His backing amongst the fan base is now in Roy Hodgson territory.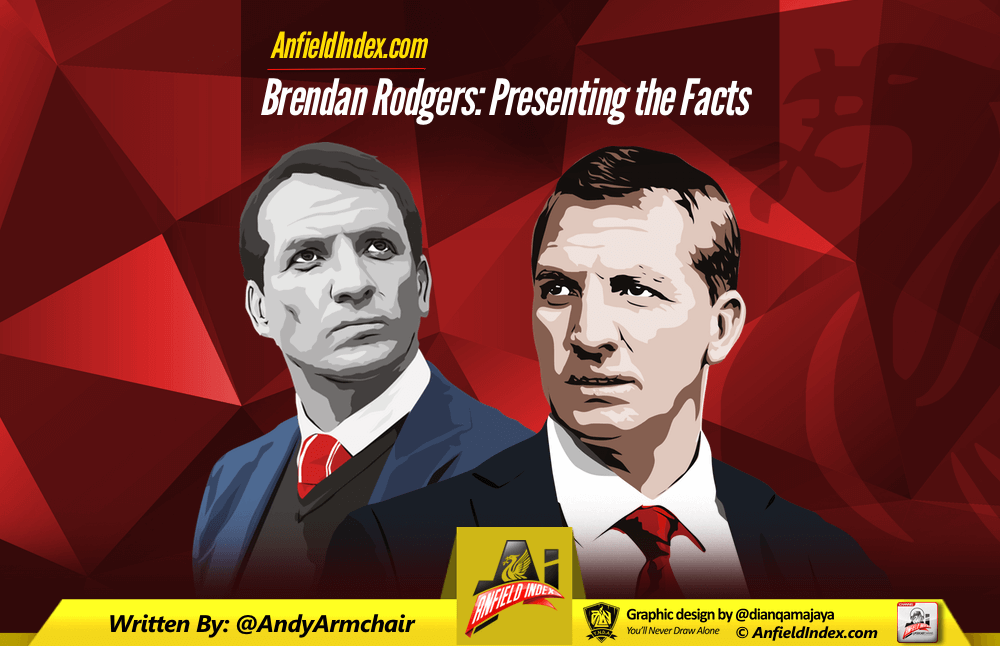 There was a lot of anger from fans following the defeat, and manner of it, at Old Trafford. Myself, I'm finding it hard to get angry now. I think the last of my rage went during the 6-1 humiliation to Stoke on the final day of last season. My anger has been replaced by a level of numbness when we play, peppered with frustration and despondency in-between. So, rather than write about the emotions, I thought I'd look at some of the facts and figures of Brendan Rodgers reign as manager of Liverpool Football Club. I've also included Kenny Dalglish's least season in charge (2011/12) as a comparison in some of these stats.

Remember the talk of "death by football" when he was appointed? Initially, there is a stark increase in the number of successful passes per game, which remains quite successful in the memorable 2013/14 campaign. However, the much less fluid play last season saw the passing stats drop and the negative approach so far this season has seen them plummet.
Average possession per game did not change very much over 4 seasons, ranging from 55% to 57%. This season though, has seen another huge drop up to now. Our average possession over the opening five Premier League games is 49%, largely swayed by our tactics of surrendering possession and territory away to Arsenal and Manchester United.
This was another area where Brendan Rodgers improved Liverpool in his first season, scoring a respectable 71 after a very poor 47 the season before – arguably, a bit part of why Kenny Dalglish lost his job. The 2013/14 season saw an incredible 101 goals scored, a total rarely reached, but the 52 scored last season equated to 1.37 goals per game (GPG), only marginally better than the 1.24 GPG of 2011/12. Worryingly, this season is only 0.6 GPG. Of course, we are only 5 games into the season, but the trend of the diminishing GPG ratio shows no sign of dramatically improving.
Conceding goals has always been Brendan Rodgers Achilles heel and even scoring 101 goals in 2013/14 could not disguise the 50 conceded. The 1.32 GPG conceded in 2013/14, was followed by 1.26 GPG conceded last season. Despite a more pragmatic set up this season, we are still on course to concede a similar amount of goals.
To some, it may seem the following statistics are designed just to attack Rodgers, but they are simply to illustrate an issue that Liverpool currently have in winning games after opponents have taken the lead.
In the Premier League, Brendan Rodgers has a 52.1% win rate.
In his 119 Premier League games as Manager, Liverpool have only won 6 times after going 1-0 down.
Liverpool have never come back to win a Premier League game after going 2-0 down under Brendan Rodgers.
Also during his tenure, Liverpool have never won a game against any of the other top 6 teams after conceding the first goal.
Recent stats
Taking in more recent statistics, I looked at last season and the games from our current campaign, putting them into three groups.
These were the 16 games before the start of the 13 match unbeaten run last season. At virtually the halfway stage of 2014/15, we had just 21 points, a paltry return. That is just 1.31 points per game, which is 50 points a season; barely even mid-table form. The 1.38 GPG conceded is not far above average during Brendan Rodgers tenure, so the biggest issue was the meagre 19 goals scored, a huge drop-off from the season that preceded it.
Statistically, the 13 game unbeaten run in 2014/15 was impressive. The 1.85 GPG scored was good, it wasn't at the level of 2013/14, but consistent with the 2012/13 campaign. The 0.62 GPG conceded was excellent, a figure very few teams have managed over the full course of a season. To the naked eye, the run wasn't as convincing as it looks on paper, but it's still a very good run of results that coincided with a radical change in formation that saw the defensive back-three of Sakho, Skrtel and Can.
These are the stats since the thirteen match unbeaten run ended in defeat at home to Manchester United. There were signs towards the end of the run that sides were finding ways to counter the 3-4-2-1 formation we were playing. Any momentum and confidence built throughout that run quickly evaporated as the 2014/15 campaign petered out poorly and ended disastrously with the 6-1 mauling at Stoke. This season started with two unconvincing 1-0 wins and a credible performance in a goalless draw away to Arsenal. Successive defeats to West Ham and Manchester United put the pressure back on and the ineffectiveness in front of goal is backed up by the unimpressive total of 12 goals in the last 14 games and despite three clean sheets, the leaky defence remains having conceded 24 over the same period. Whilst the goals for and against statistics are troubling, the 7 defeats over the past 14 games are more disconcerting still.
So, no raging or fuming, just some cold hard facts of Brendan Rogers Premier League record as manager of Liverpool Football Club; make of them what you will.
Possession and Passing Stats via LiverpoolFC.com