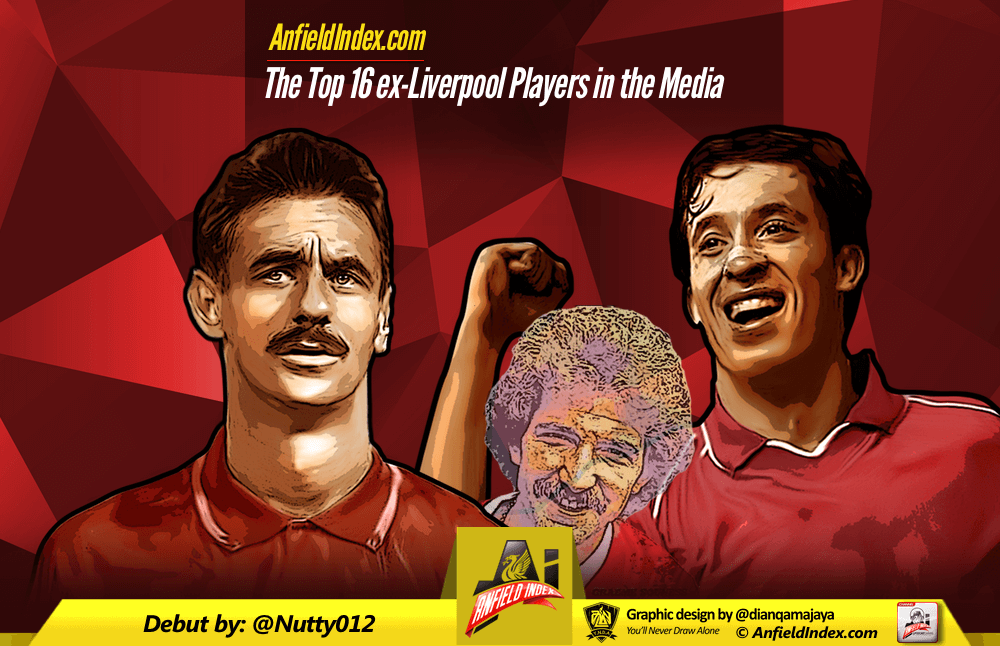 The Top 16 ex-Liverpool Players in the Media
I have ranked the top 16 ex-Liverpool players in the media. In fact, I could only think of 16, so it could also be considered a list of the worst – there is quite a range of quality! Ex-players are eligible if they are – or will be – employed at some point in the media in the 2015/16 season. Therefore this excludes people like Alan Hansen and Kevin Keegan from this list. These pundits, commentators and writers have been ranked on completely arbitrary and subjective criteria.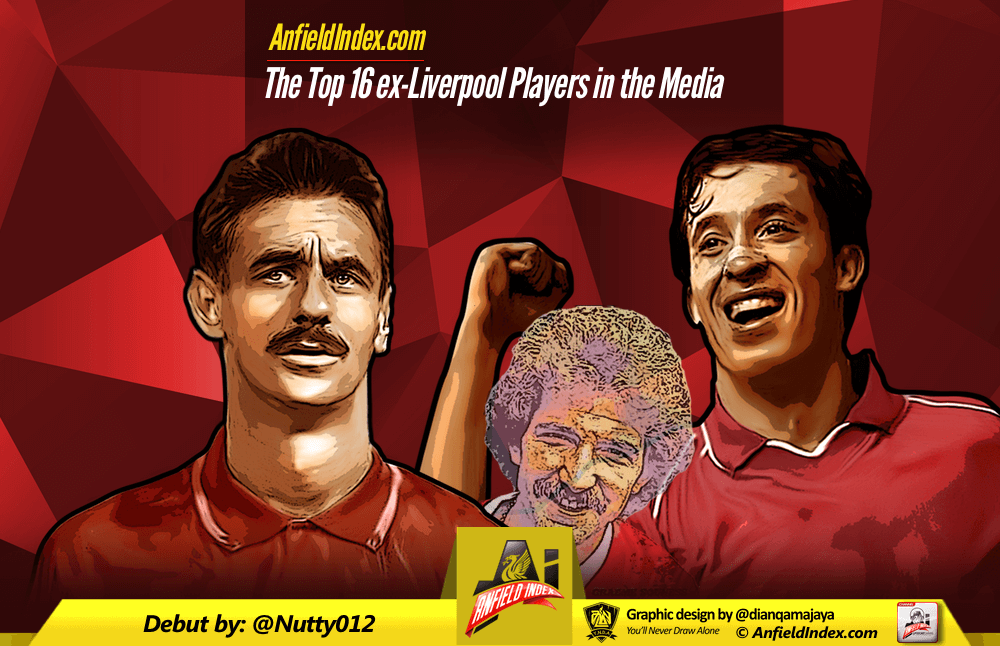 16. Michael Owen 

Michael Owen is the bottom of the list and I do not expect any complaints from Liverpool fans. As well as committing the sin of playing for Manchester United, he is also a frankly abysmal commentator. Not only is his voice unable to deviate in tone or pitch, but he also has proven that he is awful at analysing replays, frequently calling offsides incorrectly despite video evidence to the contrary. He also once did a breakdown of a player tying his shoelace.
15. Mark Lawrenson
He may have been one of Liverpool's best defenders in our most successful era, but Lawrenson is an awful pundit and commentator the BBC. For some inexcusable reason the taxpayer is paying this extremely ungrateful man to have the luxury of travelling and watching football. His insight goes no further at telling us how boring the game has been, or how bad a player is, or how rubbish his hospitality has been. In arguably the best job in the world, Mark Lawrenson couldn't sound less like he wants to be there. Seeing him commentate our whole pre-season this year on LFCTV was actually a worse experience than some of the actual football we have produced this season.
14. John Aldridge
John Aldridge seems like a affable man and he was a very affable footballer. However, in the media he offers no more insight than your typical Liverpool fan, except his opinions are projected around the Internet, usually through the Liverpool Echo. He is likeable, often correct, but nothing special.
13. Didi Hamann
Hamann's German heritage means that he has a broader insight on the game than many British ex-players do, possessing a more continental perspective and often being outspoken. Sometimes he perhaps takes things too far in just in his pursuit to play devils advocate, much to the chagrin of some fans, but it would be boring if everyone agreed the whole time. He needs to do more than guest Match of the Day 2 cameos to get higher up on my list.
12. Robbie Fowler
Robbie Fowler's greatest strength is how his love for Liverpool has meant he has never been far away from the club. Does he offer much insight into the football? As pundits go, not really. However, you know that Fowler more than anyone knows Liverpool football club like the back of hand, and he is passionate about it at every level. Robbie Fowler will forever be the ex-player who gets the bandwagon rolling for a young Scouser in the academy (See: Jordan Rossiter, next Steven Gerrard).
11. Steve Mcmanaman
Mcmanaman is only here on the list because he's best mates with Fowler, he would be far higher on my list but I wanted to keep them together better than Liverpool managed. He is a very well spoken and well-presented pundit, part of BT's very admirable attempts to usurp Sky as the place to watch football. He doesn't take his job too seriously, which is a big plus for me in a list that features a lot of moody old men.
 10. Neil Mellor
 Perhaps much like his playing career, Mellor is managing his media career the hard way, working his way up through the ranks. His very solid performances on LFCTV led him to getting gigs doing match reporting for Sky Sports News, and now he has a fair amount of work besides Liverpool in the Football League. Everyone also appreciates an old player who takes time for the youngsters coming up in the club too.
9. Jamie Redknapp
Undoubtedly, Redknapp is the lesser of Sky' Jamies. When Carragher retired, he immediately usurped Redknapp by getting the gig presenting football on the best night of the week, Monday. Meanwhile, Redknapp has the lowly task of presenting the much lesser night of the week in terms of football prestige and presenter banter, Saturday. However, he has the sharpest suits in the business, and undoubtedly has a face for television. His punditry is better than it was when it once was, he asks good questions to managers after games, but he can still get in a bit of a muddle with his words. We will excuse him for that though, its probably genetic.
8.  Ian Rush.
 Ian Rush is the authority on Liverpool strikers, having been a pretty decent one himself. Rush also does not rush into giving a snap judgement on a player, and you don't see him flip-flopping, unlike many ex-players. When Liverpool buy a new striker, you can expect an Ian Rush piece in the succeeding weeks, usually advising Liverpool fans to be patient, praising the new options, or preaching the value of confidence. I would not listen to anyone else on strikers, but this speciality can only get Rush so far up the list.
7. David James
 He is a goalkeeper doing punditry, which already gives him a unique perspective amongst the bland insights from many outfield players. He also is probably the best-looking player on this list, even pipping Jamie Redknapp (although I always maintain that Carragher brushes up well too). His world-class commitment to punditry is what gets him this high up on the list – developing a career in punditry whilst simultaneously playing semi-pro football in Iceland and player-managing in India.
6. Graeme Sounness
Like Phil Thompson, Sounness also has the experience of playing and coaching Liverpool. However, he didn't exactly endear himself as a manager to the fans. Sounness is probably the grumpiest player on this list. A recent highlight was his inquisition of Niall Quinn for suggesting the John Terry's Chelsea career was over. He is ruthless and opinionated, and fantastic television.
5. Jim Beglin
Jim Beglin has my favourite voice on this list, and I think that should count for something . He also seems to really understand what its like being a Liverpool player when he's commentating, whilst managing to not being cringe-fully biased, a feat that alludes almost every other commentator on this list. Beglin is the perfect example of why being the best at football doesn't mean being the best at media work. They are two distinct jobs that have different skillsets, as unfortunately the producers who employ Mark Lawrenson and Michael Owen seem to have missed.
4. Danny Murphy
 Danny Murphy manages to hide his allegiances and any passion for his old club very well in his work with the BBC. In fact, Murphy seems to be devoid of any passion at all for the job, which is why he is not higher on my list, despite his erudite punditry contributions. His may be just as gloomy as Mark Lawrenson, but the difference is that Murphy seems genuinely determined to do his job well – he likes to offer new opinions and insights. He's a top top pundit even if he does seem a little serious.
3. John Barnes
Barnes has a unique place on this list as he is one of the few who is in radio rather than TV. Barnes may irk some fans, but his articulacy, passion and knowledge is second to none on this list, and he really comes into his own discussing difficult topics like racism. He is understands the subtleties of situations and comes to his own conclusions, which can be a rarity in the media, especially around such difficult topics.
2. Jamie Carragher
Jamie Carragher's legendary scouse wit has endeared himself to fans of every club in the era of banter-themed social media. He makes up one half of Sky's golden MNF duo with once-rival Gary Neville. He was a phenomenal servant for Liverpool, and he has retained his passion (and bias) for all things Merseyside, but with a mocking self-awareness and an enthusiasm for football that redeems him even in the eyes of rival fan groups. For all his excellence, he falsely backed Dejan Lovren to be a success at Liverpool, so he cannot be first on this list.
1. Phil Thompson
'Thommo" is part of Jeff Stelling's Soccer Saturday crew on Sky. He endears himself to Liverpool fans every week, frequently being teased for his red-tinted critical lens. He is still close to the club, having been there in both playing and coaching roles. Watching Thompson argue with his mates on Soccer Saturday reminds me of all the arguments that I have had with fans of other clubs. We can all relate to this man and his occasionally exasperated manner. How he manages the feat of putting up with Phil Merson should be a lesson to all Liverpool fans that friendship can transcend partisan club divisions.