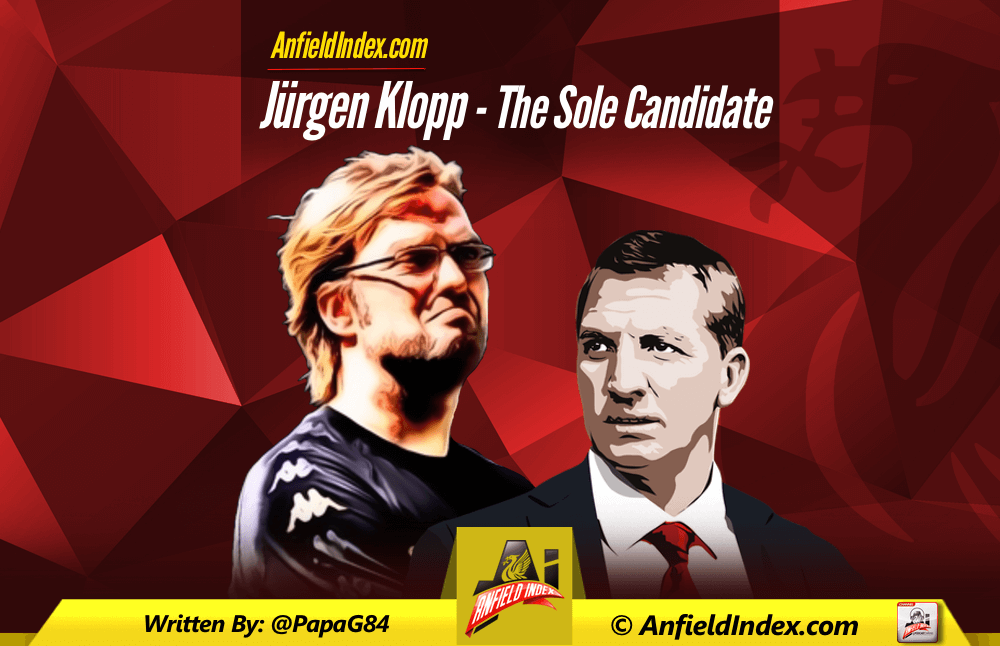 Jürgen Klopp: The Sole Candidate
As Brendan Rodgers' tenure as Liverpool manager edges towards an unsavoury climax, I look to the man on every supporters' lips and why he'd make the ideal replacement.
Should the Liverpool job be made available, I expect it will be highly coveted and sought after. FSG, despite recent criticisms on decision making, are extremely generous and supportive owners (for how much longer remains to be seen). The club whilst not as financially strong as the current top 4, are still within the top ten richest clubs in Europe; with significantly more to come through enhancements in sponsorship, increased TV revenue and a soon to be revamped Anfield. Despite fortunes on the pitch, the club is clearly moving in the right direction off it.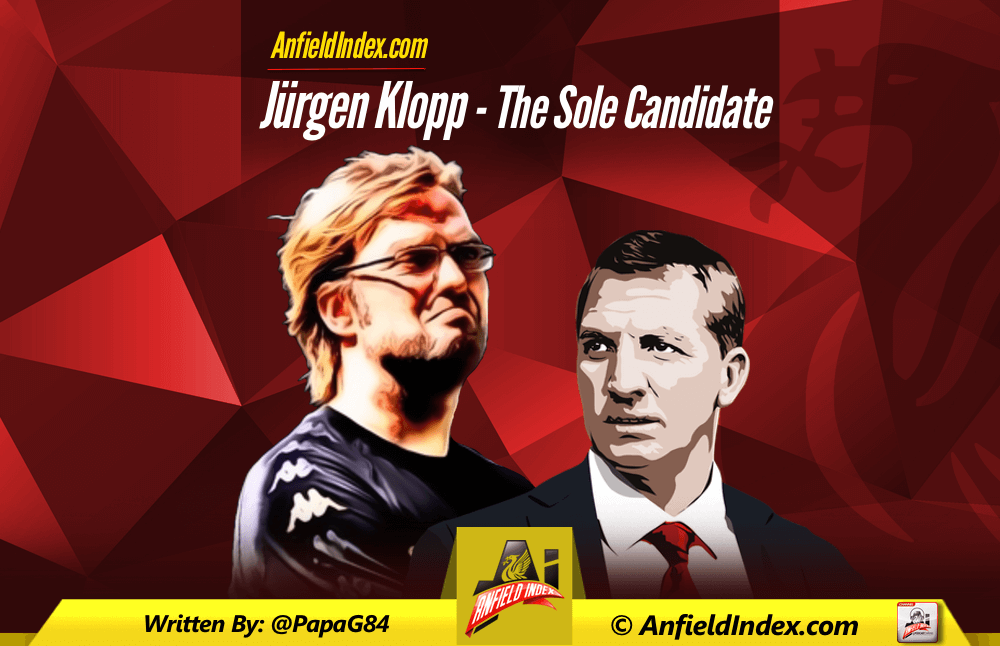 I feel supporters, perhaps understandably, underrate the players at the manager's disposal, both within the first team squad and with those on loan. Throughout the majority of last season and so far this, the players have rarely been given the opportunity to impose and impress. The dour tactics and baffling team selections haven't harnessed the talents available and players' strengths have been masked, whilst weaknesses exposed.
I'm of the genuine belief that while concerns over leadership are valid, there are players in the squad who just need the opportunity to find their voice, particularly Mamadou Sakho and Emre Can. At the moment we look rudderless, with nobody taking control and responsibility on the pitch, but I do believe that's temporary. The major obstacles for me stem from a deep underlying problem with confidence, which is something that can be rectified, by a motivator and leader off the pitch.
The average age of the first team squad is just 24, with the majority coming into their prime years. We've also got an academy full of highly technical and skilful players, some with very bright futures. I believe the quality is there for the a manager to come in and reap instant rewards. The team has all the raw ingredients to develop not just a combative and competitive cohesive side; but one with pace, fluidity, ingenuity and a clinical edge.
Whilst the squad on paper contains no world class players, there are a handful who have the potential to reach that level, most notably Philipe Coutinho, Roberto Firmino and if he regains and maintains fitness Daniel Sturridge. With many more just that tier below, in particular Mamadou Sakho, Nathanial Clyne, Christian Benteke, Emre Can and Jordan Henderson. In those 8 you have the makings of a very strong team, with an excellent spine. I'd go as far to say a top 4 team, if utilised properly, with a successful tactical vision and attacking philosophy.
So why is Jürgen the man to change our fortunes? Firstly and this is something that resonates with all Liverpool supporters, he's extremely passionate. He has a deep rooted love, even obsession for the game. Whilst I always loved Rafa Benitez's pragmatic approach, at times it felt a little cold. In stark contrast Klopp displays true heart on the touch line of Luis Suarez proportions. He's emotionally involved in the game, which makes him so relatable to supporters and certainly one of the reasons he was adored by Dortmund's fanbase.
His record at Dortmund is exceptional, 2 Bundesliga titles and 4 cup wins in 7 years speaks volumes. Klopp's Dortmund achieved this despite competing with one of the best sides in European football in Bayern Munich, in a league far more competitive in recent years than its given credit for. But it's not just domestic success, Borussia had one incredible run in the Champions League, only to fall at the final hurdle and have regularly reached the knock out stages. This is particularly impressive considering the budget his team was built on, and much like Liverpool, star players departing each summer.
His record isn't perfect, especially last season when key injuries and fatigue began to take its toll. But when Dortmund have struggled, Jürgen's team always rallied, which was demonstrated last season when a cup final was reached and a 7th placed finish, after an extremely difficult season. That to me typifies a Klopp team, they always fight! They've always played with a never say die attitude and that's exactly what Liverpool as a football club are lacking. We lose all level of hope when we concede first. Heads drop, confidence disappears and we seem to shrink on the pitch. That can't continue, if we're ever to be a competitive again.
Since Luis Suarez left, I've been desperately hoping for a special player to join who can inspire the team once more. A catalyst, a spark and someone who can lift the crowd. A born leader, who plays with such passion that it raises the level of those around him. All this time however, my efforts have been focused on the wrong area of the pitch. It's not a player we need to unite and inspire the players and supporters alike, but a manager.
If Liverpool are ever to compete for a cup, a league title or within Europe, we need a manager that can influence games from the touchline. One who commands the upmost respect from his players. Jürgen Klopp's Dortmund have competed consistency at the highest level, which has helped him gain vital knowledge of how to win competitions. Crucially and this is where Rodgers is lacking, he's also adapted after his team lost. He's a manager who can evolve and develop a successful team, a proven winner of the highest order.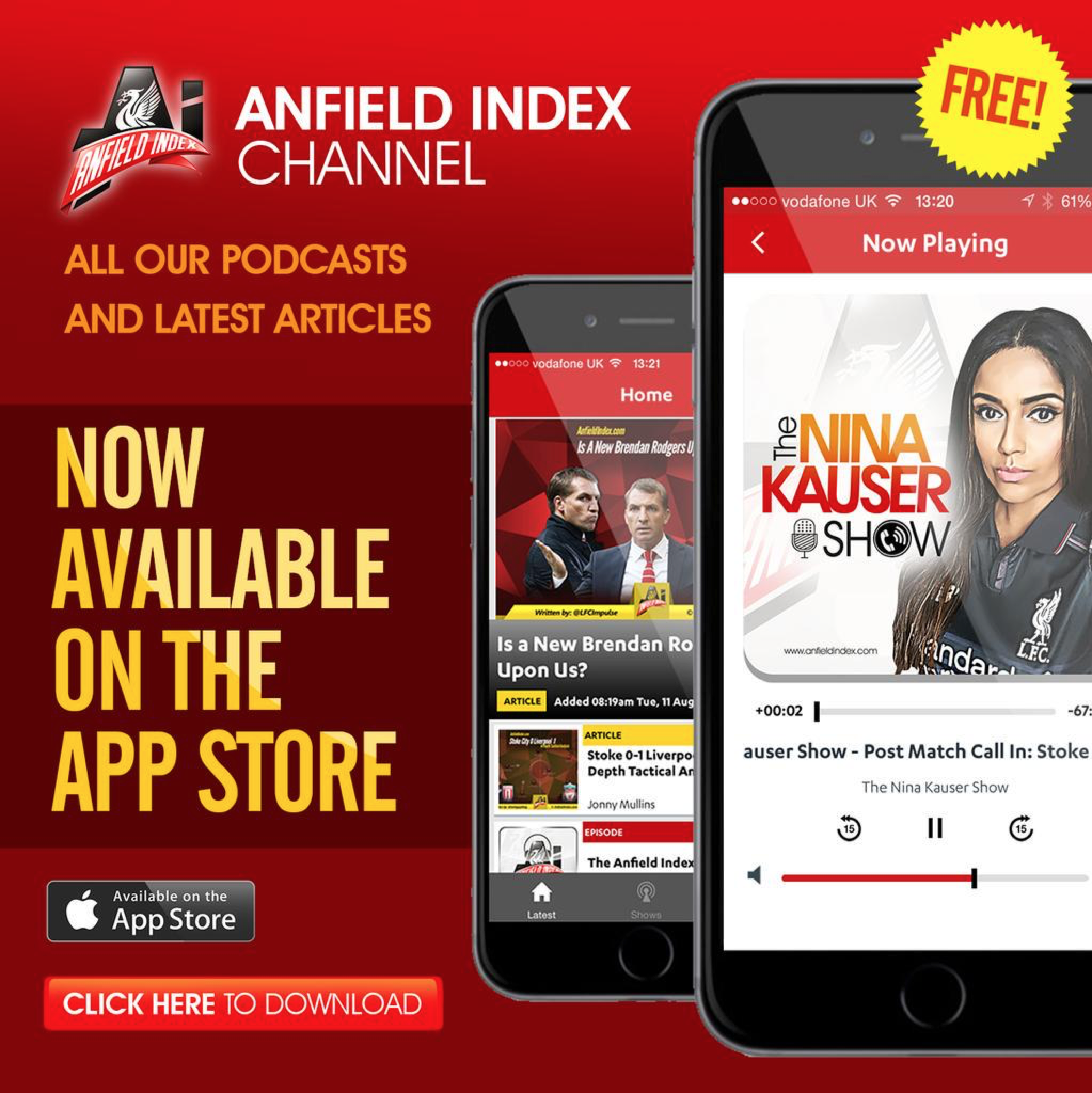 Typically a Jürgen Klopp team plays a high intensity, high pressing, all action game. Sound familiar? Liverpool under Brendan Rodgers in 13/14 have shown that the majority of the EPL can't cope with that dynamic attacking approach. Whilst Rodgers has abandoned that style, at Liverpool Jürgen would have the players at his disposal to replicate this formula, but he has shown a level of tactical flexibility to adapt if required.
Recently when players have left Liverpool, many have had less than polite things to say about Rodgers. Now this isn't a recent phenomenon in football, nor exclusive to Brendan. But an element of why I have always admired Jürgen is the sheer love and adulation his players have for him. I've never read a player with a negative word to say about Klopp and after the turmoil and in fighting in recent seasons, a calm, settling and loved figure are exactly what Liverpool needs.
The reason I fear Jürgen Klopp will never manage Liverpool, is because it's almost too perfect a fit. If you gave me the opportunity to employ any manager in world football it would be him. He's the man who supporters need to bring unity and inspire hope, by crucially harnessing the talents of our squad. He's the man the players need, to bring strong tactical knowledge, whilst injecting some heart and confidence. Above all else he's not just one of many suitable candidates, he's the sole candidate, required to guide our great club back to where it belongs.