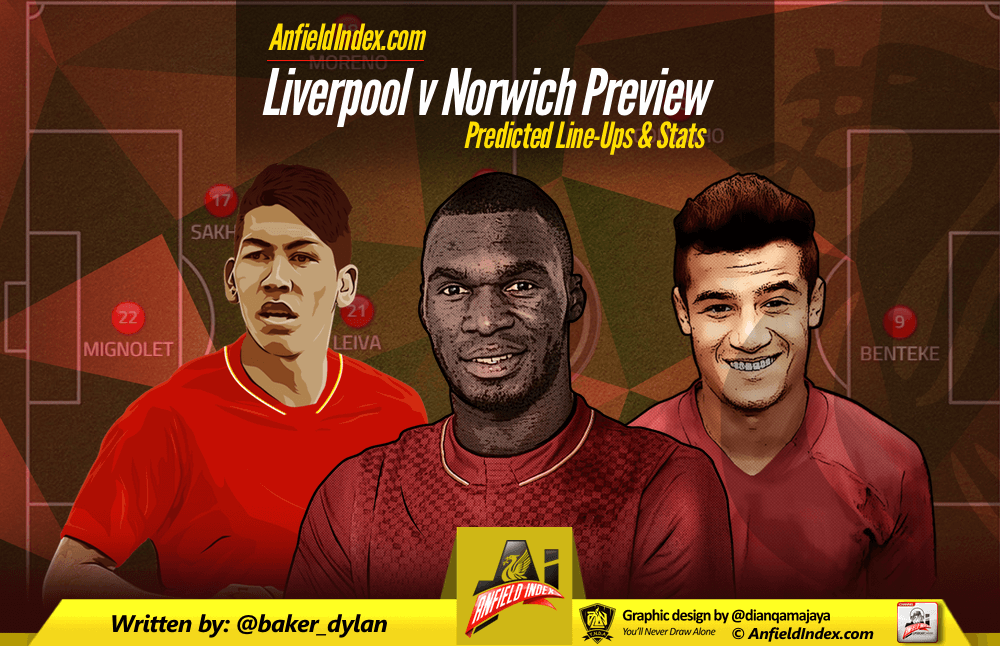 Liverpool v Norwich Preview | Predicted Line-Ups & Stats

This is a great time for either team to be playing the other.  For Liverpool, the weekend brings a struggling-to-survive, newly-promoted Norwich that hasn't quite got their feet off the ground.  The Canaries have taken down Sunderland and Bournemouth, but neither team is outside the realm of relegation fodder.  The Reds will feel more at ease going into this match, but so too will Norwich.  If ever there was a time to play Liverpool, it would be now: big losses to West Ham and Manchester United, followed by a stolen victory in France, will have affected confidence on Sunday.
This match is truly up for Grabban…I mean, grabs.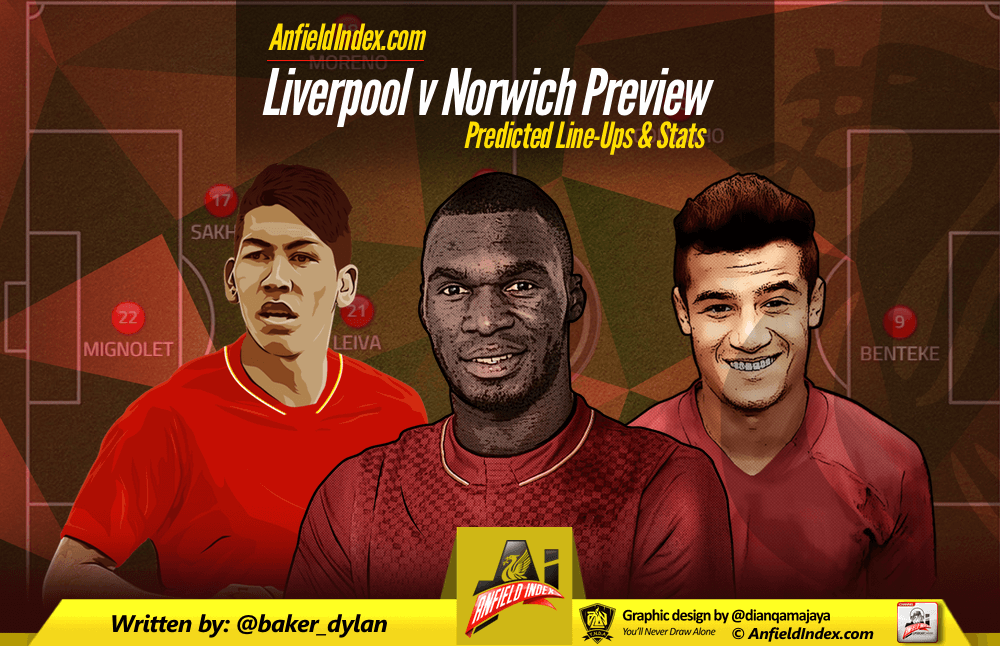 Where Things Stand
Much like the tune being sung last year, Liverpool find themselves just above the bottom half of the table.  In 9th place, just spot one above the Reds, are their opposition: Norwich.  Ahead on goal difference, the Liverpool players have to recognize that this simply will not do.  A big push will be required in order to assert themselves back into the upper echelon of the Premier League, and there's no reason that can't start here.
When Norwich played Southampton earlier this year, a combination of size up front and pacey creativity on the flanks ensured victory over the Canaries.  Incidentally, that's just the type of system Brendan Rodgers is trying to put into place.  Big asks to Phillipe Coutinho, Roberto Firmino, and big man Christian Benteke, who will need to show that they can link up and put together a couple of goals.
For Norwich, there are two keys factors to the match at the weekend: set pieces and the right flank.  Centre-back Russell Martin has already scored two goals from set pieces, and will surely want more.  Liverpool, historically disorganized on set pieces, will have to mark the prolific defender during set piece situations.
Second, and maybe most importantly, is the Norwich right flank.  Though new boy Matthew Jarvis showed he can keep up in their last fixture, Nathan Redmond is the drummer that beats the tempo of the Norwich attack.  Nearly 60% of their attacking play has gone through Redmond, and he's shown that he's worth the attention.  Bagging two goals and an assist early in this Premier League season, Redmond will cause trouble for whoever Rodgers decides to line up at left-back.
Talking Point: Pride
After a aberration of season in 2014/15, the Reds haven't gotten off to the best start thus far.  Rodgers is feeling the warmth of the hot seat, and the players have their individual careers to consider.  This very match may be the turning point of the season – good or bad.  It seems silly, to pit a season's worth of joy/misery on Norwich City.  But considering the glowing history the Reds have had against the Canaries in recent years, there's a large call for another battering.  A win here could mean rebuilt confidence, while a loss could shatter it.
For Norwich, this is their first time to shine this season against the top-level competition (if Liverpool can be considered that at the moment).  Their wins have come easy, and their losses by no higher than upper-half competition.  After being relegated from the Premier League after the 2013/14 season, the Canaries are back in the mix after just one year.  The administration and players alike will come into this match hyped for a chance to prove that they are, indeed, back.
Predicted Lineups
Liverpool
Perhaps the performance against Bordeaux got Rodgers thinking.  Mamadou Sakho comes into the match for his first 2015/16 feature performance and plays admirably, being dubbed "a Liverpool soldier" shortly after the match.  I believe his week earned him a start at the weekend, and thank goodness for that.  Another curveball that might be thrown is Joe Gomez in his natural right-sided centre-back role.  Another weekday performance that looked strong, I think Brendan might play with his back line a little.  It is, after all, just Norwich City (immediately knocks on wood).  Nathaniel Clyne and Alberto Moreno to flank as full-backs with Mignolet, of course, in goal.
There are whispers and rumors that Henderson might be back for the weekend, but I'd rather see him sit here.  Based on the last few matches, this selected midfield does not excite me.  But it's better than bringing Henderson in too soon and losing him for longer.  Milner and Can should pair in the centre of the park while Leiva retains his spot as the holding midfielder.
As previously stated, the continual trio of Benteke, Coutinho, and Firmino should start once again.  Another set of whispers are saying that the man himself, Mr. Daniel Sturridge, might be set to feature as a substitute at the weekend.  We'll keep our eyes and ears open for that, but I take the same stance here as with Henderson.  Wait one more week.
Norwich City
As mentioned earlier, Redmond will be the key here.  The likes of Graham Dorrans playing as a deeper central midfielder and Wisdom as a limited full-back means that Redmond and Wes Hoolahan will have creative license on the right.  Moreno will have a tougher time here if he gets the starting shout.  The other flank will include Alexander Tettey and new boy Matthew Jarvis.  A proven nuisance during his time at West Ham, Jarvis should also not be underestimated going forward.  Cameron Jerome, the Big Lad with Two First Names, should continue to start up top as a lone striker.
Since the addition of Andre Wisdom on loan, the back line will remain unchanged.  Wisdom will link with Redmond on the right while Robbie Brady will cover for Jarvis on the left.  Consistent starters Russell Martin and Sebastien Bassong will remain the centre-back pairing with good ol' John Ruddy in goal.
Baker Forecast
If these lineups are the exact ones put out on Sunday, it makes a tough decision.  Moreno will have to prove he's solidified defensively, which he did to some extent against Bordeaux.  Having Sakho as his stop-gap safety net will help, but only time will tell what sort of damage Nathan Redmond might cause.  Then, once again, the ball is put in Liverpool's attacking third once again.  Benteke showed against Manchester United that he can score a wondergoal, but can he score some regular ones as well?  More goalscoring output between the front three is absolutely necessary to ensure victory.
I don't know how.  I don't know where from.  But somehow, probably on accident, Liverpool will net twice to Norwich's once.  A 2-1 victory at home to the Reds that gets scary for the last twenty minutes or so.
The "Super Andy Wales" Fun Fact Section
Liverpool have only lost four times at home to Norwich City (1994, 1988, 1983, 1975), scoring a whopping 67 goals in their history (2.48 goals/match).
The 1994 loss at home was the last time Liverpool have lost, home or away, to the Canaries during their time spent in the Premier League (total of 10 matches).
In Norwich's "most goals scored" match against Liverpool, they still lost (1962 – Liverpool 5 – 4 Norwich).
22 of Liverpool's 67 goals against Norwich were scored between 2011-2014.
(Courtesy LFCOnline.com)