Whilst watching this game against Norwich, I couldn't help but feel a little bit of sadness and sickness as the last number of times we played Norwich, Luis Suarez ran the show. Reminiscence of a greater, more fun Liverpool did not make for a pretty Sunday afternoon, as I laid back and watched highlights from this corresponding fixture two years ago while silently weeping, (which I can safely say, is also caused by the game that just transpired). Nevertheless, I am obliged to analyse and make a number of observations about the fixture, so let's dive into it.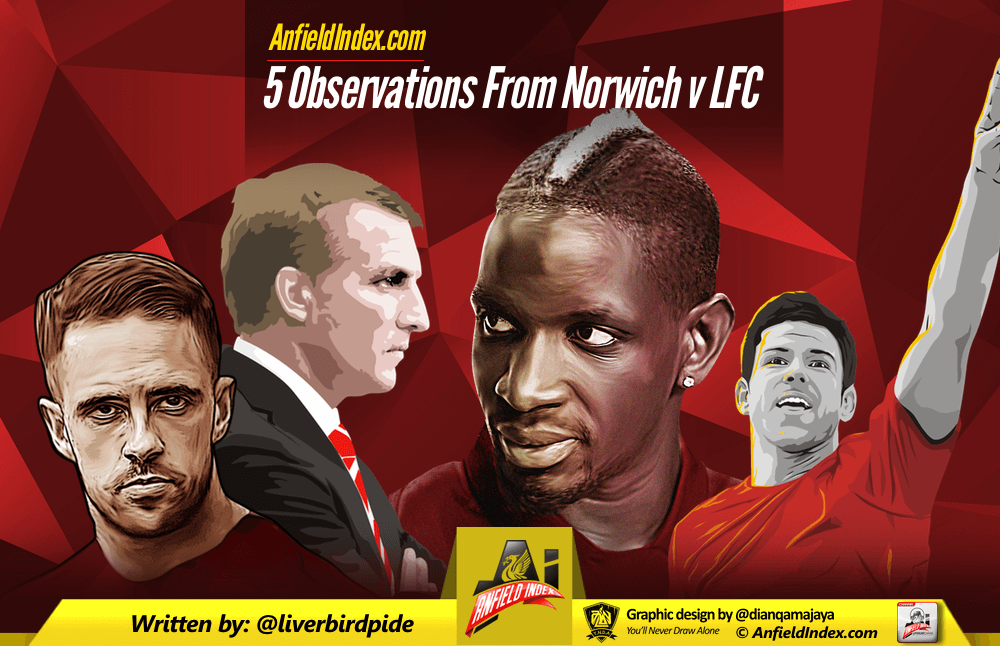 Slight improvement, but not enough.
Approaching this fixture, it was quite evident that Liverpool were in a spot of bother. The only performance to be somewhat pleased about was vs Arsenal at the Emirates when we produced our most promising attacking football this season.

Including the very nervy opening day win vs Stoke City, Liverpool have gone on to score 3 goals – one being offside –  and subsequently conceded 7, which sets us on course to concede 55+ goals this season.
When this match kicked off, Liverpool deployed a 3412 formation which, to everyone, looked like our saviour in terms of attacking threat, but it did not last long as Norwich slowly made their way into the game and from then on it was a game of tit for tat. Liverpool had more chances than Norwich, but to me that is an even scarier thought as it emphasises our lack of clinical finishing and chance conversion.
Ings's impact from the bench was immediate, breaking the deadlock two minutes and 54 seconds after being brought in. After his opener, the intensity rose and his constant running down the right channel almost created a chance for Sturridge who had made a dangerous run around the far edge of the post. On the contrary, it was a frustrating day for Benteke to strike a partnership with Sturridge and the pair only passed the ball five times between them. All in all, we've had more than enough chances to win the game and perhaps Rodgers can consider himself unlucky in that aspect.
(Heat maps via BBC)
Sakho and Moreno rightfully brought in.
When three o'clock arrived and the dreaded team sheet was announced, 3 names immediately stood out from the rest, Alberto Moreno, Mama Sakho and Daniel Sturridge. It was clear to all that Sakho and Moreno would be given their long awaited chance after brilliant displays midweek, and they didn't disappoint! Sakho being as dominant as ever, with the exception of a bizarre few minutes, and Moreno being our most effective player, giving some much needed and missed left sided support and making 2 chances, both leading to attempts on goal, shows that the players were successfully and rightfully reinstated into our starting XI.
Sturridge on the other hand, many people were skeptical of. His early inclusion was a scary sight considering his last game was in April of last season. However, at the same time, he showed to all fans of The Reds, just how pivotal he is as he made great links to other players and was making our front line mobile again.
 Another ineffective display from James Milner.
James Milner is not a central midfielder. That much we know by now. His attacking knowledge is very evident and he always seems to get into the right areas in the final third, but lately, to the detriment of the team he either;
a) Leaves too much space behind him
b) Fails to capitalize on his chance, (8 failed chances out of 9) eluding back to my first point.
There was a reason since his move to Man City in 2010, he was taken out of the CM position given to him by Martin O'Neil and was delegated to the right midfield area where he is clearly an effective player who can cause damage.
Milner's set piece taking was also a big let-down today as some people would say that is one of his strengths. His constant lack of productivity from them is surely reason enough to have another player trying them and taking them on rather than possible opportunities being wasted.
He also donned the captain's armband today, but didn't show it. The passion was not there and the only vocal people offering encouragement and advice were Sakho, Can and Lucas
Roberto Firmino is still improving.
Roberto Firmino showed today why Liverpool payed what they did for him. His work from the short amount of 18 minutes he had from the bench highlighted his technical quality and exactly what he brings to any football game. Firmino created joint top number of chances in the game with 2 – alongside Moreno and Lucas – and completed a total of 4 take-ons, failing none.
Completing 84% of his 12 passes and committing one foul at the half way line; this topped of a fine performance from our new Brazilian, and surely staked his claim for a start vs Aston Villa.
Lonely round the fields of Anfield Road.
Anfield always was and more than likely always will be an iconic venue to all football fans. The rocking atmosphere of passionate fans was once so deafening to the point of blown eardrums. Labelled as one of the most intimidating grounds to play at back in the 2000's, shows just how far we have fallen in such a short space of time.
Under the last two years of Brendan Rodgers, Anfield has lost its fortress stature and it no longer an intimidating ground to play in. Against Norwich today, again, the fans were a mixture if nervousness and deceit as you could hear only a pin drop as the tie reached half time.
The silence at Anfield was deafening.