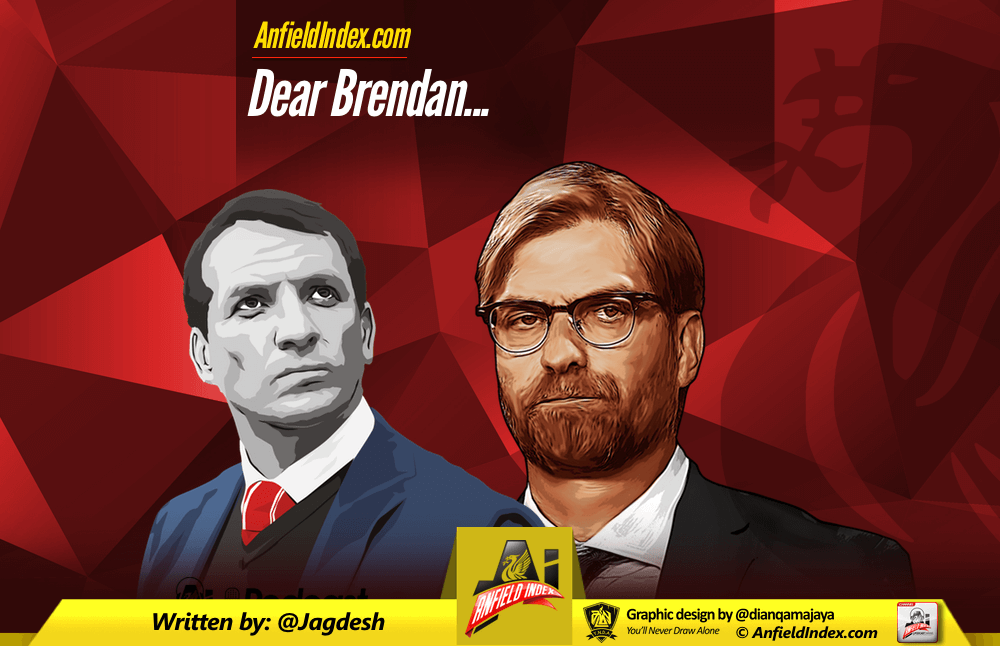 Dear Brendan....

Dear Brendan,
Firstly, on behalf of thousands and thousands of Liverpool Football Club supporters from every corner of the globe we call home, I sincerely thank you for allowing us to dream again after years of frustration. You had allowed us to dream about lifting the Premier League trophy 18 months back. And today, you're allowing us to dream that it may be a long shot of qualifying for the Champions League, but nevertheless qualify to compete with the elite of clubs in Europe. There's room to improve in our standing in Europe from the lofty position of 50. You, of all leaders, should know the importance of striving to better our best.
You've been given responsibilities with expectations that can crush the shoulders of many a middle aged man. Your loss of weight evidently reflects this pressure and stress that you're undergoing these days, and I applaud your brave front on so many occasions. I suppose the assurances afforded to you by your bosses sitting far away in their ivory towers across the great big pond can help absorb this tremendous pressure. I mean, getting another chance at selecting the players you believe can accentuate your ideal playing model that crushes teams with possession and tenacity, is a true display (and not just empty talk) of faith from them. I hope you appreciate this vote of confidence as we do, and not find the rare excuse that the new players aren't working out as you had expected. It is, after all, your eye for the right talent and the right skill for your ideal playing style and playing identity.
I understand your background is hardened by the school of hard knocks, travelling across the continent, studying from the best of academies, picking the brains from the best of technicians, all to mould your playing principles. After 3 full seasons, its now time to bed in your identity since you haven't stamped it right from the start in your early days. The squad now has no more niggling influences from your predecessors bar a couple of players who, to be fair, have fully embraced your expectations of them. I'm not quite sure the results thus far justify the Brendan Rodgers way of playing and winning, the swashbuckling groovy full-on attacking football that has since won armies of neutrals wanting to fall in love with the game.
You speak of honour and character because these traits and characteristics are so inherent in your being. The players will only heed from their leader wanting of them to exhibit these traits and characteristics, if and only if the leader breathes and sweats these traits himself. This you do so effortlessly, I'm still surprised that your behaviour and your principles, your high character, hasn't rubbed on to your players you love so much. Your fairness in treating your players should make them want to run through walls for you, much like how the players of your mentor, from your yesteryears, are doing today in Chelsea. The players that have left for greener pastures have now lamented how ungreen the grass is. Many, if not all, would want to come back to your disciplined embrace, your fatherly sojourn, your friendly shoulder to cry on.
A few managers have left their clubs after the pressure of not performing to the levels expected of them, lacking so much in the resilience and resolute, unlike you. Stubbornness is a trait much hated but so vital to marking your imprint onto generations and generations of supporters adoring you for the vast successes you would bring us soon. Introspection is another ability, when coupled with stubbornness, will tell you if your time has come to move on to bigger challenges awaiting you. But this will come naturally when you've forged the straight and narrow path to the glorious years, the second coming of our halcyon age.
Here's to you, and your management team, we celebrate your soon establishment as our messiah and deliver the greatness we crave so much, Jurgen.