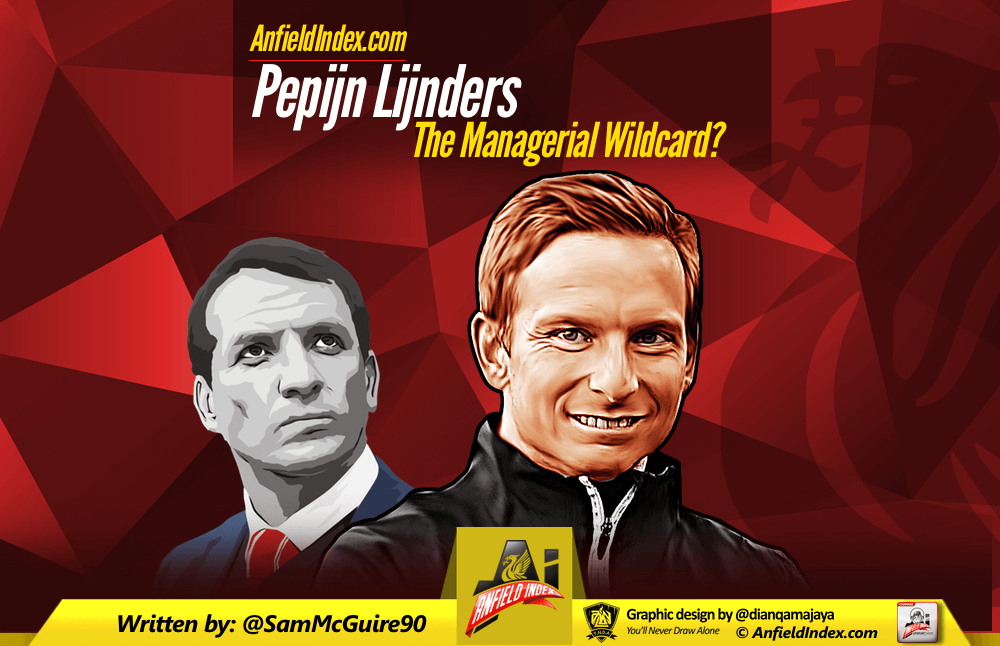 Pepijn Lijnders - The Managerial Wildcard?
"Keep your friends close but your enemies closer."
I recently read an article on this site by the talented Rory Greenfield. It was a piece about why Jurgen Klopp was the sole candidate to take over as Liverpool FC manager if Brendan Rodgers were to leave. He talks about his playing style and what he'd bring to the Liverpool fans. Some much needed unity. I won't spoil it for you, you can read it yourself here.
It was an article that got me thinking. With results and performances going against Brendan Rodgers, the owners may have to replace him soon to salvage the season. It's hardly ideal having backed him in the summer but you can't ignore convincing defeats to West Ham and Manchester United followed up by a 1-1 draw at home to Norwich. It's unacceptable for Liverpool.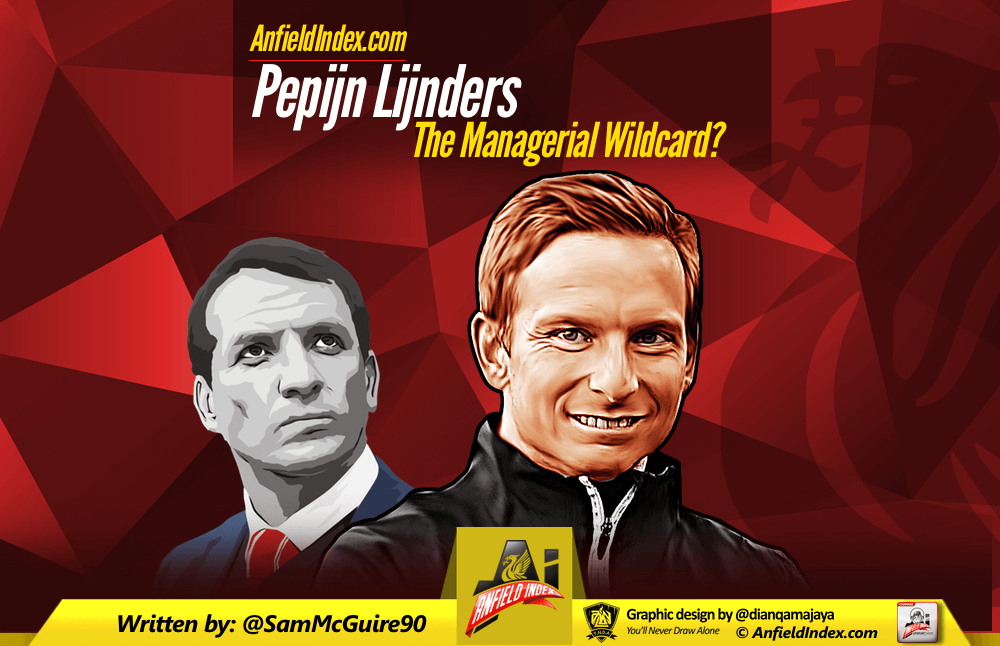 With both Carlo Ancelotti and Jurgen Klopp out of work the temptation for fans is to want FSG to appoint one of those two. It makes sense after all. Both have superb CVs, both have a brand of football synonymous with them, both have managed big expectations at historically big clubs and most importantly both are winners. They know what it takes to win and they know the importance of European football.
It's since come to light in a recent article by Simon Hughes that Liverpool were 'warned off' Klopp. I'm not sure how much credibility that has or even if FSG would have listened. It could have made Klopp more desirable. A modern day Romeo and Juliet.
However, I myself think Jurgen Klopp is too much for FSG. He may not come demanding a large salary, not if you compare it to what Brendan Rodgers is supposedly on but if you appoint a manager like Jurgen Klopp you're going to have to back him. That means funds in the market and a turnover of staff. FSG have backed Rodgers in the transfers market but can you imagine convincing Klopp, who has such standing in the game, to takeover at Liverpool with net spend of £30 million? I certainly can't. Then they'd have to sell players, at a loss, who don't suit his style of play. More embarrassment for Reds' fans in the market?
The man I could potentially see FSG appointing if Brendan Rodgers is relieved of his duties is Pepijn Lijnders.
Relatively unknown to many Liverpool fans until the summer just gone when he was appointed as part of the first team following the coaching changes. The 32 year old may seem to lack experience but before joining Liverpool in 2014 he'd spent 7 years as the head of the Porto academy and 5 years at the PSV academy. This is a guy who is at home at these big European clubs. Not many coaches in the world can say at the age of 32 they've coached at PSV, Porto and Liverpool.
It could be viewed as naive for FSG to appoint a manager with very little managerial experience but in a way, isn't that what they did with Brendan Rodgers? I'm not belittling what Brendan Rodgers has achieved in football but you can see where I'm coming from?
I spoke with Tim Lees who was a coach at the Liverpool academy and when asked about Lijnders he had this to say
"There are lots of charlatans in the professional game who are in high profile positions because of who they know but Pep is the best coach I have ever worked with. His intensity, energy and passion is unparalleled and his knowledge both tactically and how to develop players from an individual point of view is incredible. I have no doubt he will manage one day in the Premier League and I feel fortunate to have worked side-by-side with him for a prolonged period. He's a great guy off the field too."
You may not be familiar with Tim Lees but he's a highly rated coach who was in charge of our u14's for a short time. If he's saying this about Lijnders then it's something to take note of. Similarly I spoke with another Premier League academy coach, Dan Fieldsend, who called Pep "a visionary who captivates even the most experienced players."
Why would FSG appoint Lijnders?
Firstly what got Rodgers the job is what would get Lijnders the job. FSG want to develop youth whilst playing an attacking style of play, I assume. It's what Rodgers has spoken about in many interviews and it's also why Liverpool poached Lijnders from Porto. Lijnders would continually develop young players whilst playing an attractive style.
There's also a feeling fans would be disappointed at anybody that isn't Jurgen Klopp but if you look into Lijnders and see his philosophy on the game it's hard to think the fans wouldn't be content if he practiced what he preached.
"It doesn't matter who we play against, we will press them high and aggressively and we will attack and attack them again."
"Our style is to attack, with and without the ball. We realise that the game is played with one ball, our ball, and we steal it back wherever on the pitch and we use it to attack the opponent. It doesn't matter who we play against, we will press them high and aggressively and we will attack and attack them again."
"Nobody knows what the future of football will look like; the only thing I'm sure of is that the defensive organisation of teams will be even better. They will protect the middle zone of the pitch better and defend their area better. We need to create players who can ruin this defensive organisation."
"The first team wants players who are able to open up games and speed up the attack. We are working on a daily basis, individually and collectively, on those offensive, productive, creative and attractive qualities. With guts, courage, faith and a great heart, we look for fast individual and collective actions to get behind the defensive line." 
"With one through pass, you can beat 4, 5 or even 6 opponents, effectively taking them out of the game . . . The central defenders become more important in offense, creating opportunities through open play . . . within our team, principally defenders are classed as supporting . . . we always have support from the back."
"Whether a player is suitable to progress to the higher ranks, is dependent upon the players around them, and also the experienced opinion of the coach. I do not believe in bad players, and for me every player can handle a certain standard in which they can be a valuable addition [to] any team, and also an asset."
Reading those quotes you can't help but buy into what he's saying almost automatically. It's the complete opposite of what we've been seeing lately and if Liverpool start playing this football, then I don't think the fans would mind who the manager was. It's like when Rodgers was appointed and had this philosophy, the football purists bought into it and afforded him time whilst we could see the project in development. It's only when that stalled that fans started to question Rodgers' reign here at Anfield.
It's not such a ridiculous thought either to think he isn't being groomed for bigger things. FSG showed when appointing Rodgers it isn't about the footballing CV.
Lijnders  was promoted in the summer of 2015 as I mentioned earlier and he's been given more responsibility with the first team. Pepijn Lijnders is highly thought of, so much so it wouldn't surprise me to see him takeover, for the short term at least, and with the help of Gary McAlister and Sean O'Driscoll oversee the season if push did come to shove.
Jurgen Klopp may make footballing sense but it's Lijnders that makes business sense, and that's what may matter to FSG because they're primarily businessmen.