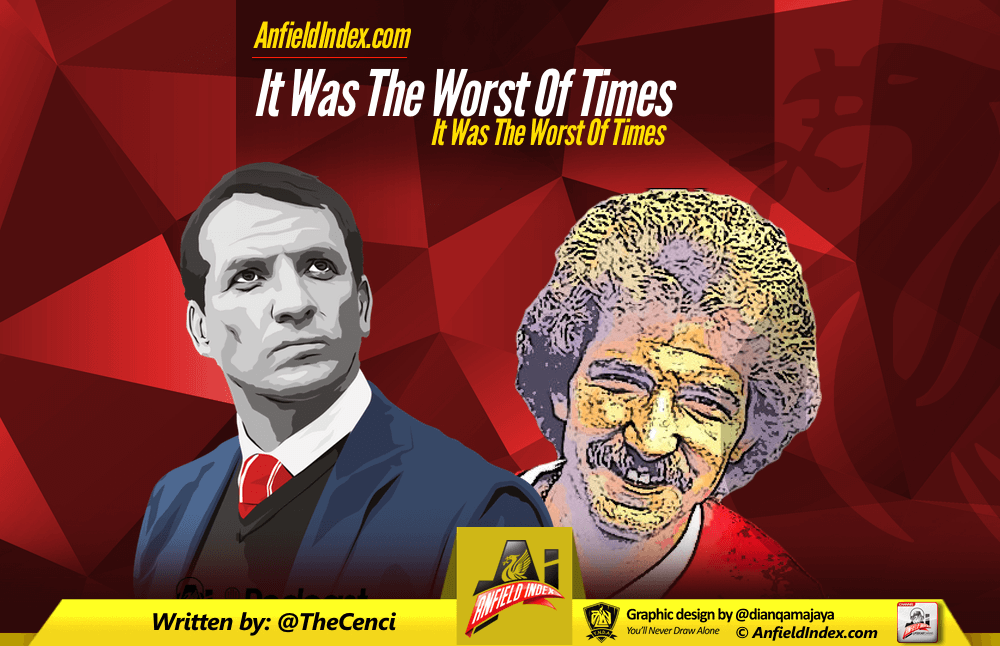 It Was The Worst Of Times, It Was The Worst Of Times
This is going to be awkward.
If one thing has become apparent over the last week or so it is that you can't sit on a fence anymore. You're either in one camp or the other and there's little to be gained from the middle ground. If you stand up and shout for more time for Brendan Rodgers then you're an apologist. Simple as that. Conversely, should you take the opposite view and think that it's time to cut the cord and set him free, you're nothing short of a despicable sulky fan, who would be happy to see us change managers each time we enter a non-purple patch. You just can't win.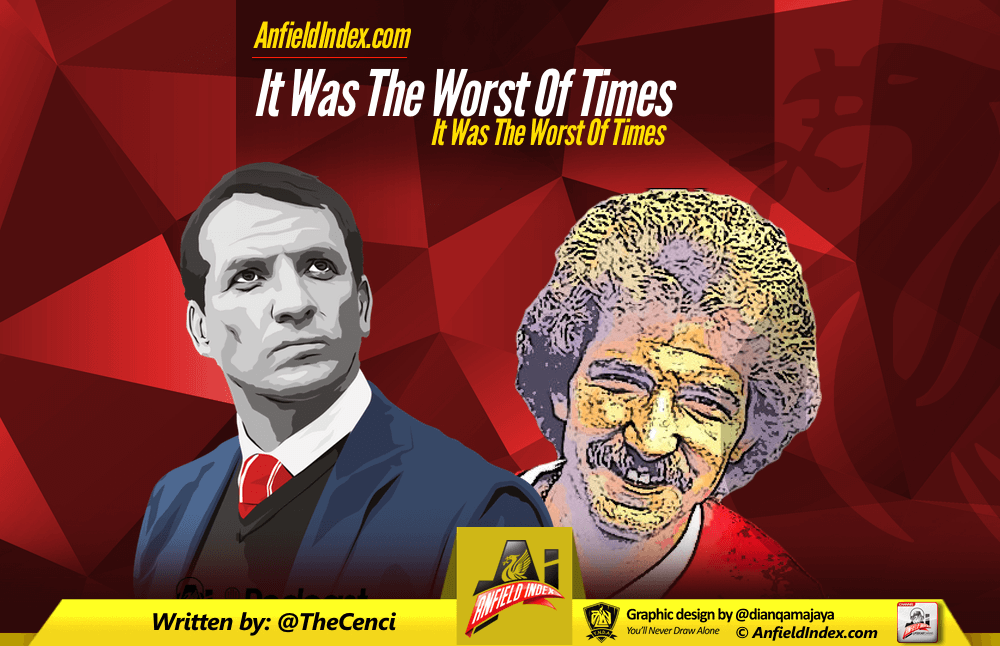 In the last week I've been accused of both – P.R manager for the Rodgers family and 'the sort of fan the club doesn't need.'
Well, if you put your words up for debate you're only asking for trouble so I suppose I'm fair game. View X will always be met with Opinion Y and, on social media at least, it's usually accompanied with howls of anguish or downright abuse. What's become apparent is that the time for clear heads has long since passed.
Liverpool are a club of extremes. We're either the greatest club in the history of anything or the worst collection of human beings to ever meet on a field. For one half, this current team has now morphed into the latter category. The worst ever. Worse than Hodgson. Yes, even worse than Roy Hodgson.
That's a pretty bold conclusion and, although I'll admit that we are bloody awful, I think that's an unfair accusation as the weight of history can dredge up stronger cases.
So much of this is based on age and nostalgia but there's also a sense of modernity too. The very nanosecond you are reading this is the most important in history. Everything in your life is crystallised into this scrap of time. Every extreme, every sense and every motive is heightened and expanded to fill this momentous second. This time matters the most as you're feeling it now, not just contemplating it or remembering it, but living it. This one matters.
Think about it. Hodgson was bad. Hodgson was an abomination and worthy of being expunged from all Liverpool records for eternity, but Rodgers 4.0 has the edge.
I'm not against that view in principle, but that's only because this second is a Brendan Rodgers managerial moment and the emotion that comes with it directs all thoughts. We know what happened with Hodgson. Someone somewhere saw sense and we were delivered to a better man and manager. The vitriol decreased as of that moment. Now he's more of a comic figure and we can relax safe in the knowledge that he can't hurt us anymore. The fume dissipates although, for me personally, only on a granular scale.
Not so with Brendan. As I write this we have the potential clanger of Carlisle United in the offing and he is still capable of hurting us, so it's understandable that the collective histrionics of the Reds shout to the skies. He is the worst manager Liverpool have at this moment.
I'd like to break off here and talk about a TV programme that was broadcast some 17 years ago. Bear with me.
In 1998 Channel 4, in the days when they were interested in minority and cultural issues rather than poverty voyeurism, attempted to mark the 'Music of the Millenium' and chart what the then general public considered to be the greatest 100 albums of all time. Noted musicians and visionaries John Peel and Bob Geldof as well as Jo Whiley ran the rule over the choices and either gave them the thumbs up or aggressively challenged the public taste. Geldof took umbrage at some modern bands being in with a shout at the top spot simply because they held a contemporary relevance. He argued that although Radiohead's two albums in the top ten was admirable, he doubted that they would so much as figure in any future chart as they were only in it because of what they were that day. Sgt Pepper won despite it being 29 years old at the time.
New stuff gets a nod because the emotion is in our hearts whereas nostalgia and class is a different thing altogether.
A further example of this are the two '100 Players Who Shook The Kop' polls of 2006 and 2013. The first poll saw the new heroes and those in the memory figured well, but seven years later and they had dropped to a more realistic and acceptable mean. People loved Peter Beardsley in 2013 but seemingly only half as much as they did in 2006.
Let's get back to Liverpool 2015-16.
Is this the worst Liverpool side since Shankly took over? Lord no. Not to my mind anyway.
Let's look at the opening fixtures to date. As thing stand we have the following stat.
P6 W2 D2 L2 F4 A7 Pts 8.
Not great, is it? Not even close to acceptable, particularly when faced with beatable home opponents in West Ham and Norwich City, but to sound like one of Monty Python's Four Yorkshiremen sketch – this is luxury. Have a look at this – the opening six games of a bygone season -by comparison.
P6 W1 D3 L2 F6 A9 Pts 6.
Okay, it's only two points fewer, but where our lads have travelled to Arsenal and United, this lot lost to Forest and drew with the might of Leeds, Ipswich and Southampton. They won the seventh game at home to Chelsea but, to get back on course, they lost the next three league games to notable giants Sheffield United, Aston Villa and a newly promoted side at Anfield. It may sound like this was back in the days of black and white TV, balls with laces and from an age where men always wore hats but this is a fairly recent team. That last defeat was to Wimbledon. Ladies and gentlemen, shake hands with the 1992-3 season.
This was the year that football changed. Our opening game at Forest saw a new age for the game. Richard Keys crept onto the nation's screens unannounced with some pretty horrific suits and a haired Andy Gray growled and grunted from the commentary box. There were graphics onscreen, Monday night football and even cheerleaders trying gamely to contract hypothermia at Boundary Park, Oldham. Razzamatazz had landed and what better way to herald this new dawn but by introducing the most successful club in League football.
Sadly, no one told us about the billing and we lost 1-0 to a Teddy Sheringham goal. We deserved nothing more and it set down a marker for a dreadful campaign. Forest would go on to be relegated. A few days later we went a goal down to Sheffield United, but they'd read the script and handed us our first three points of the season. A win's a win, right? Not really. Words cannot express just how poor a game that was.
Not convinced? Think we're worse than that now? Pull up a chair. We've only just started.
Putting aside Ronnie Rosenthal's world famous sitter at Villa and a derby defeat in November (the winner scored by that Beardsley lad, who we'd sold to them despite being in his prime) and look at 19th December 1993.
Black Saturday.
Coventry City 5 Liverpool 1.
The obvious comparison is with the 6-1 last year but so dizzying in its ineptitude was this performance that copies of it still sit in various training rooms throughout the land, under the title of 'Don't Do This'.
Was this a particularly strong Coventry side. Well, no. Faced with a forward line of Robert Rosario and Mick Quinn, the Reds were atrocious and somehow contrived to concede four times in the second half. Jamie Redknapp polished a turd by making it 3-1 and was sent off four minutes later.
We simply didn't lose by four goals back then. A 2-0 defeat was a pasting. To make matters worse, our victors were not especially good. This wasn't United away or anything similar. Coventry finished 15th in the League and we were only seven points above them. If you require further evidence I can tell you that a young Phil Babb lined up for the Sky Blues. Not exactly a vintage side.
It was our first truly bad year in two decades and when we fell we did it in technicolour.
On the final day, we beat Spurs 6-2 in an extraordinary match. Six goals at home and, finally, a top six finish. The feeling around Anfield that day was one of optimism. Graeme Souness wasn't in the dugout and rumours of his departure spread throughout the stands. Could this be the moment when we turn the corner? No such luck. As PG Wodehouse once said, 'unseen, in the background, Fate was quietly slipping the lead into the boxing–glove.' The manager was merely absent because he was looking at Peter Ndlovu with a view to signing him. He didn't and Graeme got another eight months.
As bad as that result at Highfield Road was, the most damning statistic was the away record. I didn't even have to look this up.
P21 W3 D7 L11
Three away wins all season. QPR, Arsenal and Middlesbrough. They must have been furious.
And was this down to us being a poor side on the slide? Not really. We were the FA Cup holders at the time. When we sank we did it properly.
So, I'm not saying that this Liverpool side isn't great. I'm not saying that the manager is perfect, or even any good. I just think that to choose this moment as the absolute nadir in the club's history is nonsense. We've had poor sides before. We've made strange signings before (Paul Stewart, Julian Dicks). We've had goal droughts (in the following season we didn't score a league goal in five successive league games from 1st September till 10th October) and we've had a manager who thinks that a 0-2 derby defeat is a good return. I'm not saying that anything that's going on at the moment is good. This doesn't make me an apologist nor a mouth frothing screamer. I'm just saying that you can't assess the whole of history in one second – this second. That's all.
Still, up the Reds!