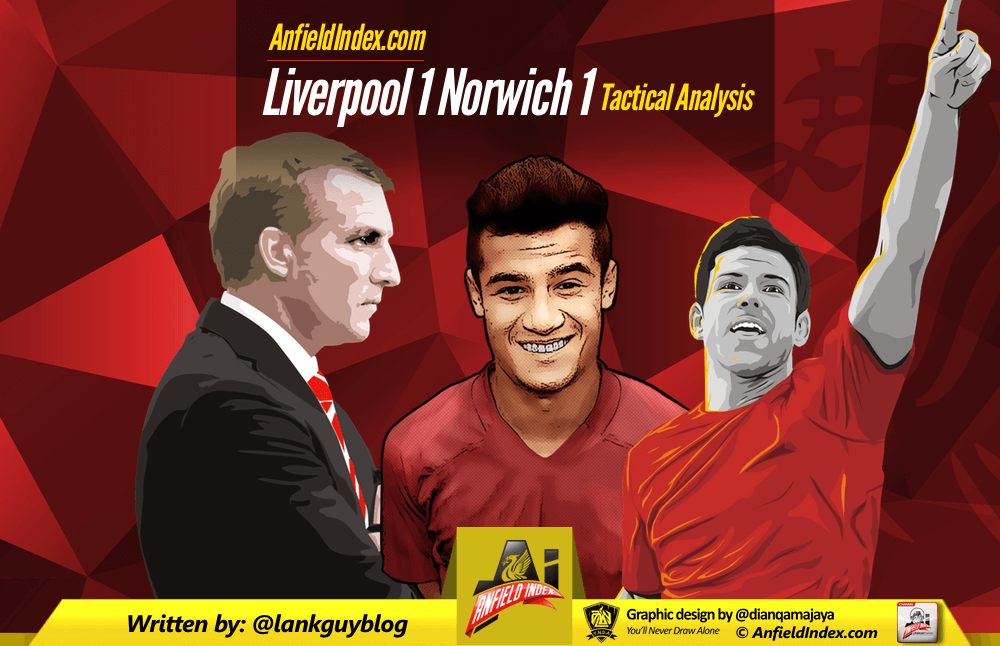 Liverpool 1-1 Norwich - Tactical Analysis

Lineup
Rodgers made four changes to the team that had played in the disappointing performance at Old Trafford. Firmino, Ings, Lovren and Gomez dropped out, Sakho, Moreno, Sturridge and Coutinho came in. Coutinho was the obvious change, coming back from his one match suspension but the other three were all slight surprises in one way or another. Sakho had only made his first start of the season against Bordeaux on Thursday and though he had put in a good performance, there was still the definite possibility that Lovren would come straight back into the side having started every league game so far. Moreno was less unpredictable a starter, although with Gomez's impressive start to the season was by no means a guarantee.
The biggest surprise was the return of Daniel Sturridge straight into the starting line up. Clearly he was not going to be at full pelt having not played a competitive game since April but Rodgers clearly hoped he could add some much needed firepower to the attack, in support of Christian Benteke up front.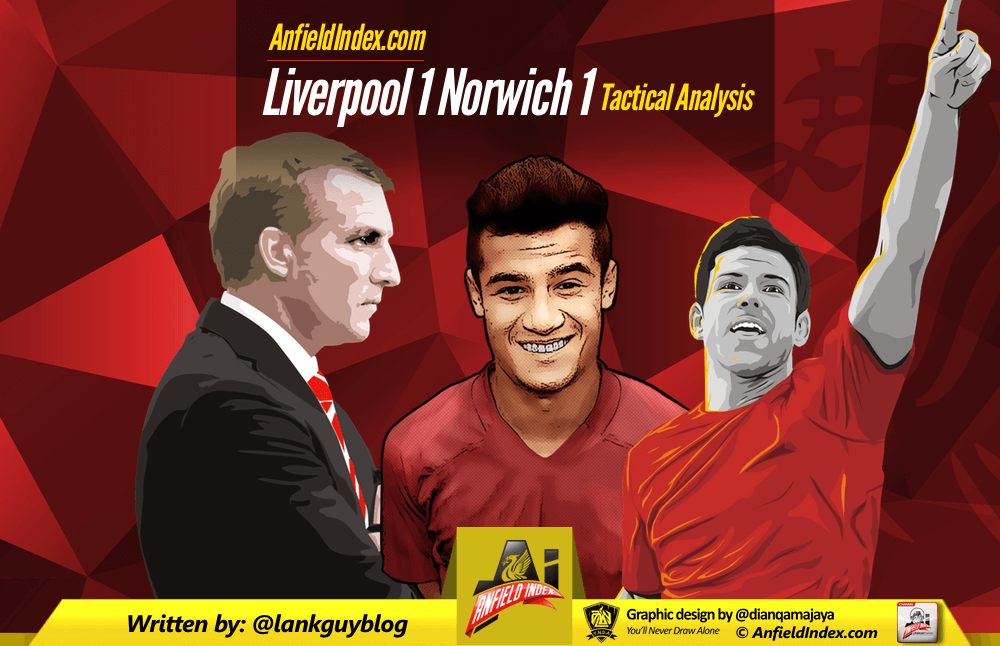 Formation
The big discussion beforehand was what shape Rodgers would set up in. Continuing in the 4-3-3 was a distinct possibility, though would have required Daniel Sturridge to play on the right of the three man front line (a front line that hasn't really consisted of three players so far this season, despite it looking so on paper). Another possibility was the 4-3-1-2 diamond midfield, with Coutinho playing off of Sturridge and Benteke.
What Rodgers elected to go with was the 3-4-1-2; he had opted for a three man back line away to Bordeaux (although it regularly dropped into a five) and here he simply flipped the triangle in attack, with Coutinho playing off Sturridge and a slightly deeper lying Benteke. Can dropped into RCB, Sakho stayed at LCB and Moreno and Clyne pushed up as WBs, hoping to stretch the pitch as wide as possible.

Analysis
One of the key changes of the match though was made by Alex Neil. Having put in an impressive performance against Bournemouth, adding to an already good start to the season, it was a surprise to see Wes Hoolahan only starting from the bench. Considering Liverpool's problems dealing with the West Ham counter attack in the previous home game, Hoolahan seemed an obvious inclusion.
Instead, Neil brought in Graham Dorrans and changed the midfield from a '2-1' to a '1-2'. Whether or not he predicted Liverpool's own change in midfield shape, the change was clearly made with the mindset of shutting off the midfield zone and making it difficult for Liverpool to play through this area. Add to the fact that Jordan Henderson, a player whose energy, forward runs and quick combinations are enormously important to the team, got injured in training two days before, and Neil's decision made a lot of sense.
What this did was match up Liverpool in the centre of the pitch, 3v3. Dorrans went on Lucas, Howson went on Milner and Tettey marked Coutinho. Throughout the first half, Liverpool struggled to dominate this area of the pitch. Lucas had a good game, partly due to having less space to cover with three CBs behind him, but does not have the ability on the ball or even the mobility to control this sort of game from the base of midfield. Milner's movement did help him get free of his marking at times but his play on the ball was extremely poor and his performance made it very difficult for the team to dominate the midfield. Coutinho himself, the key creative player in the side, struggled to get away from Norwich's marking and made the sort of poor decisions that plague him when he's not on form, especially against lower blocks.
This meant that Liverpool needed to find other ways either of attacking or to free up their players in midfield. The most obvious way to progress play through the centre was for Benteke and Sturridge to help associate play between the lines. With Norwich marking up 3v3 in the middle, Liverpool needed to find a spare man in the centre and this either had to come from the back (more on this in a second) or from the forwards.
Unfortunately, Benteke and Sturridge struggled to offer anything in this regard. Benteke, whether or not he was under instruction to, played very deep for him, sometimes acting as a fourth midfielder nearer to Milner and Lucas than to Sturridge, but his associative play was notably poor and has never been a particular strength of his. How much his tight hamstring had to do with this is hard to tell but he offered very little in helping the team progress and create through the middle and the team lost some of his potential dynamism against the Norwich back line. Sturridge also dropped deep at times but he was clearly rusty and his link up play was similarly poor.
Liverpool's back three was one of the few things that worked genuinely well in the first half. It gave the team extra depth and cover on the defensive transition, continually halting Norwich's attempts to hurt Liverpool with the first or second pass on the counter. This allowed them to concentrate on their possession and with the inclusion of Sakho and Can, this was a clear improvement to the partnership of Skrtel and Lovren – Sakho is often able to create dangerous situations through incisive forward passes between the lines; Can is similar and also has the ability to make a driving run into midfield, collapsing the opposition's marking or use accurate long switches of play. Considering the under-par individual performances from Liverpool's attacking threats, the former was of less importance in this game; the latter was the one way the team continually threatened in the first half.
Partly as a result of playing as a wing back and partly as a result of Liverpool initiating their build up through Can, drawing the Norwich block towards that side, Alberto Moreno continually found space on the left hand side. A number of times in the match, Can looked to use a long a diagonal to get Moreno in space, 1v1 with Whittaker at RB. It was clear early on that the Spaniard had the beating of him and Liverpool created a number of opportunities from cutbacks on this side, though didn't take advantage of them.
Despite looking gradually more dangerous as the half wore on, on top of Norwich's lack of chances, Liverpool were still not dominating the game. They couldn't find the extra man in midfield and several under-par performances were damaging the attack. Rodgers needed more to try and find a way to overload Norwich in the centre and add more dynamism to the attack. Can needed to make more driving runs from the back in order to free Coutinho from his marking, and they needed to keep using Moreno on the left.
Second half
Rodgers achieved one of these things through an enforced change at half time; Benteke had a tight hamstring and was replaced by Danny Ings up front.
This didn't theoretically sort out Liverpool's lack of a free man in the centre but what it did do was give the team more dynamic movement against the Norwich back line. The early goal certainly helped in this regard – it was no surprise that it took a transition for Liverpool to score and it was excellent play from both Moreno and Ings, as well Lucas to win the ball in the first place, to go 1-0 up. This goal gave Ings more space to run in behind and he was a constant threat when Liverpool regained possession. Rodgers finally had an attacking balance through the centre – Ings looked to run off the back of Norwich's CBs, Sturridge could drop off and find extra space between the lines, and Liverpool had increased depth in attack.
As often happens in the Premier League, the second half became more and more open and while this helped the Liverpool attack, they also became more open in midfield. Milner, a player whose main attributes are meant to include game intelligence, moved higher up the pitch and with Coutinho leaning more towards the left hand channel, the team resembled a staggered midfield three at times, or even a clear '1-2'. This created more space around Lucas and Norwich began to attack this space on the transition, causing Liverpool to have to fall back.
The Norwich goal had no relation to this but it was endemic of Liverpool's lack of intelligence so far in this early period of the season. The goal itself was poor – Mignolet's flap was the main cause of the concession but the defence failed to react in second phase and Martin had plenty of space with which to lob Mignolet and draw Norwich level.
Rodgers reacted by making two changes in nine minutes – Lallana came on for Sturridge, which may well have been a planned change regardless of circumstances and Firmino came on for Lucas. Liverpool moved to a 4-3-3 though in reality they ended up pretty shapeless – Can moved up to play at the base of midfield; the five in front of him moved around with a lot of mobility and little positional control. This did create some opportunities – Norwich had some problems dealing with five attacking players moving around with freedom and Coutinho had a glorious chance to put Liverpool ahead having been set up by Firmino, on top of some other promising approach play.
Ultimately though, this was a last chance, hit-or-miss setup and Liverpool were desperately lacking a finishing touch, illustrated by Coutinho having ten shots on goal without ever looking like scoring.
Conclusion
This was a definite improvement in performance, clearly, in part, as a result of the change in shape. The team gave up few chances to Norwich and rarely looked in danger. Unfortunately there was no real domination of the midfield and Liverpool merely reacted by becoming more open in this area instead of shutting it off 1-0 up. Another frustrating defensive mistake leading to a goal and a poor performance from Coutinho meant Liverpool have now gone five games without a win in all competitions. A result against Carlisle is much needed.