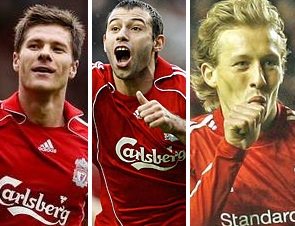 Class of 08/09 - Midfield Comparison Part 3
This article is the final instalment of a three part series titled "Class of 08/09 – Midfield Comparison". If you haven't read the first two articles please follow these links: Class of 2008/09 Season – Midfield comparison part 1, Class of 08/09 – Midfield Comparison Part II
The third, and final, instalment of our nostalgic look at the midfield trio of the 2008/2009 season will concentrate on their performance in the attacking third of the pitch.
We'd expect Xabi Alonso to be ahead in the race for most creative central midfielder out of the three. Xabi's passing, whether it be a simple pass or a long ball, was always of the highest quality. We'll look at how much of his passing helped in creating chances for Liverpool FC in the season 2008/2009 and how his midfield partners did in comparison.

2008/2009 was a very successful season in terms of goals. Liverpool FC scored 77 goals and achieved a positive goal difference of 50. Both of these statistics were the highest in the league for that season. It's fair to say Liverpool did everything that season except win the league.
With Liverpool being the best scorers in the league the team had to have had some creativity in the side. This article will look at how creative the central midfielders were for Liverpool that season. Now don't get depressed when you look at these numbers, most goals are created by the wide men, attacking midfielders or support strikers in the team. We're looking at defensive midfielders in this article so we're not expecting outstanding results.
Goals
Xabi Alonso got three goals out of the 77 (4%) that Liverpool scored that season. Not a great return for Xabi but playing as a defensive midfielder, you wouldn't expect him to be prolific. A lot of people will start to compare to Meireles's goal scoring however Raul has been played off of the front man in the majority of those games and therefore had the freedom to go further up the pitch.
Lucas Leiva and Javier Mascherano failed to hit the back of the net in the 2008/2009 season however they did manage a few efforts on goal.
Shots
Xabi Alonso had the most shots out of the three players with a total of 32, averaging one every 78 minutes. Mascherano averaged one every 144 minutes whilst Lucas averaged a shot every 92 minutes. The last stat is quite surprising as it seems Lucas was playing further up the pitch in his early years at Anfield. This season he's managed only six shots at the rate of; a shot every 372 minutes. That's a massive difference three years on. It also shows how Lucas Leiva's role over the years has evolved and he's now much more a defensive midfielder than the attacking one we brought from Gremio. Having Javier Mascherano as the defensive midfielder definitely gave Lucas and Xabi enough license to get further if they wanted but it seems Rafa Benitez always wanted the two central midfielders to be compact.
Creativity
Xabi Alonso also took the honours for most chances created. He created 67 chances in the 2,516 minutes he played averaging 2.4 chances every 90 minutes. Javier Mascherano created 33 chances in 2307 minutes and Lucas Leiva created 18 chances in 1282 minutes. Mascherano actually had a slightly higher average than Lucas in the chance creation per 90 minutes with Javier averaging 1.3 and Lucas 1.2. Not much in there really but still a higher average.
There is a surprising statistic in the assists area. Despite creating 67 chances Xabi only made 3 assists all season. Obviously we cannot attribue the chance completion to Xabi as he should get credit for creating the chance however he has no control over the outcome of the opportunity.
Lucas Leiva managed to get two assists whilst playing a bit part role that year which is a pretty good achievement when Xabi had managed three and Mascherano one. Even more impressive is that Lucas Leiva created eighteen chances in total and had a higher percentage of assists out these chances than his colleauges. Unfortunately Lucas has not been able to reproduce this in the Premier League this season with only one assist which is a clear indication of the evolution of his role at the club; more concentration on the defensive side of the game.
Random stats:-
Between the three players compared they created a total of 118 chances.
The entire Liverpool team created 566 chances in the 2008/2009 season.
The percentage of chances converted into goals for Liverpool that season was just below 14%.
The percentage of chances created by Alonso out of the total was 12%
The percentage of chances created by Mascherano out of the total was 6%
The percentage of chances created by Lucas Leiva out of the total was 3%
The defensive midfield trio compared in this article created 21% of total chances for Liverpool FC in 2008/2009.
Overall
It has been an interesting comparison between the three players. We had expected it to be pretty one sided and in certain areas but Lucas Leiva's stats were quite intriguing in the fact that he didn't do as badly as people had made out. If we take anything from this article it is that Lucas Leiva has actually been pretty competitive with our outstanding midfielders of the last few years. The pass completion percentages of Lucas's have been brought into the spot light this season but the fact is that he's been completing passes at this rate since he's been at the club. The articles show that a lot of fans have been unfair on Lucas. As we've mentioned he had a higher duel win % than the other midfielders compared and he has further improved in the defensive areas this season.
Lucas has attempted 125 tackles this season which is the highest individual number by any player in the Premier League. The contract renewal yesterday was a glowing reference of how Lucas has been playing for us in the 2010/2011 season. We hop he can continue to play as he has been doing in the years to come.
Javier Mascherano's statistics proved he could actually pass a ball which, again, a lot of supporters believed he could not do. The statistics show that his reading of the game defensively was the best out of the three in 2008/2009. His excellent tackling ability has been highlighted in the articles.
Xabi Alonso has been our standout midfielder from the Benitez era. His distribution of the ball, creativity and goals have been sorely missed from a centre midfielder / defensive midfield position since he left (before you say it, Meireles played off of the striker when he's scored goals for us, hence his dry patch now that Suarez, Kuyt and Carroll take up those positions). If Xabi Alonso was to ever contemplate coming back to Liverpool FC, we believe all Liverpool supporters would welcome him back with open arms.