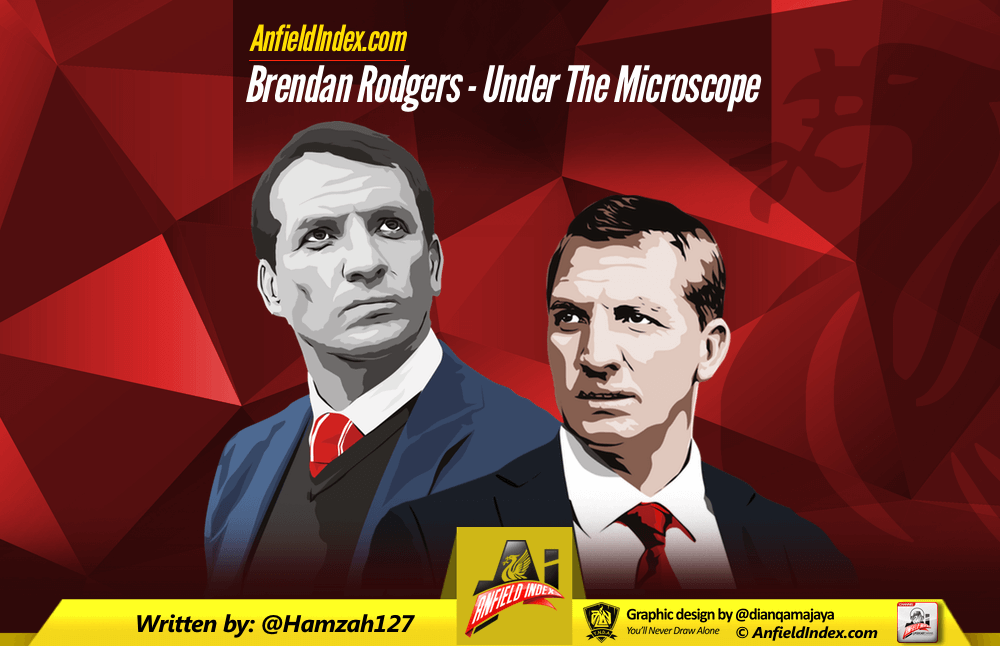 Brendan Rodgers - Under The Microscope
Since the departure of the mercurial Luis Suarez, it has not been the easiest of times for Brendan Rodgers, but where has it gone wrong, for a man believed to be so tactically astute? In this detailed article I intend to run over some of the more recent mistakes of Rodgers, and where the improvements can be made.
Firstly, the personnel must be looked at: in five of the seven league games played this season, Rodgers has opted for Mignolet, Clyne, Skrtel, Lovren & Gomez in defence, whilst Coutinho, Can, Milner and Lucas have started the most out of the available midfielders in these games, and Benteke has been selected as the main outlet going forward. But since the return of Daniel Sturridge, Rodgers has made it clear through his selections that Sturridge is his first choice and he wishes to pair him alongside another striker too; and it seems that Moreno has now reclaimed his starting spot. Before we look at the attacking options though, we need to look at our problematic defence.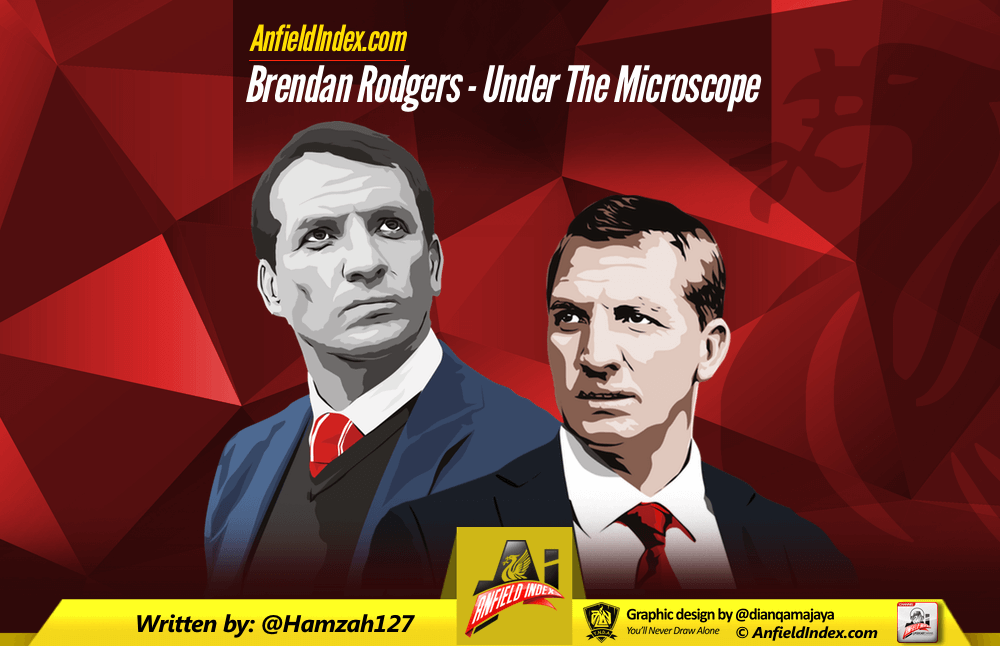 The Defence
In Simon Mignolet, we gave a player who has undoubtedly grown during his time under Rodgers, in both confidence and ability, but despite his improvements, notably regarding his handling and claiming aerial balls, he is simply not up to the standard of the other first choice 'keepers at our rivals. During last season, following his omission from the starting XI at Old Trafford he set to work on improving his punching, and we could see an attempt by him on most occasions to try and punch the ball out whenever crosses were made into the box, however, he has a tendency to either not punch away from the middle of his area, or to not fully connect with his punches – something seen in the recent match against Norwich where his failed clearance led to (a well taken) goal. Again, this problem was seen in the game against Aston Villa, where 20 minutes in, a cross came in from the wing, going away from the 'keeper, and Mignolet needed to get a hand to it – which he did – but instead of trying to catch it, or push it away with his fingertips, he opted to punch it and didn't connect cleanly, offering Aston Villa a chance; fortunately for him the chance was squandered, but he certainly still needs to work on his punching.
He may boast a strong clean sheet record, but he still needs to improve, although a goalkeeper is almost certainly the least of Rodgers' worries.
The defence has understandably been subject to the most scrutiny, as it was the main cause for our failure to win the league in 2013/14 and our deficiencies in 2014/15 too. In our full-backs, Rodgers has (finally) made improvements on Enrique and Johnson, the two he inherited from Dalglish, however his insistence on playing Johnson over the past two seasons raises some questions over his selections – something that becomes a recurring theme – but in terms of this season, it is safe to say that Clyne has been a good investment, with clear ability going forwards and back, composure on the ball, strength and a good delivery (which could be used to good effect if he can cross to Benteke). On the other flank however, it is odd that Rodgers initially opted for the promising 18 year old Joe Gomez, a centre-back by trade over the quick Moreno, especially as he had no prior Premier League experience; it was clear that regardless of how good Gomez is, he would require some protection, which could have been offered by a winger; however, Rodgers' initial adherence to a 4-3-3 formation with Firmino, Coutinho and then Lallana deployed in the winger role, all of whom are not specialist wingers or known for dropping back, left Gomez exposed, illustrated best in the games against West Ham, and the old enemy, Manchester United.
The centre-back position has been the biggest issue by far though, and Rodgers' insistence on selecting Lovren and Skrtel, and leaving Sakho on the bench irked many fans to no end, whilst his decision to send the extremely talented Portuguese international Tiago Ilori out on loan again left many more far from impressed, especially as he has the qualities we crave from a centre-back: pace, strength, confidence, and composure on the ball.
Adding to the defensive issues at centre-back since the departure of Agger, the defence has lacked a leader, a player who will organise and set the defensive line, and also a defender who will bring the ball out from the back and play forward.
The organisation of the defensive line is a huge issue, over the course of last season; I noticed that whenever the opposition had the ball in our half, our defenders would be well inside the box and effectively be inviting pressure:
If we were to look at a much more sturdy defensive team, such as Chelsea last season, you'll see throughout the game, unless under severe pressure, they would hold their defensive line outside of the box, but keep a much more compact shape:
This could be in part due to the more advanced position of Courtois, urging his defence to set up outside the box, but it is rare that this line would be breached, as players like Hazard and Ramires would support the full-backs, something which our attacking midfielders Coutinho and Lallana do not do as efficiently, when deployed in wide roles. But the further forward the defensive line is positioned, the less pressure the team without the ball invites, it also allows for players to be in a more advanced position when counter-attacking; the most recent Europa League game against Bordeaux showed the negatives of playing with wing-backs instead of out-and-out wingers, as Ibe and Moreno were often forced to track back into a deep defensive position and were unable to provide the width on the counter-attack as they were positioned so deep (width is another issue that will be looked at in further detail later on). On the other hand though, in the 3-2 victory over Aston Villa, Clyne and Moreno were both deployed as wing-backs and put in two very good performances; they were both playing very high up the field, but seeing as we had the lion's share of possession, there was no real reason for either of them to be playing deep. The conclusion that can be drawn from this is that wing-backs are utilised much better when a team retains possession of the ball for the majority of the match, so Rodgers should be looking to control the game and allow his wing-backs to push on and provide an attacking outlet, rather than play wing-backs to provide extra defensive protection as their ability to affect the game in an attacking sense is reduced.
As aforementioned, the personnel deployed by Rodgers is a point of concern, last season Dejan Lovren committed six errors, two of which led to goals, and has already been directly responsible for conceding one this season, whilst Skrtel committed five errors last season, with Moreno committing four, but being responsible for conceding three. When looking at these statistics, it is hard to justify the inclusion of any of these three in our defence, whilst it has been known for a long time that Skrtel often needs a more responsible defender alongside him (but even then that doesn't stop his errors e.g. Crystal Palace's third goal against us at Selhurst Park in 2013/14). The other defenders are not perfect though either, Can, in Saturday's match against Villa, was responsible for leaving Rudy Gestede unmarked in the box – for his first goal – and available for a simple tap in, whilst Sakho could potentially have stopped the cross coming in altogether, although he may have been told to leave the ball by Mignolet.
Rudy Gestede provided a large challenge for our defenders; he boasts the best headed goal record in England due to his productive time at Blackburn, and used his strength and power to good effect against us, seen through his powerful second goal; usually blame would be attached to the defender marking the goalscorer in this situation – Sakho – but when up against such a powerful aerial threat, the blame should actually be attributed to the centre-backs in general for having such a deep line and the wing-back who allowed the cross to be put in. I do have sympathy for Rodgers and the centre-backs in this situation though, as if the centre-backs were instructed to play a higher line, Gestede would not be able to run behind the lines as he isn't very fast, but the extremely quick Villa wingers would have been given a lot more space to exploit, so it was a catch-22 situation for the defence, but they managed to get through a testing game.
I would personally attribute our defensive deficiencies to both the personnel and the tactics employed, the 4-4-2 diamond used in 2013/14 left our defence completely open, especially as the full-backs were in advanced positions and Gerrard was deployed as the only deep-lying midfielder (an area which he excels creatively, but does not pull his weight as a defensive midfielder), which may be why Rodgers is apprehensive about using it again. Although, Rodgers' use of a 3-4-3 last season, with Can playing the role of the ball-playing centre-back did rightfully earn plaudits, Can is prone to the occasional defensive lapse and it left us bare upfront, our goal-scoring figures overall whilst using three at the back pay testament to that. However, the reversion to a 4-3-3 leaves us open like the 4-4-2 diamond did, especially so as our wingers do not drop back enough to provide defensive cover.
Fixing the defence whilst retaining potency upfront is by far the biggest challenge facing Rodgers, it may suit the team better if a 4-4-2 diamond, or a 3-4-1-2 is used whilst in possession of the ball, but without it a 3-6-1, or 3-5-2 is deployed to keep the rigidity at the back, but that would require versatile players, and players such as Coutinho having to defend – a potential waste of energy and time as he should be spending training learning how to develop his game going forward rather than back.
The Midfield
Rodgers' midfield selections have often baffled the Liverpool fanbase, myself and pundits alike. I was especially surprised when after the departure of Steven Gerrard this summer, he (or the transfer committee) didn't go out and actively seek a creative deep-lying or central midfielder, opting for the industrious James Milner in the middle instead of pursing the eventually Madrid-bound Kovacic or Real Sociedad's Illaramendi.
The lack of a creative central midfielder has become glaringly obvious with our sole attacking outlet being Coutinho (a player who I believe can be entrusted with this responsibility, but who shouldn't have to be). Another odd move in my eyes was the decision to send out our most 'experienced' winger on loan – Lazar Markovic, a player who showed some promise last season – and to only have one out-and-out winger, Jordon Ibe. The 4-3-3 formation (called the easiest formation to dominate a game by Louis van Gaal) Rodgers likes requires width, and with only one winger, that width and penetration is simply not there, this is even more of a problem when considering our new £32 million striker, Christian Benteke, relies so heavily on crosses from out wide. Firmino, Coutinho and Lallana cannot be expected to provide the width, as their style of play is much more focussed down the middle of the pitch and not crossing the ball into the box, but rather working it through the centre.
Another issue that I noticed was Lucas' omission from several starting XIs and the possibility of him leaving in the summer, he is by far the best defensive midfielder at the club, and breaks the play up well as well as having good short distribution, and in my eyes he is more disciplined than Emre Can, who is naturally better in a central midfield role rather than a defensive one. His return to the starting XI after our 3-0 drubbing at Old Trafford last season led to an impressive unbeaten run, however he does not have the creative ability of Gerrard so the responsibility of creating chances for our forwards is still reliant on Coutinho and Firmino.
Unfortunately for both Coutinho and Firmino, they were both being played out of position; when utilised in a 4-3-3, they are forced out wide, and neither can operate fully in their preferred position just behind the striker, hindering them from creating proper chances for the strikers to score from, a change to the 3-4-2-1 formation doesn't solve this issue either, as when we've used this formation, the full-backs are not forward enough to provide the width for the team to operate, and allow the two attacking midfielders to exploit the middle.
As seen against Bordeaux, the 3-4-2-1 can leave the lone striker woefully isolated, whilst the wing-backs are often stuck in defensive roles, meanwhile the centre midfield consisting of Can and Rossiter did not have the creativity to spot and hit Origi on the counter-attack:
It's abundantly clear that we miss Henderson's energy and creativity in the heart of midfield, but having spent so much over the summer, the least we would expect is for some adequate cover, but once again, we are lacking depth in key positions. Perhaps one solution to the lack of creativity in the middle, is to play Coutinho as a centre midfielder, and Firmino in front as the centre-attacking midfielder, but there is already enough pressure and expectation placed upon Coutinho already, and added responsibility may hinder him, whilst positioning him in the heart of midfield may nullify his best attributes.
Another issue with the 3-4-2-1, and the 4-3-3 lone striker formations is that the pressing system utilised to devastating effect in 2013/14 and inspired by Klopp/Dortmund's gegenpressing is defunct, as a lone striker pressing the ball is completely useless without support from wingers or attacking midfielders, it is this aggression which we lack, but this could be potentially fixed by playing two strikers, allowing players to press in packs and win the ball back, rather than a player darting out of position, leaving a gap in behind and just tiring themselves out. I would say that an improvement was made against Villa regarding our pressing, and it allowed us to control the game and stifle the Villa midfield, the issue now is to keep this high-energy pressing going, as it makes controlling the game (and thus fully utilising players like Clyne and Moreno – who can provide the much needed width and penetration) much easier, and therefore help score goals and eventually win games.
When in possession, I have also noticed that we play far too much in front of the opposition defence/midfield and do not have enough runners moving to receive the ball, but again this could be fixed by playing two strikers – as seen against Villa – as this provides the midfielders with more space to run or pass into. Alongside this, whenever we are pressed back, the ball usually goes straight back to Mignolet, and there is rarely a midfielder looking to do what Gerrard (and Alonso back in the Benitez era) used to do, by dropping back and looking to collect the ball and then instantly playing a ball forward, thus applying pressure onto the opposition and increasing the tempo of the game.
Ideally this is how being pressed back should play out, and this was how it was done in 2013/14 to devastating effect:
1) The ball is sent backwards
2) The goalkeeper receives the ball
3) The full-backs move up the field
4) The centre-backs split
5) Gerrard (the deep-lying playmaker) drops deep into the hole vacated by the centre-backs
6) The strikers then stretch the opposition defence as wide as possible and the space is exploited by the three midfielders
And so it should look like this, with anyone available for the pass:
Although, as mentioned earlier, any player can drop back to collect the ball from the vacant space in the centre of midfield, turn, and then play a direct pass into the forwards in order to instantly apply pressure and attack quickly.
Unfortunately, in our current team with nobody dropping back to collect the ball, and without two strikers to stretch the defence, it is harder to break down a team as swiftly as we did in 2013/14.
Moving away from 2013/14; ideally I envisage a return to the 4-4-2 diamond, with Firmino playing the centre attacking midfield role, and Coutinho and Henderson playing the same roles as they did in 2013/14, when Sterling moved to the no.10 position, with Lucas sweeping up behind, and Henderson trying to provide the creativity lost since Gerrard's departure. However, Rodgers could utilise a 4-3-3 in the same way that Barcelona do, with a fluid and interchangeable front 3, allowing both Sturridge and Benteke to play as the main striker as and when the game situation suits it, this would allow for an extra centre-midfielder, but then a player like Firmino or Coutinho would be able to roam freely, operating within the pocket behind the striker, however, this may leave the defence much more exposed as the front three would have no inclination to drop back and help defend. The 3-4-1-2 used against Villa is also a very good alternative, Ings has the energy to drop back and help defend, but also presses relentlessly; but it is absolutely crucial in this formation that we have the majority of possession and also important that when we counter, and Ings is in a deeper position, Sturridge is not isolated as our strikers were against West Ham and Manchester United.
Another point that the Villa match highlighted is the importance of Coutinho being played in an advanced position, rather than deep or out wide; Milner's goal may have come from playing just off the striker, but during the first half Milner got forward too much and Coutinho had to play deeper, nullifying his attacking threat, and only in the second half, where he played closer to Sturridge and Ings, could we see his influence grow, and he bagged an assist when he combined with Sturridge.
Rodgers' midfield in 2013/14 was tantalisingly good, it had pace, penetration, creativity and energy, however when you look at our most played midfielders this season, Coutinho, Can, Milner and Lucas, you start to wonder where exactly does Rodgers plan to take this midfield and what does he intend to do with it, as a midfield like that would indicate a possession based, 'control the game' mindset, but with our average possession per game falling every season, it's still unclear as to what Rodgers is actually aiming for, whilst the lack of depth within the midfield players is deeply concerning. Recent matches against Norwich and Villa indicate that Rodgers is moving back towards a possession based midfield, but with so many changes made over the past few weeks, it is ambiguous what Rodgers' first choice team, tactics and formation are.
The Forwards
Attacking football is a must for a team like Liverpool, and it is essential when playing lower teams that like to defend and attack us on the break, playing with two strikers is an absolute must. By having two strikers, it is easier to put into practice our pressing, and then we can win the ball; this allows us to control the game and the pace of it. As well as this, a more direct option opens up, with two strikers to hit the ball towards; and as there are two strikers, the opposition defence cannot gang up on a striker as they would when playing against a lone striker. Another important aspect of having two strikers is the potential for a strike partnership – we have already witnessed the power and the fear factor of a partnership like the SAS, so Rodgers should be striving to build another; this is reliant on a complementary style though; in the SAS, Suarez was the nifty creative one who made chances and took apart teams, whilst Sturridge was the quick, clinical finisher who was there to poach goals, I believe Sturridge should keep doing the same as what he did then, and feed off the balls that Benteke wins through his power, but this time the creativity in the partnership is reliant on the attacking midfielder – Coutinho or Firmino.
It seems the return of Daniel Sturridge is a timely one, with Benteke injured and Rodgers under severe pressure, Villa was seen as a make-or-break match, and thankfully for Rodgers, Sturridge rose to the occasion in the second half with two well taken goals and two other promising chances that could have completed a hatrick for him. Despite searching around in the first half for chances, as soon as Villa took off their defensive midfielder Carlos Sanchez, the space opened up for Sturridge and Coutinho to roam in, whilst the advanced position of both wing-backs as well as the pressure applied by Ings and Milner all culminated in space for the strikers to run into and for Coutinho to operate, allowing the Liverpool attacking players to play quick, one touch, short passes between each other and dragging defenders out of position and creating space to shoot and run into; illustrated perfectly by Sturridge's sumptuous first goal and the cooly struck second:
The deployment of two strikers against Aston Villa was used to great effect, as we scored three goals for the first time in 28 games (the last being against Spurs in February), the first goal is the best example by far of the merits of using two strikers, as Sturridge and Ings both kept the centre-backs busy and created space just outside the centre of the box for Milner to run into and shoot from:
There are times however when playing two strikers is too risky, especially if one is not up to full fitness or is out of form. In big away games such as Manchester City, United, Chelsea or Arsenal, it makes much more sense to have an extra body in midfield to cope with the added threat and then to try and play on the break. This tactic was utilised well against Arsenal this season in the 0-0 at The Emirates, as we required a strong player with good hold-up play for the counter-attack (i.e. Benteke), if we used two strikers though, we would have almost certainly have been overrun in midfield, as we just about coped with the Arsenal second half onslaught. Teams guilty of playing two strikers in big games are often taken apart due to their naivety, exemplified best by Man City last season who believed they could take on eventual treble winners Barcelona with two upfront and got completely decimated, and would have been humiliated were it not for an in-form Joe Hart, they then repeated this mistake against Liverpool at Anfield, which eventually cost them their bid to defend their title.
Yet, against Manchester United away from home, despite it being a huge game and for calls to change the formation, Rodgers opted to surprise everyone by having two strikers, but with one – Ings – playing as a winger, covering young Joe Gomez, and so effectively playing as a wing-back – this particular decision puzzled me then, and does not cease to either. Why bother playing a striker at all if they're deployed as a defensive winger, why not use Moreno instead, who actually can get forward and deliver crosses?
This leads me on nicely to my concern over Rodgers' tactics and use of players.
Rodgers often plays players out of their favoured position: Henderson, Sterling, Ibe, Markovic and Downing have all played as wing-backs, Gomez has been deployed as a left-back, Can at centre-back and Lallana, Coutinho and Firmino as wingers; on occasion some of these decisions have worked (i.e. Sterling at no.10), but on the vast majority of occasions it seems that they don't. If Rodgers really is to get the best out of his team, they need to be played in their favoured position, it gives them confidence and keeps them in familiar settings, allowing them to flourish, rather than try to do things that simply aren't their style. It seems to me that Rodgers is guilty of choosing a formation and trying to fit his players into it (something van Gaal was also guilty of in his first season at Manchester United, when he insisted on playing three at the back regardless of the players he had at his disposal), instead of choosing a formation, which suits the players, and gets the best out of everyone.
One of the most perplexing moves by Rodgers this season for me came against West Ham, and then again against Manchester United. Whilst behind in both games, Rodgers decided to take off our only central attacking midfielder, and prime creator (Firmino was substituted in both games) and replaced him with Ings against West Ham, and Ibe against United, before bringing on Origi. At first look these may look like simple changes, but the effect these changes had on the game was ridiculous; by taking off the only centre-attacking midfielder, there was a gap – in both games – between the midfield and the strikers, with no link between them (much like the isolated Origi in the Bordeaux match) now against West Ham and Manchester United, we had two strikers completely isolated from the rest of the team, and unable to contribute as there was no creative spark – with Coutinho suspended and Firmino on the bench – the link-up was non-existent.
So what we had was this enormous gap between midfield and the strikers, a mistake that you would not expect a Premier League manager to make:

(LFC vs. United, Firmino and Ings both substituted off, but Moreno yet to be brought on).
With all this empty space, the strikers had to drop back, and so the advantage of having two strikers stretching and occupying the defensive line was nullified.
And so, this brings me to the conclusion of this very lengthy piece; the matches against Norwich and Aston Villa have provided me with some hope that Rodgers is making the right moves, by starting Sakho, Lucas and Moreno as well as starting with two strikers up top, but the same recurring errors of playing players out of position and constantly fiddling with the formation is an issue of concern; with all the time and money invested in the squad, you would expect Rodgers' to know what formation to use and what style of play he wants, but at the moment, the team, the manager and the fans seem very confused, but the clock is ticking fast on Rodgers, we know the right team and tactics are there somewhere, but will he find them before it's too late?