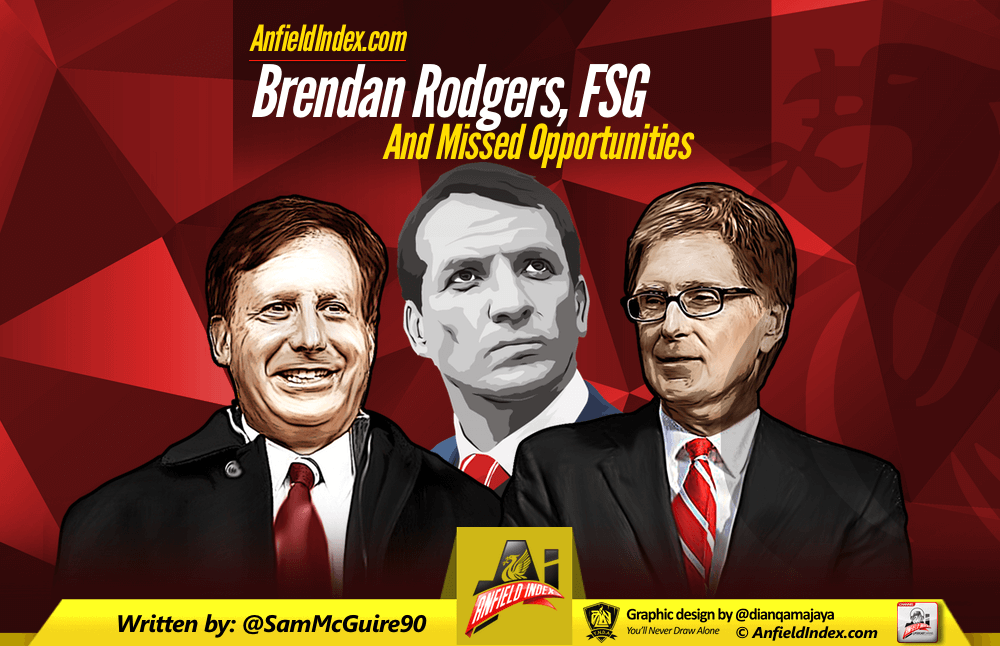 Brendan Rodgers, FSG and Missed Opportunities

Liverpool are in limbo. No matter what side of the fence you sit on when it comes to Brendan Rodgers you can't bury your head deep enough in the sand to not see that the club is currently in no man's land.
There's no identity. There's no passion, from both players and staff. There's no unity and there's no direction. We're just stagnating in a cesspool of mediocrity.
This could've all been very different had the owners, the manager and the players taken the opportunities that have come their way. I don't blame Rodgers or the owners for the collapse at Chelsea and Palace. We had absolutely no right to even be in that situation. People will argue we put ourselves in a position and didn't make the most of it but I saw it as a learning curve. That was our first missed opportunity. We didn't learn from that. You can't look at those games and say we learnt about game management and grinding out results because we haven't.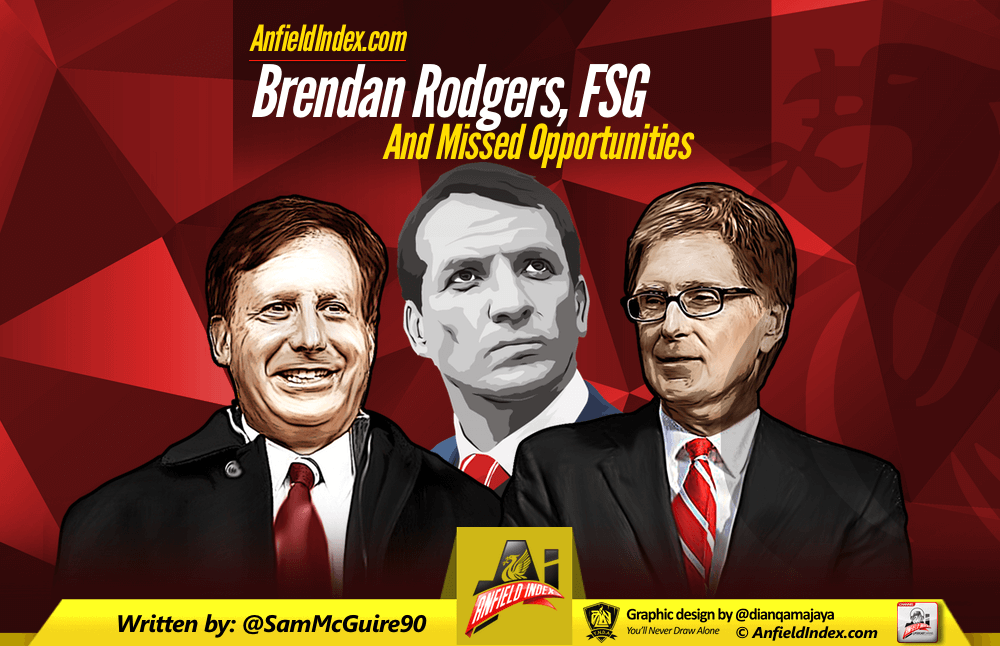 We then sold the mercurial Uruguayan and instead of building on that side that challenged for the title we decided to have a civil war regarding transfers and blow half the money on Southampton players and the other half on players Rodgers didn't want. Ego got in the way of progression that summer. Not only Rodgers' ego but those higher than him. Why persist with a flawed set-up? An opportunity to make a home for ourselves amongst the top 4 in England. Gone.
The 2014/15 season haunts me. I don't suppose any of you have forgotten it either. There were plenty of missed opportunities in that season too. Game six of the Champions League group stages. Basel at Anfield. Liverpool knew what they had to do. Win the game. Yet Brendan Rodgers selected a side to not lose the game. That's a totally different scenario. It amazes me how Rodgers didn't manage that game better. He countered Mr. Attacking of 13/14 by becoming Mr. Conservative in 14/15.
That's fine though right, because we get a chance to go somewhere in the Europa League. We take a 1-0 lead away to Istanbul and yet again Brendan Rodgers showed tactical naivety in defeat. We just persisted with a system that had brought us wins in previous games. We hadn't played well but we'd won. You can't go away from home and let teams have a free run of the midfield like we did. If you're doing to be solid you play with 11 men, you don't camp two central midfielders in front of a three man defence and hope to repel them for 90 minutes because that defensive line will drop deeper and deeper and eventually you'll be breached. A missed opportunity in Europe once again.
Ah but the Europa League wasn't important. We could still finish 4th and qualify for the Champions League. We'd got ourselves into contention and all we had to do was beat a poor United side at fortress Anfield. So what do we do instead? Of course we give United the keys to Anfield. You don't really get many better chances  do you? Playing the team above you at home and if you win you go ahead of them with a mere 6 games left to play. Another missed opportunity. You can blame the Gerrard sending off but Liverpool showed nothing in that first half. United came there expecting a fight and instead got a guard of honour.
Yet all of this was can be and was ignored by some. It was all about winning the FA Cup after all. Give Gerrard the send off he deserves, right? I guess the Liverpool players didn't get the memo. Another poor performance, another loss when you're practically being gifted an FA Cup final appearance.
Now it was the turn of FSG to take the opportunity that had presented itself to them after the 6-1 humbling away to Stoke. It's not often in football that you get a moment like this. The perfect storm. Your current manager had finished up with season with a 9-2 aggregate loss to Stoke and Crystal Palace. You have every right to dismiss him and what's more the likes of Jurgen Klopp and Carlo Ancelotti are both out of work. I'd understand the reluctance in firing Rodgers if there weren't any managers available but we didn't have that problem.
FSG had the opportunity to show off their financial might. Hire a world class manager and back him in the market. You don't get these opportunities in football often. Managers of Klopp's calibre available without a compensation package being paid. These are businessmen, they should've been salivating at this prospect.
They backed Rodgers though and there's nothing wrong with that as long as you don't persist with a manager even when it's painfully evident the gig is up. That's what it feels like is happening right now. You aren't telling me there aren't managers in world football who'd be getting more from these players right now. The season is still young and there's a chance it can be turned into a successful one.
You can't afford to let these sorts of games be wasted. The Norwich's at home. The Carlisle's at home. These are sides perfect for a new manager to come in for and players can put in a performance and gain some confidence. You don't get many games like this in a season and we seem to be wasting the ones given to us.  Yet instead of making the most of these chances we're now in a situation were Dejan Lovren and Christian Benteke are injured for the home match against Villa. Emre Can and Alberto Moreno will more than likely start that match having played three games in the space of a week already and James Milner, Adam Lallana and Danny Ings all played 180 mins in a League Cup match. It's hardly ideal preparation and another slip up at home puts us even further behind.
Brendan Rodgers and FSG have been afforded many opportunities and sadly they've not taken them, yet. Brendan Rodgers seems to be a nearly man and to manage Liverpool that's not good enough. People keep comparing this season to Roy Hodgson's time at the club. For me it's nothing like that, nothing can be that horrendous. However what's concerning, and should worry every single Liverpool fan, is the fact we've reached a point in which the Hodgson period is being mentioned.