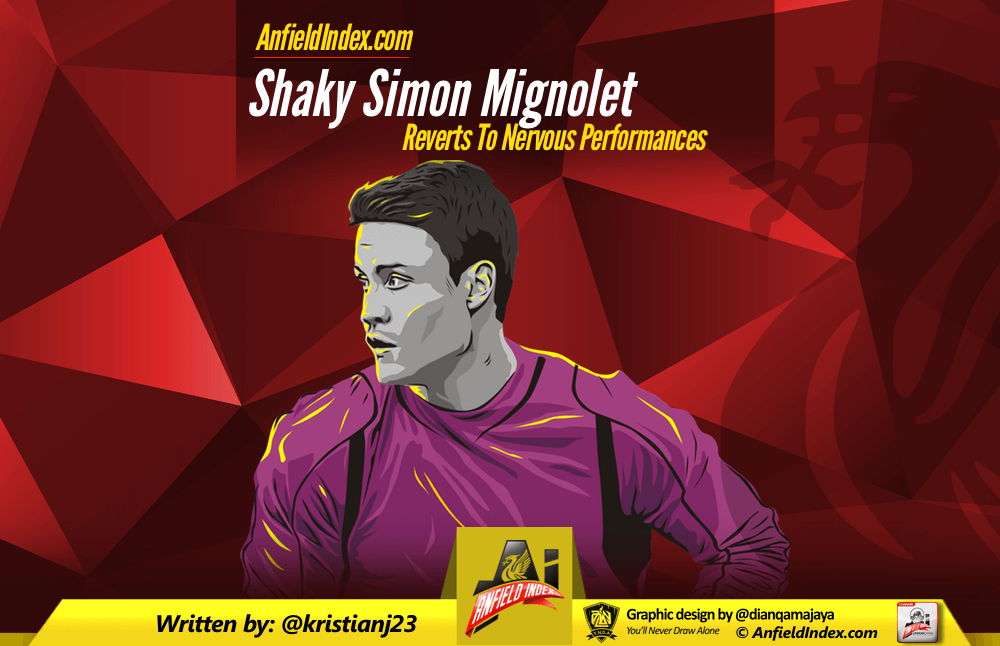 Shaky Simon Mignolet Reverts To Nervous Performances
"Simon, are you sometimes over-thinking stuff?"
Those were the words uttered by Mrs Mignolet last season as she attempted to resolve her then-fiancé's form. Sure enough, after his wife's inspirational chat, Mr Mignolet's displays improved. The once erratic goalkeeper went back to basics and looked a different player in the second half of the season.
But now we're back at square one, and I doubt there's much Mrs Mignolet can do this time round.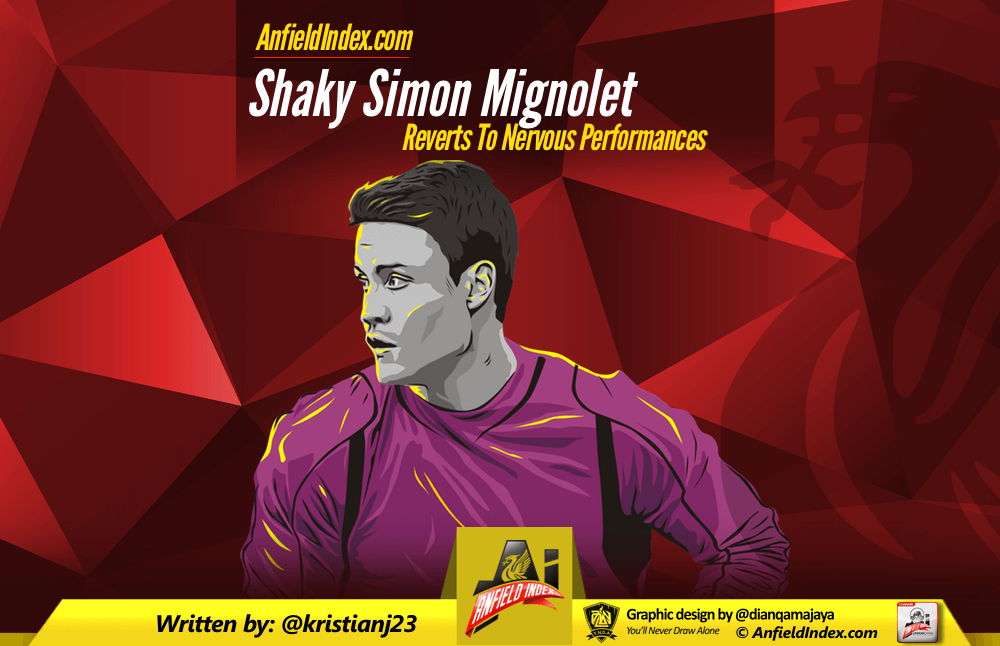 Much like the optimism in pre-season, Mignolet's form has dissipated. His error in the 1-1 draw at home to Norwich put the brakes on an improved performance and handed the travelling Canaries a point.
It's hardly a new phenomenon. In 2013-14, Mignolet made five errors leading to goals, which accounted for 10% of the goals Liverpool conceded and was more than any other goalkeeper in the league. Notable fumbles against Man City, Norwich and Aston Villa stick vividly in the mind.
Last season, that figure dropped to just one, but he's hit that unwanted target already, just five games into the current campaign.
Not only does the Belgian produce enough howlers to keep David James and Massimo Taibi company, but he noticeably spreads nervousness through the entire defence.
He often flaps and flails at crosses – see Norwich and Bournemouth at home this season – and although he's started shouting more, he's convincing no-one that he's a commanding goalkeeper.
And all this before even mentioning his distribution…
It's mind-boggling that a Premier League footballer can't kick a ball properly. Mignolet is reminiscent of that goalkeeper we've all played with at Under-10 level – the poor lad who ends up in goal because he's naff outfield and can't kick beyond his own box.
He's not much better with his hands, either. In the recent 3-1 loss to Man Utd, he rolled the ball straight to Juan Mata, who was standing two yards in front of him.
With Brad Jones departing Anfield in the summer, Liverpool had the chance to put some pressure on Mignolet by appointing a proven goalkeeper as deputy.
Now, there's one of two ways Liverpool could have handled the situation.
Some managers prefer to have two players rivalling each other for the goalkeeping spot. Keep each other on their toes and all that. Other clubs opt to put all their faith in an undisputed No.1, filling their goalkeeper with confidence that no matter what, they'll be in the starting lineup come Saturday at 3pm. Or Sunday at 4:15pm. Or whatever time they decide to play games nowadays.
Liverpool opted for the latter, dipping into the bargain bucket of goalkeepers and plucking Adam Bogdan out of the mix.
On reflection, it seems a strange decision. Mignolet's best form last season came after he was dropped, when it became aware that he wouldn't start if his performances continued to dwindle. Competition – even in the lowly form of Jones – seemed to do him good. Odd, then, that Liverpool chose Bogdan this summer, he of Bolton Wanderers' bench fame.
Compared to our rivals' goalkeepers, Mignolet looks short of the required quality. David de Gea regularly won games single-handedly for Man Utd last season, not least in their 3-0 triumph over the Reds at Old Trafford. Similarly, Petr Cech produced a world-class display to shut us out at the Emirates. Thibaut Courtois has endured a difficult start to the season, but is undoubtedly one of Europe's best and Joe Hart improves year on year. Even Spurs have France's Captain between the sticks.
Perhaps we were spoiled with Pepe Reina. Not only was he an assured, commanding goalkeeper with outstanding distribution, but according to many former teammates he was a cracking laugh in the dressing room. I'm sure you're a nice chap too Simon, but I can't see you kickstarting a conga on a plane.
He's never going to reach the heights that Reina did and there came a point last season when it seemed Mignolet's relationship with the Anfield crowd and teammates alike seemed untenable. He's turned it around once, but it's a gargantuan task to repeat to feat.