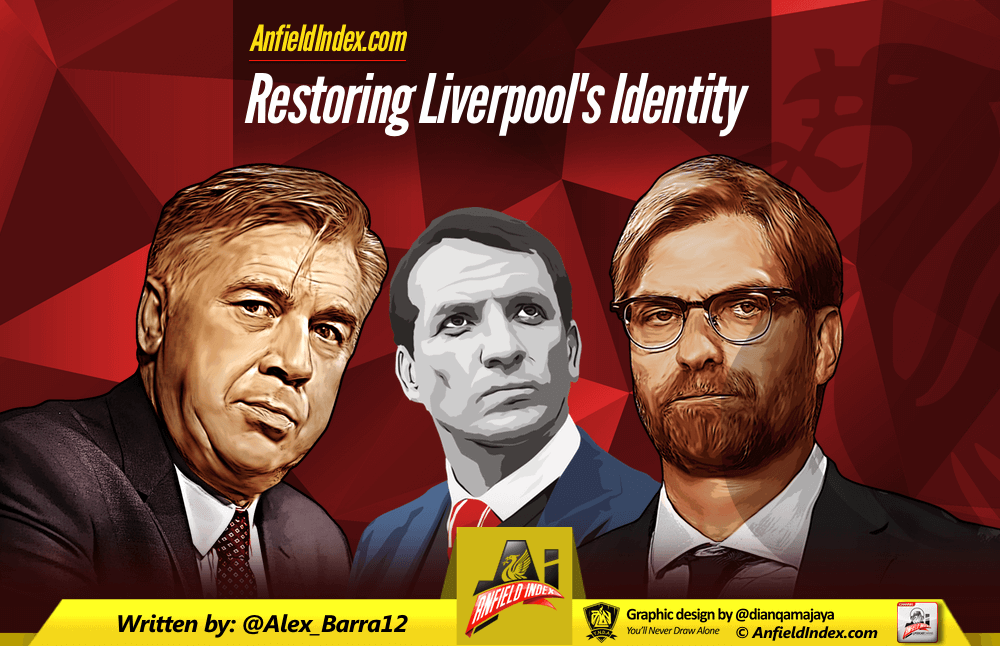 Restoring Liverpool's Identity
Make Us Dream Again
"Why do you care so much? It's just a game. You can't let it affect your life like that."
They'll never understand.

We're a tricky bunch, us. Frivolous and fickle, temperamental and volatile. We want success, as all humans do; we invest hours and hours of our lives into it, in fact, but show someone on the outside the investment and they'll deem it totally void; incessantly pointless. It's just a game after all, they players are being paid hundreds of thousands of dollars a month and we're just sitting around in our living room, watching them do what they're paid to.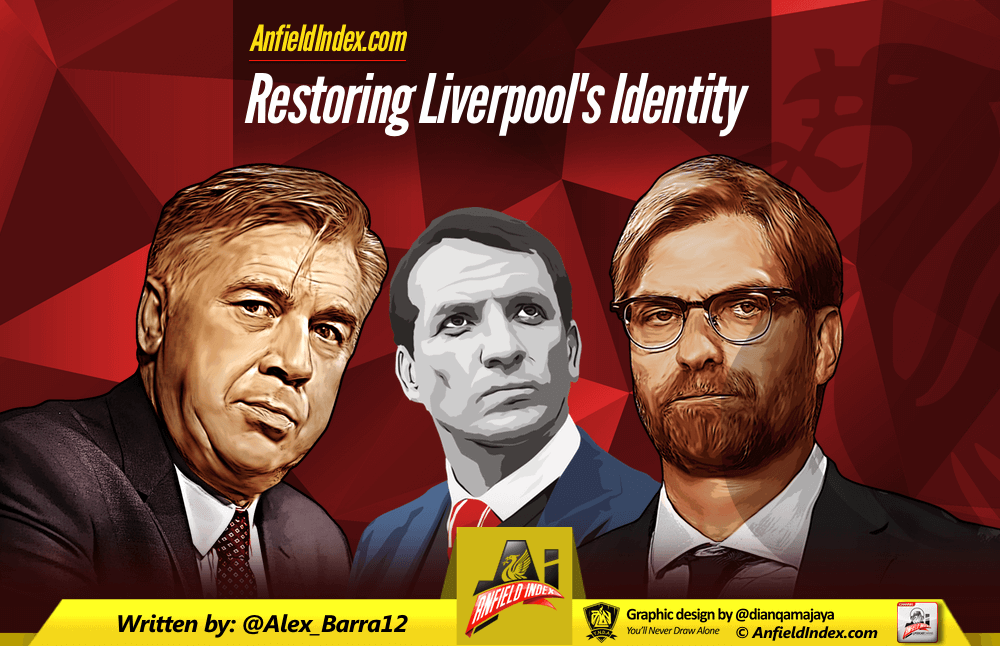 We're ruled by our emotions, yet a poor election result might cause us some disturbance in our day, might cause a few nasty words on twitter and spark a furore at the workplace. "He's shite, him. Not going to keep his promises, policy's all screwed up, this country's stuffed." And that's the end of it. The same day, we return to our homes, pull on our red and white scarves and make our way down to the pub, feeling the anxiety, the nervousness that comes with a match day.
"It's just a game…" No. It's not. Not when the ball sails past the hapless keeper and buries itself into the corner of the net, the elation filling our veins and the ecstatic voices of a hundred people filling the halls of the worn, old building. It's not just a game, not when that sinking feeling of utter despair fills your chest and you see your keeper on his knees, his defenders devoid of any life. Not when you see that clock tick over to ninety and know that hope's about all you've got left.
It's more than just a game. It's part of our identity.
If not, then why? Why waste our time? Why invest so much emotion on twitter and take hours out of our day to read articles and watch videos and listen to podcasts and why spend that hundred quid on merchandise – even more on season tickets and TV deals – and why bother turning up to the game to laugh and cry and sing your heart out? Why would we put ourselves through it, if not for the sheer fact that it's who we are, it's what we know, and it's what we love?
Which is why, when your team is struggling to put a second goal past Carlisle United, it becomes abundantly clear that something is wrong.
Dante Aligheri described the first circle of Hell as "Limbo", an uncertain period of awaiting a decision or resolution; an intermediate state or condition. We crave resolution, we demand decisions, because we know what it's like to dream. We crave that feeling again. It's plain to see, now, that miracles aren't forthcoming. And on that basis, the winds of change need to be ushered in, for the sake of taking us out of Limbo, and giving us hope.
Brendan Rodgers is no longer the man we hoped he would be. He was once the man to make us dream, before he was revealed to be in slightly over his head, not possessing the ability or fortitude to "lead us to glory."
There are, however, distinct candidates; ones whose name alone will be enough to inject hope into a fallen and dejected fanbase. We currently lie in a position where the potential of Jurgen Klopp or Carlo Ancelotti walking into the cauldron of red with a Liverbird on his chest inspires more excitement than the matches themselves; that is a symptom of the times. We lack hope; we lack the ability to dream, because we treat every game under the current regime with cynicism and pain. We rid ourselves of positivity because we know it sets us up to fail.
But the sun rises on the horizon, hope along with it.
And all of it; the key to being able to enjoy Liverpool play football again, lies in identity. Not of the club; that remains with the supporters, despite the owners' focus on business. Walk into Anfield and you'll still see the swarm of Red, the buzzing of the crowd and the anthem of You'll Never Walk Alone, a ritual which will never be dispelled. But the crowds, which now are dullened and sombre due to their team's uninspired dross on the pitch, can be revived, can resume the fervour that gripped them during the 2013/14 campaign. Anfield can become a fortress again: and it all begins on the pitch.
Running a football club is a business oriented task; there is certainly no denying that. But for the business aspect to prosper, so too does the team on the pitch; the key factor in making money. For the buzz to build around a pre-season tour, Liverpool have to be doing well enough to draw big names to the club. To make a profit in the market, they have to be a tantalising enough project for a young upstart making waves in Europe to buy into; the Luis Suarez's and Fernando Torres's of past times.
All of this revolves around the staunch, empowered figure standing on the sidelines, watching the game unfold before his own eyes, orchestrating decisions and directing his players with a grand scheme.
"He likes having the ball, playing football, passes. It's like an orchestra. But it's a silent song. I like heavy metal."
Jurgen Klopp faced the daunting task of an Arsenal side in the Champions League; against a manager experienced enough to know his philosophy and work it into a craft. When asked how he would combat Arsene Wenger's tactics, he replied with the above quote. No ridiculous insistence of character, no cringe-worthy comments about how outstanding his side is.
Klopp came out and sparked an understanding grin on the faces of all who were engrossed by the man and his brilliant footballing mind. Sound familiar? In the year of 2013/14, there was a Northern Irishmen who echoed similar thoughts about his philosophy.
"When you've got the ball 65-70% of the time, it's a football death for the other team. We're not at that stage yet, but that's what we will get to. It's death by football. You just suck the life out of them."
Words that a fan-base could get behind, words that you looked for even in defeat, to see the positives and draw out some form of consolation. Now? The same man who said that is leading his team into limbo; unsure of formations from one game to the next, unsure of his own footballing philosophy and unable to consolidate his ideas like he once did.
There can be no doubt that Rodgers' awe-inspiring breed of attacking football was caused by the flourishing partnership of Luis Suarez and Daniel Sturridge. There can also be no doubt that the brand of football Rodgers' played was Liverpool's most exciting brand of football in a long time. Now, however, in Brendan Rodgers, Liverpool possess a side devoid of identity. We don't pass for fun, we don't press high and aim to slaughter, we don't launch the ball towards a smattering of players, including one very big Belgian. We simply go out there and 'see what happens'.
In Jurgen Klopp, or indeed Carlo Ancelotti, or even Pep Ljinders, Liverpool possess the seventh most expensive squad in the world, sparked with an identity.
We possess Phil Coutinho, able to exploit the full use of a Jurgen Klopp gen-gen pressing side, seeing the space open up in front of him like the Red Sea. We see Christian Benteke drawing two defenders into space and Roberto Firmino hug tight to Benteke, exploiting that space in between the centre halves and full backs. We see Emre Can and Jordan Henderson unleashed, able to run at flailing centre midfielders, forcing the opposition back into their own half, where the two can run again, and again, like a pack of dogs on the hunt. We see Mamadou Sakho and Joe Gomez transition from under-fire centre halves to capable ball-players, feeding their midfield and instigating the charge.
We see a team livened, we see the urgency and fire in their bellies as the clock ticks to eighty-six minutes and the score reads 1-1, we see the Kop launch into a thunderous roar as the ball fires into the back of the net and we see the blonde-haired instigator of it all pump his fists on the sidelines, the bellowing chant of "We Are Liverpool, TraLaLaLa!" being sung louder and louder by the second.
We see a pub in Melbourne, Australia, at 2AM in the morning erupt with the force of dozens and dozens of people, celebrating their identity.
We Are Liverpool.