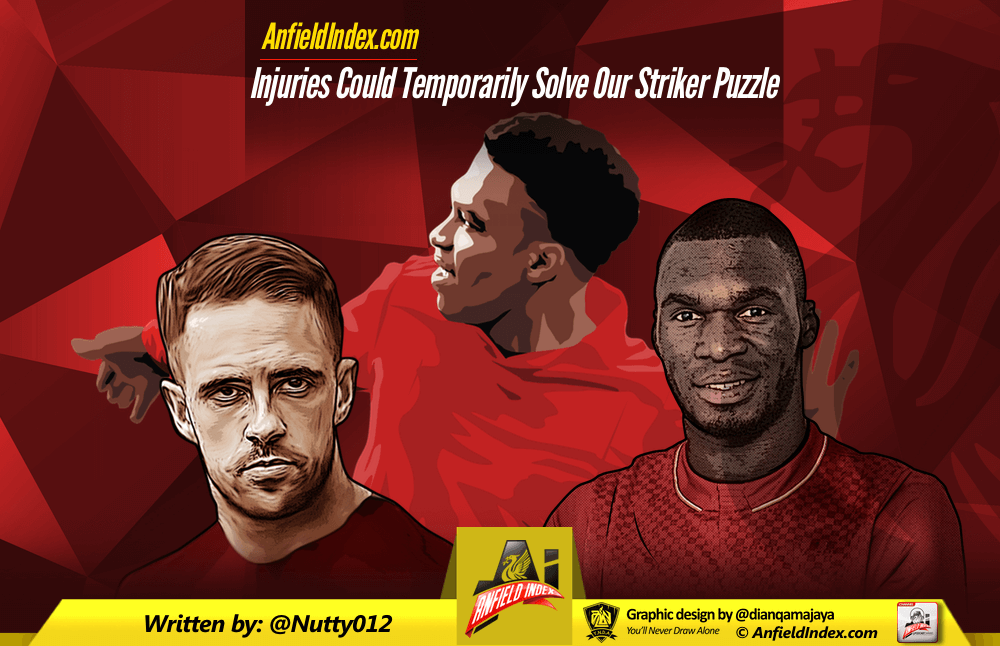 Injuries Could Temporarily Solve Our Striker Puzzle
Daniel Sturridge returned to Liverpool's ranks against Norwich as a man under pressure. In fact, many Liverpool fans had pinned the potential successes of our season all on him, just as they had done last year with sad consequences. Liverpool's squad for 2015/16 has been bolstered though by the incoming Benteke, Ings and Origi, which would have lifted some of the pressure of Sturridge had Liverpool's attacking play so far not been so stale and laboured.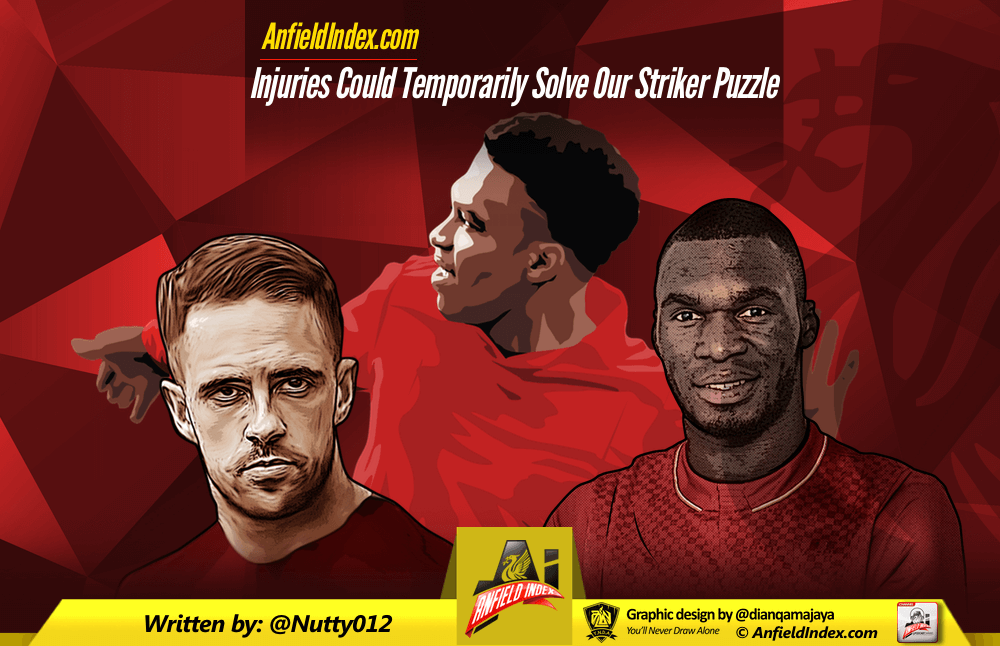 Despite the poor attack, Daniel Sturridge's return creates more selection problems than it solves. Benteke and Ings had both bagged two goals apiece, and Liverpool had three attacking midfielders (Coutinho, Firmino and Lallana) all pushing for starting births too. Finding space for these six players requires is impossible, and most weeks two or three of them will find themselves benched. Furthermore there is a wide range of attacking strengths across these players, which further adds to the complexity of selection. The puzzle for Rodgers (or an incoming manager) is how to pick a team that get the most out of their strengths.
Without being disrespectful to £60m worth of players, the injuries of Benteke and Firmino could offer a solution to this selection quandary. Benteke's two Liverpool goals so far have been an incredible piece of individual skill and an off-side goal from a cross. Given that Liverpool had played the least crosses in the league, and that Benteke's strength is heading, the team had an attacking dynamic that was not working. Firmino meanwhile has showed quality, but hasn't quite found his place in a system either.
On the other hand, Sturridge's impact to the side was obvious in his 60-minute comeback against Norwich. Our attacking play was enhanced by the usual Sturridge tricks: nice flicks into onrushing midfielders, neat interplay with Coutinho, excellent composure and dribbling on the ball, as well as a constant threat on goal. Whilst there were no immediate goal-scoring dividends for the fans' faith in Sturridge, it was easy to see why so much trust has been placed in him. With Sturridge playing well, Liverpool attack better.
Against Norwich, Liverpool lined up in a modified 343, with two strikers and one attacking midfielder. The benefit of this system is that we could play Sturridge and Benteke in their favoured position, and that the natural width from Moreno and Clyne would help Benteke. Nonetheless, crossing is still not a strength of Liverpool's, and Benteke's lack of movement beyond the defenders looked more suspect after the half time arrival of Danny Ings.
Ings' goal in the second half, and his overall performance against Carlisle, has shown that he should be taken seriously as a player. Any sceptical Liverpool fans need to re-evaluate the quality of the former-Burnley man. He is a proper striker, capably of coming short and holding up a ball, or making a darting run behind a defence. His energy and general attitude is something that Liverpool have not seen in a striker since a certain Luis Suarez. At the moment, Danny Ings is perhaps only new attacking player in the last 18 months who has actually knuckled down and earned the right to be start.
With Firmino's injury, the likelihood of playing two strikers, which would happen to be Ings and Sturridge, has increased massively. It is never a lucky thing to have injuries, but in having their hands forced Liverpool might just stumble onto a more successful way of attacking. As new players, Benteke and Firmino are the two players least accustomed to Liverpool's system. Danny Ings is a new signing but looks at home with the way Liverpool want to play. It is clear he has a place in our future, but he has already slotted seamlessly in besides players who have been at the club for longer. Of our other attacking players, only Coutinho and Sturridge have produced performances that have earned them the right to start; fortunately for Liverpool, these three players will hopefully be able to link up for a few games.
With a settled starting eleven, the style of play can then naturally develop into a more coherent philosophy. It is clear that Ings and Sturridge are suited to running into space, and Coutinho is suited to releasing that sort of player. Hopefully Liverpool can try and capitalise on this simple formula rather than forcing the square peg of Benteke into a round hole. Liverpool does not play the most crosses because Liverpool are bad at crossing. By playing in a way to get the best out of their players, Liverpool might have a chance to start to turning things around.
It is clear that there isn't an obvious 'best XI' with Roberto Firmino and Christian Benteke fit. Once they return, perhaps the best way forwards will be to rotate players dependent on the strengths and weaknesses of the opposition. For example, Sturridge might exploit a slower defender or Benteke might exploit a smaller defender, or an extra midfielder could be squeezed in for a tight game. A rotation policy would then allow all the likes of Firmino, Benteke and Ings a chance to settle and really stake their claims for a starting spot. What is certain is that Liverpool's messy squad construction has resulted in a puzzle that Liverpool's manager, whoever that might be, will be at pains to solve.