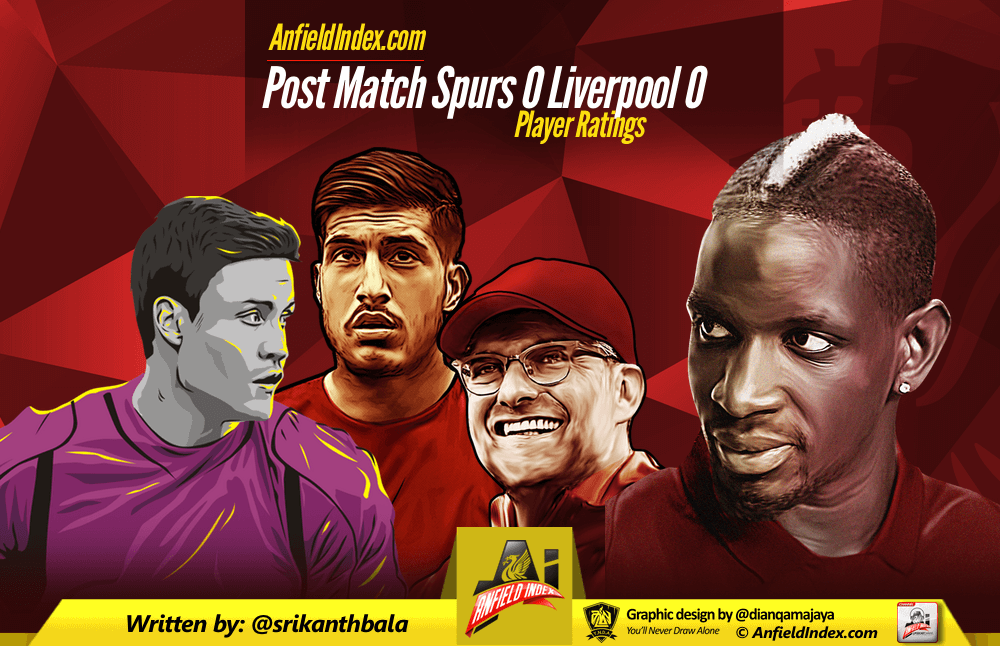 Tottenham 0 Liverpool 0: Player Ratings
The last two weeks have been about Liverpool's new manager, Jurgen Klopp. The attention on him has been extreme without his team having even kicked a ball so it was a relief to get an actual game going. Though it was a scoreless draw, we saw a few glimpses of what Klopp's approach towards the game would be, with team work coming out as the biggest positive.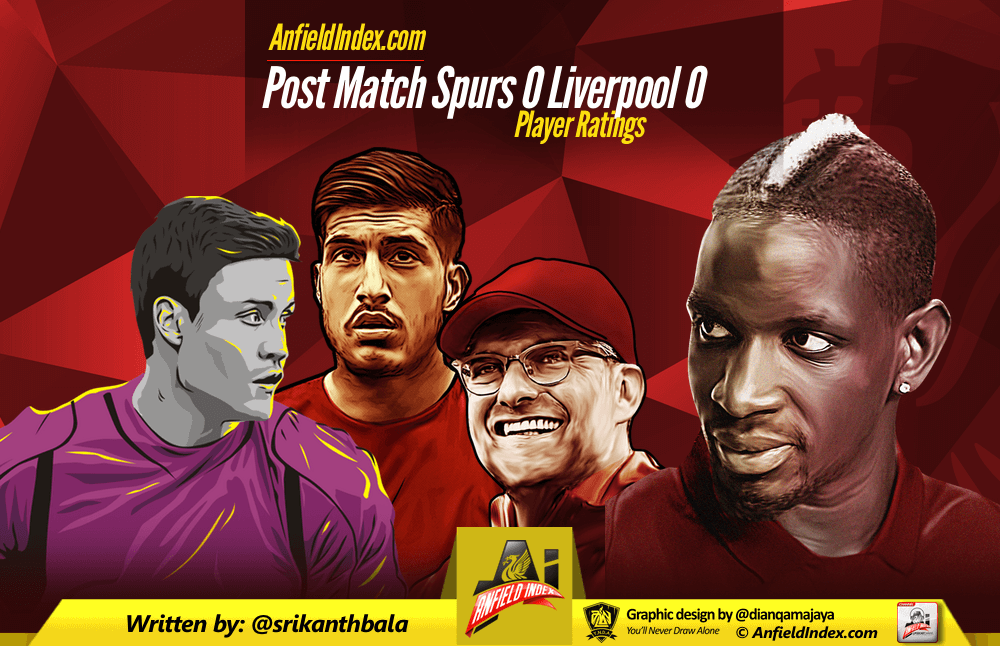 Simon Mignolet – 6.5 The manager might have changed, but Mignolet followed up his excellent performance in the derby with another solid one and saved Liverpool a point again. His save from N'Jie's shot was phenomenal while he also made a good save from Harry Kane. However, his passing is still bone jarring and his preference for taking additional touches before getting rid of the ball is a concern.

Clyne – 5.5  A solid performance from the right-back with Clyne clearly showing that he prefers playing in the traditional right-back position. He interchanged well with James Milner on the right-hand side, often going out wide to compensate the inward movement from James Milner. He put in a solid defensive shift too.
Skrtel – 4.5 The Slovakian had a first half to forget as his performance was riddled with major flaws. The centre-back improved in the second half as he went toe-to-toe with Harry Kane.
Sakho – 7.5 An imperious performance from the French centre-back. He was always present whenever there was a threat from Spurs and when he had the ball he almost always ended up finding a fellow Liverpool player.
As ever, Mamadou Sakho registered the highest passing accuracy of any #LFC player to start today. 89.4%.
Alberto Moreno – 5.5 An absolute contrast to Clyne as his performance levels dropped compared to his performances as a wing-back. He was caught out of position a  few times which caused problems on the left-hand side of the defence, resulting in Sakho having to perform double duty at times.
Lucas Leiva – 6 A calm, understated performance from Lucas in the centre of  midfield. He was harrying in the first twenty minutes like the other members of the team, but the energy levels began to tail off as we have often come to expect. It was heartening to see that Lucas did not concede any foolish or dangerous fouls today.
Solid, understated performance from Lucas Leiva today. 69 touches, five successful tackles, four headers won. #LFC
Emre Can – 7 A midfield general-like performance  from Can. He was everywhere and was on nitro-boost throughout the game. He seemed to be the main man during transitions from defence to attack. A heartening performance from the German and he  clearly demonstrated that he belongs in the centre of midfield.
James Milner – 5 A below average performance from the stand-in captain again. He was fortunate that his yellow card did not arrive sooner. His usual industry was there to see and there were signs of link-up with Clyne on the right, but he was often squeezed close to the touchlines with limited passing options.
Adam Lallana – 6 Part of the insane pressing army in the first twenty minutes. He always closed down his man and tried to cut off Spurs' passing channels. It was surprising to see him last eighty minutes considering the energy expended by him. Lallana needs to do much better when on the ball in terms of decisiveness, but that applies to the whole team
1 – Liverpool made 50 more sprints than Spurs (614 v 564) & were the 1st team to run further in a PL game than Spurs this season. Gegenpress
Philippe Coutinho – 5.5 A rather quiet performance today from Phil, suffering from a lack of runners, which looks to be a bane with Liverpool and 4-2-3-1/4-3-2-1 formations. With Origi up top, it seemed like Coutinho preferred to do things on his own, which was very reminiscent of last season.
Divock Origi – 4.5 Judging by the Belgians performance, there is a lot of work needed on Divock Origi if he is to have a career at Liverpool. He was easily shrugged off the ball, was dispossessed far too often and seemed to lack an intrinsic understanding with other members of the team. Despite this, he offered a solid pressing option upfront which led to Spurs turning the ball over quite often in the first thirty minutes.

Must do better in holding up the ball, however. Origi has lost possession 10 times so far for #LFC vs. Spurs.
Substitutes
Joe Allen, Jordon Ibe – N/A