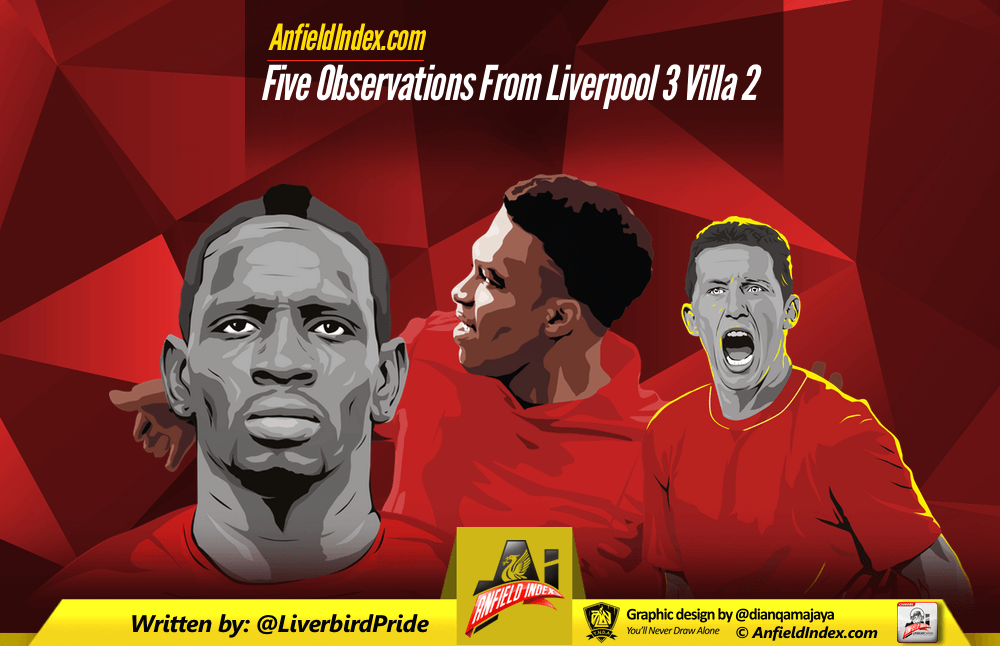 Five Observations From Liverpool 3 Aston Villa 2
Coming into this game, Brendan Rodgers instilled yet another new formation.  Using all but one of the team who faced Norwich, he utilised a 3412 tactic, to the surprise of not many people. This of course added to Rodgers' constant idea of "transition" which is as equally frustrating as it is futile. Nevertheless, the Reds have gained three points thanks to a brace from the returning Daniel Sturridge and everybody is hitting the town to celebrate! Let's just analyse what we've learned beforehand though, shall we?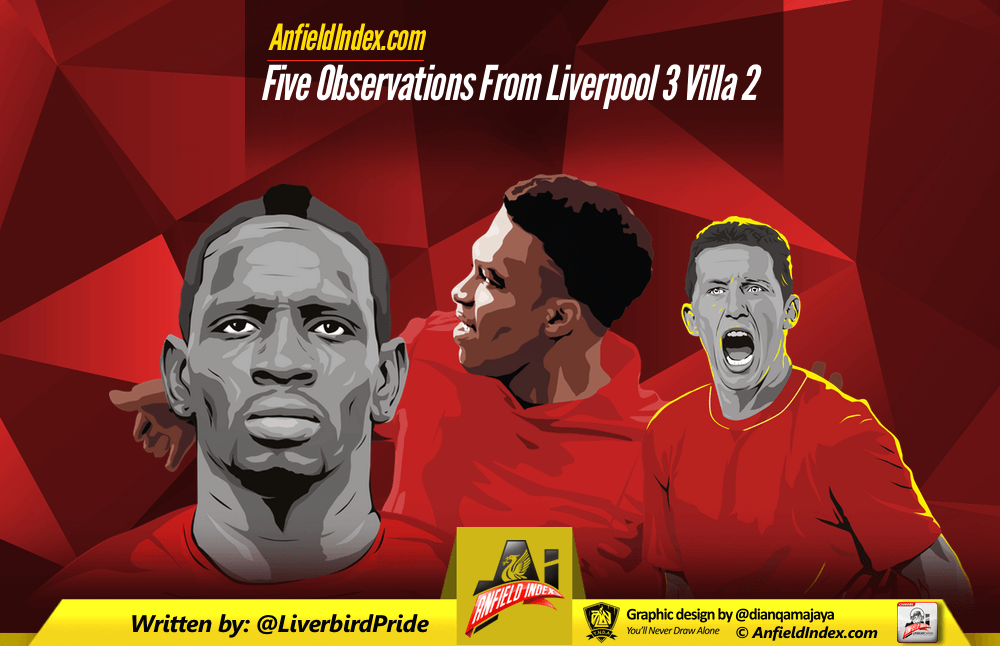 Daniel Sturridge is our glue
Being one of the top 3 strikers in the league when fully fit, it is no shock that Daniel Sturridge makes Liverpool FC click. From his constant movement into the spaces left by opposition defenders, to his linking up with almost anybody willing, he creates chances effortlessly – exactly what this team needs. Granted Sturridge didn't really make an impact in the first half, he came out of the Anfield dressing room a completely changed player, making and taking chances left right and centre. His first strike was a top notch volley with the outside of his foot, and the second was a calm finish after a one-two with Coutinho, who back heeled the ball to him.

Even more satisfying was the link up play between the newly crowned cult hero Danny Ings and Sturridge. When they weren't taking the defenders away to create space for each other to run into, they were incisively passing to each other in the opposition third, making chances. Needless to say, it was very promising and exciting stuff from the two English forwards.
"I think there is definitely a partnership to be had from Dnny Ings and Danny Sturridge. They seem to understand how each other want the ball, where they want the ball and where they're going to be." –Chris Pajak from TheRedmenTV
Mamadou Sakho has world class distribution
Mama Sakho had possibly his weakest game in an LFC shirt today, being beaten in the air multiple times by Rudy Gestede and at times Micah Richards. However, it is without question that his passing and distribution throughout the game was absolutely world class. From a possible 72 passes, Sakho successfully completed 71 of them, which is a remarkable 98.6% success rate. Unsurprisingly, 45 were attempted forward with 44 being completed, which is a stark contrast to our other defenders who often pass the ball side to side or behind, non-stop.
Sakho also has a natural ability – similar to Emre Can – to be able to bring the ball out from the back with ease and perhaps beat a man in the process, which is perfect for other players to perhaps get further forward and create space, aiding in the chance creation.
When a person buys an iPhone, every one of two people will disagree with how great the product is. Lucas Leiva is the iPhone 6s. Many people will agree that he is a "Liverpool Soldier" like Mama Sakho, whereas others will be more cautiously pessimistic regarding his contribution to the team. Although he may be inconsistent, this match however, Leiva was exceptional. With 11 successful tackles out of 11 and completing an impressive 100 passes out of 108, he had a performance worthy of praise.
Lucas was also used in a 'recycling' role in CM, taking balls from the three centre-backs and distributing them to the attacking players. He was an important figure vs Villa, with Can, Skrtel and Sakho passing the ball to Leiva 52 times and him giving it to forward players 40 times.
With young Joe Gomez in the side, it is reminiscent to Javier Manquillo, really good defensively, but doesn't offer much going forward. Width is something this side has been desperately crying out for since the dyer display vs Bournmouth, and that width was given to us vs Norwich. Producing a magnificent display vs Norwich and a great 120 minute performance vs Carlisle, he again showed to us the LB we initially assumed the Reds had purchased for £12m last summer.
What was thoroughly satisfying was the link up play on the left hand side between Coutinho and Moreno. Moreno's constant overlapping and linking play was phenomenal and Alan Hutton couldn't control him what so ever.  With 33 passes between the pair, they absolutely made our attack fluid and aided with the chance creation.
Tactics were hit and miss
When Brendan Rodgers fielded a 3412 formation, many people let out a sigh of frustration when they realised Emre Can would again be shoe-horned into centre-back. Their sighs weren't without reason however as it can be said that Can could have, and should have done better with preventing Villa's opener.
Again, Mignolet found himself picking the ball out of his net more than once which is still a daunting inevitability when The Redmen line up. The only positive of this tactic, was that it offered great width and support to out forward men who made the most of this and scored 3 goals for the first time since the Anfield game vs Tottenham Hotspur where, coincidentally, Daniel Sturridge also started in that victory.