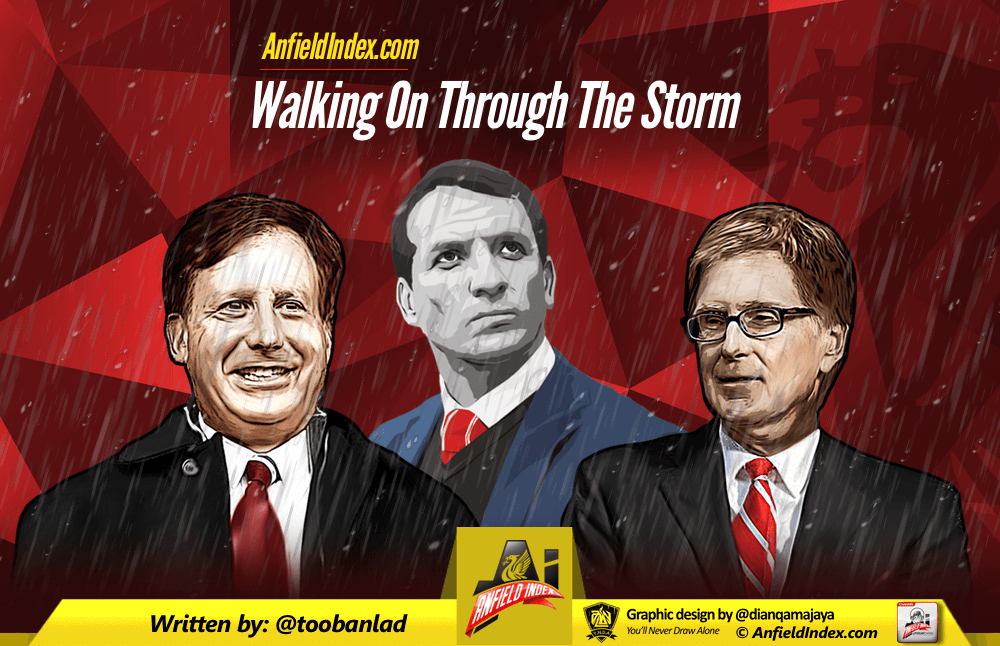 Walking On Through The Storm

It's a stressful thing supporting modern Liverpool. Far more than just following a football team, having a pint, and hoping they will win the match when they take the field, which, after all, is what it really should be about. We fret about everything now. Fellow Reds willingly offer counsel on this matter on social media. I liked one I read on Saturday evening from Gareth Roberts after Villa: "We won lads, go eat a cake or kiss your girlfriend." Sometimes you do need to be that blunt with grown men.
Redmen all over the land who peruse the beast that is the worldwide web know what we mean when we collectively reference 'the fume'; this is the spell that kicks in after another limp and listless Liverpool performance when the team have again played like shit, a period when all rational Redmen take temporary leave of their senses, frothing at the mouth, pulse racing, usually in a state of Dejan Lovren-infused rage, hitting their laptops, mobiles and Ipads (sometimes literally) to churn out angry hashtags and regurgitate dodgy memes slating everyone from the manager, the owners, the poor performers on the day, and generally pick a fight with anyone in sight who doesn't 100% agree with their preference for a diamond over a double pivot with a regista. I should know, I'm one of them sometimes. 'The fume' usually lasts until the next game and ends when we finally get a result or play well. Or, as has been the case far too often recently, it doesn't end and simply endures for an extended period of time.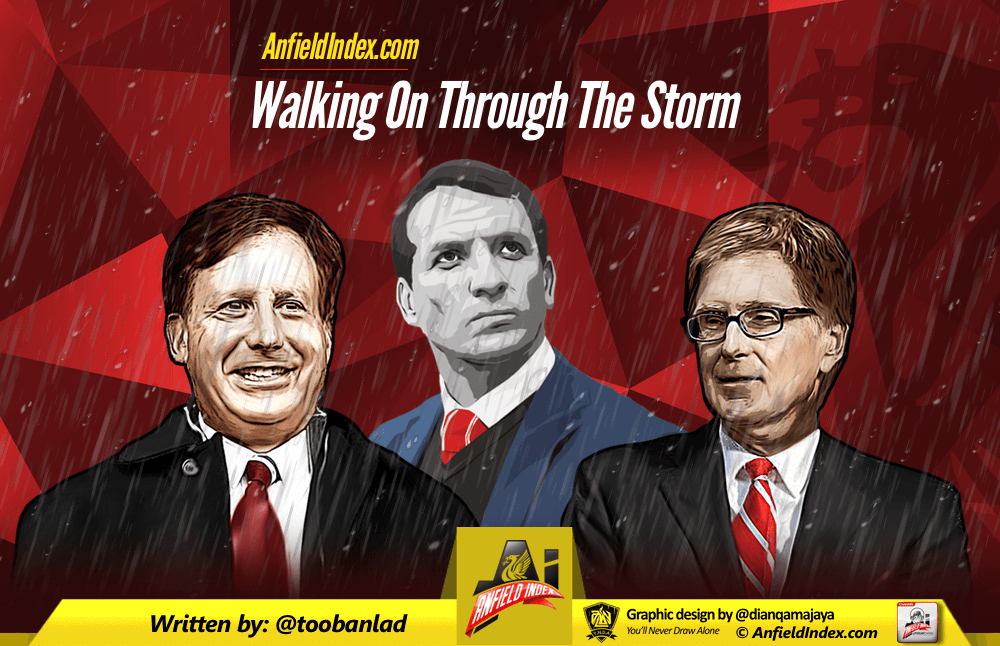 It's all become very personal now you see. Are you pro or anti Rodgers? Are you pro or anti FSG? Are they the saviours of the club or the anti-Christ American venture capital vehicle that plundered our club and is slowly eating its soul? I know one thing that life has taught me about Liverpool Football Club: we always re-emerge, we always fight back. That doesn't feel like the case right now; a fanbase divided, a lack of real character and icons in our current squad and a team that doesn't look capable of aspiring to the lofty heights that the Liverbird on that chest demands. When we get to May 2016, it will be 26 years since the league title was last won by a Liverpool team, and that's a number that resonates with me.
I remember sitting in the Aileach youth club in Burnfoot, Co Donegal on a Sunday afternoon after football practice, I was with my cousin Paul and a few of our friends, sat on stools huddled around a wee TV with a shite signal, I was 13 and Mark Walters had just scored against Man Utd at Anfield. It was April 1992. You probably don't remember Mark Walters if you are a younger reader, we signed him from Rangers for £1.5 million. There won't be much YouTube footage of him in case you go looking. He wasn't great to be fair, but he did try a lot of stepovers, sort of like Chris Waddle used to at the time, except Mark's rarely seemed to work, and if they did he couldn't cross or shoot, which was a problem when you're supposed to be a winger. He scored the third when we beat Auxerre 3-0 to turn around a 2 goal deficit against the French side in the UEFA cup that season – that was a big Anfield night. Anyway, I digress, Walters scored with a few minutes left at the Kop End to put us 2-0 up, he was running away in celebration, and the Kop started chanting "You lost the league on Merseyside" to the travelling Mancs. United, now starting to finally become a formidable team again under Ferguson (he had been there six years by then) had come a cropper again after recently losing at Goodison. This meant Leeds, another of their hated rivals were winning the title and Utd would have to wait until the following year to finally end their search for their self-proclaimed "Holy Grail". A 26 year wait. Me and Paul were cheering away at the screen, running around, I recall I had that God-awful green kit on, the Candy sponsored Adidas effort, the one Ronny Rosenthal wore when he hit the bar from four yards out from an open goal at Villa, and our wee mates at the time, who liked Man Utd, were crying and suitably upset, it was okay though, we went for a kickabout afterwards and had forgotten about it by teatime. Jam sandwiches washed down by Fanta orange could cure all ills at that age. I knew they were were a big club, I might have been only 13 at the time, but I knew they were big, because to my mind, there still were a lot of people that supported them despite the fact they had been shite for nearly thirty years. I remember at the time wondering how a club so big could go so long without one. Well, now I know.
You see, sometimes, you have to take a step back from where we are now, forget Twitter, Facebook, 24 hrs news channels and bloody Soccer Saturday. Free your mind from stupid internet memes, nightmarish vines, pictures of Rodgers with Bill and Bob glancing down approvingly at him from heaven (that particular doozy still makes me feel ill now). The narrative now about Liverpool is 26 years of failure, knocked off our perch and scampering around haplessly since. A large part of that is true, but it's the parts that aren't that sustain me through times like this. Despite what anybody tries to tell you, we aren't just another football club now. Don't ever listen to that shite, don't accept it, don't judge football and our clubs merits based on the Swiss Rambles latest financial analysis or the pretty shit atmosphere at Anfield currently (whisper it but many times in the 80's when league titles were merely a procession it was shit too as well y'know). In those 26 years there has been hurt, yes, and plenty of it. There's been a lot of utter shite; from the Souness car crash season to Hodgeball. Show me another club though, in a spell like this, a spell that other clubs fans joyfully celebrate with glee as our time in the wilderness that could muster up even a fraction of what we've seen. Unprecedented cup trebles, winning the greatest UEFA Cup Final of all time, winning the greatest European Cup Final of all time for a fifth time, and in the process staging the greatest comeback in the history of the European Cup. This isn't an ordinary club folks. When this club gets the bit between its teeth with fans, team and manager united, there are few things that can stop us. That crazy title tilt of two years ago was as unprecedented as it was magnificent. Since the Premier League started up when have a team come from nowhere like that, without having to resort to suddenly blowing all their rivals off the map with spending power? City, Chelsea, Blackburn…massive splurges totally out of sync with football reality at the time, we nearly did it, and through sheer force of will and bloody good football. This isn't like Man Utd's spell in the desert, it's going to be longer than 26 years for a start, but in their spell in the doldrums they suffered relegation and had but a few FA Cups to keep them going. What we're going through now might feel rubbish football wise, but it sure as hell has been a lot worse for others.
We are Liverpool. Remember that. A club built by the greatest of football men, men of vision and unshakeable belief, men who never once flinched when asked to deliver success and glory beyond the wildest dreams of Liverpool supporters. Liverpool is loved and adored by fans all over the world – and that's why. That glorious history. Because we always go again, we take on adversity and we prosper in the face of it. We don't back down. On the Northern Ireland podcast recently Dave (the more senior member as he will love me reminding him) was reminiscing about St Etienne, and that fabled Liverpool side. Our generation have never had it that good, that's unquestionably true, but we haven't half had some unbelievable times. Istanbul, our St Etienne, Gary Mac at Goodison, Rafa's Buddha pose, Dortmund, Bellamy and the golf club in the Nou Camp, Cardiff and Michael Owen (twice!), watching a scally tear up the most fabled back four in England in four minutes, the Houllier return, Garcia v Juve, Garcia v Chelsea in the cup semi final, the Benayoun winner at the cottage when it looked on, Big Sami, Torres, Suarez, Alonso, monster Mash and the realisation some of the best players in the world had our shirt on again. It's been a tough 26 years sure- but we've had our fun.
Please don't take this as the stubborn misguided rantings of a deluded man. I'm a realist. Our rivals are rich and ambitious, they are currently better than us. We pay the fifth highest wages in the league currently, that's our place in the 'natural' order some will say. Remember though, we aren't Spurs or Swansea who some will tell you are our rivals now, longer term we don't settle for mediocrity – history tells us that. We look to push on, to defy the odds, a club that can finish below Everton for a season and then sicken them by winning the European Cup in the process – that's us. As looks increasingly likely, when our current manager goes, we'll replace him with a man who we believe can win us the league. That should always be out starting point, our bare minimum. The current owners still have much to learn, will they be there longer term? Who knows? We know what we want them to be now: ambitious, bold and decisively ruthless when necessary. Remember that sense of dread that others teams supporters had two seasons ago – you could smell their fear and their sense of dread. That horrible feeling they had that the most successful club this country has ever produced was about to triumph again domestically against all the odds – embrace that feeling. We are still loathed, and that's a good thing, no one despises ordinary clubs to the extent we are despised, not with the intensity reserved for us, maybe it's out of jealousy for our past, a hatred passed down by fathers and mothers to their kids who saw our great teams stomp on their dreams, maybe because Scousers act different; they tend to distance themselves from the patriotic bullshit and fervour the rest of England indulges in. Scousers didn't need a national team to live out dreams of true international glory for them – the teams that conquered in Rome, Paris and Wembley ensured that.
Now, here we are, backed against the wall, taking the punches again. I still believe the club will turn it around, I really do, not this season necessarily but longer term. FSG, for all their fuzzy words know our expectations, they took a punt on a manager, it backfired, they are smart enough to fix it. I believe that. Slower than some of us would like, that's true, but they'll fix it. A Liverpool winning trophies and competing for the biggest honours on an annual basis, that's what serves their bottom line best. Some of you reading this may never have felt that unbelievable joy of seeing the team you love defying the odds, you may have been too young. You may be supporting the club because your parent(s) did. Go on YouTube, look for the 1964 BBC documentary on the Kop, watch those swaying masses singing Beatles songs and reinventing terrace culture, watch the "Heart as big as Liverpool" Hillsborough tribute video. Gets me every time. Watch Rome, Kenny's chip v Bruges, the Merseyside teams taking over Wembley in 1989. From time to time, that's what I do, with a glass of red in hand, reminding myself of some of the things that make our wonderful club so great. We are playing like shit right now, there are players in that team that dishonour the badge with their lack of character and balls, but the wheel will keep on turning, the team will evolve, passengers will go and new players up to the task, big and strong enough to wear that heavy shirt will take their place. Liverpool Football Club still has massive draw, the biggest name managers in the world who are free right now would both take the manager's job. Because we are no ordinary club. As supporters we need to remember the ideals of the club that we support and for me, above all other things that means believing, sticking together, and never, ever, accepting mediocrity. I don't accept the premise that we shouldn't criticise our manager. Passively accepting mediocrity has never been, nor ever will be the Liverpool way. It needs to be done in the right way though. Personal abuse over Twitter to people connected to the manager, bloody planes with banners, starting online petitions. Get. A. Fucking. Grip. The team needs our support, more now than when they are flying, for the boys in that shirt with real true Liverpool quality who really give 100% on the pitch, they deserve that famous support, when things improve, they'll remember the rough times and how people stood by them. This won't be a good season, we'll be in transition again come next summer, in all likelihood with a new man at the helm, with new ideas, a new mantra and a new philosophy. For us though, the ones that will always be here supporting the club, experiencing the joy and sorrow that come with following something you love- never lose heart, and remember how our wonderful club came about, how it was built into the monster it is, and why its appeal endures far beyond these shores.
Keep walking on Redmen, towards that golden sky….