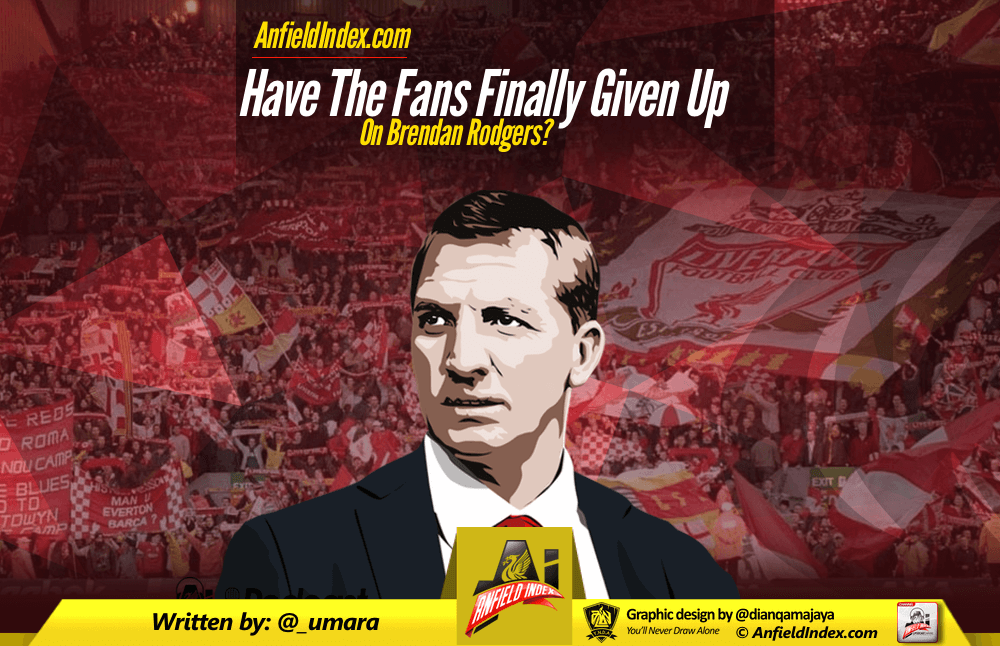 Have The Fans Finally Given Up On Brendan?
Something happened after Liverpool's 3-1 defeat to Manchester United a few weeks ago. Something that hasn't happened under the reign of Brendan Rodgers. The fans united and their voice became unanimous. Brendan Rodgers needs to go. Even during the dark days of last season, you could always find a big chunk of the fan base always ready to back the manager however depressing things became. The justifications were ever ready and waiting to counter the "Rodgers Out" brigade; "he needs more time", "he needs to buy better players", "he took us to within a whisker of the title", "he needs a fresh start and one last chance". Now that all of these excuses have been exhausted, his supporters have either been silenced or have been forced to jump to the other side of the fence and join ranks with the dissenters. Despite Liverpool's much needed 3-2 win over Aston Villa, even Rodgers' staunchest supporters have run out of rhetoric to defend his sometimes inexplicable decisions. It seems that he has finally lost the vast majority of fans' faith and only a miracle will restore it.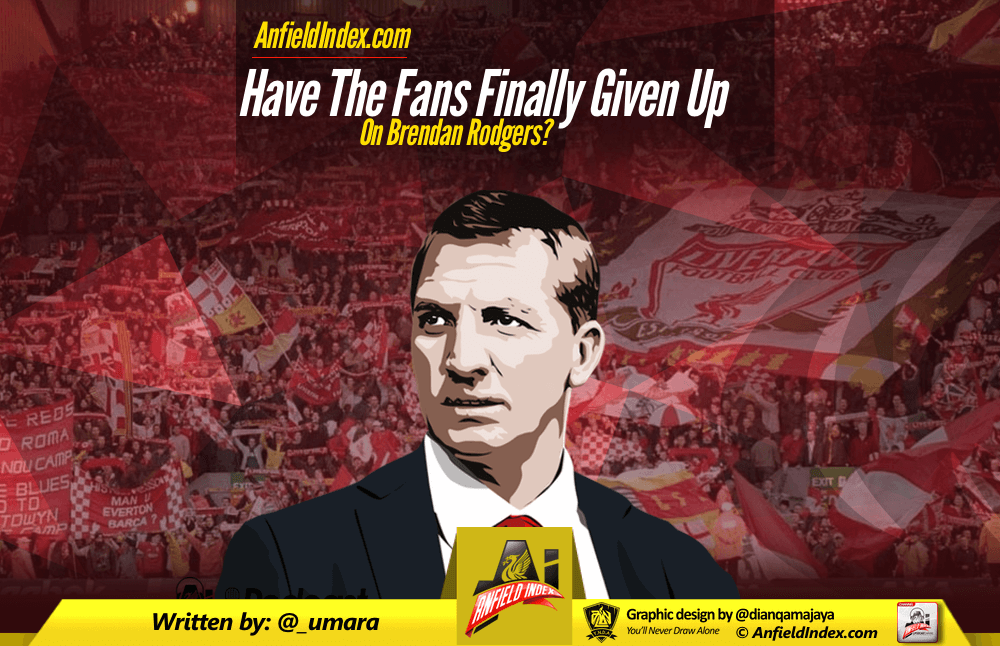 Anyone that believes a narrow win at home against Villa is enough to save Rodgers is, quite frankly, deluded. It has merely papered over the cracks but with little effect. The issue remains. Defensively Liverpool were poor, despite fan favourite Mamadou Sakho replacing regular scapegoat Dejan Lovren. Had it not been for some poor finishing on Villa's part, we could easily have been lamenting over yet another draw to bottom-table opposition. Or worse. The back four or three (depending on which formation Rodgers picks out of his hat the day before) seem in disarray most of the time. There are clearly trust issues between centre-backs, full-backs and goalkeeper. No one seems to know what their role is and can be seen screaming at each other when a goal is conceded. Whether that's for the cameras or they genuinely believe it's the others' fault is anyone's guess. Simon Mignolet appears to have lost his bearings again this season which is enough to send extra jitters in an already frail defence. There has never been a defensive understanding under Rodgers and it doesn't look like that's ever likely to change.

If a dire defence has been a consistent feature of Rodgers' reign at Liverpool, then his attack has been an erratic one. Some may say that we don't have the right personnel anymore whilst others suggest that the talent we do have isn't being utilised correctly. However, it's most likely a mixture of the two. Although unrealistic without Luis Suarez, comparisons to the attack of 2013/14 are inevitable but probably unfair. Since his departure, Liverpool have struggled for goals and with the other half of SAS, Daniel Sturridge, perpetually injured it became nigh on impossible to recreate that form. Last season, the Reds lacked creativity and when they did manage to muster some up there was often no one to deliver the killer finish. Couple that with an appalling defensive record and you have a season to forget. This season, despite adding over £50m worth of attacking talent in Christian Benteke and Roberto Firmino, goals were still a rarity, pushing the fans' frustrations over the edge. Formations were incessantly questioned with players being persistently played out of their natural positions. It was as though new players weren't adequately scouted before they were signed. Either that or were they were pushed there to accommodate other players? It was these kinds of decisions that were a constant source of irritation amongst the fan base, and Rodgers' believers were finding it increasingly difficult to defend him.
Will the return of Daniel Sturridge, however, earn Rodgers a temporary reprieve with us? His match winning brace against Aston Villa reminded us all what we had been desperately missing: sublime link up play with Phillipe Coutinho and top class finishing. The Brazilian seemed to instinctively know where Sturridge was and the two rekindled a love affair that had been cruelly torn apart last year. If the latter stays fit and the former just stays, they could terrorise defences up and down the country. And once Benteke starts firing, we could have a lethal combination at our disposal. Nonetheless, these possible eventualities shouldn't detract from the fact that Rodgers appears to have reached his ceiling as Liverpool manager. To rely on a highly injury prone striker when millions have been spent to fix the issues, albeit unsuccessfully, cannot and should not be an acceptable option.
With an absolutely torrid set of fixtures coming up in October, Rodgers' bubble may be about to burst. The horror show of last season ended with speculation of him losing the dressing room, with this season seeing the fans following suit. But the final say ultimately rests with the owners and whether or not they have lost faith in their man remains to be seen. Logic suggests that the current situation cannot be allowed to go on and with the fan base piling on the pressure, surely it can't go on for long? Rodgers has been given long enough and has most certainly been provided with the financial backing to match. No excuses can cut it now and barring a footballing turnaround of epic proportions the exit seems imminent for the Ulsterman. All football managers know that when the fans unite against you, there's not a lot that can save you.