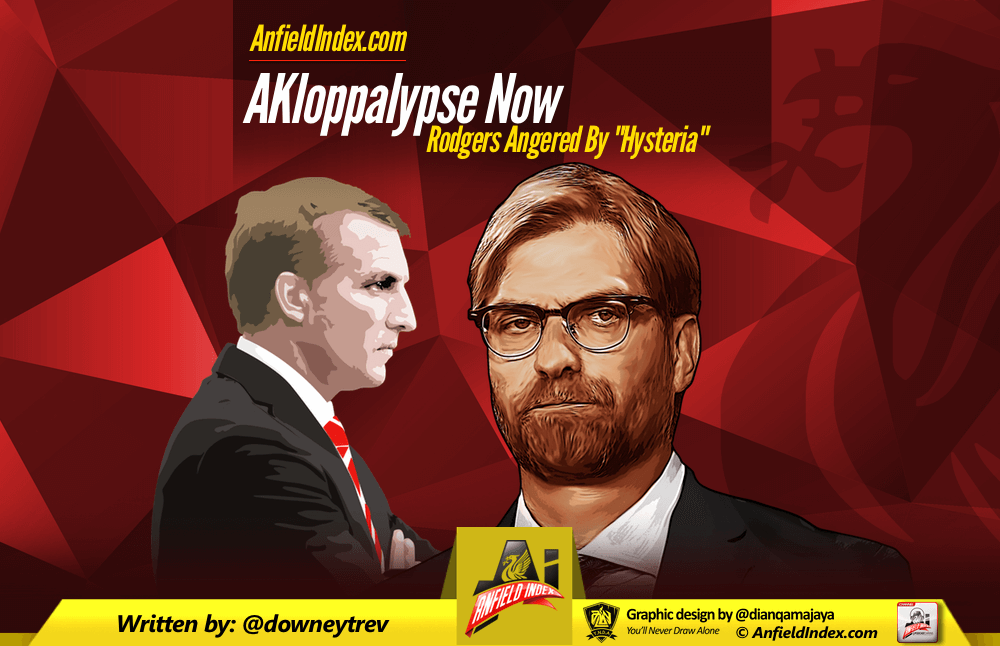 AKloppalypse Now - Rodgers Angered By "Hysteria"
It's becoming deeply uncomfortable and complicated now, this drawn out but seemingly inevitable split between Brendan Rodgers and Liverpool Football Club. Saturday's victory, with it's teasing glimpses of the heady days of 2014, may have muddied the waters somewhat for FSG. Or perhaps it will have mattered not a jot. Sadly, those of us who care most will be the last to know. It is the almost intolerably cruel fate of the obsessive football fan to remain permanently in the fog of uncertainty, irrespective of the strength of our ardour. We wish, speculate and argue our lives away, without ever being in possession of all the information. Ain't love grand?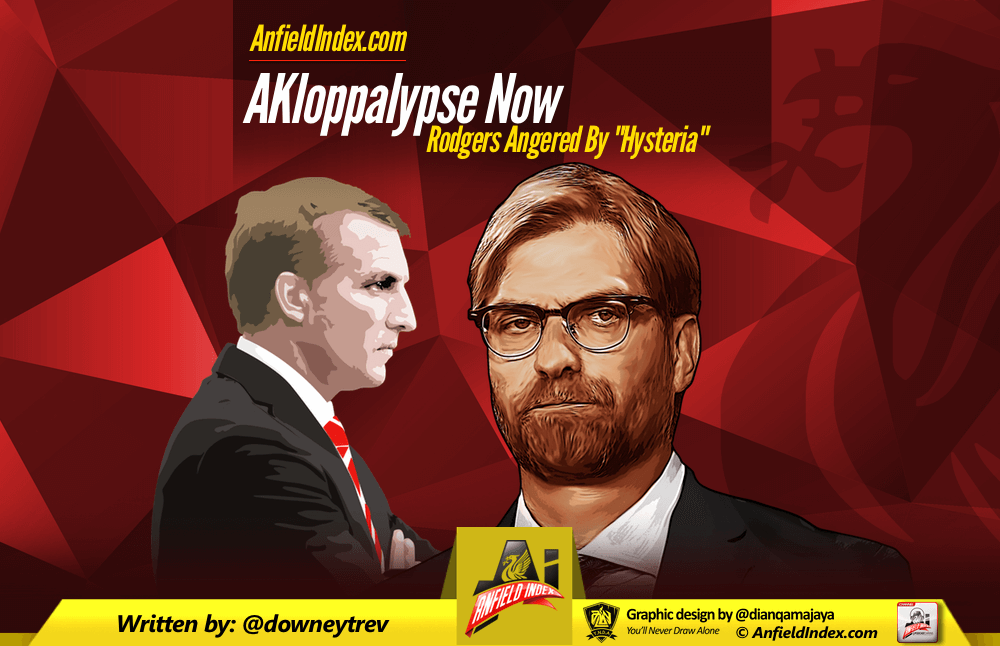 Now, nobody wants to be party to the further embarrassment of  a well-intentioned man who simply seems to have lost his mojo, but the leery covetous staring of many fans in the direction of bearded German mentalist, Jurgen Klopp, is making it hard for those of us who want to simply sit at the bar and cast admiring but furtive glance towards the former Dortmund maestro, without making it obvious to the person we're sitting with. I have no hesitation in saying that I'd personally be giddy with delight at the appointment of Herr Klopp, but the notion of unnecessarily cruel disloyalty would normally make me queasy. The manager's latest protestations, however, have left your scribbler less bilious at the thought of courting another.

Brendan Rodgers' justifiably paranoid post-match observations about a group of people who want him out of the club, added to the overt mutual flirting between LFC and their prospective Teutonic amour, has brought us to a point whereby the relationship between the Antrim coach and his employers seems nigh on irreparable. His downbeat and hyper-realistic attitude before the Aston Villa match was replaced, in the wake of victory, not by a bullish positivity but rather by a tone of wounded indignance, as he bemoaned the "hysteria" around his position. Sadly, a little clear-eyed perspective seems missing in what follows, almost as though Rodgers fails to comprehend that no come-to-bed looks would be aimed at the likes of Klopp or Carlo 'Eyebrows' Ancelotti if only his team were challenging for major honours.
"There has been a frenzy to get me out of here," the Carnlough man redundantly, if accurately, observed. "There is no question about that. Whether that's a Liverpool hysteria or big-club hysteria, I am not so sure. The scrutiny here is obviously greater, for me, than any club. But it is a huge club and as a manager you know that and deal with it. It's not about proving people wrong. I think I have shown in the early stages of my management – without being arrogant – that with a talented group of players I can compete at the top end of the league. There are very short memories in football. The team was eighth when I got here (It seems only fair to point out, here, that as of this morning, Liverpool are currently still eighth in the Premier League, so that's…y'know…unfortunate) and we built and produced a team to excite people throughout European football that should have won the league. It didn't but nobody even expected us to be near the top four.
The flagrant tooting of his own trumpet continued apace, heavily sprinkled with an understandable but unpalatable tone of self-pity. Over the years many have bemoaned Rodgers' tendency to self-aggrandise and it seems that if he's going out, he's going out swinging his Premier League runner's up medal around.
"I know how to manage top players and manage the group, but when you lose that or those players are not available and you have to piece it together, that takes time," he continued. "Then all the good work gets forgotten. That's how it works. It seems the focus has not been on what's gone on and what we've been missing, but more about getting me out of the club. That's sad. I am the same man who nearly won us the league, but better. If you give me the tools I'll do the work. I know last season and this, there have been a lot of things going against us, but we've always managed to stick together. The players are very much fighting and with players returning we can have a great season."
As these words seeped out into the public consciousness last night, the commentary was immediate and mostly damning. Whereas a few rejoiced in the defiance and fight in the manager's observations, to most, they were merely a confirmation of his failure to grasp the reality of his situation. Irrespective of where one is positioned on the broad spectrum of attitudes towards Rodgers, his reluctance to wear any of the responsibility for months of underperformance grates a little. He certainly does himself no favours when he quite literally chooses the lame excuse of the poor workman of legend, and blames his substandard "tools."
On Saturday, with Daniel Sturridge showing the sublime talent that has made him amongst the most lethal marksmen in club history and Danny Ings displaying a passion and energy that made one suspect that the circular design on his shirt was actually a Tony Stark-style arc reactor, it was easy to be lured into a heady hope of great things to come — the beguiling allure of the potential. However, as a bothersome counterpoint to that wonderful pairing was the all-too-familiar defensive frailty that has been a feature of the side throughout Rodgers' entire tenure.
Therein lies the problem that faces FSG. Having backed their man, can they risk humiliation by dismissing him so soon? Just as pressing, despite their recent support for Rodgers, is another question: how long can they continue to ignore that in so many ways the progress on the pitch has been minimal and that the defensive fragility that has characterised the coach's time at the helm remains. For now, at Anfield, plus ca change, plus c'est la meme chose, as our French friends might say, but for what seems like a majority of fans, however, there is a whiff of revolution in the air and it smells like…victory.