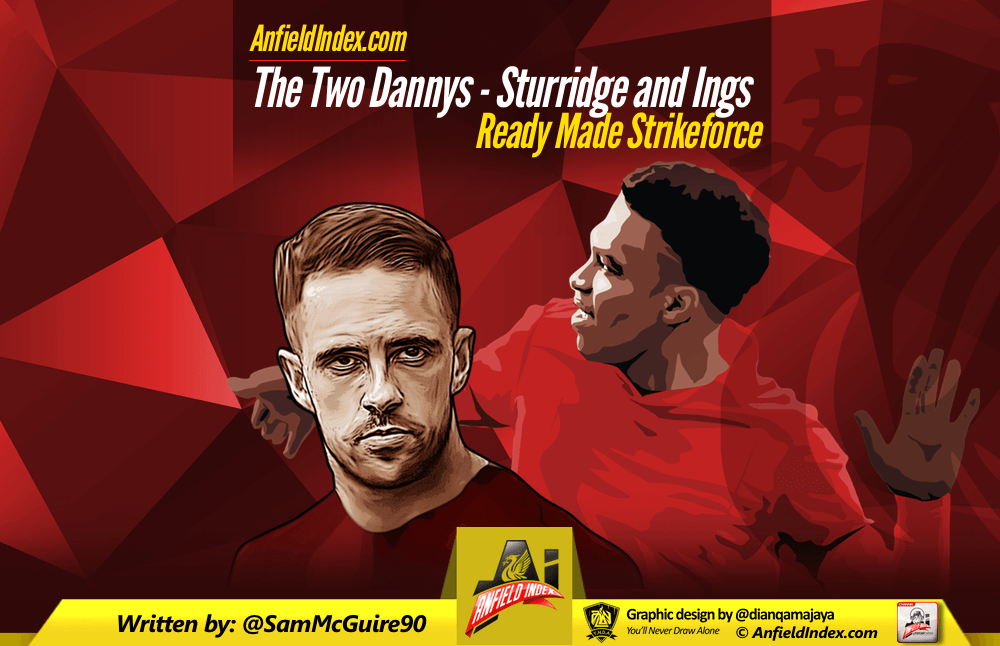 The Two Dannys - Sturridge and Ings: Ready Made Strikeforce
Liverpool have had a few prolific partnerships in their history, a few spring to mind instantly with very little thought. John Toshack and Kevin Keegan, Ian Rush and Kenny Dalglish, Robbie Fowler and Michael Owen, Emile Heskey and Michael Owen, Fernando Torres and Steven Gerrard and of course Luis Suarez and Daniel Sturridge. Some were integral in title winning sides, others important in winning European trophies whilst others played a dominant role in Liverpool finishing second and giving us one of the most enjoyable seasons in 20 years.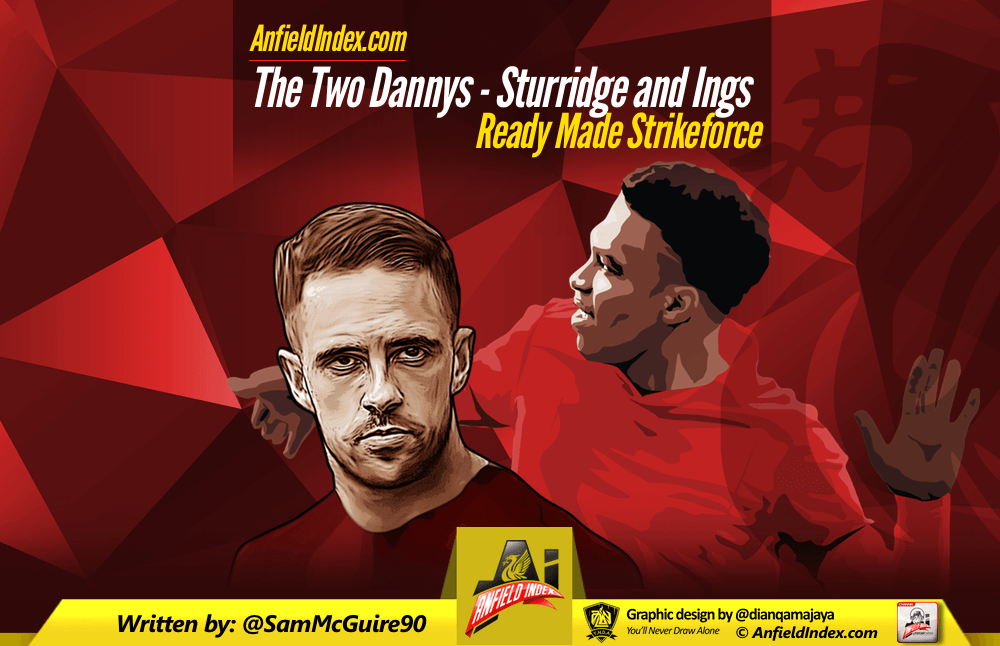 It could yet again be another partnership that helps Liverpool build on the 2015/16 season. It's an unlikely partnership all things considered but Danny Ings and Danny Sturridge could be the two that fire Liverpool into the top 4. You can make jokes about Liverpool's DD's being a handful and having presence upfront but I've not seen Liverpool look so fluid in attack for over a season. The two Dannys work. Their styles complement each other perfectly. One is a grafter who puts his all into everything whereas the other just ghosts into goal scoring positions and finishes moves off. We've seen a partnership with these traits blossom before haven't we? It's the reason many fans last summer wanted the likes of Alexandre Lacazette or Carlos Tevez. Strikers capable of doing the dirty work, contributing to the goals and getting the best out of Daniel Sturridge.

It's only unlikely due to the fact Liverpool spent £32.5 million on a 'Premier League proven' striker in Christian Benteke in the summer and I don't think we're in a position to have a striker that cost that much sitting on our bench, are we? That's not a dig at Benteke either, he's showed glimpses in his appearances so far this season. He has great technique and he's good at what he does. We've yet to see how effective he could be though as Liverpool offered him very little support in the games he's played and in the 45 minutes he had beside Sturridge they didn't really look at ease with one another but that could've been down to many reasons. It's harsh to judge the Liverpool number 9 though as we've seen plenty of strikers isolated in the Liverpool set up.
However, Danny Ings and Daniel Sturridge seem to have hit it off right from the off. Maybe it's because there is no alpha dog competitiveness between the two. Ings knowns Sturridge is top dog and Sturridge doesn't see Ings as a threat, more of a Beta? Whatever the reason for it, for now it's beneficial for Liverpool. In the 135 minutes played together they've contributed 3 of the 4 goals the team has managed score and although they've not assisted one another you can see the beginnings of a partnership starting to take shape.
The Sturridge Goal
The pass from Milner for the goal was perfection. The technique by Sturridge was faultless and the wriggly arm dance has been greatly missed. What goes under the radar in this goal is the role Danny Ings has in the goal. When Sturridge originally has the ball Ings peels away towards Amavi, as the ball spins up to Milner Ings comes back centrally and into the eyeline of Joleon Lescott. Richards is caught ball watching and doesn't see Sturridge make the run off him and Lescott isn't able to get over to Sturridge quick enough because Ings was lingering. He didn't just rush into the area and make it easy for Villa to mark.
The Guzan Save
In this picture you see Richards marking Ings and Lescott closer to Sturridge as Liverpool build their attack. In previous games when Liverpool are slow to build an attack it fizzles out and a shot from distance is the usual outcome.
In this picture a few seconds later you'll see it's now Richards marking Sturridge and Lescott marking Ings. They've switched sides, it's nothing big of course but the signs of a partnership is in the next picture.
Not only did they switch sides they also switches roles. For the second Liverpool goal it was Sturridge who dropped deep to link play but in this instance it's Ings that does that. He makes a move off of Lescott and with one touch puts the ball inbetween Lescott, who at the time is trying to get tighter to Ings, and Richards, who once again is ball watching. Sturridge's right footed effort is well saved from Guzan but this was really encouraging from the two Liverpool strikers.
The link up is there. The dynamic seems to work between the two, so does Christian Benteke get back into the first XI when he's fit if this duo keep up their performances? You can't relegate Ings to the bench if he's getting the best out of our main man and chipping in with goals himself.
When you compare the stats between Benteke and Ings this season it makes for interesting reading. All stats are based on per 90 minutes. The big Belgian striker makes 0.10 tackles, wins 66% of headed duels, has a 50% shot accuracy, 1.27 key passes and has 2 shots per game. Danny Ings however makes 0.4 tackles, wins 50% of his headed duels, has an 80% shot accuracy with 3.03 shots per game and averages 1.51 key passes. People will say it's a small sample but when you take a look over last seasons numbers to add some context. He averaged 0.8 tackles won last season, 40% headed duels, 60% shot accuracy (however he had less shots per 90 for Burnley) and he averaged 1.23 key passes per 90. So maybe playing alongside better players may see an improvement in Ings? Obviously Benteke will be involved in a lot more headed duels but it's a positive that when Danny Ings is involved in a headed duel he's winning half of them. I include tackles in these comparisons because you can't overlook that side of things from your strikers. On more than a few occasions on Saturday you saw Danny Ings in and around the Liverpool area defending and moments later he'd be buzzing around the Villa area.
A Liverpool attack broke down, Ings wasn't even involved and yet he sprinted 60 yards to recover the ball from Scott Sinclair as he was making his way to the heart of the Liverpool defence. That sort of passion and desire for the red shirt goes down well with fans. James Nalton (@JDNalton) called him the striking equivalent of Jordan Henderson. People may not rate Henderson but if Liverpool revert back to that high, relentless pressing tactic then Danny Ings could be vital.
As Liverpool manager you look to get the best out of Daniel Sturridge and Phil Coutinho and the inclusion of Danny Ings does just that. At the weekend when Liverpool face Everton it'll be the winner of the midfield battle that wins the game. If Danny Ings gets to press the Everton defence and Gareth Barry it'll disrupt their passing game and Liverpool may get the upper hand and be able to counter them. His off the ball movement also creates space for the two aforementioned tormentors of the opposition and the more space those two get the more chance Liverpool have of winning.
If Liverpool play two attackers and Sturridge is fit it'll always be him plus one. The ex-Burnley frontman is more than holding his own so far in a Liverpool shirt and other than price tag there is no reason he shouldn't be starting even when Benteke is fit if he carries on this form. It's good that Liverpool finally have competition upfront. I just hope players are selected due to form and not price tags.