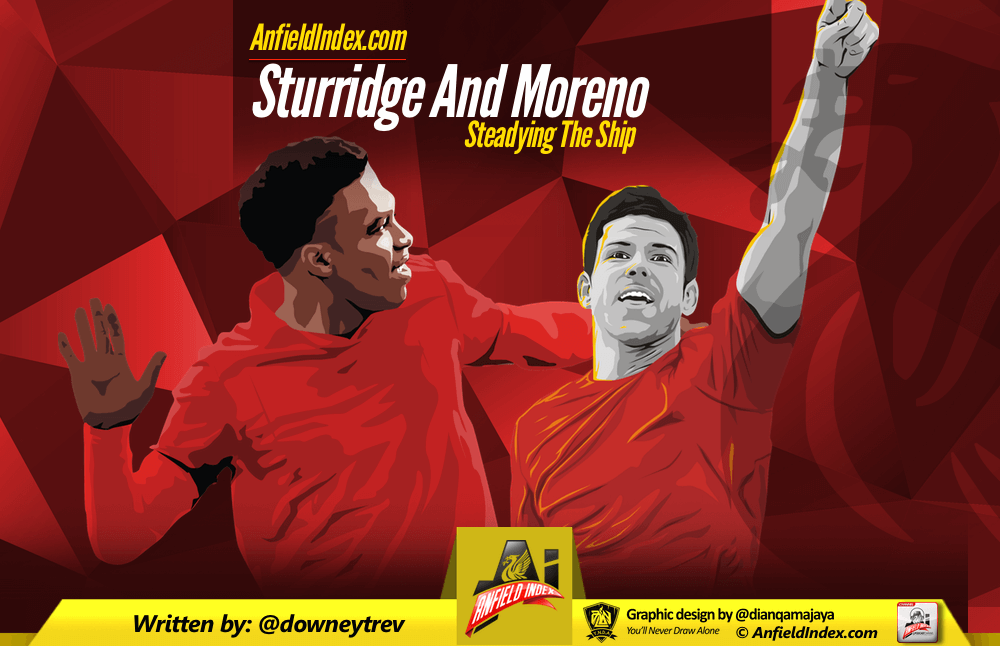 Sturridge And Moreno Steadying The Ship
Forced jollity is invariably a terrible thing to be part of. When your heart is not in it, it's enormously difficult to actively enjoy anything. For much of this week, I've felt like one of the kids on the school bus hijacked by the Scorpio Killer in Dirty Harry. In an attempt to create a little levity, the aforementioned nutter initiates a sing-song, leading the children in a rousing rendition of that old crowd-pleaser, Row, Row, Row Your Boat. The scenario turns problematic when some of the nippers are not particularly enthused by this unnerving development and ask if they can leave. Our murderous mate's solution? He simply ups the crazy quotient, slaps them silly and threatens to kill their mothers if they don't sing up and, y'know, have fun.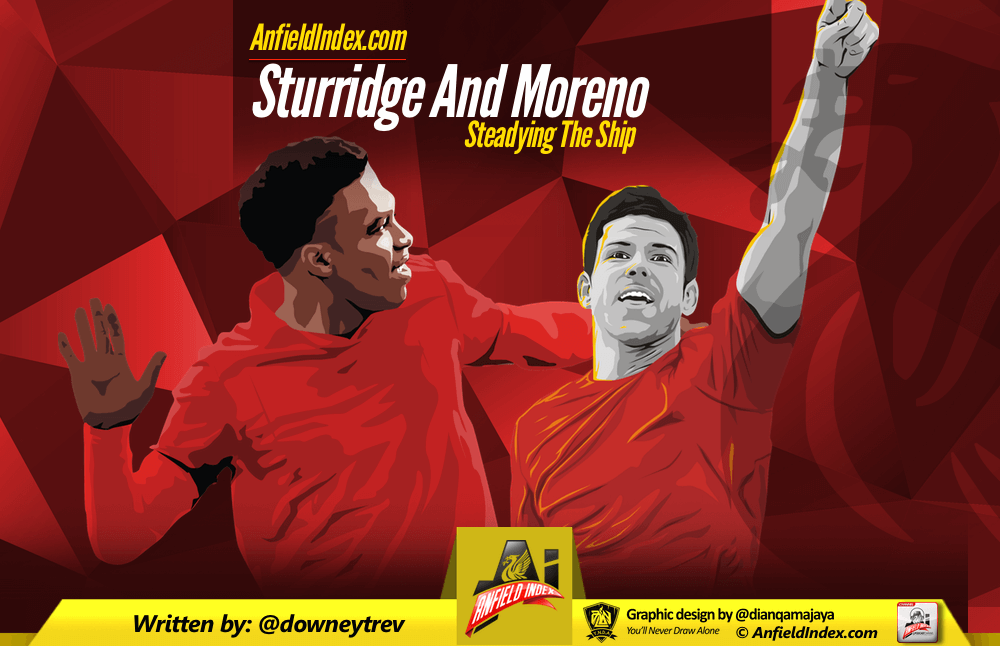 Now, don't fret, dear reader. This column is not, and never has been, home to glum despondency or negativity of any sort, so it's safe to read on. An unpalatable combination of grim life nonsense and the unnecessary soap-opera around our beloved LFC may have rendered your scribbler's mood uncharacteristically dour, but there have been some pleasing recent developments, on the football front at least. If one were to accentuate the positives of the latest Liverpool performances, there'd likely be many who would cite the lung-bursting enthusiasm of Danny Ings, and it has been a wonder to behold. However, for this observer, the reemergence of Alberto Moreno and Daniel Sturridge has been the real source of joy.

Alberto Moreno Pérez may resemble the biologically impossible offspring of Steven Gerrard and Xabi Alonso, but as he approaches his 50th appearance for the Redmen, his impact has been a touch less impressive than either of those two former greats. Depending on one's bias, Moreno has been solid or patchy but what is undeniable is that when he's been good, he's been very good indeed. Finding himself behind Joe Gomez in the manager's preference as the season began, the 23 year old Spaniard simply went about his business until the opportunity came, lending some much-needed forward impetus in a couple of substitute appearances before regaining his place from the start in the Europa League match with Bordeaux.
"What you've got to do is keep working, get your head down in training and work really hard so you're ready when you get the chance," was the raiding full back's solid advice to the official site. "The manager thought it was the right time to put me in against Bordeaux and I grabbed my chance. I think I've done reasonably well since then; I've had three more games and I think I've played well, but obviously I'm still a young player and I know I can still continue to improve. I hope I'm giving the fans something to cheer about with my play and hopefully I'll continue to impress them with my performances."
Now, some of us who are a little overly obsessed by the club, had begun to fear that Moreno had replaced Fernando Suso in the affections of serial selfie snapper Jose Enrique. The beaming defender seemed to be permanently on Instagram and in the company of his Spanish compadre. It turns out, however, that the younger man is not learning Enrique's patented technique of accruing vast wealth whilst forgetting that he's actually a footballer, who should at least try to, well,  football. It turns out that Alberto is simply a very happy fellow, contented and comfortable in his Liverpool home.
"I couldn't feel more settled, I'm really happy – not just myself, but my family," Moreno continued. "We love the club and the city. When my 50th game happens, I'll be so pleased. To have my name among the illustrious players that have played for this club, to have featured in 50 games in just over a year, I'm really happy. But I'm not going to settle for that, I don't want to take that as an achievement, I want to be playing more and more games. I want to be here for many more years and play as many games as I can."
Having fallen out of favour with some fans and the manager, it is heartening to see Moreno back in fine form. Written off by the likes of Mark Lawrenson as a "little boy lost" in the bigger matches, the young defender has recaptured the energy and élan that grabbed everyone's attention in that early demolition of Spurs last season. Moreno, simply put, excites fans. His energy, brio and attacking prowess are a genuine addition to the side but even the man himself knows that this current incarnation of Liverpool under Brendan Rodgers is only at it's best when another returning star is present. Daniel Sturridge, fit and firing, elevates a struggling side to a winning one. Moreno speaks for everyone when he enthuses about the dancing striker's comeback.
"He's a great player and he deserves all the accolades he has received," insisted his fellow left-footer. "It wasn't just the players in the dressing room that needed his return, the club as a whole was pleased to see Daniel making his comeback. He is a top player and proved it on Saturday. To come straight back in after six months out of the game, look at his physical condition and he was at it from the word go. To score goals of that quality just shows what a great player he is, how much we've missed him and how influential he is."
That influence is something Brendan Rodgers will be praying Sturridge continues to wield. If the manager is to get Liverpool challenging seriously, and in the process regain popular support, then the England man's two strikes against Aston Villa may be his Mark Robins/Alex Ferguson moment. Regardless of one's feelings about the managerial scenario, the Antrim man is the incumbent and a run of golden form from his world class striker might be just the thing to recapture lost hearts and minds. To be fair to Rodgers, he has been cruelly shorn of the striker's sublime talent, and goals, for an unfortunately long period of time. He insists that Sturridge's absence was as critical as his presence may prove to be.
"Players like that make the difference," the gaffer opined. "We haven't scored three goals since he last started a game. He gives you a big opportunity to win games and compete at the top end of the table. He is a fantastic talent and now the job is hopefully he can stay fit. He is in that elite band of player that we've seen here. We've seen here the brand of football we can create when we have that talent available. He played a massive part in that, so if he stays fit and others come into the reckoning we can piece together an exciting team again. Those players make the difference."
Indeed they do. For The Good Ship Liverpool, so much rests upon the worryingly fragile physicality of Daniel Sturridge that those inclined towards pessimism will get a bit of a sinking feeling but perhaps, in Alberto Moreno, fans will have at least one other resurgent hero to cheer. So be happy, and sing damn it! "Row, row, row your boat…"