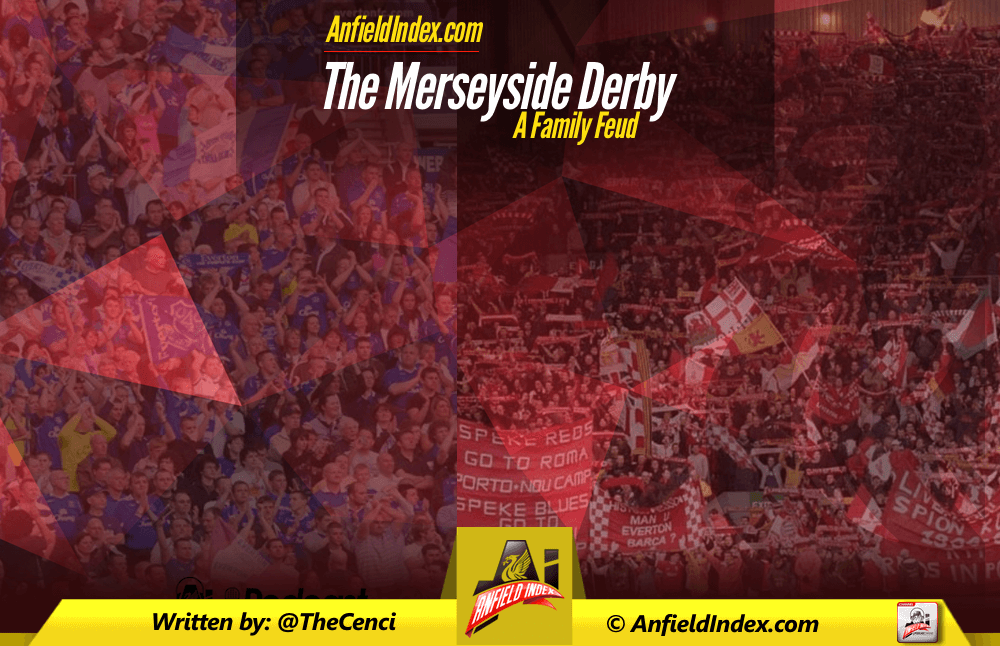 The Merseyside Derby - A Family Feud
In the late months of 2000, my aunt and Godmother died. That's the same person, by the way. It was a bad time but not a double tragedy.
My aunty Pat was my Dad's sister. She was very glamorous with a mop of blonde hair, had a hearty laugh and called me 'soft lad'. I absolutely adored her. She lived near Tuebrook, Liverpool with my cousin Lisa and I always regret not knowing her better. For some reason I was always closer to my Mum's side, maybe because my cousins, aunts and uncles were closer to my age. My Mum is the eldest of four, my Dad was the youngest of five and was, in fact, older than my Mum. Lots of young cousins on one side, fully grown adults when I was a kid on the other.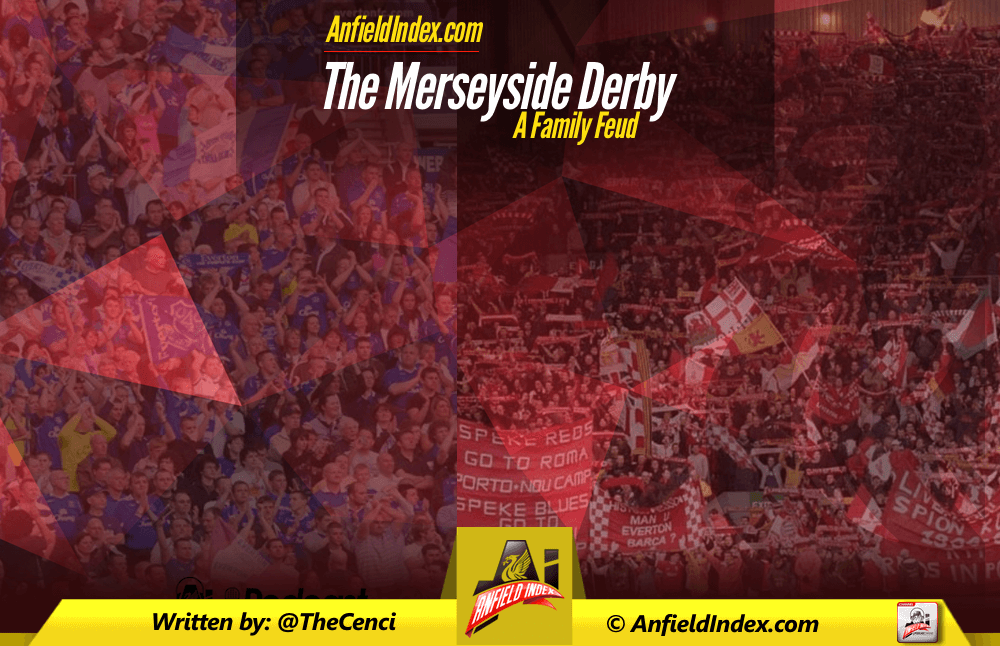 The funeral took place a week or so later and for the first and only time I was charged with carrying a coffin. My cousins also did the carrying although, and I'm ashamed to say this, I didn't know them too well. My Dad had died four years earlier and I always promised myself to get to know the Coppacks more. Maybe this would be the day when I made amends.
The wake took place in a Labour club off Green Lane and was, in fact, the same venue we'd booked for my Dad's in 1996. Must be a Coppack thing. I spent the first few drinks smiling at the ensemble, but, being a bit shy I just chatted to my Mum and sister rather than reaching out. At one point my cousin Joe came over, ruffled my hair (me being a youthful 31 at the time) and sat with me. We shared a few stories and agreed that, yes, I did look like my Dad, and we got on. Another cousin, Ged, nearer to my age and once a proper guitarist in a proper band so a bit of a hero to me, joined in and I found myself having my first grown up conversation with that side of the family. I hadn't seen Ged since I was at school.
Little by little, beer by beer, we fell into an easy conversation based on nostalgia and piss-taking as often occurs with these things. The more we drank, the louder we became. I felt a bond with these people. It was like they were family or something.
Then we ran head first into an embarrassed silence.
They say you should never discuss religion or politics. Well, let's add to that truism.
'Hey, can we sort our Karl out for a ticket for Saturday? You haven't got one, have you, lad?'
Aw, bless them. They'd got the date wrong. Still, some of these men were in their fifties so it was only to be expected.
'I'm going, yeah, but the game is on Sunday, not Saturday. Do you get to many away games?'
They eyed my glass with suspicion and metaphorically took my drunken temperature.
'No, it's Saturday. We've got United at home.'
'No, we haven't. We're at Upton Park. Everton have got Uni…'
Silence. The penny dropped with them. I knew about them but they didn't know about me.
My Dad was a Blue, but never really got into it. He enjoyed it when Liverpool did well as, for him, the city always came first but the Cup semi-final in 1977 and their 1-0 win in 1978 – their first in years – brought out more rabid qualities. A month after that game I was taken to Goodison Park as a 10th birthday present. I didn't care that it was them. I wanted to go to a game, any game, more than anything in the world. I sat through Everton 3 Chelsea 2 and was hooked. I loved Bob Latchford and Duncan McKenzie, who appeared for the opposition that day. The latter could jump over a Mini. When you're ten years old that's as good as life gets.
Of course, there was an agenda under all this. He knew I loved Liverpool, but there was the odd conversation about how it was sometimes better to support to the underdog and how victories were often sweeter that way. I smiled and went back to the matchday programme, not having it for a second. I noted that Chelsea had players called Ray Butch Wilkins and John Bumstead. Butch? Him?
I was still Red but I didn't hate Everton. I liked their kit, their quaint little stadium and horrible pitch. They were alright but they were never Kenny Dalglish. They could never be Ray Kennedy. There was also, and I swear this was a deal breaker, the small matter of the Liver bird on the badge. The Liver building is still my favourite in the world and the whole myth of the birds fascinated me. Still does. Sorry, Dad, but Liverpool won.
I tried explaining this to my cousins, but they screwed their faces up in disgust. They're fair, even tempered men so it didn't turn nasty, but I'd let them down. I'm delighted that I did.
I asked them if they fancied their chances at United.
'Nah, it'll be a cricket score there on Saturday.'
They lost 3-1.
Many people in Liverpool have similar stories to this. A lot of us have Blue Dads and Red Mums. Some of us are the direct offspring from people who used to watch both. I suppose that this is where the somewhat erroneous title of 'the friendly derby' comes from. It has been friendly in the past but it's also been anything but.
The family split is probably down to a bit of rebellion as much as anything. Maybe if my Dad had been more into football I would have ended up Blue, but I doubt it. When you're young you want to be a bit different.
It's said that the Liverpool – United game has replaced the derby as the biggest game in our calendar and I'd agree with that. That game has a lot riding on it. So does the derby but it's a different kind of tension. If you lose to United, you've got to face work colleagues. If you lose the derby you're getting phone calls off your family or, worse, sharing a living room with them. It was even harder in the days of the standing Kop. You'd often as not be standing next to one of them. Instant feedback.
The derbies in the 80s were great for this. Having Everton on the Kop was brilliant although I'd never admit it at the time. I stood in the Everton end at the 1989 FA Cup Final. I wore a scarf and didn't think for a second that it would be a problem. Just before kick off the biggest grock I've ever seen came over to me and said 'If you score and you celebrate I'm going to kick the shit out of you, you redshite.' I nodded and thought that he had a point. I wasn't going to rub it in. Let's not be daft.
We scored in four minutes and I went ballistic.
Absolutely nuts.
Honestly, I ended up in a different block.
At the end of the game he came and found me and, very sportingly, offered me his hand. I thought this was a lovely gesture and slapped his considerable back in commiseration. Hands across the city.
'Now, get the fuck away from me before I kick your fucking head in.'
I did as he said.
The Goodison derby, along with Newcastle, is my favourite away game of the season. I'm a big fan of tradition and I love the walk across the park to their place. It feels like an army amassing at the Albert and going over en masse. I love their ground too. Yeah, I know it's fallen to bits and the view from the lower tier is appalling but it's a proper ground. Visiting fans probably don't like the corrugated iron and wood but I like it. I'm a bit odd like that. The roof leaked at Turf Moor a few years ago and their end got drenched. That sent me into paroxysms of pleasure. You can keep your Identikit stadia.
At least we're not stuck behind the goal eight feet below the level of the pitch as we once were. I swear at the League Cup game in 1987 I only saw the goal and heard Jim Beglin's leg. Easily the worst view I've ever had in my life.
So, onto Sunday's game. A lot of Reds on Twitter have given up already. The Ev have started coming back from goals down to win games. That's not good for us. We're a team that likes to concede. They've got an aerial threat and we've got a very shy back three/four. They score goals and, Sturridge aside, we tend not to bother with that sort of thing. It's not looking good, is it?
It's never been more on.
Men of a certain age will remember the big, big games where we had no chance but tended to win. They should have beaten us in the '86 cup final. They didn't. Actually, they should have battered us in the early nineties when we were absolute shite but they didn't. They haven't beaten us at Anfield in a decade.
They've also got Tim Howard. The man who couldn't dive. That's got to be worth something.
Due to finance and work commitments, this is my first game of the season. I won't sleep on Saturday night. This really is the big one. Us and them. The performance is irrelevant if we win. Brendan Rodgers has never won there. He needs this. So do I.
I haven't spoken to my cousins for a while. That may change next week.
On the other hand, it may not.