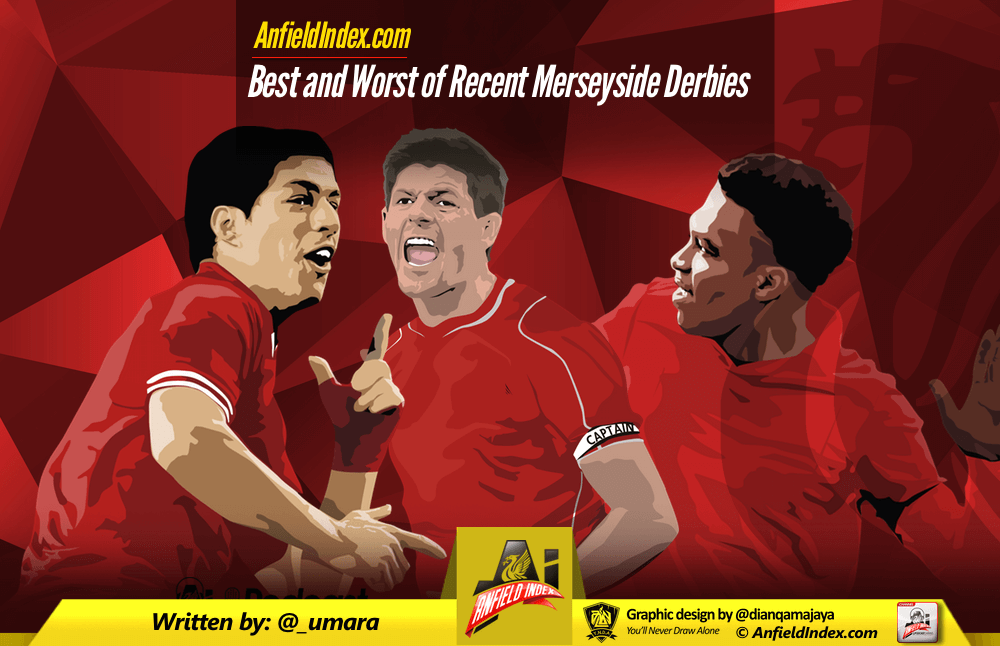 Best and Worst of Recent Merseyside Derbies
Derby day is around the corner. The time of the season when the city of Liverpool unites in an amalgamation of red and blue. Little red children walk hand in hand with little blue children. The elderly Toffee fan gazes longingly into the eyes of the of the recently retired Liverbird wondering if she would join him for a late dinner after the game. Rival fans join each other for a harmonious, banter-filled pre-match luncheon whilst others chat cordially about how they'll all shake hands like gentlemen whatever the result. It's the friendliest of friendly rivalries you ever come acr….oh bullshit, who am I kidding? We can't stand each other and we know it! Losing a Merseyside derby is tantamount to sacrilege and can either leave the winners on cloud nine for weeks or the losers feeling kicked in the guts. Actually kicked in the guts. The pain is real. It's one of those fixtures that both sides hate losing more than anything. So, in celebration of this auspicious fixture I am going to reminisce over my best and worst recent derby moments.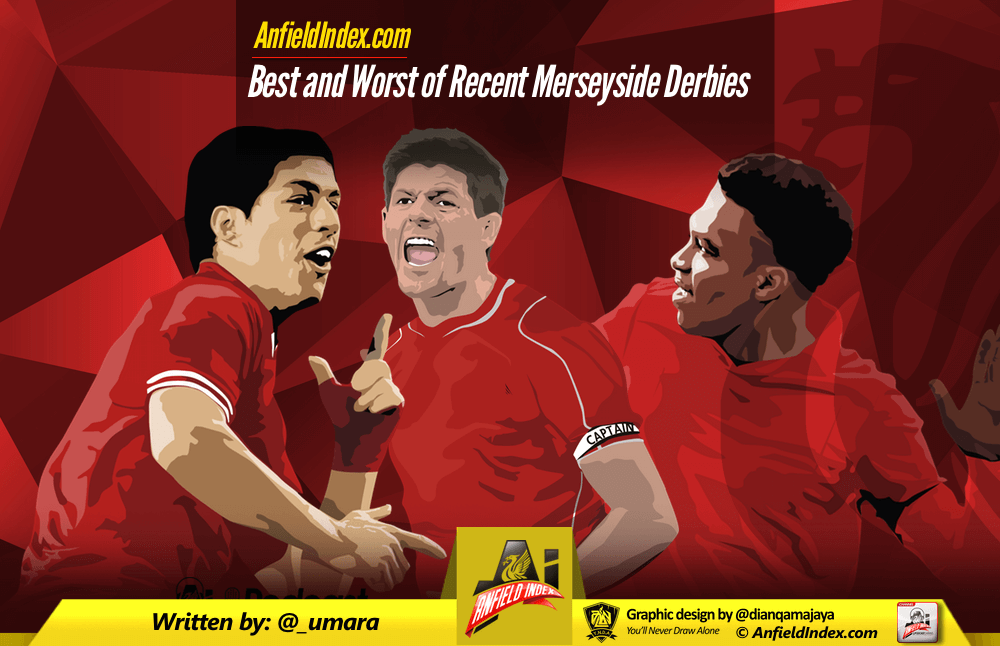 Liverpool 1-1 Everton – Anfield – 27th September 2014
Let's get this one over and done with first so that you can come away from this article feeling all warm and fuzzy and not wanting to kill yourself. This derby pain sticks in my mind probably because it's the most recent and the manner in which the victory was lost. You might not think a 1-1 draw is all that bad but that's not the half of it. Liverpool were looking to win the derby and use it as a springboard to gather pace after an uninspiring start to the season. Goals were a rarity with star man, Daniel Sturridge, looking on from the sidelines with injury. Everyone's favourite, Mario Balotelli, led the frontline for the Reds but the Italian, along with his teammates, couldn't find the back of the net. What do you need when your team can't score to save their lives? A handy set piece on the edge of the box and one Steven Gerrard, that's what. Midway through the second half Stevie G curled one into the net and set Anfield alight. No one begrudged him his cheeky "What were you all saying? I can't hear you now" celebration. No one except a few thousand Everton fans, but who was laughing then! Stevie and his Red Army were. You just can't beat a win over Everton and it's all the more sweet when the local hero gets one over his old foe. It was all going so well. Everton weren't looking likely to score and with the game going into injury time, Liverpool were a few minutes from derby glory. Everyone at Anfield was singing and the Blues looked glum in their seats. One or two even left. No one batted an eyelid when the ball fell to Phil Jagielka (quite a bit) outside the box. People just carried on with their celebrating, singing, eating crisps and generally making merry. 0.3 seconds later, Simon Mignolet was picking the ball up from the back of his net. Jagielka, of all people, had blasted an unstoppable shot into the top corner. If ever "killer blow" defined any footballing moment, that was one of them. I honestly remember feeling as though someone had ripped my gut out and couldn't console myself in any way. It felt like a defeat and judging by the players' reaction, they felt the same.
That's enough of that. One miserable Merseyside moment is quite sufficient.
Liverpool 3-0 Everton – Anfield – 13th March 2012
Now, for those warm, fuzzy feelings. I had to pick two here as I simply couldn't choose between them. If the 2006 FA Cup Final is known as the Steven Gerrard final, then the derby of 2012 must be renamed the "Stevie Derby". Since his childhood, nothing has held more pleasure for the ex-Liverpool captain than a goal against Liverpool's dearest rivals. Just one is enough to send him into a delirious, eye-popping frenzy. Can you imagine his delight at a Merseyside derby hat-trick? A trio of stunning goals left him and Reds the world over reeling in delight. The first derby hat-trick in thirty years.
A goal in the first half followed by a brace in the second, completed one of the fixtures most memorable Red moments. Considering the fact that his third came injury time (with the help of a certain, selfless Uruguayan) made it all the beautiful. As if it were even possible for the whole occasion to be even more pleasurable, Gerrard and his Liverpool team completely shat on David Moyes' 10th anniversary celebrations as Everton manager. At this party, the proverbial table was laid with goodies (vol-au-vents and classy toothpicks with pineapple and cheese), the blue, helium balloons were ready to let fly and Moyes was even rumoured to be wearing his party boxers. But along came Steven Gerrard, like a wrecking ball, and bull-dozed the whole thing. It was sweet. Sweeter than the jam tarts I forgot to mention that were neatly laid out on that table. Before the original Miley Cyrus, Stevie, wrecked it all.
Liverpool 4-0 Everton – Anfield – 28th January 2014
The race for the top four was well and truly on when Liverpool met Everton at Anfield for this game. The Reds were in the midst of their perfect storm as Daniel Sturridge and Luis Suarez ripped apart Premier League defences the land over. However, there was still some apprehension going into the derby with Ross Barkley and Phil Jagielka making a much welcomed return for Everton. It would be a nervy, tight affair. Right? The first twenty minutes or so were. But cometh the hour, cometh the corner, cometh the man and cometh the header and its resultant goal. Cue one euphoric Steven Gerrard, tearing up the turf to meet corner taker, Luis Suarez, and fall into a celebratory heap (in which I'm positive more than what was let on actually happened). But hang on, it's not fair for Stevie to enjoy all the Derby moments. Daniel Sturridge was having none of that. Two goals in three minutes for the striker, put the game to bed with a cup of hot cocoa after just thirty-five minutes gone. Hysteria ensued at Anfield and up popped half-time which saw the Liverpool players skip to the dressing room for their orange consumption 3-0 up. A whole half of football remained but surely Liverpool had done enough? No. Luis Suarez wanted to join the party and Phil Jagielka thought "Why not? Ok. This should be a laugh" and let Suarez have the ball near the halfway line which he obligingly put past Tim Howard. Liverpool had destroyed the enemy in style and actually managed to keep a clean sheet too. I probably shouldn't mention here that Liverpool were awarded a penalty and instead of our regular spot-kicker, Gerrard, taking it, someone had the bright idea of allowing Sturridge to complete his hat-trick. Needless to say, twenty months later, and the ball still hasn't been recovered. In the post-match interview, the captain took full responsibility for the whole sorry affair stating that he had wanted Sturridge to enjoy the feeling of scoring a hat-trick in a Merseyside derby. Instead Daniel was left with the feeling of cocking up in front of the Kop. But it's fine. What's the difference between beating Everton 4-0 or 5-0?! Everything actually.
Those were just a few of my most recent, favourite (and not so favourite) derby moments. I'm sure you all have yours. It's a fixture that holds great importance and joy to either side, directly proportional to the amount of salt we get to rub in each other's wounds at the end of it. Emotions always run high and that shows with the fans and players alike. This is one game neither side wants to taste defeat in and a winner is overdue as the last two matches have ended even. Who will respond best to their critics and, more importantly, get those vital Merseyside bragging rights? Because, let's face it, that's what it's all about really. Isn't it?