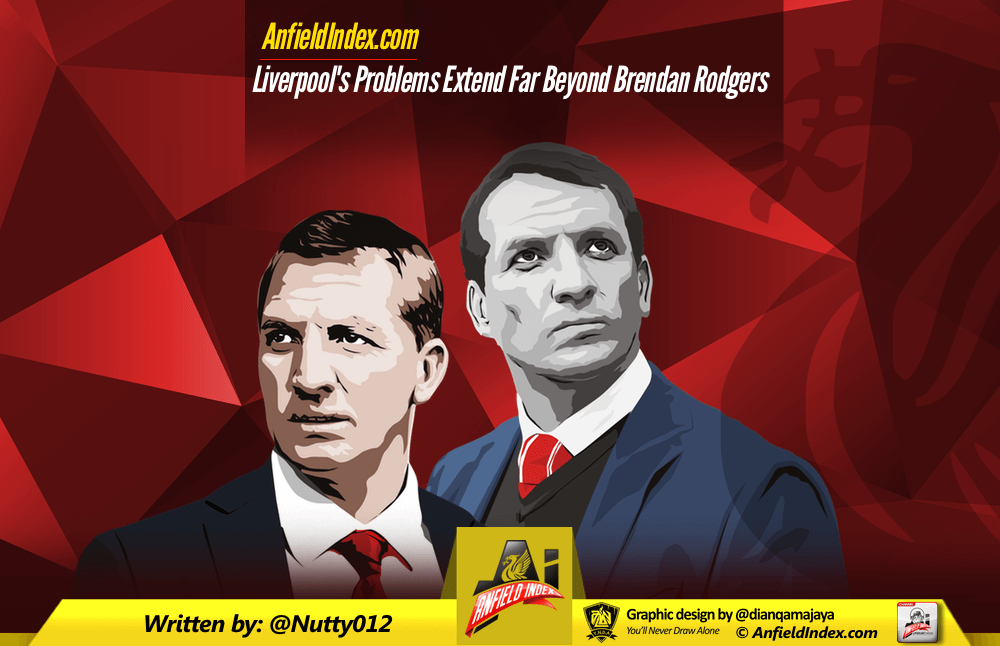 Liverpool's Problems Extend Far Beyond Brendan Rodgers
The pressure on Brendan Rodgers couldn't be greater, and the cracks are beginning to show, just as they did for Liverpool managers of the past. The end of days for recent Liverpool managers has been signalled with a loss of their public dignity, and Rodgers is no different to the rest in this regard. Liverpool's performances on the pitch have perhaps reflected the increasing unease seeping into the Northern Irishman's public persona. However, it is vitally important that as fans, we do not scapegoat one person in the system for all of Liverpool's problems.
Top managers have previously been blamed for failure, and made public fools of themselves in the process. For Rafa Benitez it was the "facts" rant; for Roy Hodgson it was the bizarre and unfounded public appraisals of players, such as praising them after losing a Merseyside derby; for Kenny Dalglish it was the combative contempt for anyone questioning him; for Brendan Rodgers it will be the paranoia of a "frenzied campaign".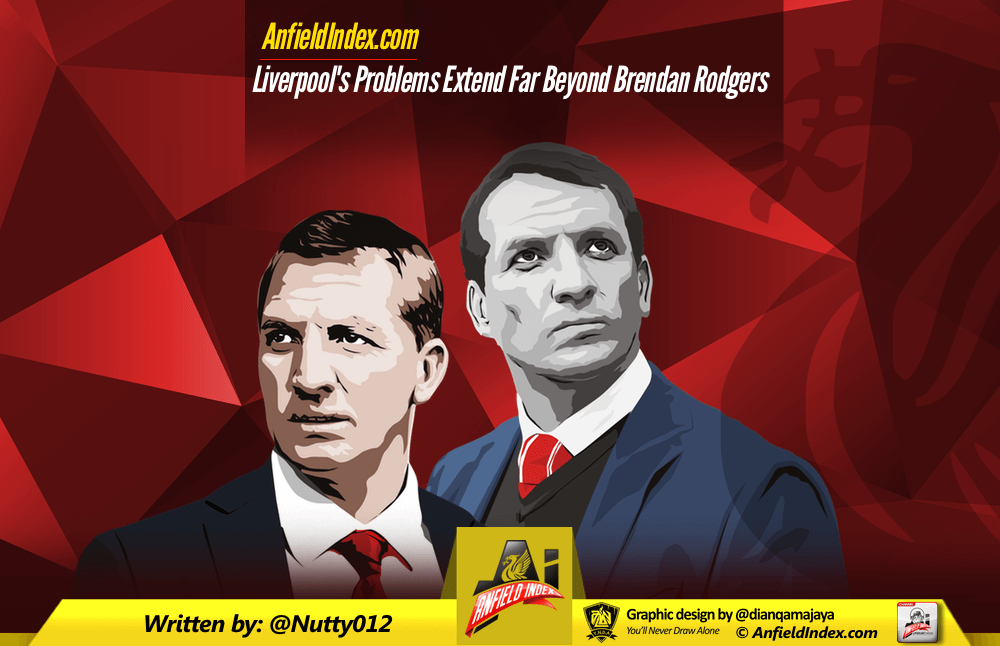 Say what you want about Roy Hodgson (and frankly as a Liverpool fan I have very little positive to be said), but if he can handle the media circus that comes with the England job, it does raise the question of why he could not handle a club side like Liverpool. Similarly, Kenny Dalglish should have known better than to allow the relationship to degrade between him and reporters, who themselves rely on the successes of the club.
The Liverpool job brings with it a unique public scrutiny that very few managers in the world are suited to deal with; as fans, the most direct insight we have into the minds of the come through their press conferences. We love to infer everything we can from a press conference (often at the risk of some one-eyed analysis). Watching the public persona
The scrutiny on a Liverpool manager from fans is comparable to the other "elite" clubs in the premier league – the two Manchester giants, Chelsea and Arsenal. In clubs like these, the demands made by fans are that success is immediate, and this mindset has been fostered by a history of winning. At a club like Tottenham, most similar in standard, Pochettino has not had anywhere the same level of criticism as Rodgers has had despite similar results.
Unlike the four other massive English clubs, Liverpool is not equipped for the immediate success necessary to harbour such impatience. The Liverpool team has been routinely poached of its star player ever since the precedent was set with Xabi Alonso's sale, and struggled to attract players of the requisite calibre to replace the likes of Suarez, Sterling, Alonso, Mascherano and Torres.
Furthrmore, despite FSG's wealth being on the same scale as other elite owners, net investment in the squad does not match up at all to Chelsea and the Manchester clubs. The Arsenal model was clearly attractive to FSG when planning how they would run the club, but the Arsenal model has adapted to be more successful. No longer does an Arsenal summer involve buying a series of youngsters, many of whom will never feature at first team level. They have recognised the need for signing big-name players (Ozil, Sanchez, Czech)– if only to attract other big players and keep their current stars happy. Manchester City spent hundreds of millions of pounds across two summers just to break into the top 4.
Liverpool fans and owners have imagined into existence a mindset in which many of us expect us to make a top four finish, somehow ahead of teams who finished above us last season and spent more money than us since. Those people are expecting miracles from a manager. With the current level of investment, the Liverpool team is really just treading water, unless a player has a magical season which happens to propel us to a higher league finish than the 5th or 6th place that we deserve.
It is no wonder then that with the fans' patience, and the apparent yearly lack of ambition from FSG to have a net-spend of over £30m, that the Liverpool job brings with it a monstrous challenge for any manager. That challenge is to make Liverpool one of the best teams in the country, but you will not be afforded the building blocks that any of our challengers will have. Furthermore, if you don't build great things with these second-rate pieces, you will have the fans and the media all over you.
Perhaps we should not be surprised when a Liverpool manager "fails" more years than not given our unrealistic expectations. Perhaps we should not be surprised if a manager like Carlo Ancelotti, a manager who just 16 months ago lifted the Champions League, is not interested in undertaking the immense challenge of the Liverpool job.
Perhaps Brendan Rodgers though should not be surprised though if fans want a better manager like Klopp in to take on the Liverpool challenge. However it shouldn't affect our understanding of the difficulty of the job any manager, including Klopp would have on their hands. Liverpool is a unique challenge and it should be recognised that good managers have, and will, struggle with the challenge. The answer to Liverpool's problems is not necessarily a new manager.