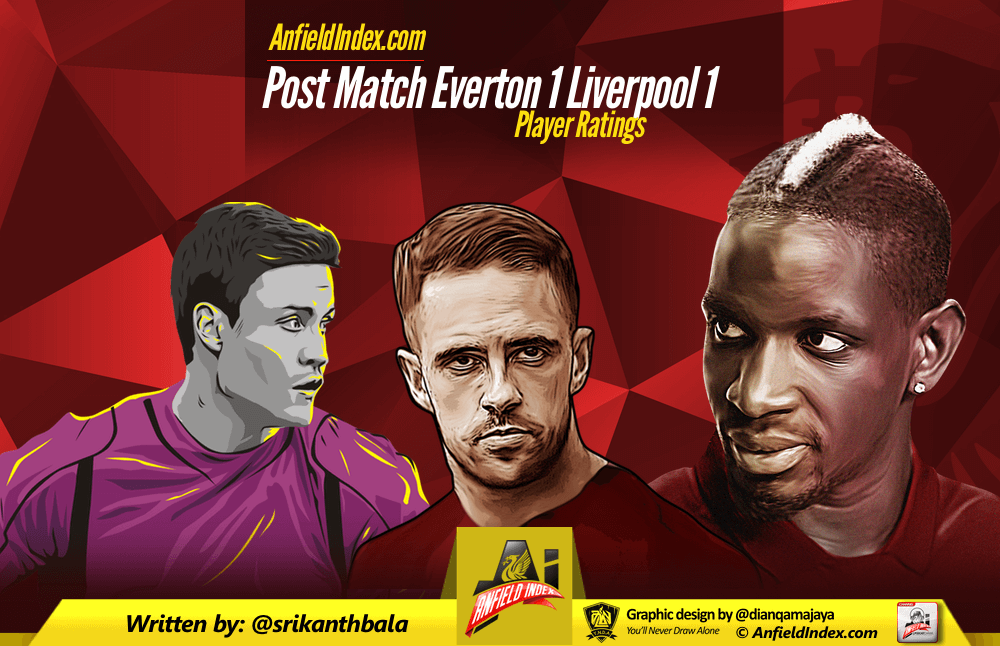 Everton 1 Liverpool 1 : Player Ratings
A drab derby, characterised by a couple of shocking defensive errors, meant Liverpool left Goodison park with a point. Brendan Rodgers should be scratching his head as Liverpool reverted to a slow, methodical, predicable, I don't know what I am doing type of football as they struggled to create any major openings. However, the Reds should be thankful to their Belgian keeper for saving them from predictable defensive errors.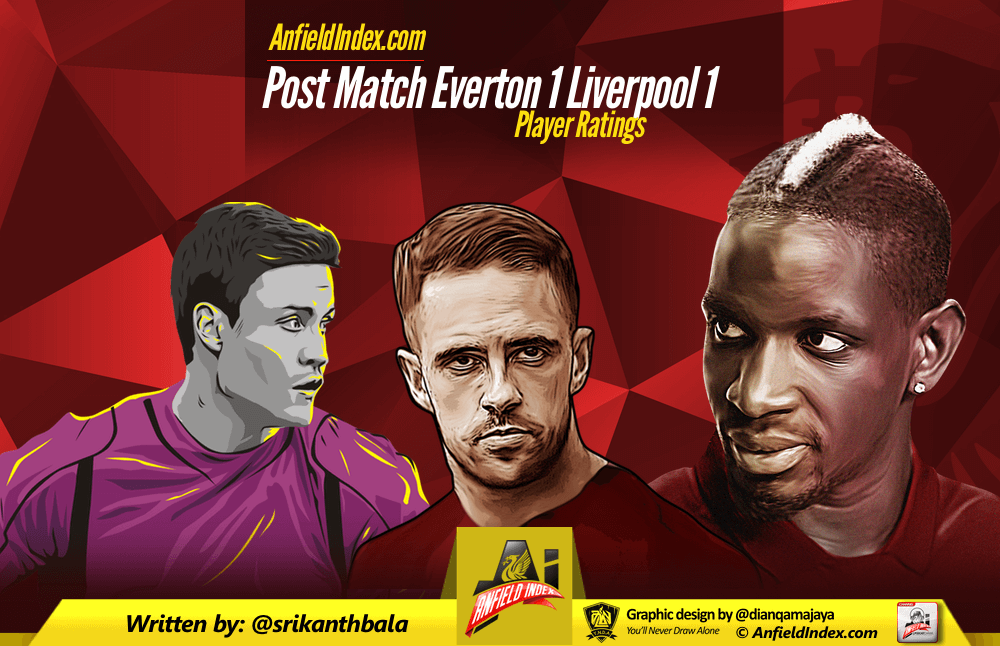 Simon Mignolet – 7 . A typical Mignolet performance. A performance characterized by excellent shot stopping, and pretty much ordinary stuff otherwise. The defenders and their keeper still share a haphazard relationship, with all of them unsure who is going for the ball. Despite this, there is no disputing the fact that Mignolet saved Liverpool from defeat. 


Emre Can – 5.5 A passionate performance from the German befitting the high octane occasion. Can went toe-to-toe for every duel, but for the third game in a row exhibited poor technique by allowing the ball to fall back into the danger area. Frustratingly, it's these kinds of mistakes that can easily be rectified by some scenario based training. It is high time Can started resolving this particular technical flaw.

Martin Skrtel – 6 A standard performance from the Slovakian, as the centre-back was adept in sweeping up the balls as the fulcrum of the three-man defence and was efficient in aerial duels too. 

Mamadou Sakho – 6.5 The french defender had a quiet first half, but was excellent in the second half. His performance though, would be defined by the clash with Romelu Lukaku near the end of the game in a match which was shorn of moments of action.

Nathaniel Clyne – 5.5 A quiet game in what is emerging as a pattern since he has started occupying the wing back position. He was turned by a few Everton players on a couple of occasions and did not produce anything noteworthy in attack.

Alberto Moreno – 6.5 I want to have what Moreno is having. A performance which is becoming the norm rather than the exception. The Spaniard was always available as an attacking outlet down the left, while putting in a solid shift defensively too.

Lucas Leiva (79′) -5.5 I am still wondering how Lucas Leiva stayed on the pitch till his substitution, having made at least four fouls worthy of a card. He reverted to making silly challenges which were conspicuous by absence in the last couple of games and should consider himself lucky.

James Milner – 5  The last match seems to have been an exception as Milner put in a woeful performance in the centre of the pitch again. Time and again, Everton by-passed his initial press, whilst on the ball he did not pose a great threat. Nevertheless, he should be credited for his assist for Ings' goal. Surprisingly, Milner lasted the full ninety minutes.
Philippe Coutinho – 5 A very ineffective performance from Phil as Liverpool struggled to create any offensive threat. He was closed down far too easily and when he managed to get past their defenders, his end product was somewhat poor. An impostor-like performance from the Brazilian.

Danny Ings (76′) – 6.5 A derby goal to remember, but pretty much nothing else to take home. Ings occupied the perfect space during the set-piece to score. He put in a solid shift till his substitution late in the second half. A wise move considering that he has been playing non stop recently.

Daniel Sturridge 5.5 A very quiet game for the uber-finisher as he did not live up to the pre-match billing. Facing a very weakened defensive line, one would have expected Sturridge to exploit it and set-up a few chances. He held on to the ball far too long, thus ending potential chances straight away. He could have had a great scoring chance had Ings had released the ball to him early on.

Substitutes
Adam Lallana  (76′) – 5.5 Came into the game late in the second half as Everton were in the ascendancy.
Joe Allen (79′) – N/A The Welshman made some vital blocks, closing down Everton players.