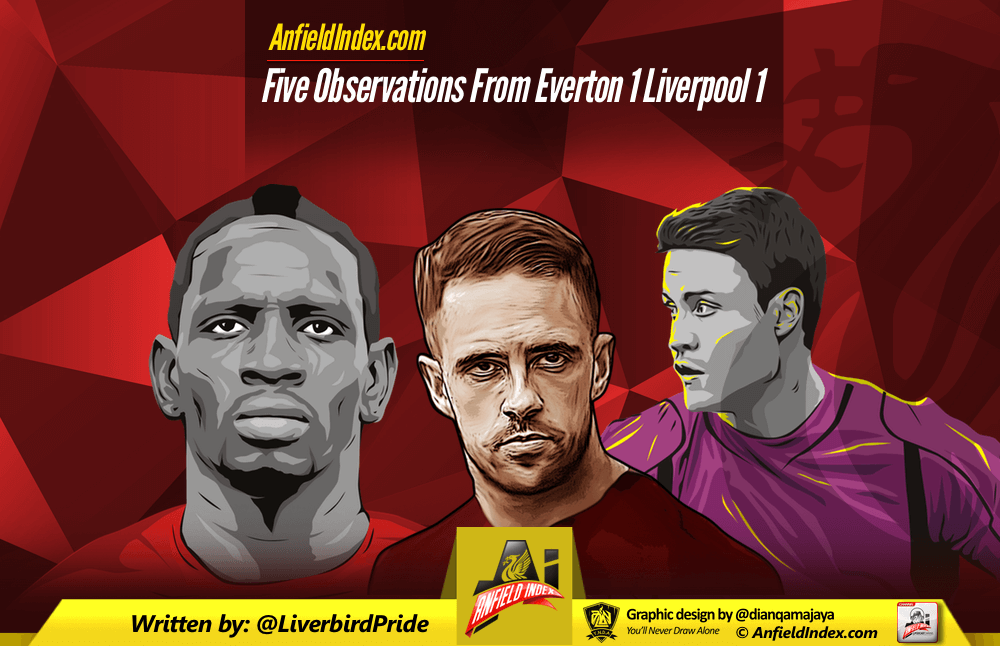 Five Observations from Everton vs Liverpool

Ah the "Friendly Derby", one of the great derbies in English football. This is a spectacle that divides households, particularly for fans in Merseyside, who happen to follow one or the other side. This match however somewhat failed lived up to that hype. Anger, passion, goals, top class saves and Mama Sakho all added to a stale, scrappy yet end to end 90 minutes of football. Of course there were some moments of absolute absurdity from the Reds, but nevertheless, passion and a win is what we wanted and even though bereft of three points, passion is what we got. Let's see some observations now though and see if you agree!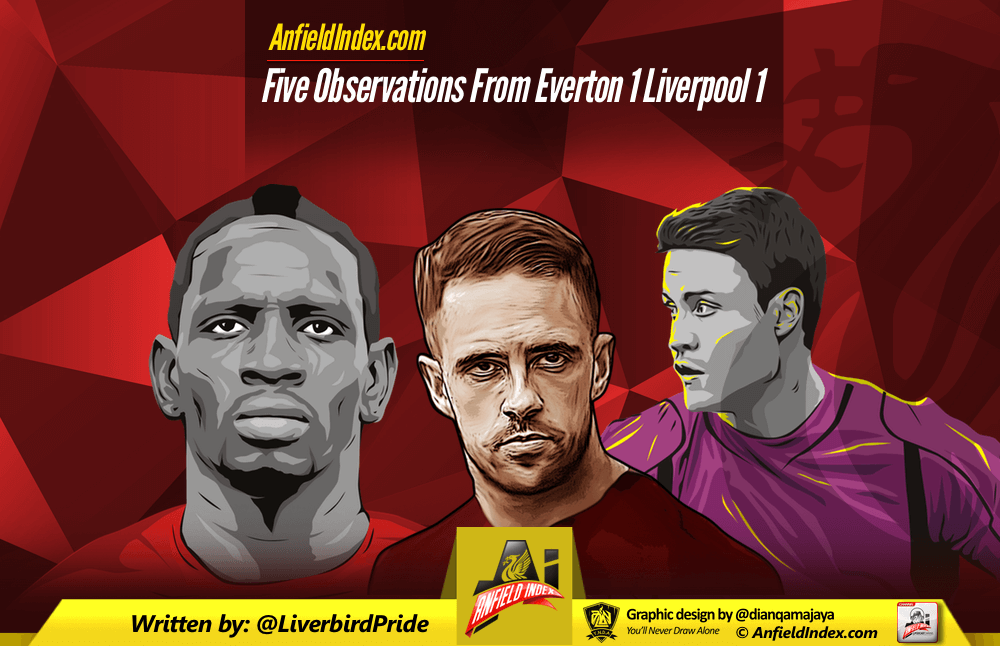 Sakho is captain worthy
"Are you now a Scouser?
Okay mate, what's happening lad?" – Sakho after signing a new contract
Very rarely before has a player come to the club and made such an impact to the hearts of Reds fans everywhere. When Mamadou Sakho walked through the Melwood doors in September of 2013, very few had heard of the 23 year old. Yet, when Rodgers said he was a "beast in training" people were excited. Over time the adoration for Sakho only grew more and more.
With multiple charity works around the city and titling himself as a "soldier of LFC", he became a fan favourite.  After being named U17 captain of France by Francois Blaquart, and PSG's youngest ever captain at 17 also in 2007 by then manager Paul Le Guen, his leadership and (dare I say it) character was evident. Constant leadership and organising at Liverpool in his 2 years shows that Mama Sakho is, if not captaincy worthy, then by far the best candidate for VC.
Skrtel and Milner did their part for the team by playing peacekeepers, but after all is said and done, you want to see a Roy Keane style captain take control and instil fear into the opponents.
Also, Mama's not that bad of a player either..
Mignolet saves us two points
Say what you will about Simon Mignolet, but when it comes down to it, he is a terrific shot-stopper. Saving us multiple points in the infamous 13/14 season (most notably vs Stoke and Everton), today was the very same. Sure, he may not be good enough for LFC but if it were not for Mignolet, the Reds would be walking away from Goodison Park with their tails between our legs, with no points and 3 goals conceded.
Sure he has his moments when he lets loose and does something unprecedented and unpredictable, but many times we still find ourselves thanking him for saving three points or even one from slipping our grasp.
Key players fail to perform
With our current form, it's almost essential that our players turn up and turn out a good display if we are to grab three points. Today vs Everton however, those players didn't. Players such as Sturridge and Coutinho look particularly sluggish. Sturridge perhaps is feeling the full effect of 90 minutes vs Villa and another 90 minute, high intensity game today, especially after being out for so long. Coutinho just looks too tired to perform to his usual high standard, and to no fault of his own, after working tirelessly in mid-week games, and continuing to work a full 90 minutes, he needs a rest!
Some may blame the formation for the lack of chances but it happens to be the exact same 3412 system utilised vs Villa which made us somewhat flourish in attack. With only 3 out of 10 take-ons successful for Phil and Sturridge and one chance created, it was a poor performance overall.
We lost the midfield battle
I think it's safe to say that James Milner and Lucas Leiva do not work in a midfield two. With an indifferent performance from Milner and a marginally better performance from Lucas, we still lost the battle in the middle of the park.  Everton's midfield 3 of Barkley, McCarthy and Barry imposed themselves on the game far more than our bunch and in turn helped Everton gain and regain possession time and time again.
Misplaced passes and and an evident lack of interceptions meant that even though James Milner got an assist for Danny Ings' goal, he, yet again, had a poor showing in a red shirt and armband.
Lucas on the other hand had a better game than Milner. Completing 89% of his 47 passes and successfully completing 8/9 tackles around Liverpool's third of the pitch.
Ings can only get better
Remember the cringe worthy "we said signings, not SIGN INGS" joke that other fans thought was hilarious? Now who's laughing? Danny Ings since joining Liverpool has been, like the aforementioned personality Sakho is, hitting the ground running with performances and fan rapport. Cementing his cult status with his goal vs The Ev, his passion whilst celebrating the goal showed us all we needed to see, he loves us, and we love him.
One of the main reasons Ings works in this team is his nutcase personality of chasing even a lost cause ball. Did someone say Suarez-esque? Even though Ings doesn't have the same level of talent Luis Suarez, his will and determination to win almost everything makes him a perfect striker for a partnership with Sturridge and for the fans. Continuing his sensational form today, he will no doubt prove to be a shrewd piece of business if he keeps it up.