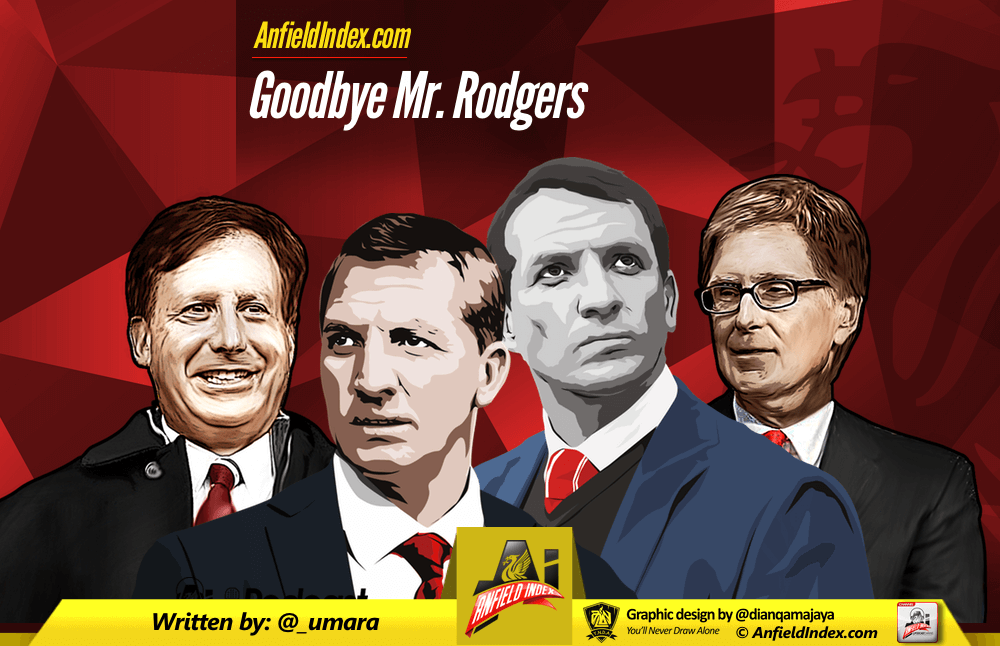 Goodbye Mr Rodgers

18:30 British time. The pundits on Sky Sports were just about wrapping up the analysis on the Arsenal/Manchester United game when they were interrupted by breaking news. News that left Graeme Souness "stunned". Just a few hours after the Merseyside Derby ended in a 1-1 draw at Goodison Park, Liverpool Football club released the following statement:
"Liverpool Football Club has announced that Brendan Rodgers will leave his post with immediate effect after having his contract terminated. The process to appoint a new manager is underway."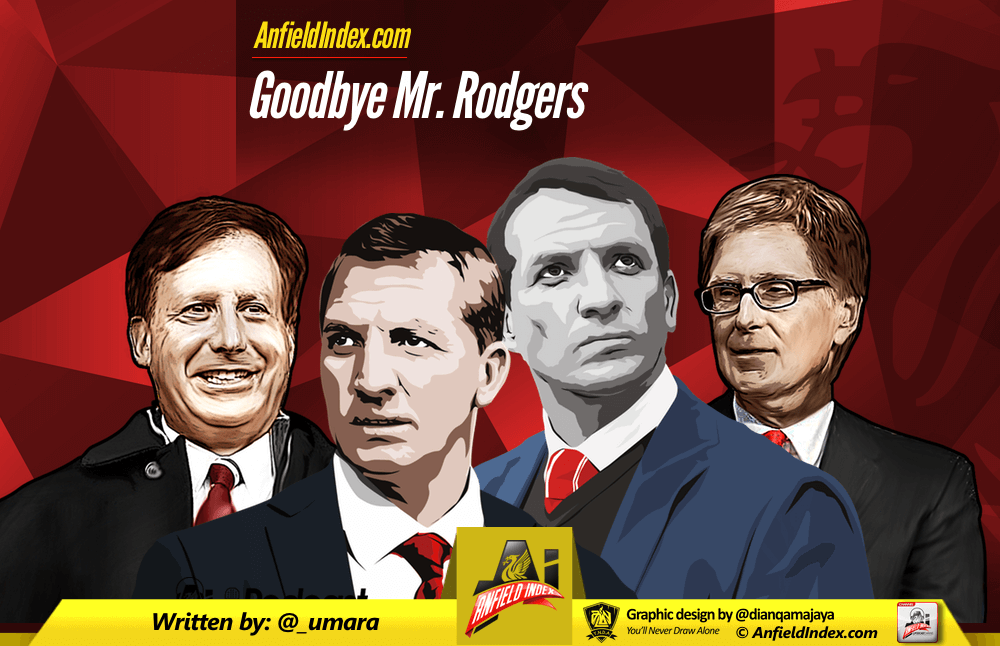 Like Rodgers managers come and go – there are many William Hill offers for the best odds on manager appointments that you should check out!
Rumours had been rife all summer over Rodgers future but it seemed that FSG had given him the backing to carry on, certainly financially. But the new season didn't bring positive change for Rodgers and his Reds. A good, solid start soon gave way to the usual myriad of problems that had plagued Liverpool most of last season; namely defensive frailties and poor finishing upfront. Fans had lost confidence in the manager and boos rang around Anfield when Liverpool could only manage a draw with Swiss minnows, Sion in the Europe League. With only one win in the last nine games, FSG finally made the decision to terminate Rodgers contract with immediate effect.
Despite the writing seemingly written on the wall for a few weeks now, most Liverpool fans were stunned at the speed at which Liverpool FC made the announcement. However, now that a two week international break has begun, there is sufficient time for FSG to bring in Rodgers successor, as made clear in the following statement released by owner John W Henry, chairman Mike Werner and President Mike Gordon:
"We would like to place on record our sincere thanks to Brendan Rodgers for the significant contribution he has made to the club and express our gratitude for his hard work and commitment.

"All of us have experienced some wonderful moments with Brendan as manager and we are confident he will enjoy a long career in the game.

"Although this has been a difficult decision, we believe it provides us with the best opportunity for success on the pitch. Ambition and winning are at the heart of what we want to bring to Liverpool and we believe this change gives us the best opportunity to deliver it.

"The search for a new manager is underway and we hope to make an appointment in a decisive and timely manner."
That last sentence indicates that the next few days promises to be an intriguing time for Liverpool fans as speculation heightens as to who will succeed Rodgers. But in the meantime, Reds everywhere should try and look back on Rodgers tenure and remember that he was at the helm when Liverpool went painfully close to winning the Premier League; closer than any of his more decorated predecessors had managed to do. The style of football that he had Liverpool playing was simply breathtaking, and he leaves the club having played a major role in providing fans with the most memorable season of the last twenty-five years. Every game had fans buzzing with excitement, leaving the team feeling invincible. Under which manager or in which season could LFC fans say that they felt that way? Every time the team walked out onto the pitch, something special was about to happen. And, more often than not, it did. Last season was an unpleasant follow up to such a wondrous season and was hard to stomach. Ironically, it was probably the immense success of 2013/14 that was his downfall in the end as it was endlessly compared to. Whether you want to call it a blip, an anomaly or the perfect storm is up to you but just remember how you felt when teams were being blitzed away for fun. For those feelings, Brendan Rodgers should be thanked, given the respect he deserves and wished all the best in his future endeavours.