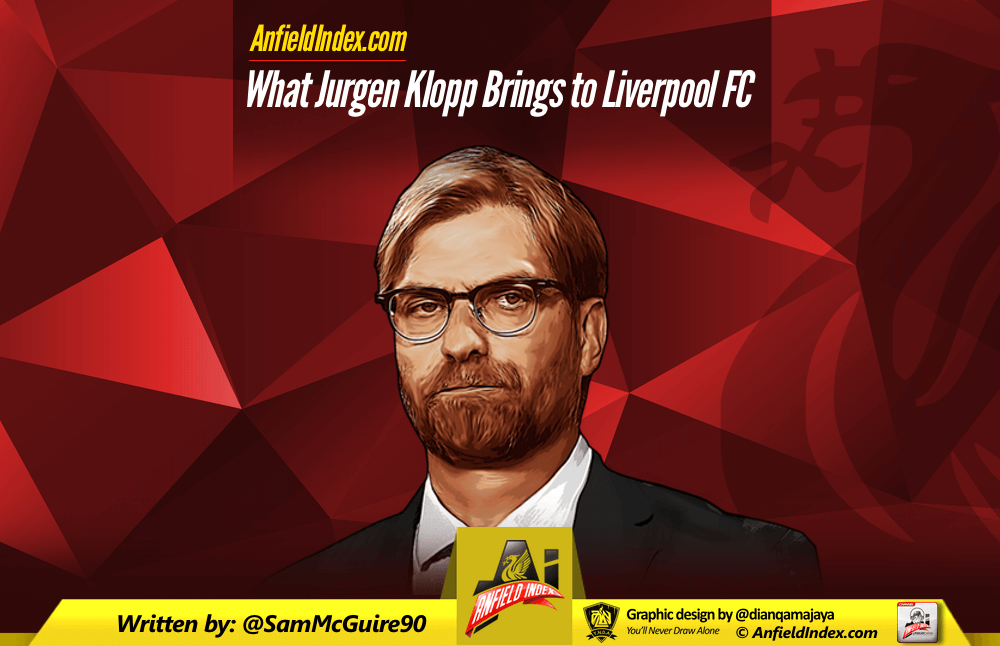 What Jurgen Klopp Brings to Liverpool FC

The Jugen Klopp shadow has been cast over Anfield since the 2014/15 season ended. The German left Dortmund having taken them from midtable mediocrity to one of the most efficient and exciting teams to watch within two seasons of taking charge. He toppled the might of Bayern Munich. He cast aside the lingering Bayer Leverkusen side. He surpassed the rich Wolfsburg side. He turned kids into stars. Potential into class. All whilst playing a style of football that left the rest of Europe with envy.
Whilst he was out of a job his name was always going to be linked with the Liverpool job and it's easy to see why.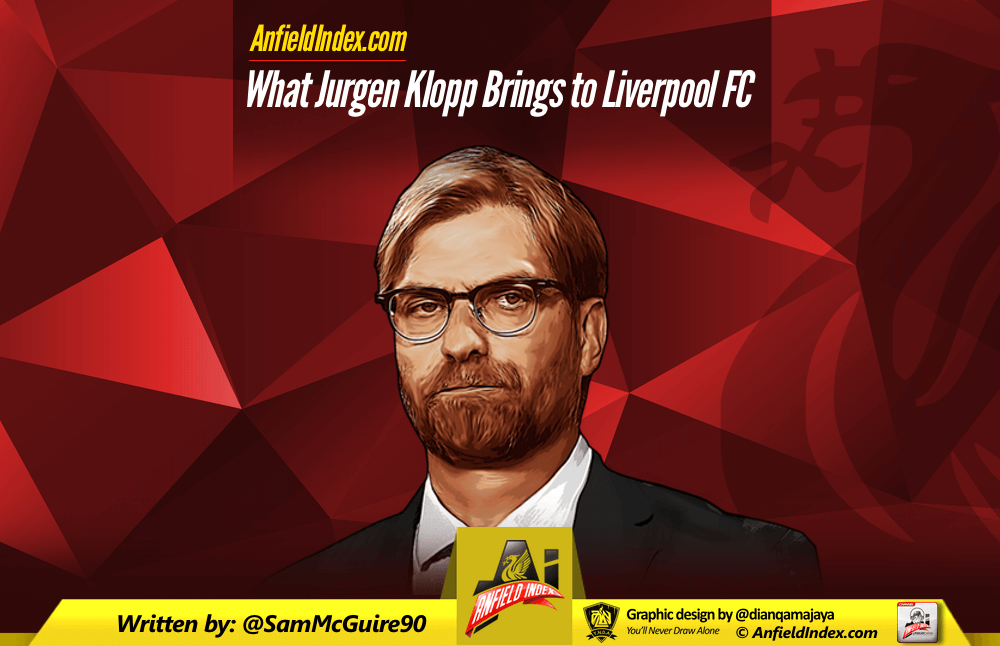 Tactics
I wrote in April about what the German would bring to Liverpool tactically. A snippet of this is below.
Jurgen Klopp has certainly built up a reputation over the past few years and rightly so has many admirers throughout Europe. He managed to take Dortmund to great heights and implemented a style of play that the great Pep Guardiola has taken on at Bayern in certain games. Imitation is the greatest form of flattery, and having the master that is Pep copy your tactics must be the pinnacle.
The Liverpool pressing style they were famed for is a lite version of what Klopp had Dortmund doing. BVB and their gegenpressing style has brought them much success in the past few years, especially in Europe. If Brendan Rodgers was the apprentice of pressing then the master would be Klopp.
What is gegenpressing?
The name may confuse people but the idea behind gegenpressing is pretty simplistic. You press the opposition right after losing possession. The complexity comes when you have to synchronise this press as an organised team. It's very much pack mentality, you squeeze, harass and corner the opposition with the end game being either ball recovery, or having the opposition have to play the ball backwards which stops them potentially counter-attacking.
Many teams find it difficult to do this for a full 90 minutes because of the physical impact it has on your team. You're effectively having your team play at full pace for 90 minutes and chasing the opposition as though you're in the final minutes of a game and you can't concede. However, you need a functioning team to carry out this tactic as you can't carry any passengers. Each game is individually prepared for though and as Dortmund showed against Madrid a few years back they won't press everybody. One of their pressing triggers was when Xabi Alonso got the ball. The main aim was to stop him dictating play and getting the ball in an area they could exploit. They ran out emphatic 4-1 winners.
Counter-attacking
Klopp fully believes the speed of play and transitions matter. With this in mind, before Mario Gotze left for Bayern, he set up Dortmund so Marco Reus and Mario Goetze played in close proximity to one another. This meant both could exploit the space in and around the opposition's midfield and defence when the ball was won. The ferocity of these counter attacks at Dortmund meant they blitzed teams. Very much like Liverpool in the 2013/2014 season but unlike Liverpool, Dortmund carried on these onslaughts for the entire game.
No matter how simplistic this tactic is it's still the hardest to cope against. You can figure out tactics and formations but counter attacking football is still one of the only styles of football the best teams struggle with.
This brought Liverpool so much success during our title charge. It's when Liverpool return to the 'death by football' 'pass, pass, pass' style that teams are able to cope and frustrate us. With the styles so dramatically different it's no shock the side has looked lost during the past 18 months. The Liverpool team may not be as effective or as talented as the Dortmund team but the Premier League couldn't handle a team that pressed like a Klopp team potentially would.
This is a superb video of how Klopp's Dortmund set out to play.
The quicker the transition the higher chance you have of scoring because the opposition isn't set up properly. Klopp's BVB often looked to switch the play to the flanks where the full-backs were. He likes the three behind the strikers to find space in the pockets between midfield and defence but not just linger there. If the ball goes wide they're expected to support the lone striker in the system. It's not always neat and tidy but it is devastating, even against sides with a low block like Liverpool often come up against.
Can the Liverpool side replicate the BVB side?
Nothing is ever a certainty in football but if you look at the squad Liverpool have on paper it should be a side that suits it. The Reds have full-backs that like to attack in Alberto Moreno and Nathanial Clyne. Both of these have pace to support the attacks. In midfield, the squad may lack technical players but they make up for it with players who have an abundance of energy. The likes of Jordan Henderson and James Milner can press opponents, win the ball back and give it to the better players. We have Emre Can who could be our Ilkay Gundogan or Nuri Sahin. Both of those BVB players came to prominence under Klopp, he knows how to mould and develop that sort of player.
We then have Coutinho and Firmino, these two could be the Liverpool equivalent of Mario Gotze/Henrikh Mkhitaryan and Shinji Kagawa. Both can press and have undoubted quality on the ball. However, Liverpool do lack a Marco Reus, for now.
Jurgen Klopp isn't afraid to play with two strikers either. In his early years at BVB he used to play Lucas Barrios and Nelson Valdez, I'm sure the prospect of coaching Daniel Sturridge and Christian Benteke is something he relishes.
One thing that may take time though is the improvement of stamina. We may not see the proper Klopp style implemented properly until next summer when he has time to work with the players for a sustained period.
Passion
It's not what he'll be remembered for but whenever I think of Brendan Rodgers lately I think of him sat on the water cooler when Liverpool drew 0-0 with West Brom last season. At the time 4th place was mathematically possible and our manager was there, defeated and resigned. It's hardly going to inspire your players is it?
Klopp on the other hand is like a fan on the sidelines. He kicks every ball. Blocks every shot. He's the sort of manager to spur players on. I'm not saying all managers should be like that either but when you're an innovator and a great man manager it's those sorts of things that can spark a performance.
Winning Mentality
This is a must for a Liverpool manager. To handle a big club you need to know what it's like to win and Klopp has that. He guided BVB to two Bundesliga wins, a German Super Cup win, three German Cup wins and he was runners-up in the Champions League. Jurgen Klopp knows what it takes to win. It's that sort of guidance the Liverpool squad needs to get over that final hurdle and rid themselves of the bottle job tag they currently possess in the opinions of some fans.
He took players like Mats Hummels, Ilkay Gundogan and Mario Goetze and turned them into World Cup winners. He assisted Robert Lewandowski in becoming one of Europe's best strikers. Liverpool have a squad full of potential that's just waited to be nurtured and under the guidance of Klopp this could be a reality.
Rory Greenfield wrote in his article that Klopp was "almost to perfect" (here) and that was the concern for many Liverpool fans. Sometimes something makes so much sense it means it won't happen. This isn't one of those times though. Jurgen Klopp, baseball caps and all, is the new Liverpool manager.