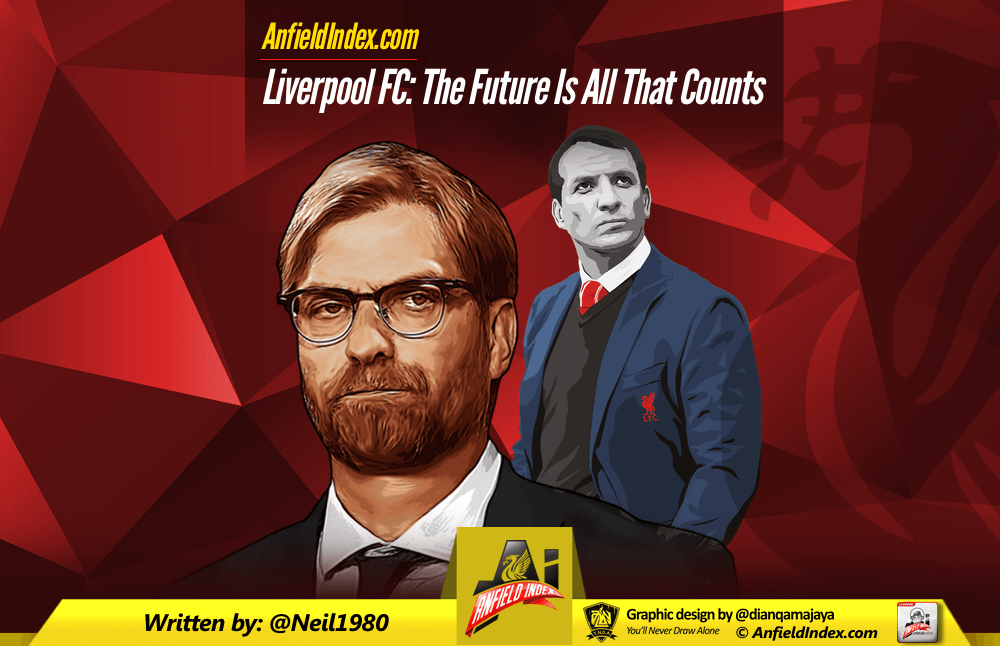 Liverpool FC: The Future Is All That Counts

A decent first-half display in the 225th Merseyside derby was the last thing Brendan Rodgers had to shout about as manager of Liverpool Football Club. The final result (1-1) was by the by for the Northern Irishman, as he soon learnt what many fans had known since late last week (thanks to a clued in local fan on Twitter), ie. his days at Anfield were done.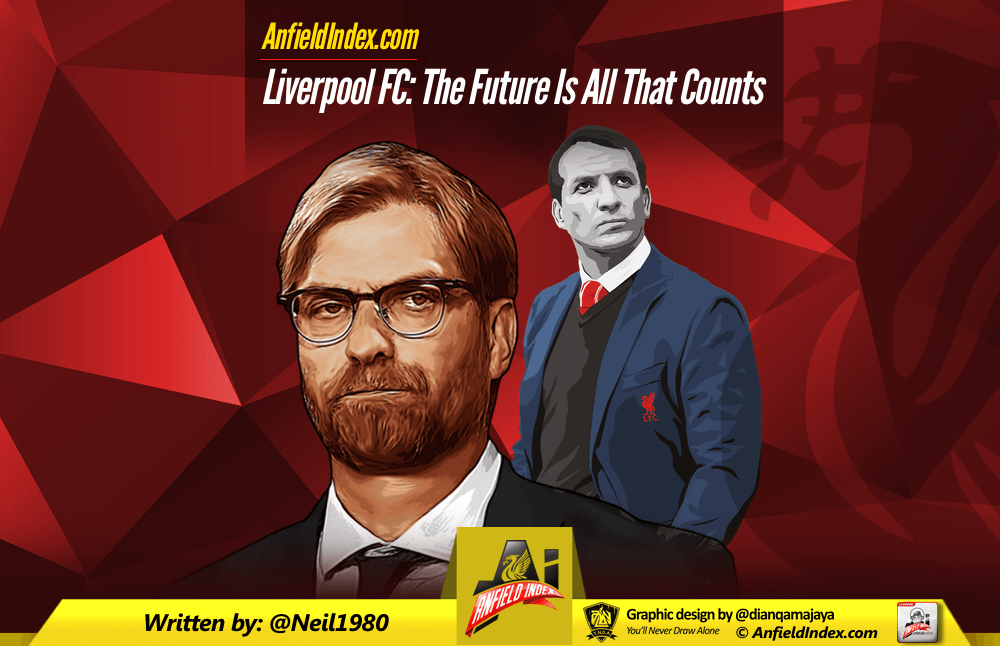 Not before time either, certainly not from this side of the fence. That Fenway Sports Group delayed the inevitable amputation from the summer has left a feeling amongst some, most notably the usual suspects in the press, that the American owners pulled the plug too soon, and didn't give their man a chance to properly mould his new team. Granted, the trapdoor should've been opened in June – that's even more clear now than it was then – but waiting any longer would've been suicidal for a club like Liverpool.
Not to spend too long dwelling on Brendan nor his tenure, because he is now of course yesterday's man, and the future (as we all know) is what counts, but the club's relationship with him strikes me as something similar to a nearly blissful, but ultimately soul sapping, failed romance. We've all had them (or most of us at least), mine came in my early twenties.
It begins interestingly. They're different, quirky, not the type you usually go for, but they've got something about them, you know? The first year is fun, if unspectacular, and as time passes the relationship gets closer and closer and the feelings develop into something strong, something real. You meet parents, make plans, go on holidays, you even move in together, and for 6 months or so, the dream is real and amazing, and you hope it lasts forever. When the intoxication wears off however, you come to realise, magnificent though the dream was, it was only that and it peaked sometime ago. The bond's been weakening for a while, and now, you're on a downward trajectory. Differences become more apparent, cracks resurface, and suddenly you're aware that you've not been happy (either of you) for more than a while.
That's when you should break it off. You've both only got one life, and it'd be best for both parties to move on; but you don't. Instead, you lie to yourselves, and each other; you pretend things can be how they were, that the wonderful feelings and great times will come back. But they don't and they won't. Instead things deteriorate further, to the point of embarrassment; to the point where everyone and their dog can see that you're just not right for each other, before eventually, one or other of you finally bites the bullet and does what's necessary.
A sad story, perhaps, but a true one nevertheless. The wonderful thing about it though is the ending, because, believe it or not, it's happy. You feel relief, freedom; your body feels lighter, hope is restored; there is a future suddenly, one to go out eagerly and forge, for yourself. Everything you wanted, and had given up on, is once again possible!
That's how it feels today as a thirty year long Liverpool FC fan. The air smells fresh, the sun is shining, and the future is all that matters. To those who question why FSG have made the move now instead of Christmas or later, I'd say why give it any more time to fester? When you know, you know – so act, don't wait! The last 15 months have been unacceptable for Liverpool, the last six have been a disgrace, moving now affords time for the season to be salvaged. Other big clubs are in trouble too, most obviously Chelsea, and with the pedigree of manager who is available out there, swift action was necessary to avoid an auction with the megabucks club.
Liverpool have undoubtedly made the right move in letting Rodgers go. The man to replace him is an even more important decision though, and it looks like FSG have made the right choice. The stories are centred on one man, Jürgen Klopp, the charismatic former Mainz and Dortmund coach; the coach everyone wants.
In love, unsuccessful relationships help hone our instincts for what we want/need from the next bond we enter into; perhaps in football management too. The owners should now have a much clearer idea of what they want from the next manager, and what they don't. They'll want to avoid failure, and another messy break-up at all costs. Both my ex and I went on to meet our spouses after breaking up, and both of us are far happier now, than we ever were together. Let's hope Rodgers goes on to find his perfect partner, because in Jürgen Klopp, Liverpool may well have found theirs.