I always said to the mighty Anfield Index Godfather, Gags, that I'd write one article for him. Just never thought it would be this one!
Brendan Rodgers aka Janet Jackson – what have you done for me lately?
Oooooh ooooooh ooooooh ooooooohhhhhhhhh yeah.

As I waited once the whistle was blown at Goodison today, you didn't wave. It's ok. It's only me… Liverpool Football Club.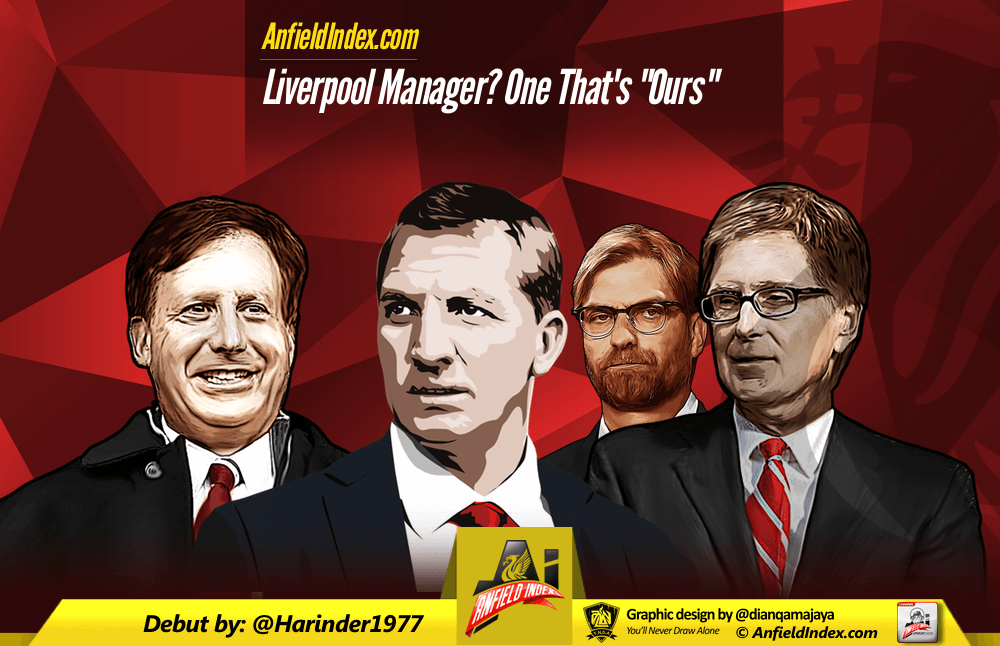 It's a fine line between love and hate. Make people believe and you're loved. A mistake and you could be cast into a permanent abyss of hatred. I could never hate you as it seems so disrespectful. I can only hope that what you've learnt whilst here aids you for your future.
So we will have a new manager. No doubt the rumour mills will be going at ten to the dozen on who that will be but in some ways there is something deep down that will never change… the way any manager nowadays can be treated when their back is to the wall. Vultures circle with smiles and microphones whilst engaging gears that will lead to a knife somewhere in that very back. The tweets that once spoke of love will seep away and along will come the hashtags and planes!
Once we get past the position of a manager, there is something more fundamental – where are we going? We hear so much waxing lyrical of wanting to compete and win and thrown in with the Battle of Hastings it becomes history repeating itself. More words than a dictionary come out of the club in a lovely PR clamour and even more with the LFC Xtra which, love it or loathe it, meets the McDonalds drive thru standards of something that represents a football club website.
We make money. We make sponsorship deals. We market the atmosphere. We sell a dream. Did we somehow sell out on the reality? Liverpool Football Club exists to win trophies… not nearly win them. The quality in the framework that I actually don't know about but the world wants to presume they do because "they know" then has to be questioned. From within the club and those that represent us on the pitch. You want to believe they are all working hard; but somewhere something is missing. No magic bullet to the answer either as for all the bashing that goes on, FSG is putting money in. It is looking to make us sustainable rather than a bi-yearly injection.
That leads us into what do we want. In the very aspect of discussing what we want I can't help but feel that it's a bit selfish at some level. We want this. We want that. We want, we want, we want, we want and we want it NOW! The twice a year shitfest of transfer windows shows the ever elusive yet overtly clever ITK spew out the "we spent £20m on x and look at what y cost… look at what we could have had". A cracking insight deep from the intellect of Kentucky Fried Chicken's finest ever servant will have thousands if not millions salivating on the next salacious piece of tittle tattle because we all love the players we have.
The tightrope our emotions walk, well okay mine, are shot. By the thinnest of margins we hold a position of not being like the vitriolic fans that plague the pits of London (or trains at Stoke!). We have no post match YouTube fest of arguments that are a click bait machine but for how much longer? You could imagine a universe where a fella, he really epitomises the unsociable element of social media, is standing outside the Kop banging on about why someone should be sacked, owners removed or happy a player has a long term injury so someone can upload it to BastionKop.tv. Profile of site owner will be someone who's gone the game for 40 years and never seen anything like this as he's local and proud! But, of course, he isn't…. Kevin aka Kevstar was really born and bred in Tilehurst near Reading in 1996. With social skills honed in his first Myspace page by the age of 11, he learnt his art before that Facebook page flopped and Twitter gave him political asylum.
The sheer infestation of fuckwittery on social media grinds my gears. The degrees of success of opinion are nailed on by the retweets from those of the same era as Kevstar and even those you'd suspect should know better. The third of the pitch they see via TV/PC/Laptop/Tablet gives them supreme insight to know exactly how a player moved in a match. I no longer laugh out loud when KopHero17 suddenly appears on a timeline with more stats than NASA for a match he/she never got to but that restricted viewing told him/her all they ever needed to know
Rodgers departing and his replacement, when all said and done, becomes the least of the problems. No matter who comes in next, some real questions will be left outstanding. The first match the next incumbent to take on the mantelpiece of being the manager of Liverpool Football Club loses, there will be a rush to be the one who beats Kevstar, IndyFailure, Kopzero to sticking a boot in… Welcome to Liverpool Football Club?
There will be a balance though. Luckily it exists because of those that have experienced the highs and the lows and take them for what they are as part of our journey. For each catty response to words of wisdom there will be that saving grace who can tell it like it really is and should be. Unfortunately for the unsociables of the world, the numbers there will outweigh any clickbait or retweets and will be ready to continue to support all of our great club.
I think that will be referenced with a #ScrewYou to the unsociables!
Time is something we all preach but lose patience with faster than we think. In this day and age the here and now wants to rule the roost at the expense of the future. We've travelled down that path many times and each time we forget the lessons learnt and pine like lovestruck teenagers. Funnily enough, what isn't irrational is wanting to pine with a manager who pines with you and wants to ease that pain. One who wants to fight with you with every kick, push, goal and near miss and electrify the sheer emotion of what this club means to so many. I want someone who feels it's not just another club. A rung on a ladder onto somewhere else, so to speak. This needs to feel like it is their club too so that when we all say "it's ours" he knows he's part of that collective. I don't want someone who's made to feel like an outsider. We failed to embrace Brendan fully. The "we" in that sentence is inclusive of all fans. The division is what breaks us. Give me that manager that meets that criteria because we really need him. No other. No less than one who can unite the splinters so that we don't look like the floor at that place across the park.
FSG say "Ambition and winning are at the heart of what we want to bring to Liverpool and we believe this change gives us the best opportunity to deliver it". Don't forget we are ripping it up and starting again, again.
When King Kenny said "We have said all along, we are a stronger force if we stick together. If we stick together we'll have a much better chance."
Maybe we all need to believe what the King is saying too?