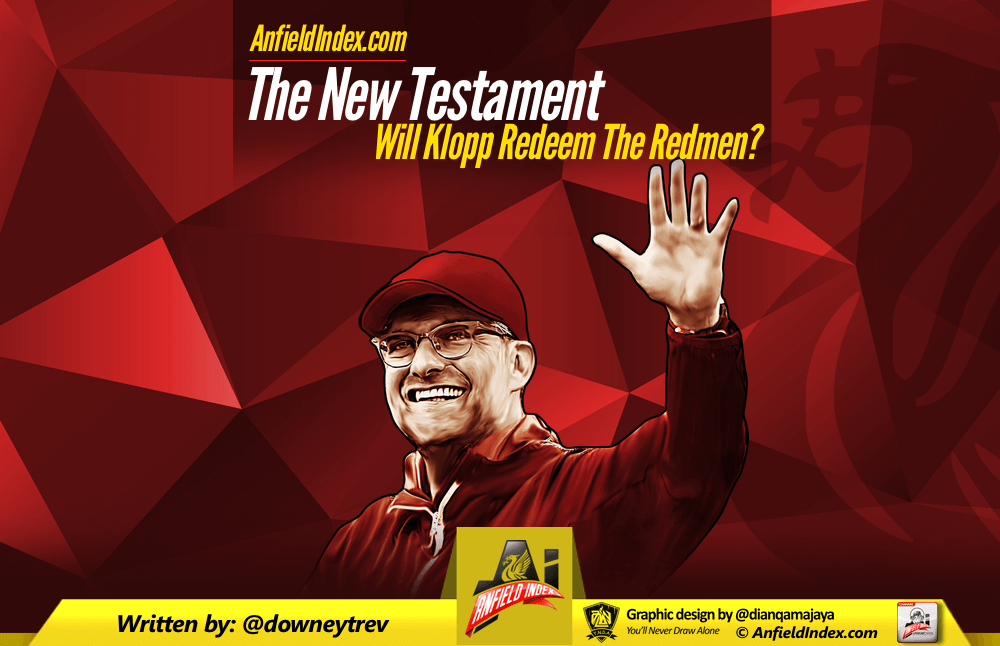 The New Testament? Will Klopp Redeem The Redmen?

"I like the total intensification [that happens in a game], when there are crashes and bangs everywhere, a sense of all of nothing, pure adrenaline and no one being able to breathe."
Jürgen Klopp, Die Zeit, 2012

"He's not the Messiah, he's a very naughty boy."
Brian's Mother, The Life of Brian
There's a reasonably well known anecdote from the world's biggest selling book which tells the rousing story of how a charismatic bearded man with messianic leanings unifies a long suffering people, riven by internal disharmony. The fellow in question was tremendously clear-eyed in his convictions, had a marvellous line in evocative patter and was noted for both his miraculous achievements and his defiance of convention. Alas, despite his beatific grace, our friend, a carpenter by trade, fell foul of the authorities and needed his old man to bail him out and resurrect his career.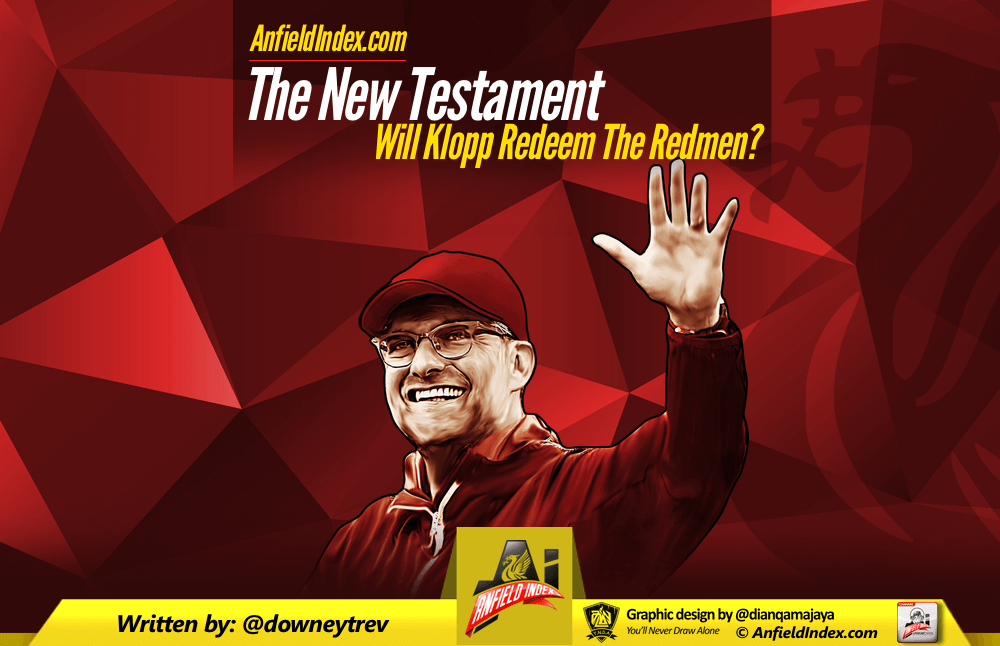 Some fans of Liverpool Football Club will be all to eager to cast Jürgen Norbert Klopp in the role of messiah when he takes up his position on the right hand side of the immortal football deity that is Ian Ayre. The bewhiskered German's predecessor, Brendan Rodgers, was a decent man who strained hard to preach his own gospel of tolerance and patience, as he went about his perpetual "rebuilding," but his flock grew tired of hearing the same sermon and Herr Klopp, such an eagerly anticipated successor to the Carnlough coach, will be too canny to display any kind of neediness in his interactions with the same audience.
Due to arrive in Liverpool very soon, ahead of his presentation to an already besotted fan base, Klopp is possessed of a natural charm and a talent for communication that even the loquacious Rodgers would envy. His skills in front of a camera and microphone were honed in his time as chief pundit for the Mainz-based television channel, ZDF, and he will find an eager press pack waiting for him to articulate his philosophy and his vision for Liverpool, not to mention the legions of aforementioned supporters hanging on his every heavily accented utterance.
Thought to be quite the Anglophile, Klopp seemed very taken with the culture of Liverpool FC when he took his Dortmund team to Anfield at the start of the 2014/2015 campaign, insisting on a solo guided tour and seeming almost entranced by every aspect of the operation of the club. He is known to be a Romantic soul and has espoused his fondness for Englischer Fussball. As a coach, he has been synonymous with the Gegenpressing style since his Mainz days, but it was in his tenure at the Signal Iduna Park (Westfalenstadion, for us traditionalists) that this brand of high intensity, high pressing, counter-attacking football was really showcased. In that famously frenzied and passionate theatre of some 81,359 souls, Klopp's Dortmund played with brio and élan, but also with an insistent power that brought two successive Bundesliga titles, the DFB-Pokal and three DFL-Supercups as well as a Champions League final appearance, all within a seven year period. It's the kind of haul fans of the Redmen dream of.
The Swabian, who is likely to bring with him long-time assistant coach Zeljko Buvac as well as analyst Peter Krawietz, has had an unusually positive effect on the majority of people he's encountered. Rafa Honigstein, the German jounalist, said in a recent piece that in Germany, men like Klopp are known as Menschenfänger — the type of person who can motivate people into doing things they did not believe were possible. Success hungry LFC fans took note. Even Franz Beckenbaur, the Grand Fromage of Bayern Munich, has only praise for the noted ball-cap fancier. Despite having the temerity to take several major titles away from FC Hollywood, Klopp gleans remarkably gushing plaudits from Der Kaiser, who also notes the aptness of the prospective union between Liverpool and his old rival.
"He is fantastic," enthused the World Cup winner. "He is one of the best coaches I know in the whole world, and he was really a milestone for Borussia Dortmund. He took over the club and made them into a world-class team. If Liverpool has the chance to sign Jurgen Klopp then they should do it. He likes to talk. There are not many coaches left in the world that like to talk so much to the players but he is one of them. Liverpool is also one of the biggest clubs in the world, so Liverpool and Jurgen Klopp is definitely a good combination. He is also a winner."
The man who employed the gilet enthusiast, Dortmund CEO Hans-Joachim Watzke, is even more effusive in his exaltation and, like Beckenbaur, noted the apparently cozy fit between his former manager and the Merseyside giants. His words about warmth, understanding and making players "better" will be like a particularly comforting blanket to Liverpool supporters, anxious to see what magic he may be able to work on the likes of Dejan Lovren, or perhaps even Jose Enrique — although even Klopp may be tested by that particular miracle.
"He can do every job, he can make every club," Watzke insisted. "But Liverpool especially is similar to Borussia Dortmund, the same structure and fans, it's a wonderful club, it's marvellous. He makes every player he has better. For the club, it's wonderful to work with him because he has very big understanding for the problems of the club. He gives a warm feeling to the whole club and the seven years at Dortmund was wonderful."
It should be duly noted by the more dour and perpetually critical element of Liverpool's support that FSG have gone from courting the promising but unproven likes of Roberto Martinez and Brendan Rodgers to apparently having a choice between the comparative football royalty of Carlo Ancelotti and Jürgen Klopp. These are heady days, fellow Reds, days to savour.
This grand old club, a club that craves an iconic larger-than-life character with a fervent vision, is, it would seem, about to get just that, whilst the oft-derided Tony Pulis and Tim Sherwood are eagerly anticipating the arrival of a brother in sartorial arms. To return to the theological theme of the opening paragraph, the union between the Reds and this openly-religious bundle of German charisma appears to be a match made in heaven. Liverpool are about to become the envy of the footballing world by appointing a man by the name of Norbert. What a time to be alive.