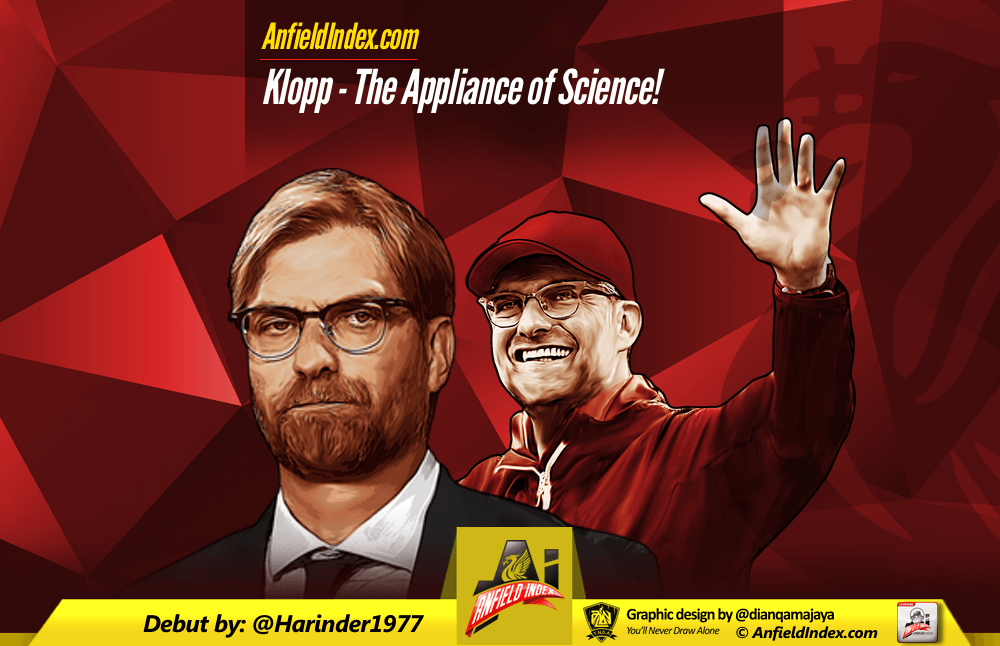 Klopp - The Appliance of Science!
I'll start by saying he's not a Zanussi washing machine!
What can make us different from our competitors? We have the same view of all the players, managers, staff and other things out there as the next club so what are the dividing lines that make us what we are? Theoretically, it is a combination of how we do things and what we do that builds a rich culture that makes the difference. Behaviour is shaped by it. I once was taught by some very big cheeses respective to their industry that "People who think culture is just a bunch of bacteria in yogurt set a tone that strips values from a company. That's why our culture is necessary—it's the glue that binds us together. We hold onto the values, symbols and rituals that have guided us for years and anything new that we add to the culture always supports what already exists".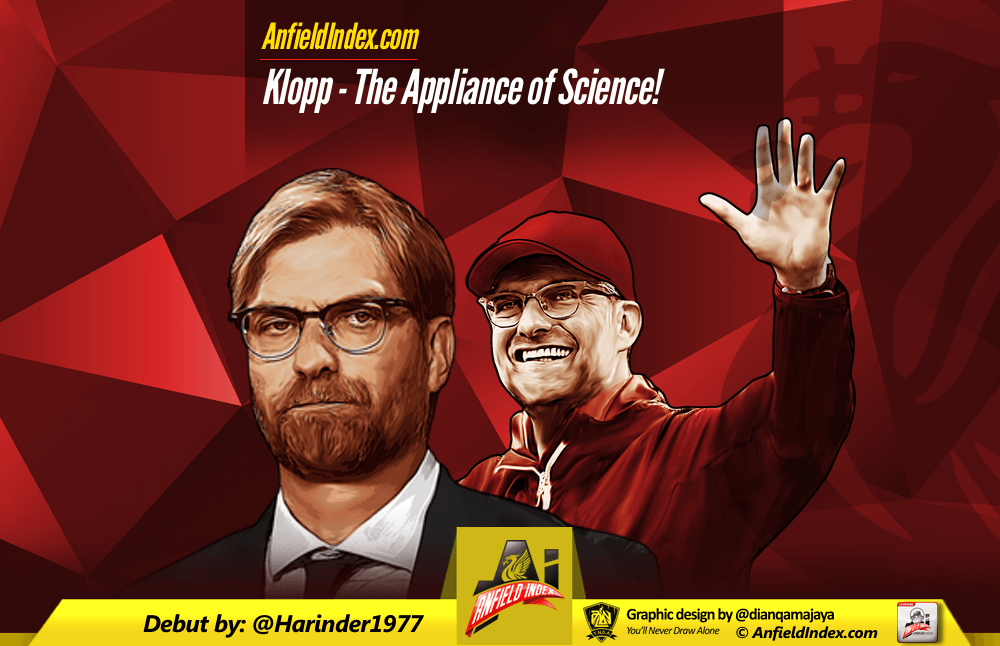 He was right. It was 2001 and my fledgling career had just started. Plucked from 18,000 odd candidates to be one of 300 that year I needed to know why me? Why pick me? What did I have that others didn't that they saw and assumed I'd fit like a glove? I don't look like everyone else. My "incognito" mode is about as subtle as Ronald McDonald blending in at Burger King (Turban, large beard… I'm used to being the only one in the place!). Don't get me wrong, I wasn't ungrateful… far from it. I just needed to know.
So I asked. Apparently no-one else ever had at this place. They just went along with the process and were happy so at first it caused alarm bells and then the very person who talked about culture was the very person who applauded the questioning. Good thing he was the CEO of Europe else my goose was cooked! He went onto to describe how they questioned me, the intensity of the rounds and the defining characteristics that are needed to make things happen. Some people shape, others do not. Some people influence, others measure a risk. Put it all together and then sum of all the parts has to be right. "Imbalances will steer the ship in the wrong direction, Harinder", he said. "Don't fuck up else you will be the statistic that we cull".
Thanks boss!
Next, they got some rather clever people in to teach about leadership. Some young, some old but then one guy came in that I'd heard of. I suspect in some ways others here would have too or been subjected to something he came up with. His name? Ken Blanchard. Ken's a good guy. He loves leaders. So much so he wrote some books that every kid going towards management will read or be prescribed. What he taught me I've used day in day out. It was nice of him to do this given he wrote it all in the first place and charged someone else an arm and leg to teach me.
Someone then threw a DISC at me. Not very nice, I hear you say. You're right. It isn't. I got a barrage of questions and it ended up with a profiling colour. Red. My colour was Red. I was over the moon. It's 2001, we've just won our 5th trophy… how did they know? They then told me what DISC actually stood for. Being called dominant where a team culture is the order of the day didn't sound right but they were correct. My wife agrees! Should add here that she does this HR type stuff every day and probably fired more people than Lord Alan Sugar.
So what is this DISC?
D – Dominance.
I – Influence
S – Steady
C – Conscientious
O – (not really, couldn't resist!)
So now it was confirmed that I was a megalomaniac like Lex Luther, this firm trained the other areas that they needed me to have. I've never been suited to slower paced things so they allowed Influence training. It didn't work. I wasn't here to cuddle everyone along the way to getting things done… I was all about getting things done. Sometimes being responsible means pissing people off… Welcome Jurgen Klopp.
Why? Pretty simple really. We need a responsible and accountable manager. We don't need toxicity where the first thing that happens causes a swell of negativity where the finger pointing or deflection from self begins. I crave a responsible man. When you look at what's being stated about Herr Klopp then there are some things that stand out and excite me. They excite me in a way that most others will switch off at as predictable clichés to describe someone.
"Klopp emphasises the importance of passion, emotion and attitude"
• Show a bad attitude and expect the reaction (YES. YES. YES!)
• A person who can be very direct and to the point (KERCHING!)
• Above all, relishes a challenge (HE'S A D! I'M NOT ALONE IN THE WORLD!)
"Klopp is a mentor to his players, the kind of "cool dad" character who is half friend, half father figure. His passion inspires players to give everything for the club and to never, ever give up hope"
Hang on. I don't need this huggy-feely nonsense. Get a teddy bear if you need a cuddle! Get back to the direct results fella!
Or maybe we do? Someone who has the characteristics under "Influence" isn't to be scoffed at. "I" is enthusiastic, full of optimism and friendly. I like this. It sounds like the guy we need right? Is there a clincher to convince me a little more? You bet there is! Someone who's both a "D" and an "I" is underpinned with one key buzzword/characteristic. Action!
Actually two, Challenge is the other one.
Right then. Action is exactly what we want. The passion is clear to see. The desire to win is too. He won't sit back and tolerate failures. It will eat at him in a way that he will work harder to push for improvements. D's don't crumble at the first signs of adversities or when things don't look rosy. They are heavily motivated by winning. Competition and success is in their DNA and it's in Liverpool's too. The fever pitch excitement for someone like me is understandable. I have craved a person who won't mince their way around things and be brutal, clinical and effectively ruthless in a charge for glory. This would be a good time to admit that I actually wanted Carlo Ancelotti due to the depth of his CV and pedigree until I looked at this from the above angle. That was my tipping point for Klopp for the Kop. High in Dominance and Influence? Yes please. Every day of the week yes please! You want it yet you may not know why but my word it will be worth knowing why. Why Harinder? Why? Why? Why?
I'll tell you why. Challenge is the other keyword for this type of person – they thrive in situations that others would find impossibly stressful and difficult to deal with. They have a massive need for achievement and it means that they are willing to undertake almost any task to achieve success or recognition (YES!). The books say "This driving, motivated approach lends them an urgency and energy rarely seen in other behavioural types".
D's love commitment. If you liked it then you should have put a ring on it I say. Just kidding! If we said that the cause was The Liverpool Way we could have an endless debate on what that actually means. However in my opinion it's not a case of that right here right now. A simple cause that any footballer would agree with is to win a match when playing. With that premise in mind how many squad members could stand up and be counted as knowing they can commit to provide what's needed to achieve that? Oh. Without their ego getting in the way? This where Mr Manager (or Mrs to be fair) comes in! If Klopp cannot commit you to his cause then that's okay… you won't be here to stop those that will. YES! AGAIN! I like this a lot. Who wouldn't? You will respect his authority and he'll make you do it. He'll make you believe and then he'll deliver upon it. He doesn't know any other way and quite frankly that's okay with me.
A new man is in town and it's all going to get very exciting…Welcome to Liverpool, Jurgen Klopp. I've waited for this day for so, so long… I just didn't know until today you could do all this.
Gotta love science, eh?