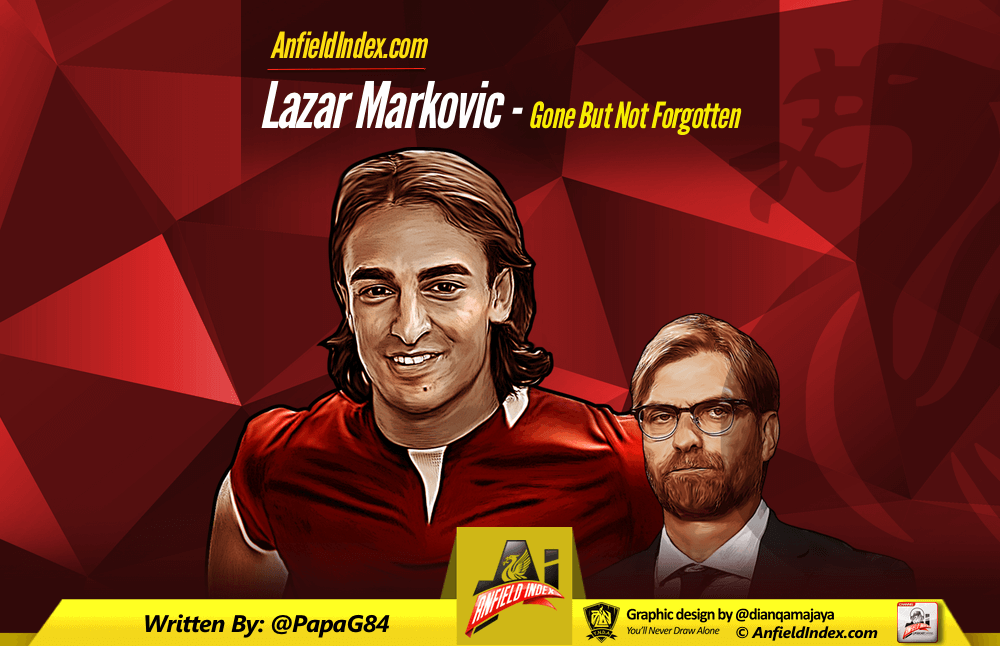 Lazar Markovic - Gone But Not Forgotten

Rarely has a player split the fanbase, as Lazar Markovic did last season. Arriving for a sum of £20 million from Benfica, the expectations were high for the fleet-footed Serbian. Supporters hoped with the departing Luis Suarez, that he would fill a creative void in the Liverpool side. In truth he perhaps wasn't ready for the move, nor was he able to deal with the pressure. That said, it's the manager's job to handle those expectations and to give the player every opportunity to showcase his real potential. Now out on loan at Fenerbahce the fear was that we'll never get to witness his true ability in a Red shirt, which for me would prove a huge mistake in years to come. However, with Jürgen Klopp's impending arrival hope is restored.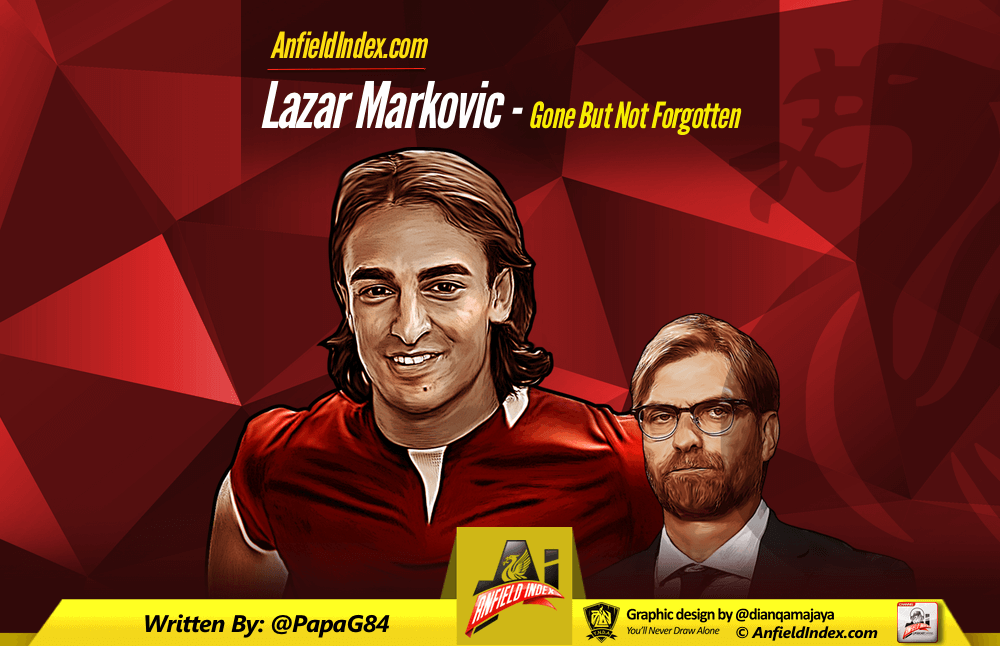 The argument to me that Lazar doesn't have enough ability, or the fight to succeed in the Premier League is invalid. Whilst just glimpses, at times last season Markovic demonstrated he has all the facets to his game, to not just positively influence games but dictate them. His technical ability is strong, but where he truly excites is his ability to carry the ball at exceptional speed. He may not have been the fastest player at the club last season, but he was certainly quickest when moving with the ball. It's this direct running, which makes him an asset and tailor made to succeed in dynamic, counter attacking team we hope to see under Klopp's tenure.
Don't let the emphasis on his speed fool you into thinking that's the only string to his bow. What impressed me most, when watching Markovic at Benfica and during spells last season is his vision, weight of pass and ingenuity. He sees players making runs like few others and has the deftness of touch to find them. His link up play and first time passing is excellent, which are inherent skills you just can't train. He's a special talent, who many managers would love to have, mould and develop into a top class game changer.
An issue Lazar clearly suffered from, which has been a common theme throughout our squad, is confidence. Often pulled at half-time, when alternatives were having less impact on the game; you could vividly see the player's confidence being stripped away as the season went on. At times supporters need to consider that not all footballers are identical. Some may settle instantly, while others take that bit longer. Whenever Lazar began to find any rhythm, it was lost to a drop in form of the team, or by being left out for extended period of time. He never gained the trust of the manager, in truth it seemed as if he wasn't really wanted at all.
That's a common theme, which has clouded the club in recent seasons. The notorious manager vs transfer committee debate has been aired in full, since Rodgers departed. Lazar is probably the player alongside Ilori, whose suffered most from these political games. It's heartbreaking to see such talented players being ostracised, to the point of no return. I'm not afraid to say it, I'm happy there is a change of manager and direction, allowing these players a lifeline and finally an opportunity to showcase their undoubted abilities.
Liverpool in recent seasons have been stockpiling offensive players, who prefer to influence games centrally, rather than out wide. At times we appeared so desperate to fit square plugs into round holes that it disrupts the balance of the team, to the point where cohesion is lost. This had a significant impact on Lazar, who found himself forced into playing wing back, never given an extended spell in an attacking role he craved. Our only significantly successful spell under Rodgers tenure as Liverpool manager, was a time when everyone suited their roles, understood them and we built a cohesive team around them. I expect this to return and in his natural position you could see a very different player.
As I sat down to watch another dour display in the Europa league, I imagined how much of a lift Lazar could provide this team. He offers a different style to those in the squad, with his speed of both mind and body extremely refreshing. I as with many others were disappointed to see him leave. I'd hoped after a challenging first season we'd start to see the best of the extremely talented player, but sadly it wasn't to be. However I remain hopeful he'll return and prove any doubters wrong. Because without doubt he's an exceptional talent and could become a real star, under a reinvigorated and revitalised Liverpool Football Club.