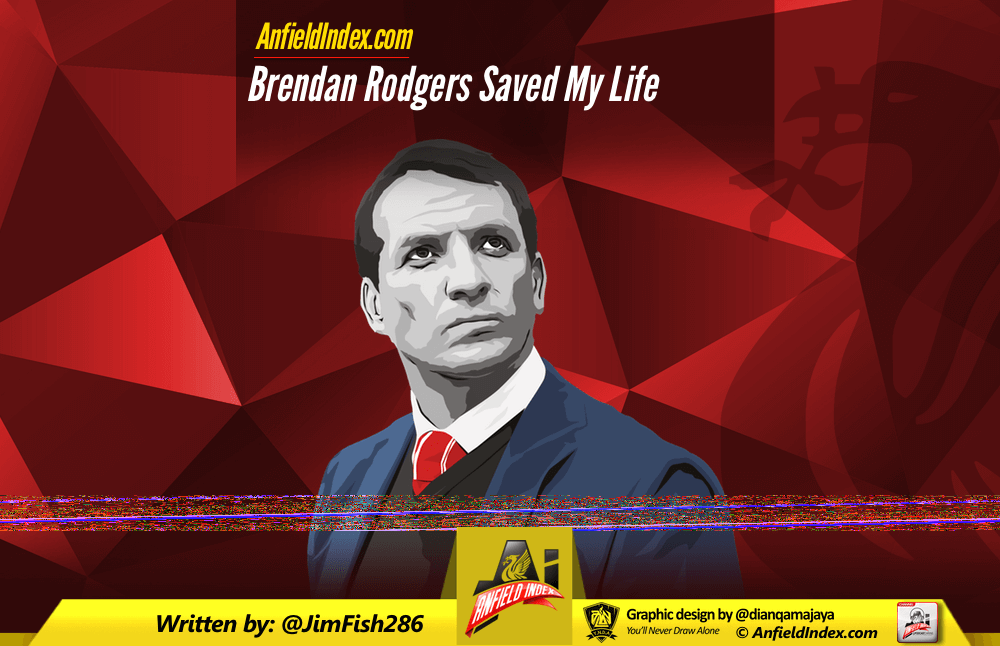 Brendan Rodgers Saved My Life...

I've ummed and aaarghed about writing this. It's a personal tale really, but that's sometimes what's needed to express thanks to someone.
Many years ago, in 2008 to be precise, I was diagnosed with a terminal illness. That illness effects my heart and the initial prognosis wasn't great. As you can imagine, the news shook my world completely. I found myself having to retire from the job I loved and having to reassess my life, the choices I'd made and the ones I was going to make going forward.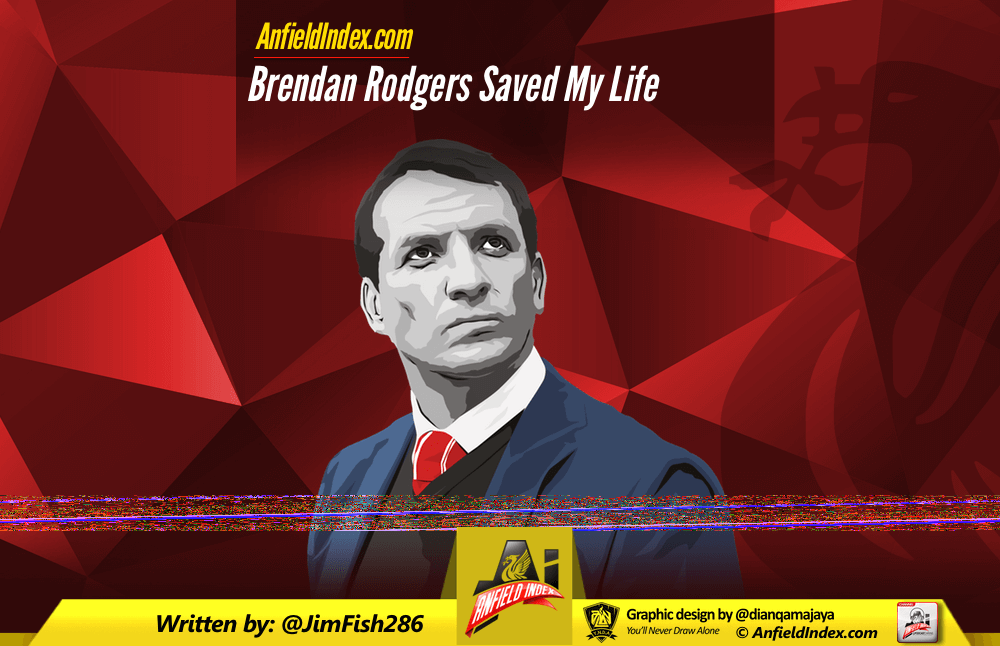 In early 2013 I found myself in a fit of despair. Having tried lots of different medications – some experimental – and having more than one operation, my symptoms were continuing to get worse. I couldn't walk from one end of my house to the next without gasping for breath. Play football with my son? Forget about it. I was either constantly fatigued, asleep or if awake, I was in pain and afraid to move off the settee.
Life for my family was horrible, I realised that I had become nothing more than a burden to them.
I'm not ashamed to say, I couldn't see any way out of it all, except giving up.
A week or so later, I sat watching Liverpool, the side I'd grown up loving. The side that had given me so much joy and happiness in the few years prior to my diagnosis and I found myself doing something I hadn't been doing enough of – smiling.
I was enjoying something once again.
I logged onto Twitter later that day and started a conversation with John Ritchie, John didn't know me from Adam and didn't know my personal circumstances but our chats became a regular occurrence and I valued them. Talking about Liverpool and the future under Brendan Rodgers was making me feel good. It was giving me something to focus on away from my illness and what it was doing to my family.
As you'll all know, football has that ability. It can transport you from your life, your struggles fall from your mind as you embrace what the next 90 minutes throws at you.
As Martin Tyler famously once said, " only football can make you feel like this."
It was true back then for me. I would sit and read article after article on Twitter, sites like This is Anfield, The Liverpool Word and Live For Liverpool constantly on my browsing history. That football bug had firmly bitten me once again.
My thoughts were now all about Luis Suarez, Daniel Sturridge and Philippe Coutinho. About how our new young manager was moulding a new young side in his image. Bold, brash, positive. It was great once again. I had something else to cling onto. I had a distraction away from my illness and the life I was living.
As I've said, the smile came back, I felt I could offer something more, So I started writing about football. You may be reading this and saying, "why the fuck did you do that, you're shit at it," but it gave me something to do. It gave me that release away from real life, especially when life was so tough.
My family noticed a difference in me. I was happier, I found myself counting down the weeks during that summer, I couldn't wait to see what Brendan Rodgers had up his sleeve for us, for me. I needed him to keep giving me something to cling onto and as we know, he didn't disappoint.
The season 2013-14 was something like no other. But, as the football was going on, in the background I rolled the dice a final time. One final doctor, one final plan. I'm here now writing this, so it obviously worked.
There's nothing concrete for Brendan Rodgers to show from his spell as Liverpool manager. There are no trophies, he hasn't put us back on the European footballing map. In fact, plenty will say he's left us in a worse mess than when he took over.
That's rubbish. Brendan Rodgers saved my life and he made me fall in love with football once again. I bet I'm not the only one who can say that.