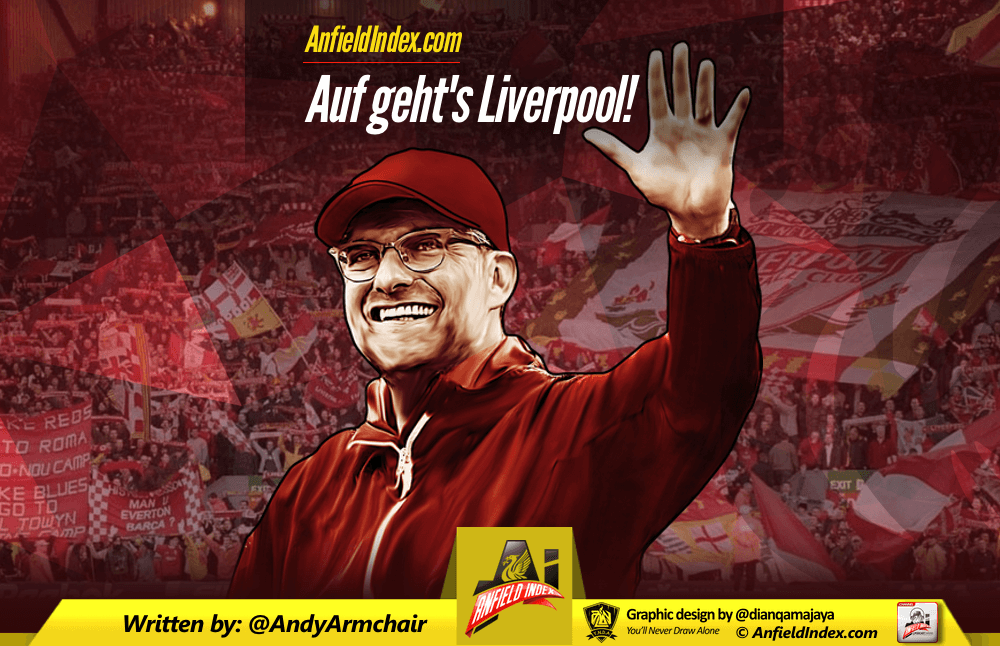 Auf geht's Liverpool!
For those of you who are unaware, I spent many of my formative years in Germany, growing up with the British Army, where I was lovingly known as a 'Pad Brat'. It was during my time there that I formed a soft spot for two Bundesliga clubs: Hamburger SV and Borussia Dortmund.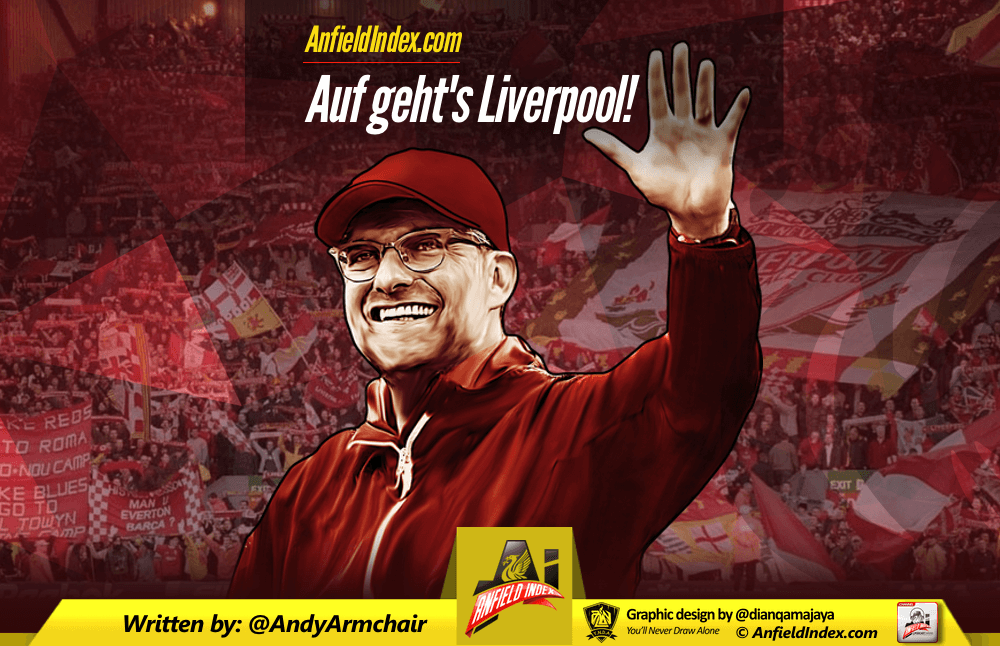 The interest with Hamburg came from them being the opponents for the first time I ever went to a Liverpool match. It was a pre-season friendly in 1986 at Hamburg's Volkspark Stadion and Liverpool lost 1-0. Despite them beating my beloved and all-conquering Liverpool team, I kept an eye on Hamburg from that point on and still retain a place in my heart for the club. My affinity with Borussia Dortmund stretches back over a similar time frame. My entire secondary schooling took place in Dortmund and my school even had a sports day at Rote Erde stadium, which is Borussia Dortmund's former home, situated next to the Westfahlenstadion. Myself and a few of my mates snuck out of our sports day and into Westfahlenstadion, where a Borussia Dortmund team, that included Michael Zorc, Wolfgang de Beer and World Cup winner Andy Möller, were having a light training session. It was mesmerising and exciting for the short period we were there, until we were spotted and evicted. I was fortunate enough to see Dortmund play at home a handful of times in the early to mid-nineties. It may not have been an 80,000 plus capacity back then, but it was still an incredible atmosphere and a club that had a special feel to it.

Greater access to viewing more Bundesliga matches in recent years has allowed me to indulge the Borussia Dortmund bug that I had caught in Germany, whilst also enabling me to watch Bundesliga on a regular basis again.
One thing that is very apparent when you watch German football is the relationship between the club and its fans. It's a relationship that is close and not just down to the much famed 50+1 ownership rule. Affordable ticket prices and considerable fan input on the running of the club help maintain their bond; one that is plain to see after matches, with players and coaches celebrating and talking with fans. It's something that seems a million miles away from many Premier League clubs and players, who seem largely unobtainable and removed from the everyday fan.
Probably no set of owners made fans feel as removed from their club as Hicks and Gillett did at Liverpool. The forced removal of them (followed by the sacking of Roy Hodgson and appointment of Kenny Dalglish by new owners Fenway Sports Group) helped restore some of the damage to this once famous relationship forged so uniquely by the messiah-like Bill Shankly. Fast forward a few years and a title challenge spear-headed by Luis Suarez evoked memories of past glories. Anfield was rocking. Even the roads leading up to it were paved with thousands of flag-waving fans sharing their passion and excitement for their club.
The key phrase being "their club". It's the fans club, shared by millions and passed down through generations.
It's this kind of identity that draws similarities between certain German clubs and Liverpool in its heyday. Unfortunately, identity is a word that's been lost at Liverpool since the exhilaration of the 2013/14 season. As Brendan Rodgers lost his identity as a manager, his team lost all identity. As the good and exciting football eroded, so did the positivity replaced with negativity on and off the pitch. Gone was the high pressing game, the free flowing, high octane attacking football and subsequently the goals. More precisely, the goals dried up for us, but they continued to go in at a regular rate for the opposition. Formations changed, players changed, players were played out of position and confidence evaporated. Brendan Rodgers became a man who looked lost; a man unable to provide answers to the questions of how to win matches. Things became fractious amongst the fan base between those who wanted Rodgers to stay and those who wanted him sacked. At times the atmosphere was toxic and the abuse, posted on social media by a small minority, distinctly unpleasant.
From a personal perspective, my frustration grew as we underperformed, underachieved, patently misused the squad available. This misery was further compounded by a manager who attempted to insult my intelligence by trying to convince me that what just happened, hadn't really happened. Too often, it was becoming a miserable experience watching Liverpool play; frustration grew to anger as the team capitulated time and again until anger manifested into numbness. I felt like a nagging wife at times with all the bloody moaning. It was annoying me and probably some of my twitter followers too. Apologies if I did get on anyone's nerves with the moaning, by the way.
I had lost my joy and not even Anfield Index's own certified 'joyologist', Steve Gennaro, could rescue it.
Then came the news that Brendan Rodgers had been sacked. That didn't bring joy, just relief. Relief, that Rodgers had been put out of his misery and relief that there was now a real prospect that the club could actually start to move forward. Within hours, that prospect was looking very real as word came out that Jürgen Klopp was the man FSG had identified and was on his way.
Having had the pleasure of watching Klopp's Borussia Dortmund play, interact with some of their fans and get caught up in his magnetic charisma, I am excited. I'm not going to go deep into his tactical approach as there is a fantastic article on here by Sam McGuire that already covers that, but I will say that his Dortmund team were a joy to watch. His smile, charisma and personality are infectious; he has a charm about him that people love, but also an honesty that people respect.
Like any manager, Jürgen Klopp cannot guarantee success, but you can be sure he will give his all and it will be a memorable journey. His personality is one that meshes well with what Liverpool Football Club and its supporters have traditionally stood for. He is a winner, a leader, a man of integrity with a proven track record and he has already put a smile back on my face. I firmly believe he will almost instantly restore my joy, so that I can get back to enjoying watching us play again and get us believing; maybe even dreaming. I don't want to get carried away and certainly won't suddenly have wild expectations, but I do think he is the man to restore hope and you know what… he might just be the guy to get the best out of our squad. I can't wait for our next match and in the spirit of our new boss, it's auf geht's Liverpool!