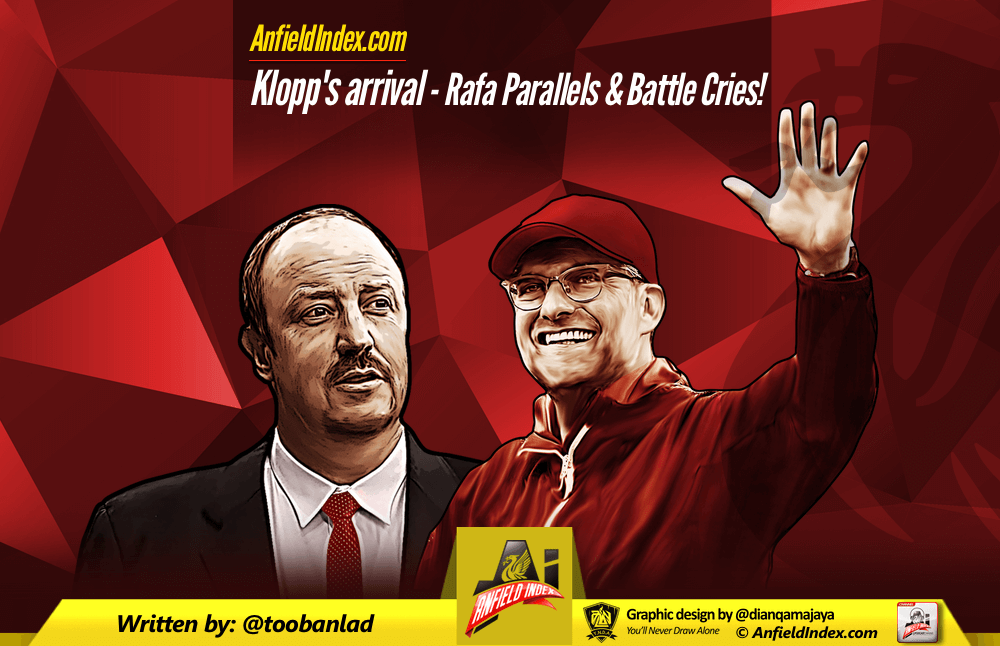 Klopp's arrival - Rafa Parallels & Battle Cries!
At White Hart Lane on Tottenham's High Road, Liverpool's latest hotly anticipated football revolution will begin again. Perhaps not in the sparkling splendour of the blistering sunshine of August 2004, when a trim and sharply dressed Rafa Benitez first stepped out into the away dugout as the new LFC manager, embarking on his mission to return the Reds to domestic and European success, but a revolution nonetheless. It's not a season opener this time around either, but it sure as hell feels like one. The arrival of the former Valencia manager with the razor sharp tactical mind represented a coup for the Reds at the time, after the slide into mediocrity and turgid football that Houllier's reign had descended into. The 2001 cup treble heroics, and an ill-fated 2002 title challenge were successes which he built on rock solid defence coupled with swift counter attacks using the searing pace of a certain young striker now boring the nation on BT. Rafa had arrived to much fanfare, richly acclaimed and lauded in his homeland for his tactical astuteness, transfer market savvy, and most crucially, his transformation of the fiercely proud "Los Che" club from perennial also rans and under-achievers to twice title winners. This ended a 30 year drought and he had managed  to fend off the traditional super-powers of Spanish football for good measure.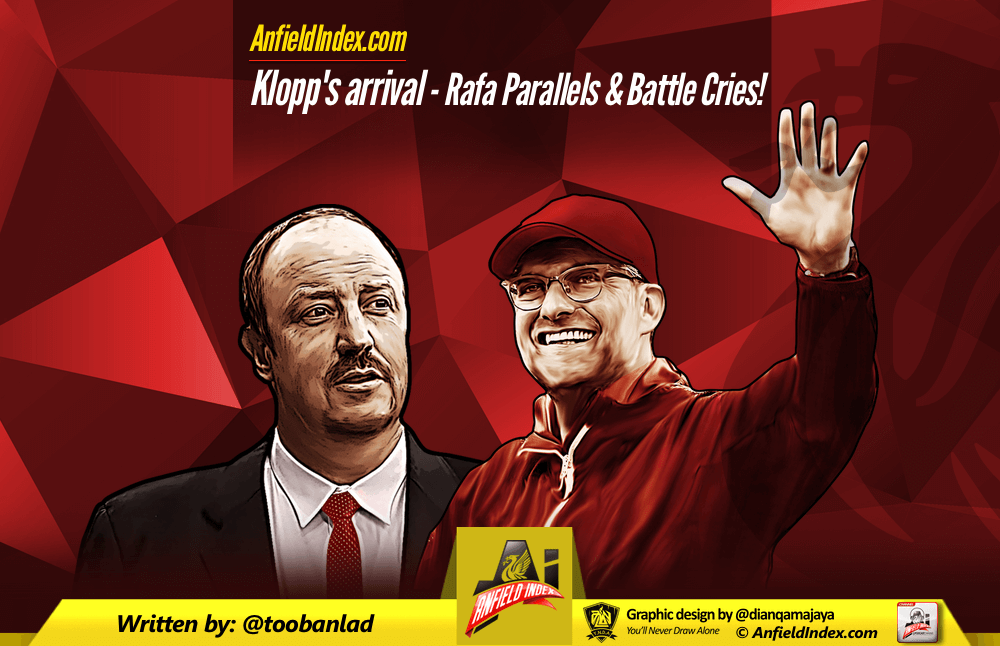 As a student in Huddersfield in the late 90's (a horrible time to be Liverpool fan might I add- no wonder Sunday sessions often ran into a Wednesday after watching some of that shite) I made the acquaintance of two beautiful girls from L'Alcudia. They were big Valencia supporters and the craic in that house was great, a truly multinational student digs we had, with a rabid Marseille fan thrown in too, and, for a bit of good old English balance a Leeds Rhinos fanatic. Years later, when Rafa got the Liverpool gig Angels and Amparo assured me of his greatness, and told me how he was worshipped in Valencia. "We love him! We love him!" they would message me and they were heartbroken when he left. Rafa stood up to people, and built a team there not just to challenge, but to topple the perceived elite. He outwitted his rivals, and his teams were driven, and fantastically organised. Now, eleven years on, I can't help but notice the same traits when it comes to Klopp. Now this is a man who is truly adored by his public in Germany. By everyone. Everywhere. That won't last here of course because he's ours now. They might not say it out loud, but fans collectively all over England who hate us with that special bile they reserve for everything Scouse, are devastated at this one. Klopp is impossible to dislike, that big smile, that huge persona, the sheer joy he exudes; a man living his dream by making a great living in professional football and loving (and living for) every moment. This is a man who loves football, real football, and has real passion.
I can't tell you how much I love this quote from the man;
"I show my team very often Barcelona, but not the way they play. Just the way they celebrate goals. Goal no 5768 in the last few weeks and they go 'Yeeeess' like they never scored a goal. This is what I love about football. That's what you have to feel all the time. Until you die. And then everything is OK."
This man manages us now. US!!!
Then, there is the serious man with the serious football mind. Behind the floppy hair, mad glasses, trademark baseball cap and beaming smile, this is a serious operator. The Dortmund teams he built were a sight to behold in their pomp, a ground-breaking new brand of football, based on supreme fitness, energy, super high up the pitch.  "Gegenpressing" as it was christened in Germany, instantly recognisable by players hunting the ball in packs, a fusion of intricate attacking combinations, flowing movement and forward players showcasing incredible technique operating in tight spaces, and of course goals, goals, goals. It's not just that though, Dortmund's pressing game means many associate Klopp teams with simple, fearless, all-out attack, but his teams could defend too. True, this wasn't in the conventional way, adopting the traditional method of sitting deep and suffocating space. True to Klopp form this was done by suffocating the life out of opponents, barely allowing them "to breathe" as he put it, running opposition into the ground and not giving them the time or space to develop attacks. This was based on smart defensive play without the ball, and very capable defenders and full backs who could be trusted in one on one situations to handle the inevitable counter attacks that will occasionally break through against such a strategy. Needless to say, it required a midfield where everyone knew their defensive role to the letter. In the 2012 Bundesliga title win they conceded 25 goals in 34 games, and just 22 the season before that when they also finished as champions. This is no one track Kevin Keegan or even, dare I say it, Brendan Rodgers strategy. Its smart attacking football. Brains with and without the ball.
Klopp teams are instantly recognisable, they have that stamp that truly great managers can put on their side. An identity. Anyone who witnessed the Rafa team that came to Anfield in 2002 who, with ruthless clinical efficiency, destroyed Houllier's Liverpool will know exactly what I mean. In comparison to the Reds that night they were like a team from another planet, they looked years ahead of their time – the "crushing machine" as they were known in Spain- every player performing their role to a tee; that was Rafa's Valencia.
Klopp also arrives at a similar point in the teams' development to which Rafa inherited. Houllier, for all his faults towards the end, had dragged the club into the 21st century after the Souness years shambles, and demolished the party boy/unprofessional label that stuck with Roy Evans' sides. He had laid foundations and there was unquestionable talent there. Gerrard was about to develop into a phenomenon, Carra was a raw diamond which Rafa would mould from utility defender to world class central defender, reaching the pinnacle with his cramp-laden heroics in Istanbul, and with the likes of Hyypia and Hamann there were solid proven performers to work with and build a team around. Rafa also had to deal with the fallout from the club losing their star attacking talent, Michael Owen, to Real Madrid with Cisse and Baros as his main striking options. A quite incredible drop in quality to deal with overnight in terms of goalscoring ability. The Liverpool Klopp is taking over have also lost two of their most potent attackers in successive seasons in Suarez and Sterling.
One thing massively in Jürgen's favour is, by way of comparison, the standard of teams around now. When Rafa took over it was an incredible spell in English football. Think for a second about what he had come into. Arsenal had just had their invincibles season with arguably their best ever team and Chelsea had just acquired Mourinho from Porto and were about to give him the cash for the most obscene spending spree in English football history. And Utd were 18 years into Ferguson's reign, already a super-power, and had just spent £30m each on Ferdinand and Rooney. This was the golden age of English clubs standing since they had returned to Europe. In successive seasons in 2008 and 2009 3 of the 4 champions league semi-finalists were English, imagine that now… Rafa did incredibly well in that period to have LFC at the top table.
There is little doubt that Klopp has plenty of talent to work with. For all the frustrations foisted on us by Rodgers such as increasingly wayward team selections and lack of defensive acumen, there are players in that squad to seriously compete with, if utilised properly. Firmino and Coutinho are outstanding talents, potentially world class if they can add more consistency. Klopp, according to several sources, tried to sign the former Hoffenheim man when he was at Dortmund two years ago. They are exactly the type of player he loves. Technically excellent, hardworking and with an eye for goal. Looking further forward Benteke and Sturridge are players with talent and goalscoring ability. In fact, it could be argued that Jürgen has an embarrassment of riches compared to what Benitez had to work with on arriving.
Don't be fooled by some of the bullshit Rodgers was spouting as he came towards the end. Dare I say it, the comments he made about "rebuilding" and being "given the tools" probably ruffled FSG feathers more so than any bad result. Given he was in season 4 and with £300m spent, that was silly talk. This is not a weak team that needs to be totally rebuilt, this is a squad with the talent to compete; if the players are tactically organised, motivated and armed with proper game plans to hurt the opposition. There will be new arrivals of course as I doubt very much that the options available to Klopp at right centre back, defensive midfield, and goalkeeper are of the standard he expects and is used to. Unlike Rodgers I expect no qualms here from Klopp; players not up to scratch will be ruthlessly despatched and not indulged.
It's a very difficult thing to predict how good a manager will be. I'll tell you what a fairly reliable guide is though; the man who can take a team from obscurity to the top of the tree, and who can make a team punch above their weight. That takes talent and belief. Ferguson, with all his despotic genius, made Aberdeen a force. They beat Real Madrid and they surpassed the Old Firm. He showed he had what it took to land the big prizes before he went to Manchester Utd. Rafa was similar. He had shown he could mould a team to a state above their perceived level and win and Klopp is cut from the same cloth. Of course, EVERY appointment represents some kind of gamble, but if you want to greatly improve your chances of winning when it comes to picking a manager, looking at his CV is still the most reliable guide. Only Barca with their freakish tiki-taka system and reams of talent coming through together have bucked that trend by appointing from within and still won regularly and it's a very tough thing to do. Liverpool did it for a spell in the 80's, appointing from within and still winning consistently. It's a difficult trick to pull off though. Rodgers was a huge gamble (it nearly worked) but FSG, in the space of one week, have transformed the view held of them amongst some of the fanbase, simply by going for conventional football logic by appointing a winner.
Dave Hendrick, in one of the reaction podcasts, hit the nail on the head when he said that this isn't an appointment made by owners planning to sell. I said it in my last article, whatever you think of them, FSG's bottom line will ultimately come down to winning. This club can command crowds of nearly 100,000 in pre-season friendlies in Australia. Make this club win again, and you unleash a monster. They know that now, and this is an appointment laced with intent and purpose. Even their harshest critics have to accept that. Klopp would not be coming to Liverpool unless he has been given assurances he can compete. For a man like Klopp, getting this job and failing would be something he would struggle to cope with.
There is one other huge similarity between the two men. They get the fans, and they tend to become immersed in their footballing homes. Scousers take to human warmth, Rafa and Montse were loved and blended into the city's culture effortlessly by allowing themselves to get caught up in the emotion. Rafa's tears at the Hillsborough service will always be the first thing I think about when I look back at him. This was a wonderful man, who understood the pain of the supporters. Klopp himself was a man entranced when he was at Anfield last summer. He took the tour, stood on the halfway line hands behind his back, taking in the Kop in quiet awe and wanted to talk for hours with the clubs legends about the days of Shankly, Paisley and Dalglish. He is a football romantic in the purest sense. Rafa was very much at home in Liverpool and its impossible not to see Klopp fitting in just as well.  It may not seem important anymore in an increasingly detached, unhinged, money laden game, and at other clubs it probably isn't, but in Liverpool, that most fiercely proud and passionate of working class cities, having no airs and graces and being at one with the common man- that matters. The clips of Klopp(!) on the stage with Dortmund when they had won demonstrated the adoration those supporters had for him. He was one of them. Not all managers are like that. Some like Mourinho, well, they try to fake it. Klopp has it- it's authentic and it's brilliant.
Rafa became a cult towards the end and fans were bitterly divided when he went. Thankfully for Klopp, we are a million miles away from the harrowing days of those particular American owners; days when the clubs very existence was in doubt and an environment where no manager on earth could have succeeded. You might not agree with me when I say this, but Liverpool Football Club DEMANDS a manager with hero status. Nobody is ever bigger than the club, but the manager HAS to be the most important figure there, and HAS to be the most respected. No one will mock Klopp's CV. He'll suffer no fools in press conferences and no player in that squad will have any notion in their head that they are somehow bigger than him. When Jürgen Klopp steps out from those steps under the Main Stand and makes the short walk to that dugout he will be idolised and acclaimed like a God, with an army of supporters; joyous, united, and ready to follow him into battle. By Christ, after the last 12 months, how we need that spirit rekindled at Anfield.
Our beloved club has been wandering around in a half-assed daze for too long. Happy to play on the history and traditions, expanding the global brand to exploit the coin, mouthing off cheap soundbites about competing and enjoying the ridiculous sums of TV money flooding into the trough and gleefully sticking the snout in. In the clamour for more corporate revenue, the push to expand the main stand and flog more merchandise, it has been forgotten what this club is supposed to exist for; to exist solely for. To win fucking trophies. Of course money matters in that, I'm not that naïve, but it has felt like token gestures for a while when it comes to matters on the pitch. Last Sunday evening at half past six FSG did something for the first time; they acted like the owners of a huge club. Their man could not deliver, results had been mediocre, and enough was enough. Finally, for the first time since Kenny left the role, there is a man getting the job who EVERYONE believes has earned the shot. None of the fanbase have any doubts. There is no bickering and no arguing anymore, just like when Rafa arrived. It's not a right to manage Liverpool football club but a very special privilege.
We now have a man who not only knows that, he also has the CV to prove he can deliver and compete for the biggest prizes. A man who walks and talks like a winner. There's a sleeping giant in L4 ready to awake from its slumber. Getting ready to stand up, weigh up the opposition and realise this is no great league. This is a league packed with mediocrity. Organise that team in Red, get them playing fast, playing hard, with belief and fire in their belly and get them playing that heavy metal football that Klopp talks about. A team with courage and purpose, who want to win at all costs every time they go out on the pitch. A team that will energize the crowd and turn Anfield into an intimidating cauldron; not the accommodating little day trip spot it has become for all manner of mediocre opposition. A club acting big, being ruthless, and doing what it takes to win. Once that starts to come together, with Jürgen running up and down that touchline, demanding "gegenpressing", celebrating every goal like its his last day on earth, then my friends, we can get the Josh Lyman "Big Mo" behind us. We can take that momentum and push on to new heights.
This is a league laden with money, stuffed with underachieving fat-cat clubs in various states of transition, ready to be taken down from their pedestals and pummelled by a resurgent Liverpool.
Go fucking get them, Jürgen. Go fucking get them.