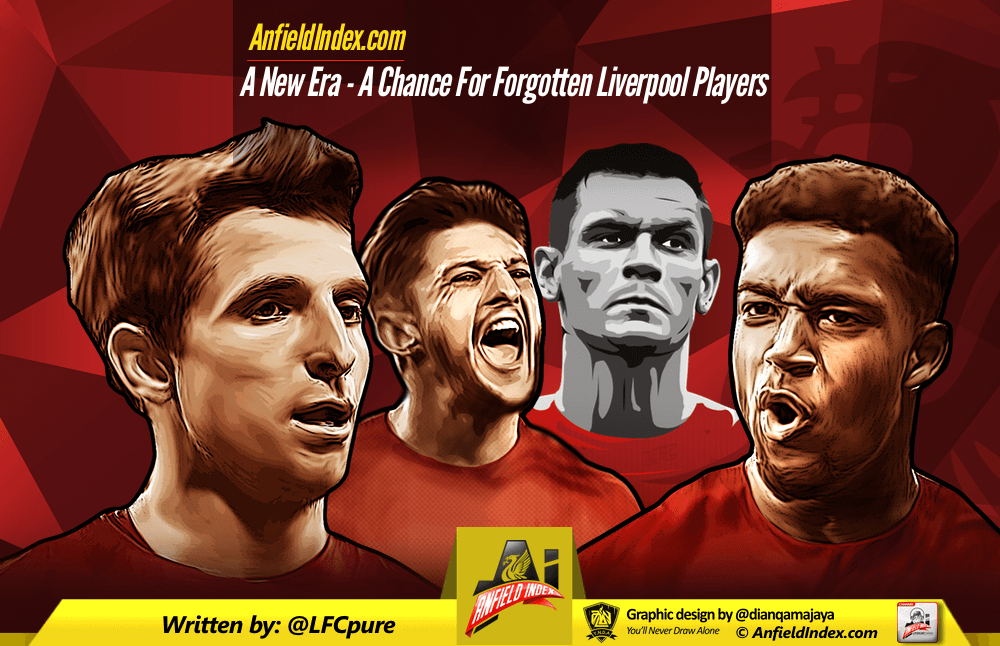 A New Era - A Chance For Forgotten Liverpool Players
Jürgen Klopp. Wow, a breath of fresh air has been breathed into our recently stale club. The ideas and excitement of the possibilities. The belief that this charismatic German will give the club another chance at success. To wake up the sleeping giants. But does that account solely for the club and fans? No. When Monday morning comes there will be a different atmosphere within Melwood (Liverpool's training facilities), there may be doubts from some players, there may be excitement from others, but what it will mean is that everyone gives that little bit extra as whether this new found Liverpool FC-Klopp relationship is for better or for worse, it is going to be pretty exciting.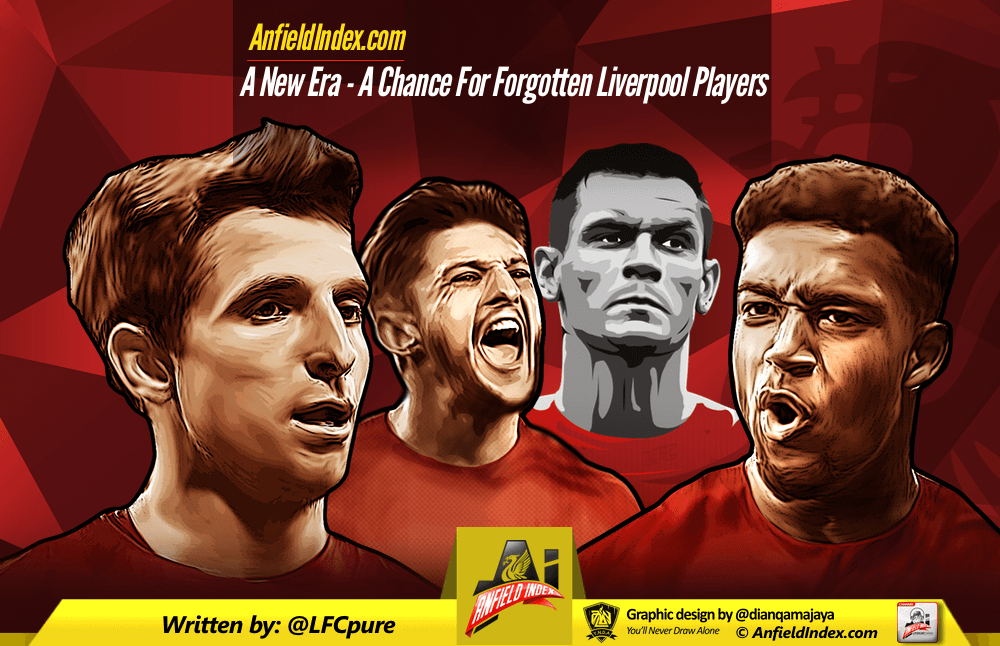 In this article I will talk about the chances that some of the current playing staff, particularly those that have been cast aside will now be presented. But before I do this, I want to talk briefly about Jürgen Klopp, and what he is looking for in his players. Firstly, he stated that he was happy with the current team, this does not surprise me at all. Klopp is a man that will never criticise his team as a whole or individuals publically, if he feels a player is not performing then he will do it privately, something that Mr. Rodgers failed to do of late, such as the recent lambasting of Emre Can's mistake vs. Everton. This will allow the players to feel more confident that he has only good intentions and is not using them as a media scapegoat if ever we under perform. Secondly, Klopp stated in his first media interview with LFC TV 'The first thing, always, is a stable defence. That's the only way to play confidently'. This is such a huge issue, our defence, has become something of a joke with our defence conceding a staggering 48 goals last year (many from individual errors). Finally Klopp is absolutely adamant on a hard working team stating that he loves a high pressing game, and those players that listen to him, will be his 'friends'.

So who are some of the exiled players that may suddenly become potential Liverpool players? Let us start with Twitter famous, Spanish Left Back Jose Enrique. The 29 year old made 4 appearances last season and is yet to feature this season, including the pre-season. He has made it clear that he wants to stay and fight, some doubt his intentions (saying it is purely financial) I am one of those, I think he will be given a chance, but he is not known for having pace, or being particularly good at defending, I think for the LB position we have a fantastic attacking, high tempo full back in Albert Moreno and also great cover in Joe Gomez and so for me, Jose Enrique: You're Out.
Next up, Dejan 'The Mistake Man' Lovren. A very poor start to his LFC career and even when he gets a run of good games (usually around 2/3) he will then make a ridiculous mistake or have a shocking game. Such as trying to do step overs at the halfway line, which lead to every Liverpool fan in unison go 'What. Are. You. Doing?!' he was clearly a Rodgers signing, as he started ahead of Sakho. Lovren will now be under much more pressure to start to turn in some good performances and to reduce mistakes as Klopp has clearly identified our defence as a problem as his previous quotes state. For me Lovren does have a chance, I believe he could be a good defender for us, he was signed for too much and that pressure has affected him, but if Klopp can get him concentrating for 90 minutes, every game of the season I think – Dejan Lovren: You May Be In.
Martin Skrtel, as stated previously with Lovren, Klopp has identified the defence as a weak point and now Rodgers has gone I feel (at least until January) Lovren and Skrtel will be fighting it out for the honour to play next to Sakho, Skrtel got away relatively unscathed in the previous few months with others taking a lot more of the blame, but these last minute brilliant tackles could usually have been avoided if he had not making the mistake in the first place, what is wonderfully apparent with Martin and Dejan both of them have 0% concentration, I firmly believe that will change with Jürgen Klopp as manager, and if they don't, their careers at Liverpool Football Club, may be shorter than they thought a week ago. So once again, the same as Lovren – Martin Skrtel: You May Be In.
Kolo Toure, I am not too sure how much longer this great man has at the club, he won't be a starter, and I think even as cover, Gomez and one of Skrtel/Lovren will be plenty, although Klopp may well want to keep him for the experience. He may be useful in cup competitions, or if we get into a stressful period he may be used as a mentor to younger players, but unfortunately – Kolo Kolo Kolo – You Are Out.
Lucas 'Mr. Yellow Card' Leiva, he has often been dropped by Rodgers and had to wait for another chance to impress, his future has been thrown in doubt for the last two summers, and in my honest opinion, it is completely and utterly undeserved, I have a lot of respect for Lucas, I think he does all the dirty work, allowing for people like Coutinho, Firmino and Henderson to really push on. Liverpool look at lot weaker without him, especially in defence he is our only natural defensive midfielder. His tackling and pressing game will be vital under Klopp, he is a very hard working individual and is averaging around 5.8 tackles a game, 0.8 clearances per game and 0.5 blocks, what that all equates to is that he wins the ball, and stops attacks. Something I believe Klopp really wants to build this club upon, so Lucas Leiva – You, my friend, are in.
Joe Allen, 'The Welsh Xavi' (cringe), brought in by Brenden Rodgers, injuries have hampered him, but overall I think he is a cracking little player, with great passing stats (around 90% pass accuracy this season), I don't see him as a first team player for LFC, and as long as he is ok with that I can't seem Klopp being eager to dispose of Allen, he is a hard working player, he is unfortunately lightweight, and unless Klopp is planning on bringing in another Centre Midfielder, Joe Allen – You and your beard, are in.
Jordon Ibe, brought back in January, looked absolutely golden, recent labels as 'the new Sterling' have undoubtedly hampered him, I think Ibe has all the qualities to go on to be a great player for Liverpool, he is putting too much pressure on himself and as a result he is overthinking things, that at first, were natural to him. This is where Klopp may well be his saviour, Klopp is wonderful with these younger players, he will reinstall that belief in Jordon Ibe, and make Ibe go out there with the feeling that he is the best, this can only benefit him, I think, nearer the later stages of this season he may be knocking on the first teams door. If he is not I think a loan spell may be brilliant for him. But for now, Jordon Ibe – of course you are in.
Finally Adam 'Cruyff Turn' Lallana, he is an interesting case and stats aren't really that useful so I will go solely on what I have seen, Lallana is a 'luxury player' when things are going well, he is great, he can in many ways turn a game on its head, he CAN be a wonderful player to watch, unfortunately he is often on the fringes of a game. But, Adam Lallana is one player I am extremely interested to see how he does under Klopp, he is a hard working lad, when he is on it, he can be phenomenal, Klopp is a big fan of those kind of players (Kagawa, Mkhitaryan), Klopp does like to play a 4-2-3-1 so Adam Lallana will get a chance, but currently, I feel it will be Benteke up top, with Sturridge RAM, Coutinho CAM, Firmino LAM, I don't think Lallana right now will get in ahead of these players, all of them play with a high tempo and are arguably more consistent, but Lallana can most certainly push for a place and I don't think he will be anywhere near the transfer list, so for me, Adam Lallana – Congratulations, You Are In. Now Step Up.
What we do know is that Klopp is going to allow all these players and everyone else mentioned have a chance to prove themselves, this will include those on loan such as Lazar Markovic and Mario Balotelli, but focusing just on who he has currently, I think we may well see all the players galvanised behind him, he is the kind of man that makes you feel like you can win, and he has the level of authority that you would listen to what he says. I am for one, hugely interested to see how this one plays out. Regardless, it certainly is exciting times for Liverpool Football Club.