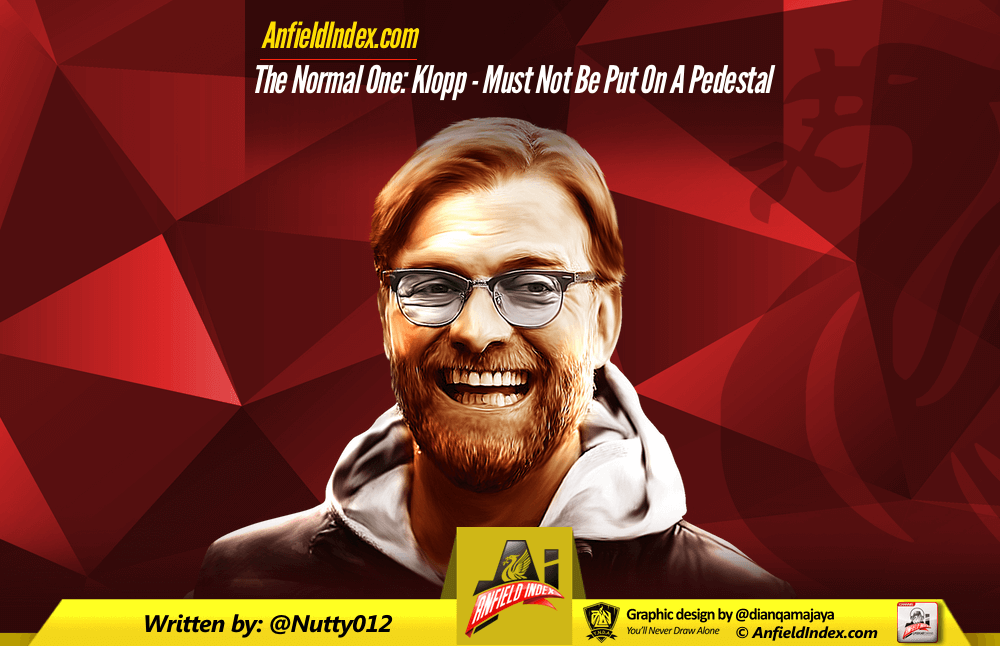 The Normal One: Klopp - Must Not Be Put On A Pedestal
Jurgen Klopp's arrival at Liverpool has certainly caught the imagination of our fans. English football followers will be well versed with the charismatic German manager – the Klopp cult has translated across borders. His popularity comes from his electric interviews, his effortless charisma and the terrifying intensity of football his teams attempt to play. Backing up all these attributes are trophies and success that give his public demeanour a credibility that Brendan Rodgers frankly lacked.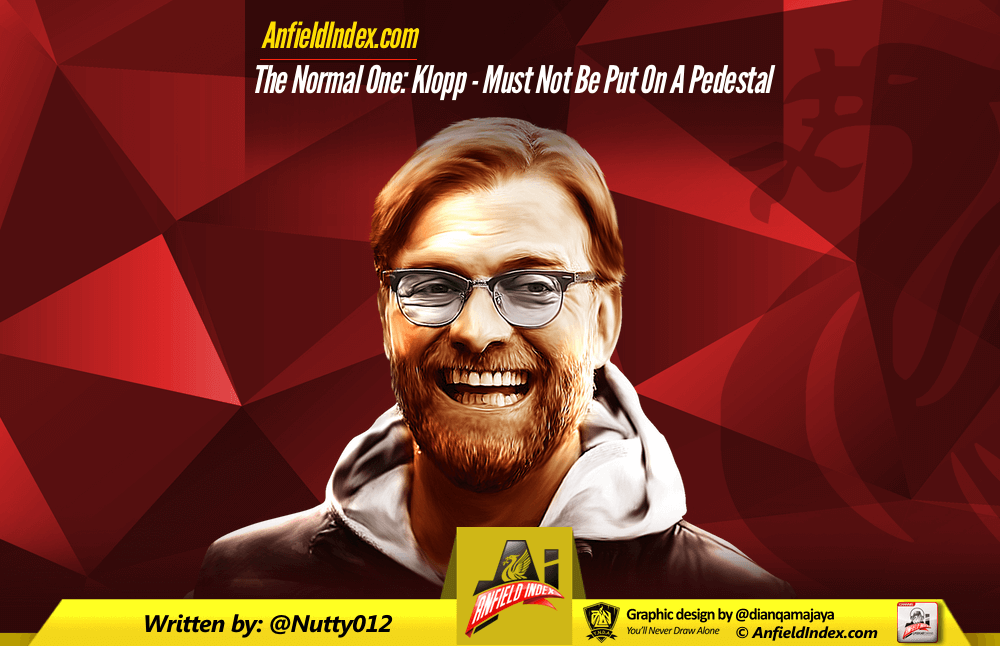 However, it was not all roses for Klopp at Borussia Dortmund. Despite challenging the Bayern Munich monopoly on German football for years with inferior resources, Klopp's Dortmund side finally came undone. They found themselves fighting relegation even after the Christmas period, until a late run of form saw them surge up to the upper mid-table. Klopp then announced his resignation months before the end of the season, so as to allow Dortmund to find a new manager who could reinvigorate their side.

Klopp's final season failures are eerily similar to the recent failures of Liverpool, and they should be a warning to us that we should not expect immediate success given the range of problems that blight the team. After all, Klopp stressed he was "the normal one", not a miracle worker. Understanding the reasons behind his final season failure forces Liverpool fans to recognise that he may not be a quick-fix solution, and that success is sometimes a game of mere luck.
Despite being renown for getting the best form out of his squad, key players like Mats Hummels and Marcel Schmelzer really struggled in his final 18 months at the club. Hummels was regarded as one of the best ball playing centre-halves in the world two years ago; Schmelzer was not ever held in the same esteem but he at least provided a good attacking outlet and was a solid defender. However, individual defensive errors started to seriously undermine the defensive system, particularly through stalwarts like Hummels and Schmelzer. Eventually Roman Weidenfeller, the goalkeeper who was never quite good enough, started to deteriorate under increasing pressure due to the errors in front of him.
This sounds remarkably similar to the plight of Liverpool's defence under Brendan Rodgers. A propensity for defensive howlers from individual players meant that in many games two or more goals were shipped, but despite that the system still managed to keep a high number of clean sheets illustrating that there was some competent defensive shape.
His man management was criticised more widely, especially in spite of the special reserve in which it was originally held. His bubbly charm and unquenchable spirit eventually seemed to grow stale. You can only be given the same rousing speech so many times before the marginal declines in its inspiration make it feel stale.
Changes in personnel is needed to keep a squad fresh and hungry, and sometimes the same can be said for the manager's methods too (as was seen with Rodgers' attempt to reshape his back-room staff). This is perhaps the most difficult job of a manager – staying relevant and being able to challenge your players over a long period of time. As of yet, Klopp has not proved himself as capable of this as say Arsene Wenger or Alex Ferguson. It is not to detract from his skills, as fellow premier league managers such as Mourinho and Van Gaal. Have been unable to do the same in a much longer career. But, it must be emphasised that Liverpool fans do not put Klopp on a pedestal – he is a great manager but not perfect, as no manager is.
Bad luck was a massive factor in Klopp's final season in Germany. Much like the Reds, Dortmund's failings (and thus successes too) were also attributable to a glut of injuries to their star players. Daniel Sturridge's problems kept him out of the Liverpool side for the vast majority of last season. At Dortmund, Marco Reus had a long-term injury that kept him out for a large portion of Klopp's penultimate two years, as well as the heartbeat of their team Ilkay Gundogan. Withou two of their biggest players, it was no surprise that Dortmund did not perform so well. Klopp may be able to get the best out of his players, but if his best players are physically unfit to play we must be comfortable excusing the manager for the odd bad run of games.
Klopp's Dortmund also struggled to compete financially against the biggest clubs in Europe, and so routinely had their star players poached or linked elsewhere. Nuri Sahin left for Real Madrid after being the best player in Germany; The announcement of Dortmund's golden boy Mario Gotze's acquisition for Bayern Munich was memorably made on the eve of the Champions League final in which both clubs were supporting; following that, Robert Lewandowski was forced to see out his contract, resulting in a messy break-up. Dortmund's financial position meant that they were simply unable to replace these key players , to the frustration of Jurgen Klopp. As a Liverpool fan, we can all empathise with this predicament.
Tactically, many commentators also argued that Klopp's high intensity "heavy metal" style of play was eventually found out. Klopp often refuted the legitimacy of these claims. He questioned why no other manager was able to find him out in the previous four years. Perhaps it is the folly of the football community in always trying to find a singular cause for a very complex phenomenon – the decline in form of a team could be down to so many factors, perhaps Klopp has a point in that it is wrong to question the man who was the original reason for the upturn in form in the first place. Perhaps, it was simply bad luck one season, or great fortune the previous year.
Understanding the reasons for Dortmund's decline is a lesson in perspective for Liverpool fans. Brendan Rodgers is an inferior manager to Jurgen Klopp, but a manager can only affect so many things. Liverpool have a weaker squad than our top four rivals, are routinely poached of our best players, and refuse to then outspend our rivals to catch up. We have suffered from injuries to our best goalscorer, we have £70m of talent acquired in the summer injured, as well as our club captain Jordan Henderson too. Rodgers had a run of bad luck and circumstances that no manager would have coped with. The hope for Liverpool fans though, is that if we can improve these contextual factors, that Jurgen Klopp will then be able to get far more out of Liverpool than Rodgers was ever able to. However, Liverpool fans need to be prepared to be disappointed, at least in the short term. After all, Jurgen Klopp is just The Normal One.