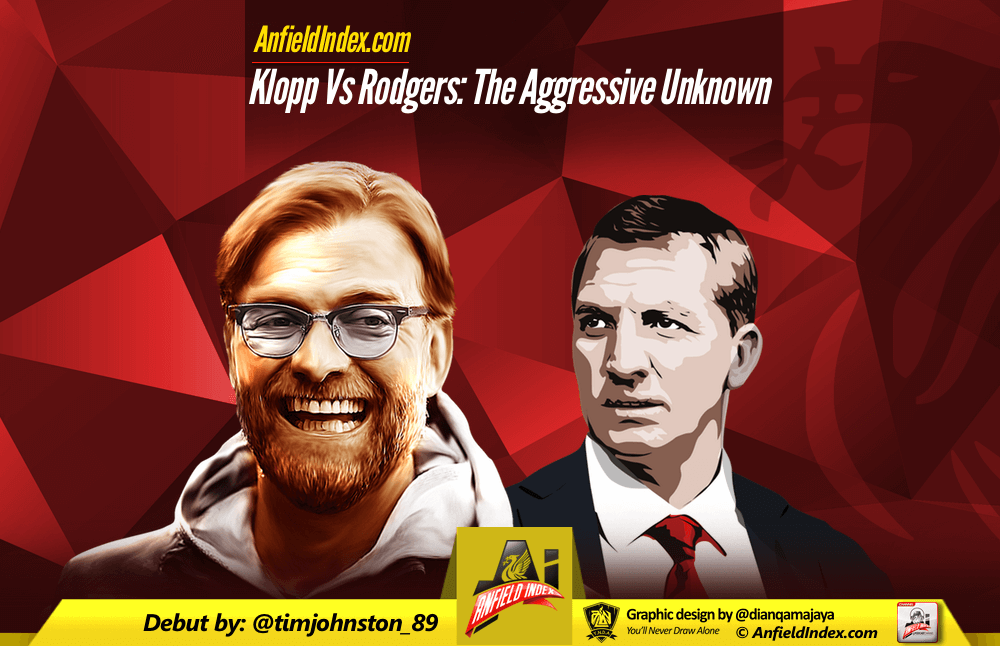 Klopp Vs Rodgers: The Aggressive Unknown

I'll start-off slow.
Over the last few decades there's been a sense that we should aim to repeat the past. We tried. And, in 2013/14, we came close: but this was never a realistic ambition.
The club placed itself under the self-inflicted tyranny of "the weight of the shirt" – a philosophy Brendan Rodgers was only too happy to reinforce to our players. "Don't forget who you're playing for", "it's an iconic club", "the shirt is heavy", and other seemingly harmless platitudes…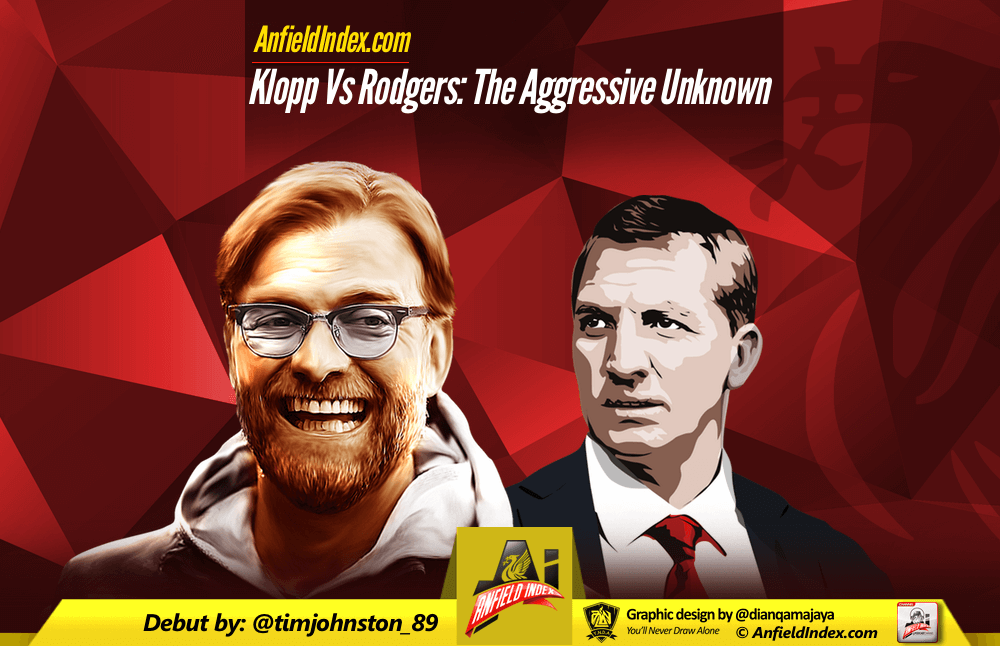 But these were not harmless.
Rodgers' emphasis on "character" and "mentality" were just words that emphasised his own lack of both.
As manager, Brendan always had to be the biggest character in the room because he lacked the humility to work with people of greater character than his own.
In his attempts to replicate the past – to re-enact a show that ended decades ago: this "weight of the shirt" was a weight the players simply couldn't bear. And how could they? This "extra 20 kilograms" which Klopp so aptly describes is a weight that's enough to buckle even the strongest of knees, let alone the jelly-legs of a Dejan Lovren or Adam Lallana.
For anyone looking for a major difference between Jurgen and Brendan, this one is key:
For Klopp, the shirt is an opportunity. For Rodgers, it was a burden.
We can discuss hipster beards, baseball caps, steins and sausages; but the fundamental appeal of Klopp is the finally radical departure from our past and into the aggressive unknown of Heavy Metal Football.
Heavy Metal Football doesn't care about the shirt. It cares about the player occupying the space within it.
There are some similarities, however, between Jurgen and Brendan. Excitement.
On the face of it, Klopp's appointment is a failure in itself. The hype surrounding this new chapter of his life is on a global scale – far beyond the appointment of Brendan Rodgers. But there were those of us – including me – who were as excited about Brendan three years ago as we are about Klopp today. How could either manager fulfil expectations?
The hype around Klopp has now built to astronomical levels. Should we lose our first game against Tottenham – the "new manager bounce" may quickly become a "new manager trounce" – and we could find ourselves on a losing streak which could take us to the New Year.
Our last two years at the Lane have seen 5-0 and 3-0 away victories, and many of us will be expecting similar results. As fans, it is our responsibility to alleviate this pressure, not add to it.
This – above all – is what we need to remember. This is not the past.
"They only want to see five years ago, 10 years ago, 20 years ago. History is great but it's only to remember. No, we have the possibility to write a new story if we want." – JK.
We have the opportunity to write a new story. For too long, we have all been trying to re-write someone else's.
Klopp's emphasis on the future, of moving away from the past but honouring it through present and future endeavour, is essential for all facets of the football club.
Rodgers was always so caught-up in "selling" his project that it was never allowed to sell itself.
Playing "the Liverpool Way", "controlling the ball", "dominating possession", is like returning to your favourite holiday destination; only, this time, it's always raining and no one wants to go any more. You don't believe this could still be the place where you made such great memories. And, what's more, no one else believes you either.
There was a constant, conscious comparison between the present experience and the past – and where Rodgers thought he was "harnessing" history, he was actually feeding the already-weighty back-pack of not just the players; but us as fans, too.
Time for a radical departure.
By becoming the "Normal One" – to willingly reject our very abnormal past – allows for breathing space. The players no longer feel like failures just because they're not Kenny Dalglish, Ian Rush, Alan Hansen or Bruce Grobelaar. They begin to feel like winners because of who they are, rather than who they're not. To win as themselves – not as weak impersonations of others.
By being the "Normal One," he has become our "Special One."
I, for one, cannot wait for the Violent Impatience of a Jurgen Klopp football team.
I cannot wait for a real football massacre. Not a long, slow, painful death which numbs the crowd – but a complete annihilation – a nuclear strike – against any team that dares walk down the tunnel to the place that's called "This Is Anfield."
I want gladiatorial mayhem with a mad Emre Can cutting people down in midfield. I want the cursing, blood-curdling scream of our Captain after he smashes the ball into the net from a back-breaking pass from David Blaine and the terror of a Firmino/Sturridge killing-spree.
I want 50-yard bullets from a blood-thirsty Mamadou Sakho and an Iron-Curtain-Mignolet smacking shots against the bar.
And I want to see there, on the touchline, the man behind it all – driving our fans to levels of clinical insanity in support of their team – screaming, jumping, leaping for joy as we execute wave, after wave of attack against an opposition paralysed by the roar of the Kop.
The next few years will be a lot of things… Normal will not be one of them.