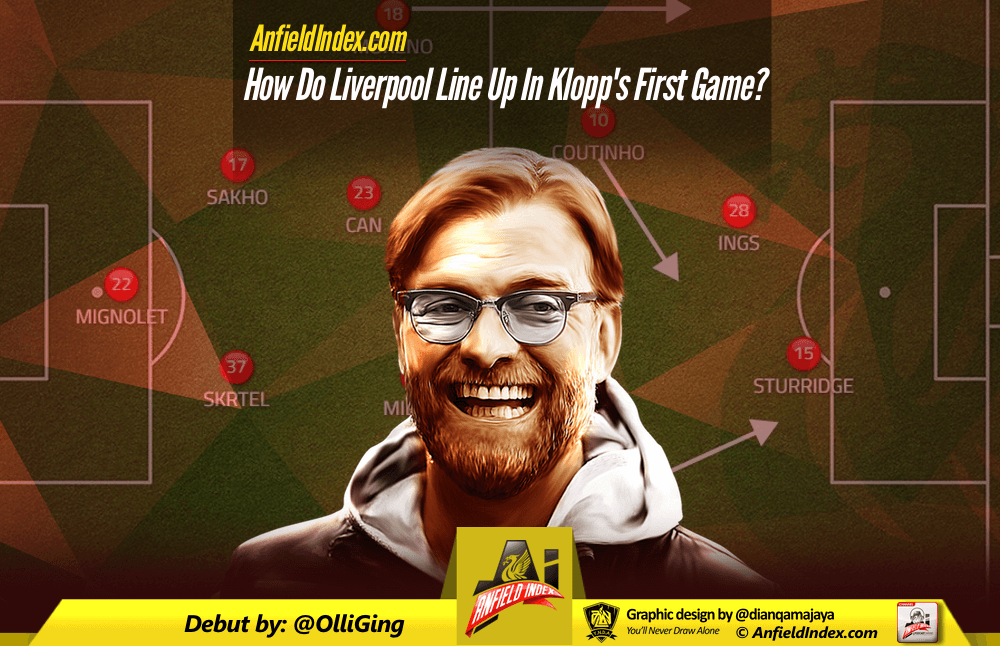 Ready to Rumble: How Do Liverpool Line Up In Klopp's First Game?

With the international break slowly drawing to a close, minds are beginning to revert back to domestic action, namely that of the Premier League.
For Liverpool fans, that means just one thing… it's almost Jürgen time. Yes, the new manager will take charge of his first game in just a matter of days, away to Tottenham Hotspur. But who will he select, and in what system will they line up?
It's always an uncertain period for squad members when a new manager takes over, as they have to prove themselves all over again, with the new manager having no favourites that he'll pick without much consideration to alternatives, something which Brendan Rodgers was criticised for.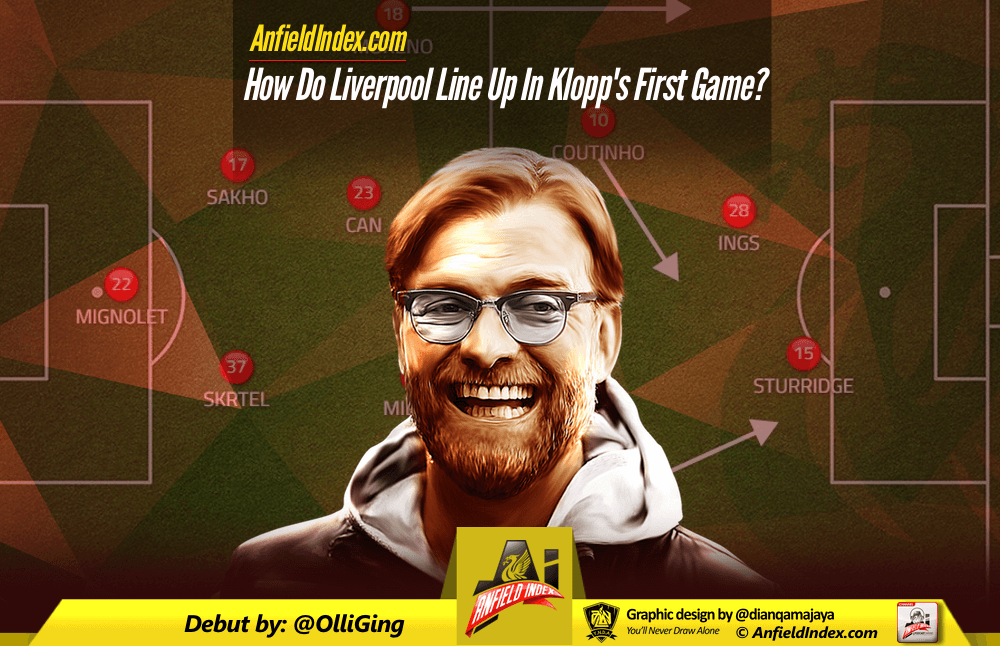 With that in mind, I did some digging on how Klopp changed things around for his first game in charge of Borussia Dortmund, all of seven years ago. Admittedly, Klopp had a whole summer to prepare his starting XI after replacing Thomas Doll, but it's still interesting to note what happened.
The 4-2 home loss to Wolfsburg that ended Doll's spell had the following line up: Hottecke, Worns, Rukavina, Dede, Tinga, Federico, Blaszczykowski, Kruska, Valdez, Frei. Klopp wasted no time in ringing the changes, making five in total by the time his Dortmund side lined up against Leverkusen on matchday one of the following season.
Players he brought into the team included no other than Mats Hummels, Neven Subotic and Roman Weidenfeller, all of whom would go on to be key players over the next few years in that famous all-conquering Dortmund team. This evidence points to Klopp not being afraid to shake things up for Spurs away, and there's sure to be huge amounts of predictions made before 11:45am on Saturday.
There are certain things that we already know, and a great deal of them will come as a disappointment to Klopp. Captain Jordan Henderson, a player that seems ideal to fit into Klopp's high octane Gegenpressing model, is still out injured. Joining him on the unavailable list is Christian Benteke, whilst doubt remains over the availability of Roberto Firmino.
Although the Brazilian failed to train on Monday morning due to the back problem that has kept him out of Brazil's fixtures in this international break, rumours do suggest that he might be back in the 18 man squad by the weekend. However, on the basis of probability, I'm not going to take him into consideration when looking at how Klopp might line up.
Starting in defence, everything seems to suggest that it'll be a back four. There's little to no evidence of Klopp ever using a three man defensive formation, and the chances of him wanting to move Emre Can into midfield make it an even less likely idea. Despite constant links to various goalkeepers throughout the last few days, we're over two months from a transfer window, so that back four will surely start in front of Simon Mignolet.
With Jon Flanagan still out injured and Joe Gomez seemingly done and dusted at left-back for the time being, Alberto Moreno's good form should see him retain that position. Just inside of Moreno should, and will, be Sakho. Because Jürgen Klopp knows a good defender when he sees one, and Sakho is by far Liverpool's best.
The question as to who partners Sakho is a slightly more complex one. Martin Skrtel has, rightly or wrongly, been the unchallenged pick at right centre back for a number of years, but not under Klopp. The German admitted that he'd only watched Liverpool's last three games, but assured fans that by Sunday he'll have seen 20. That gives him plenty of time to catch up on the impressive performances of Joe Gomez, who may make a dash for Skrtel's spot. And at right-back, It'll be Nathaniel Clyne, who's really making the early running for Liverpool's player of the season award. But that's for another day.
Moving into midfield is where it CAN get interesting. That wasn't all too subtle, but it gets my point across. Emre Can is raved about in Germany as one of the country's most talented young midfielder's, and it's under one of his countrymen where he could finally be able to get an extended run in his favoured position, central midfield.
Alongside Can, assuming Klopp sticks with the midfield pivot that he developed so well at Dortmund, could be one of James Milner, Joe Allen or Lucas Leiva. Ruling Lucas out on the basis that it doesn't take a genius to work out he gives away a ridiculous amount of free-kick's, and in Christian Eriksen Spurs have possibly the best set-piece taker in the league, it comes down to Allen and Milner.
Thinking logically, Milner is Liverpool's vice-captain. Klopp will be well aware of this, and might play things safe for the time being by keeping him in the team, alongside Can. Whether the boat is rocked when Henderson comes back, or either of Allen/Lucas impress Klopp, is up for debate in the future. Another box ticked by Milner is his ability to press the ball, with his stamina and work-rate suiting his new manager well.
Moving into the front four, the big question is how Klopp sets up. Will he go for three attacking midfielder's behind one striker as he did at Dortmund, or keep faith in the ever blossoming partnership between Sturridge and Ings? There might just be a way for him to do both.
Much is made of formations, but essentially it's just a rough idea of how a team will be averagely set up over the course of the game. In reality, it's much different, with players' positions changing in different transitions of play, most notably when the team is with or without the ball.
Klopp looks to employ Gegenpressing to the full, and although the Reds might not be quite fit enough to implement it's ideas fully at the moment, he'll surely demand that his players look to squeeze Tottenham when they've got the ball. After all, it's a similar style which has seen Liverpool take full points from their last two visits to White Hart Lane, winning 3-0 and 5-0 respectively.
Going off this idea, it's not unlikely that he'll look to use his favoured 4-2-3-1 system when Spurs have the ball, and a box midfield 4-2-2-2 formation when the Reds are in possession. Assuming that Sturridge, Ings and Coutinho are all starters, that leaves one place remaining.
I'm leaning towards thinking that Jordon Ibe will take up that final place, as he's the only out and out winger in Liverpool's current squad, due to Lazar Markovic being out on loan. Klopp likes playing with at least one winger in his team, if not an inside forward, which Firmino may be perfect for in the long run.
Starting Ibe on the right and Coutinho in the middle, when Liverpool are defending, leaves Ings as the left winger. He's played that position a couple of times for the Reds this season and hasn't looked convincing, but I'm keen to stress that he'd only be out there when defending. As soon as the visitors get the ball back, he needs to be darting inside to support Sturridge, and hopefully continuing his recent goalscoring form.
Until Saturday morning it's all up for debate, but one thing is for sure – It's going to be exciting to find out.
Liverpool when in possession of the ball
Liverpool when they're not in possession.