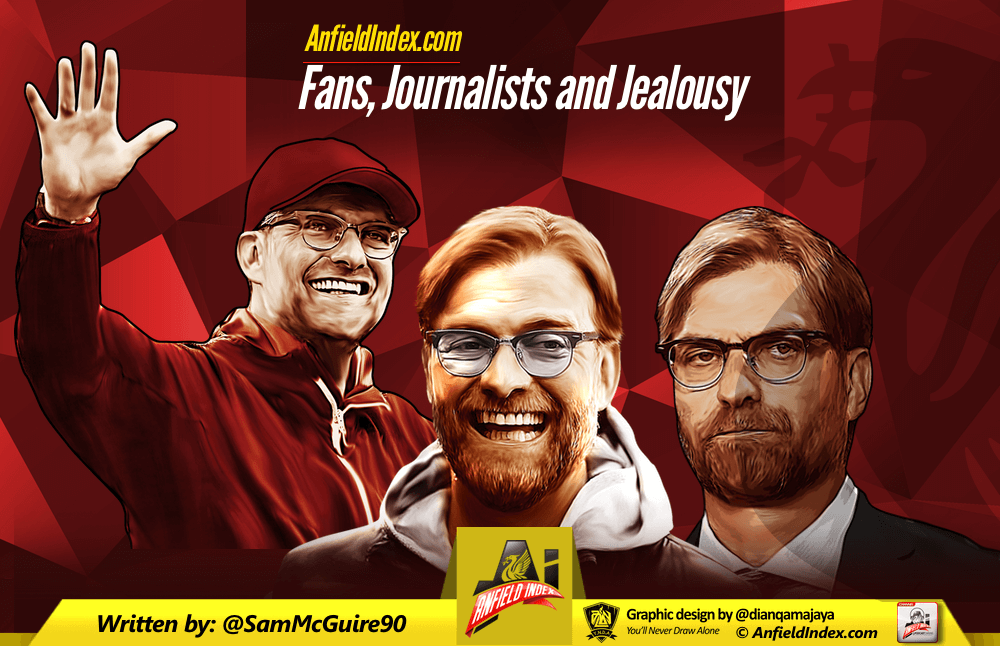 Fans, Journalists and Jealousy
There's an ever increasing trend for sports journalists to ridicule fans that have broadened their horizons and taken an interest in leagues other than the Premier League. There's no clear reason for this, maybe they're annoyed that their articles filled with inaccuracies are getting called out by fans these days. It's hard to pull the wool over the eyes of fans when matches from all over the world are literally a click away these days. It has an impact on their reputation which in turn has an impact on their views and their livelihood.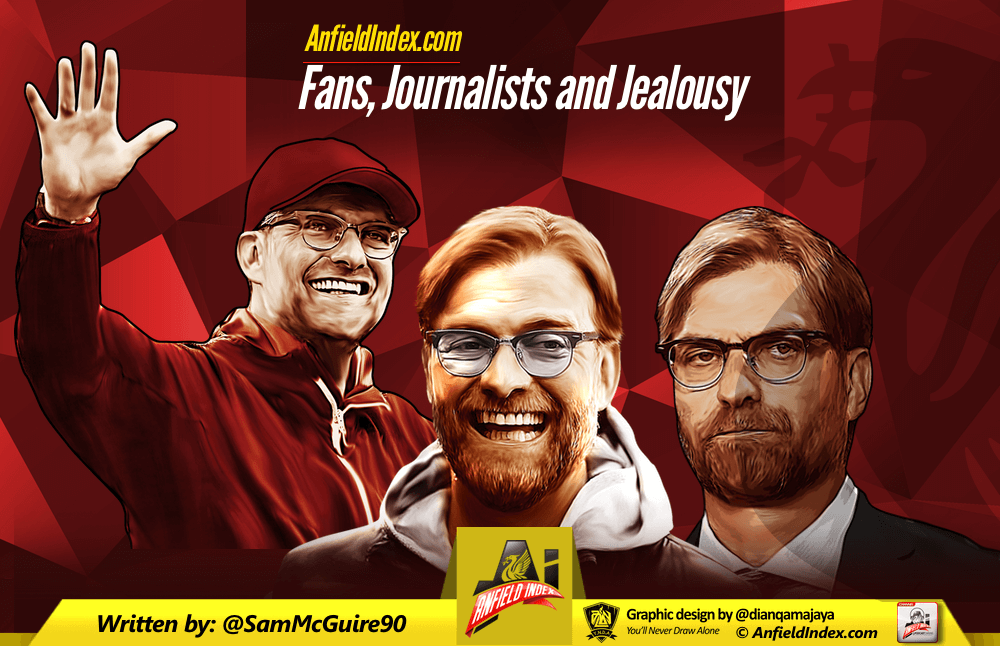 In the past few weeks I've seen Barney Ronay come out with some memorable tweets.
"Had no idea the world contained so many PhD level Jurgen Klopp experts. Heartening."
Bizarre isn't it. Fans knowing about Jurgen Klopp. Some random German manager. Oh shit, wait a minute. This is a manager that's won the Bundesliga twice and got to the Champions League Final. This isn't a nomadic manager with a CV that's comparable to Tim Sherwood. Whilst we're on the topic of Tim Sherwood, you didn't see any parts of the media chastising Villa fans for hazarding a guess at how Sherwood would have their team playing did you?
The English manager with six months previous experience as opposed to Jurgen Klopp who had seven years at Dortmund. When talking about styles and tactics who are fans most likely to know about?
It's as though Barney thinks leagues other than the Premier League are inferior and not worth your time. I responded to his tweet saying it's laughable that he's treating the Bundesliga like some obscure league, it's accessible these days on BT Sports and even ITV 2. His response was yet again ignorant.
"I forgot watching something on the tele makes all the difference."
Does anybody have an email address for the many TV and Movie critics in the UK? I need to inform them their opinions aren't valid because they watched it on some sort of screen.  Whilst I'm at it I should probably let the likes of Gary Lineker and co know their analysis on football is worthless because yet again, they watched it on the tele. That's if we're using the idea that Barney is right and you need to watch everything live. I'm sure our friend Barney wouldn't be a hypocrite and write something on somebody he hasn't constantly watched live, right? We'll just overlook his article about Anthony Martial a few weeks back shall we?
It strikes me as a scene from the movie Moneyball when the scouts say they have the knowledge and football isn't run by stats.
Then a comment from a certain journalist surprised me. The journalist in question works on BT Sports' European Football Show. You know a show that shows Bundesliga, Ligue 1 and Serie A. Rory Smith.
"It's a wonder they (Liverpool fans) manage to fit that in as well as watching Hoffenheim week-in, week-out. Impressive."
To add some context to this smug comment he's replying to the Barney comment about people having a PhD on Jurgen Klopp. This of course was having a sly dig at those people who knew about Roberto Firmino before he joined Liverpool. I mean imagine knowing about a Brazilian International who played in the Copa America? It's not like the European football show that he works on showed highlights of the Hoffenheim games weekly is it? Or the show having a resident BuLi expert on their panel. This is a player known to the masses and he's there acting like it's a Youri Tielemans-type player. You genuinely have to go out of your way to watch Anderlecht matches. The same can't be said for any Bundesliga match so let's not kid ourselves and don't try to take people for a mug.
The irony in all this of course the fact their fellow journalists are there posting articles full of shit and highlighting the fact they don't watch these leagues. This week alone you had Neil Ashton make out Mike Edwards, the Liverpool Head of Performance and Analysis, was an absolute monster for having an air-conditioned office and being able to click a few buttons and tell you the left-back in Europe with the most assists. Once again, they're making out finding this information is an epic task when in reality you can go onto whoscored.com and find that information out in a few clicks.
Then we had Bruce Archer of The Express look at players Liverpool may look at from Dortmund in the wake of the Jurgen Klopp appointment. Now many articles this week have linked Nevan Subotic with a move to Liverpool, no issue there. Well, he's not the greatest defender and he's had a few injuries but that aside at best the link is lazy journalism. What makes Bruce stand out is the fact he says "Martin Skrtel is the stand out Liverpool centre-back" and follows this up by saying "(Subotic) The 26 year old, at 6ft 3, could steady the Anfield backline and offer a quality partner for (Martin) Skrtel."
Yes that's right, Nevan Subotic the right sided centre-back could be a quality partner for Martin Skrtel, the right sided centre-back.  Hmm, we have a predicament here don't we? Two right sided centre-backs expected to partner one another whilst Mamadou Sakho sits on the bench playing thumb wars with Dejan Lovren.
Any football fan can tell you what side a centre-back plays and yet here we have a paid journalist making the most basic of errors. Yet the journalists like to imply it's we fans that tell fibs about our knowledge of players.
It's all offensive to those people that do watch different leagues and do take an interest in different players. Anfield Index has a podcast called The Committee in which guests come on and talk about players they'd like to see at Liverpool and reasons why. They have a realistic budget so you can't say the likes of Marco Reus and it gives fans an opinion on players they may not know much on. Obviously if a journalist heard the premise of this podcast they'd assume it was fans using Google and Wikipedia, but it's not. The players mentioned on the pod so far: William Carvalho, Ruben Neves, Kevin Volland, Baba Rahman, Heung Min Son and Roberto Firmino. Three of these players are now playing in the Premier League and Ruben Neves is expected to join Liverpool in the summer. These lads know their stuff and it's embarrassing that journalists want to dismiss fans with such knowledge and passion.
I've seen some say fans use Fifa and Football Manager as a base for their opinions. That may be true but these games are made by people involved in sport. I know Football Manager researchers and they have to watch training sessions of clubs and matches to formulate the stats given to these players. If a person in that position rates a player then why can't you? Why can't you use this information and download matches to watch?
Is it not time journalists start matching these fans in terms of player knowledge? It's their job and if they're writing about players they should be accurate with what they're putting out. It would educate fans in general.