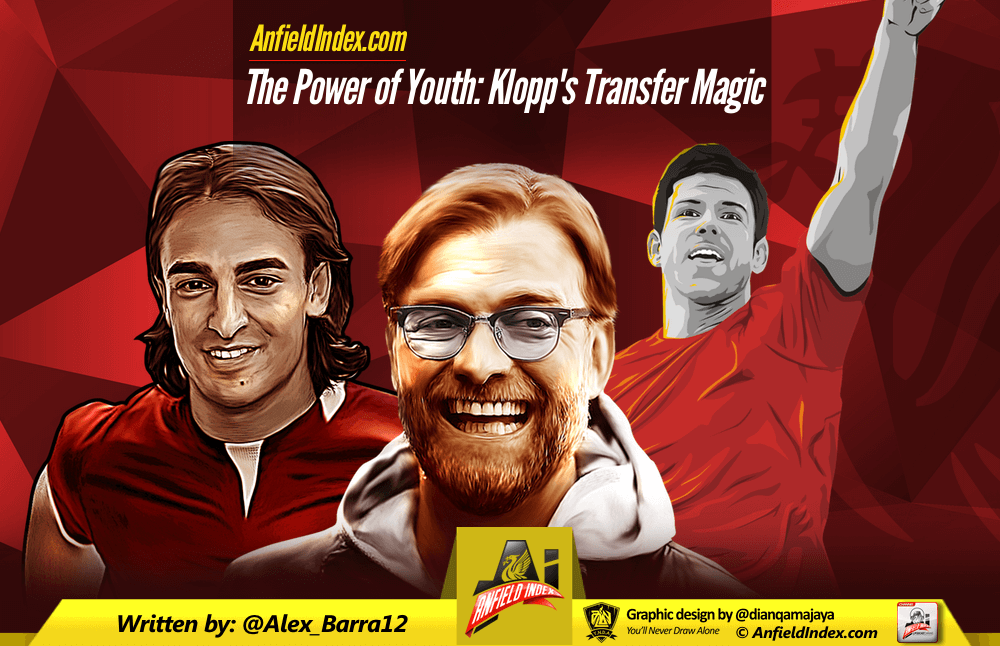 The Power of Youth: Klopp's Transfer Magic
With a clamour and a beaming grin, most Liverpool supporters now have a horizon to look to. Where the dark shroud engulfed the fields of Anfield Road, a descent into limbo embodied by a broken regime, the inverse has now created a sense of real optimism about Liverpool Football Club, for what seems like the first time in a long time.
In reality, it was a mere two years ago that a revolution was seemingly tearing through Anfield; its leader now deposed. But following the eventual disappointment of the 2013/14 season, every Liverpool supporter in the world was clamouring, just as they were now, to the broadened horizons. They wanted a future, something to hold onto, something to get excited about. The furore was halted by the departure of the Uruguayan footballing genius, and perhaps that curtailed things. But one thing was for certain: Liverpool looked to the future, and they saw the possibility for something wonderful.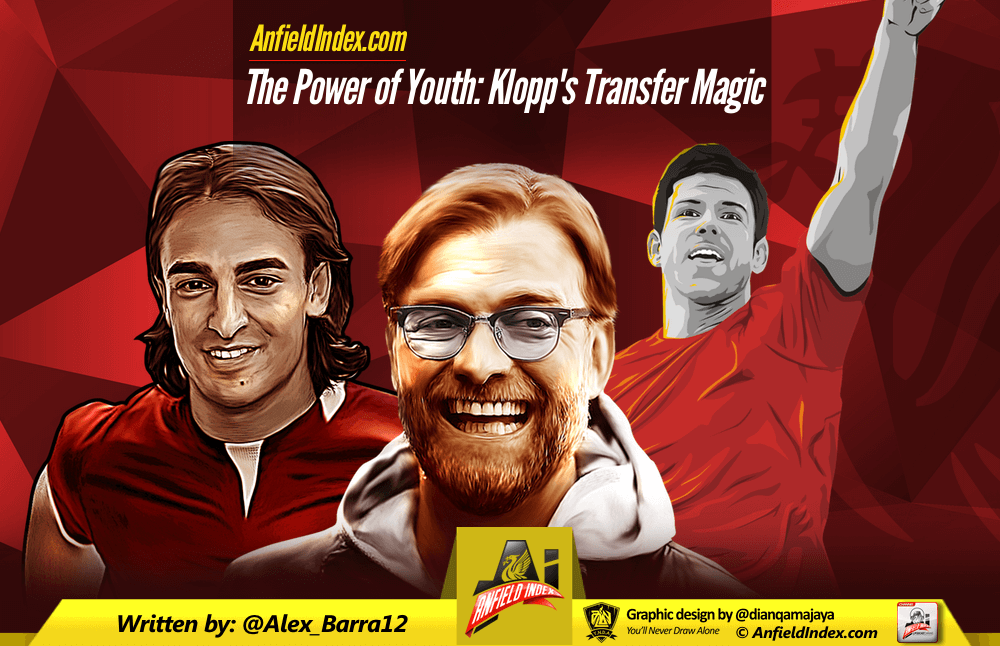 Now, we find ourselves in a very similar position. The dark cloud hanging above Anfield has been dispelled in a mere seven days; replaced by an aura of overwhelming excitement. The man responsible is one of the most enigmatic, charismatic and brilliant people to grace world football in this current moment, and it's his plans for the future that hold Liverpool in good stead. Jurgen Klopp has the ambition to create something special, steadily and surely. A philosophy to build players, to craft confidences and develop deities. Luis Suarez was our deity once, mystifying and phenomenal and magical. Now, the superstar player has been replaced by a superstar manager, and what do the two have in common?
They can both create something special out of nothing.
Jurgen Klopp arrived at the Westfalonstadion during a dry spell for the club. The lack of silverware caused frustration, and in turn meant the funds needed to compete with colossuses Bayern Munich were lacking. So what did they do? They assembled a team of phenomenal minds; ones who could identify potential and then nurture that very potential into something special. They had statisticians, they had scouts, they had superb negotiators in Michael Zorc and Hans-Joachim Watzke, they had a tremendous man manager and they had calculated gambles. They took their chances, not wanting – or needing – to compete with the financial might of Munich and Wolfsburg, but carved their own path.
The aforementioned Mario Gotze was instrumental to Klopp's Dortmund side. As was Marcel Schmelzer, the seemingly average left full back that was turned into a machine of sheer energy and determination. As was the discarded, error-prone centre back Mats Hummels, rejected from rivals Munich turned into a world class, intelligent central rock. As was the young, upstart central midfielder named Ilkay Gundogan who cost a mere £5.5 million form FC Nurenburg. And the £500k Japanese attacking midfielder who'd been rejected by numerous Bundesliga sides previously in Shinji Kagawa. And that's not to mention the incredible centre forward currently taking the world by storm (again) at rivals Bayern Munich: Robert Lewandowski. He cost £4.5 million from Lech Poznan in 2010, contributing 103 goals in 186 appearances for Dortmund.
Now, FSG haven't demonstrated a knack at spotting hidden gems, but why would they? They haven't had the team, nor the chances, to demonstrate they're capable of it. What they have done it stamp a precedent; one of purchasing young, talented players with outstanding potential. What the equation was missing was the man to unlock that potential, the man to bring out the "world class" in "world-class potential."
"The best players in the world are already around, you can see them. What I enjoy more is trying to identify the best players of tomorrow, who has the capacity to improve himself most, to take a young player from a small club in Poland and see what he can turn into."
The new Liverpool manager, Jurgen Klopp (those words still haven't quite sunk in yet), told the writing press that in an un-televised press conference the day after his scintillating appointment was announced to the world. No doubt somewhere in Bavaria Robert Lewandowski would be offering a slight smile at the mention of his immense rise to fame under Liverpool's new blonde bombshell, but it's a lesson that Liverpool can take to heart. Jurgen Klopp is a match made in heaven for Liverpool, in more ways than one.
Of course, as Jurgen mentioned, the affability of a city so intensely weaved into football was the greatest attachment. But to FSG, a high profile manager who could very possibly take the Premier League by storm is only part of the equation: the transfer issue which encumbered Brendan Rodgers' time at Liverpool is now a seeming non-entity. So much has been written about the Transfer Committee as it stands; despite the fact that the notion of a "transfer committee" is not only the most common practice on the European continent, but is also a must for any club which aspires to any relative form of success. To have one man making all the decisions when diving into the transfer market is a stupid and dangerous situation; yet it was one that Brendan Rodgers seemed to embrace. The fanbase was constantly subjected to "Rodgers signings"; most usually players that he'd worked with. The Ashley Williams vs. Mamadou Sakho debate; one which could only really have one winner amongst those blessed with the gift of sight, is wholly representative of the debacle that Liverpool's transfer windows became.
For every Phil Coutinho there was an Adam Lallana. For every Daniel Sturridge there was a Rickie Lambert, for every Alberto Moreno there was THE Dejan Lovren catastrophe.
And yet, ten seconds. That's all it took for Jurgen Klopp and FSG to discuss the situation regarding transfers, the committee, and the final say. Why? Because their ambitions and methodology are the same. And cooperation breeds cohesion. Cohesion, coupled with savviness, breeds the kind of signings that made Jurgen Klopp famous.
"When I am managing a club I think each young player should smile, because the door is wide open for him."
How would you feel, as Lazar Markovic, or Tiago Ilori, or Alberto Moreno, knowing that you were now working under a manager who would embrace you, nurture you and develop you into the very best you could be? A manager who prides himself on working with potential talent, releasing it onto the world with a fervent ferocity.
Suddenly, the horizon is visible. Suddenly, the future looks bright, before Liverpool even steps into the market the first time, they can be confident in one strategy, one effective style of working, one manager who is able to bring forward the rewards. It won't be perfect – nobody's saying that; but no longer will the fractious relationship exist behind the scenes. Klopp can be presented will the information he needs regarding an exciting prospect; whether it be Ruben Neves, Domenico Berardi, Mauro Icardi or Youri Tielemans, and make an informed and thoughtful decision regarding the pursuit.
This is the bracket FSG works within; this is the bracket Jurgen Klopp works within. The pursuit of exciting young talents, possibly tossed away by another club, possibly on the cusp of exploding onto the scene, possibly showing glimpses of their talent at a young age. With Klopp at the helm, these players, and these fans, can be confident of being part of a team that is young, vibrant, and exciting. The golden horizon.
Oh and sign Reus.