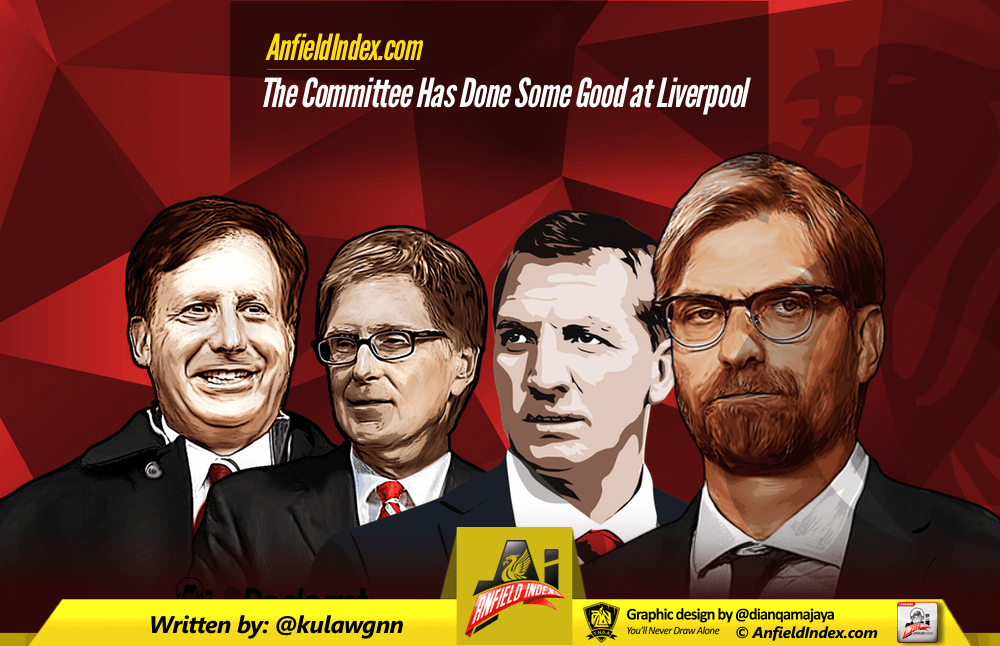 The Committee Has Done Some Good at Liverpool
For the sympathisers of Rodgers in the media Liverpool's problems owed more to the much vilified transfer committee than the Northern Irishman. It is the mitigating factor in Rodgers' performance at Liverpool and it is spread as a blanket over his own failings. Rather than facilitate the work of a promising young British manager, the transfer committee shackled the Brendan Rodgers, his supporters argue. That does not stand the truth test. The "defence team" have repetitively demonized the structure and painted it as Neanderthal practice that is ineffective and counters best practices in European soccer. It is almost made out as if the committee system is an invention cooked up by Henry, Werner and Gordon in Boston's wee hours. That also cannot be further from the truth. They suggested that the committee system was going to be a stumbling block in getting in a top manager. We have Klopp and the committee stays. So that is obviously false too.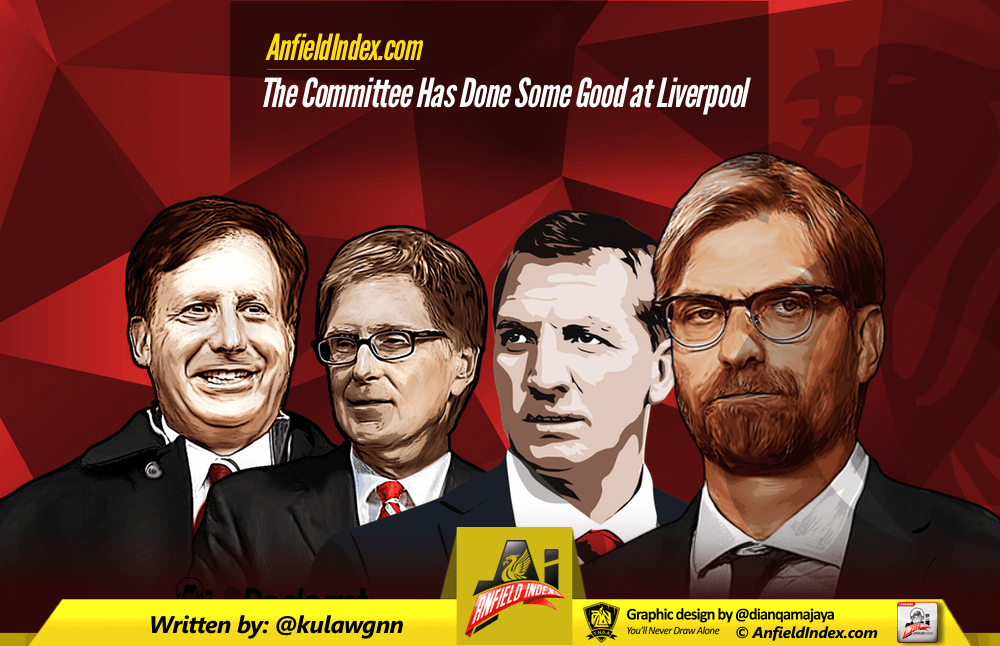 The system of having scouts, managers and football directors deliberating on player recruitment is common place in Europe. Even in England where journalists are feigning shock at the practice, managers work in collaboration with a team of scouts and other experts on player recruitment. For Liverpool, the structure is hardly the problem. The modus operandi is perhaps the problem: the reported over reliance on stats and bringing in players against the manager's will. It is the latter that seems to give a shot in the arm of those pleading Rodgers' case. They argue that it is not proper that Moreno is bought when the manager prefers Ryan Bertrand and Sakho is signed instead of the manager's preferred Ashley Williams. Confusing as this may sound this "weakness" of Liverpool's committee may have saved the club from losing out on some good talents and prevented bringing in even more low quality talents.

It is clear from Klopp that no player is going to come to Liverpool without his consent. As he said he has the first and final word and that crucial concession by the owners is a reform of some sort of the system. In an ideal world, no player should come to the club if the manager does not approve of his signing. But the situation under Rodgers was far from ideal given his controversial appreciation of talents. In such a situation the committee signing some players against his will does not sound too bad. It is even better when players in that category are Sturridge, Sakho, Firmino etc. It has been suggested this week that the fiasco with the Dempsey/Sturridge deal in August 2012 was the motivation for the committee set up. Despite all the shortcomings of the committee, they have prevented a number of situations that would give up another "Sturridge" for a "Dempsey".
Rodgers' reputation as a promising young British manager has been forged on his coaching ability and the ability to grow young players into stars. Spotting talent is not mentioned as one of his biggest attributes even by those who rate his talent.
"For me it's enough that I have the first and last word, and in the middle we can discuss about everything. It won't take a long time because we only want to discuss about very good players. Its discussing on the very highest level, I hope. I'm not a genius, I don't know more than the rest of the world, I need the other people to get the perfect information and when we get this we will sign with a player or sell a player. But it's really easy to handle this."
Klopp in saying the above at his maiden press conference recognised the collective approach that is needed in identifying, scouting and recruiting players. According to him, there is not a problem when two intelligent guys sit to discuss a player. It can only be good for the club, he says. This is approach is even more important when a manager's strength is more coaching than spotting talent and has little experience dealing with the talent requirements of a top club. The list of players Rodgers rated against the one he didn't make one wonder whether Klopp would have been glowing about the playing body he is meeting if Rodgers had his way: Williams over Sakho, Dempsey over Sturridge. Markovic was not rated, so was Moreno. Lovren, Borini and Lallana were rather rated. Coutinho was a player the committee brought in. There was clearly a lack of appreciation of what a top talent was and in that regard some of the interventions by the committee saved the club. Two instances typified this problem. Rodgers signed Borini hailing him as a player the Kop will love, yet even he found it hard to love him. He signed Lovren declaring him as the leader of the defence yet 12 months after he had to be assured of a place in the team to psychologically fire him up to improve his performance. This is no way saying the "committee signings" were all better or successful. They have been a number of flops: Aspas, Alberto among others. But in the midst of their flops are key successes. The same cannot be said of the ones Rodgers brought them in. Even if some of the committee signings are yet to set the world ablaze, they have at the minimum proven to be better than the alternatives Rodgers wanted.
Rodgers' avowed aim in coaching is to prove that the British can also play football.
"…But I went into football initially to try and make a difference to the British players, who were told they were not technically good enough or couldn't pass. I've thought for years and years that British players are technically as good as their European counterparts." Rodgers said in 2013.
It is not surprising therefore that most of the players he brought in or those he preferred were either British or Premier League players. That orientation may sit well with fans of a Championship team or League One club. But for a club Rodgers once called a "super power" in world football, to limit preference for players to British or Premier League players was just unacceptable. A pool of talent that is bigger and arguably better exists beyond the shores of Britain. It is a pool even smaller premier league teams are tapping into with great results. So why should LFC be limited to British and Premier League players as was Rodgers' preference? Given Rodgers orientation LFC may not have had Coutinho, Firmino, Sakho, Moreno etc; players who are likely good to form a good nucleus for Klopp. It is Rodgers' dilemma between being dogmatic and constantly altering things as was so often seen in his tactics that perhaps did not permit him to abandon himself to the wider talent pool instead of insisting on British and Premier League proven. If he had focused on coaching the talents he had gotten he would perhaps have gotten more out of Markovic, Moreno etc. which would have enhanced his own credentials.
They have endured a lot of vilification and are certainly not a flawless set-up. But the transfer committee of Liverpool has been responsible for more good than given credit for. Situated in the context of having their way against that of an inexperienced manager, it will not be far-fetched to conclude that they have been a force of some good. A line up of committee signings (and targets that did not sign) against the equivalent for Rodgers clearly tips the scale in favour of the committee.
Committee Team: Manquillo, Moreno, Ilori, Sakho, Can, Coutinho, Firmino, Markovic, Sturridge, Origi
Rodgers Team: Clyne, Lovren,Bertrand, Williams, Milner, Lallana, Ings, Benteke, Borini, Lambert