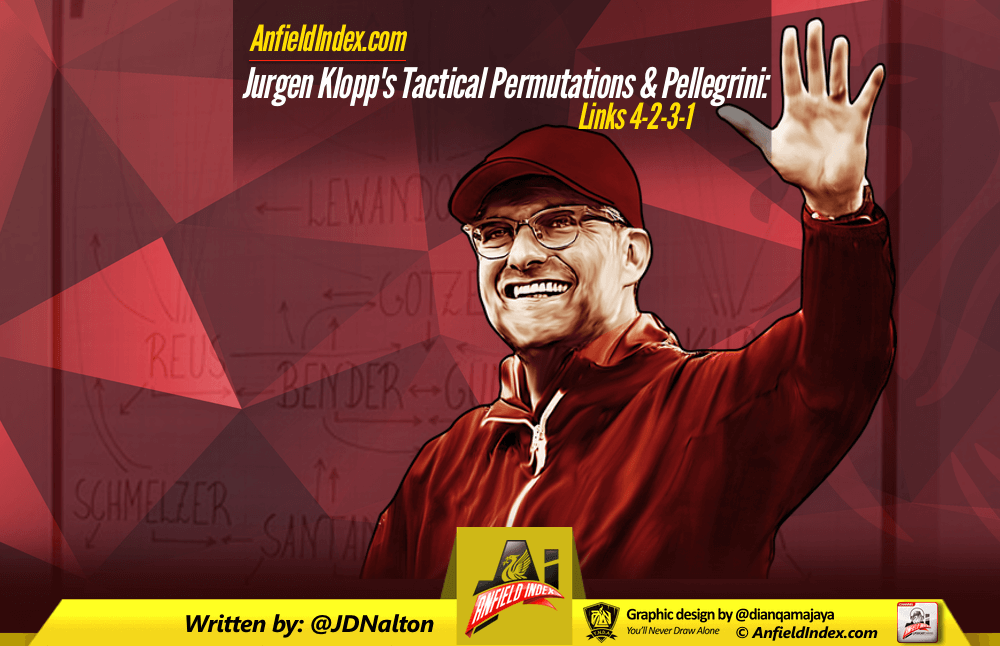 Jurgen Klopp's Tactical Permutations & Pellegrini: Links 4-2-3-1
Back in 2013, Jürgen Klopp's Borussia Dortmund made it all the way to the Champions League final at Wembley. For many this was the season which defined him.
The increased visibility offered by their impressive run in the world's most coveted football competition, made people sit up and take note of the man, his team, and his tactics.
Prior to this, the German coach had won consecutive Bundesliga titles in 2011 and 2012, and also picked up the German Cup to complete the double in the latter of these two seasons.

Dortmund fans may also cherish his rescue act at the beginning of his tenure as much they do the success which came later, as these early seasons saw the manager's philosophy and ethics become instilled in the club, its players, and its fans.
Despite utilising numerous formations during his time at Dortmund, it was the 4-2-3-1 system used during that defining Champions League run which became attached to Klopp.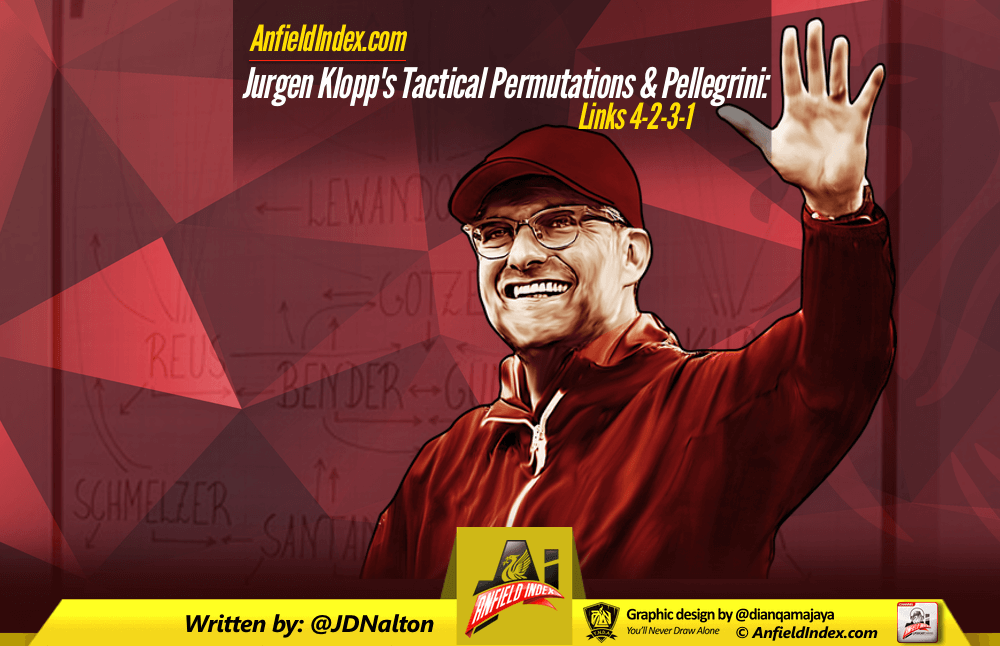 Prior to their last-16 second-leg tie against Malaga, journalist Mohamed Moallim managed to capture an image of Dortmund's tactics board.
It showed the basic formation, as well as indicating where the players will move to in this 4-2-3-1 / 4-4-1-1 system, and where they will look to play the ball.
The average positions from this game show that the set-up was indeed a 4-2-3-1. Bender dropped between the centre backs, Gündoğan operated just ahead of him, and  the full-backs overlapped:
This all seems to point to a plain and simple 4-2-3-1, but in Klopp's transition game, or "umschaltspiel" as he described it in his native tongue, there are several permutations.
When waiting to pounce, the side can be arranged in the 4-4-1-1, and once they reach peak press, it becomes closer to a 4-2-4 or even a 2-4-4 with full-backs pushing up alongside the midfield two.
Umschaltspiel is all about turning defence into attack, and when coupled with the more familiar term, "gegenpressing", a picture emerges of a team playing with intensity, alertness, and nous, as players working as a unit look to influence games in key moments of transition.
In terms of shape, Liverpool under Klopp might look similar to this season's version of Manuel Pellegrini's Manchester City. This is only theoretical as it isn't known which players the new manager will prefer, but the 4-2-3-1 / 4-2-4 used by the Chilean this season has echoes of a Klopp side, even if they don't execute a counter-pressing game with the same vigour.
"In football, all the world-class teams play possession football, that's cool. I like to watch this; Bayern Munich, great team, great club; Barcelona, yes; Real Madrid; maybe on some days, Manchester City. But nobody starts as a ball possession team."
The use of right-wingers who are quick, if not as technically gifted as their team-mates, saw the likes of Jesus Navas at City, and Jakub Blaszczykowski at Dortmund, become key players when it comes to setting the shape and allowing space for others inside them.
At Liverpool, Jordon Ibe could thrive in this position if he regains the confidence he lost at the end of Brendan Rodgers' time at the club. It could also be the role which gets the best from James Milner, and he was often used as an alternative to Navas on the right during his time at The Etihad. Similarly, Danny Ings could provide a hard-working goalscoring threat from the right if someone else leads the line.
Forward pairings Mario Götze and Robert Lewandowski, and David Silva and Sergio Agüero, could be replicated by using Roberto Firmino and any one of Liverpool's current forwards.
Firmino playing behind a striker with the intention of joining him in the forward line could lead to something similar to the Suarez – Sturridge combination which almost took Liverpool to the title in 2014. In his press conference Klopp spoke of the "four and a half/five strikers" on Liverpool's books, and it's a good bet that the "half" striker he was referring to was Firmino.
Pressing from the front will be important, and while Daniel Sturridge might not be the most intense presser in the world, his intelligent blocking of passing lanes, and his awareness of where to be when one of his team-mates wins the ball, means he could be the outlet for the quick pass forward. These passes could arrive from Philippe Coutinho who, positioned slightly to the left, could take up a role similar to the one Dortmund assigned to Marco Reus; a wide creator who can cut in, drop deep, or join the attack as he sees fit.
The pairing of Coutinho and Firmino could be an important part of Klopp's Liverpool, and they could even swap positions at regular intervals.
In his first press conference the German commented that he was attracted to the club as much by the quality of the squad, as he was by the allure of a club he seems to fit perfectly. The Brazilian duo are likely to be a major part of this line of thinking.
The midfield positions occupied by Sven Bender and İlkay Gündoğan could be filled by Henderson and Can respectively, while Nathaniel Clyne and Alberto Moreno pick themselves in the full-back positions, as does Mamadou Sakho at left centre-back.
Two positions where Klopp could seek new players are goalkeeper and centre-back, but in Joe Gomez and Tiago Ilori the club might already have replacements for Martin Skrtel and Dejan Lovren.
When it comes to some of the other squad players, Jordan Rossiter and Joe Allen could get opportunities in midfield. Rossiter has looked good in a double pivot alongside Pedro Chirivella at youth level, and Allen can press as well as recycle the ball quickly when the side have possession.
"It's emotion, speed. It's a transition game so you will see this. All the things that make football interesting I want to see. We have to make points and win games. I don't want to promise a style of football."
Klopp also spoke in his press conference of the importance of speed, which immediately brought to mind Lazar Markovic who's currently out on loan at Fenerbahçe. The Serbian could be used in any of the four forward positions previously mentioned, and could even be a slightly rawer version of Henrikh Mkhitaryan, making incisive runs into the opposition box from attacking midfield positions.
As mentioned earlier, these variations on the 4-2-3-1 are the most common formations associated with Klopp as they were used during his successful Champions League season, but he has used numerous set-ups during his time as a head coach. There's no doubt that he and his assistant, Željko Buvač, will look at how to best use the players at their disposal in order to implement their overall philosophy.
When he commented that "the first thing, always, maybe in life, you need to have a stable defence," Klopp suggested that he might begin with a more reserved back four, particularly when it comes to the full-backs.
Add in a defensive midfielder, and you get a back five which gives the others in front of them a bit more freedom to go and attack. The formation shown below shows how a 4-1-3-2 formation could offer a stable defence, accommodate Markovic in a Mkhitaryan role, and allow the use of two strikers.
"If it's possible, can we be the hardest team to beat in the world? Let's try to be this. If you are this, it's not that far away to be a team who can win games."
Whether it's a 4-2-3-1, diamond midfield, box midfield, 4-5-1, or something else entirely, the general approach is likely to be the same regardless of the numbers used to describe the formation.
The best summary of the approach could be this description of Borussia Dortmund taken from the club's website.
It describes the club and what it stands for, and much of this was instilled – or re-instilled – by Klopp.
"Borussia Dortmund stands for intensity, authenticity, cohesion and ambition. There's an intense character to everything we do.

Our stadium is the epicentre. This is where all of BVB's energy is released. We enjoy a special place in the hearts of all our fans: their unconditional loyalty has carried us through the good times and the bad for more than 100 years.

We are determined to give them something back. Be it through sporting success, or through our promise to remain true to our traditional ethos and be as we've always been: sincere, candid, battling and grounded in the values of Dortmund – the city and its people."