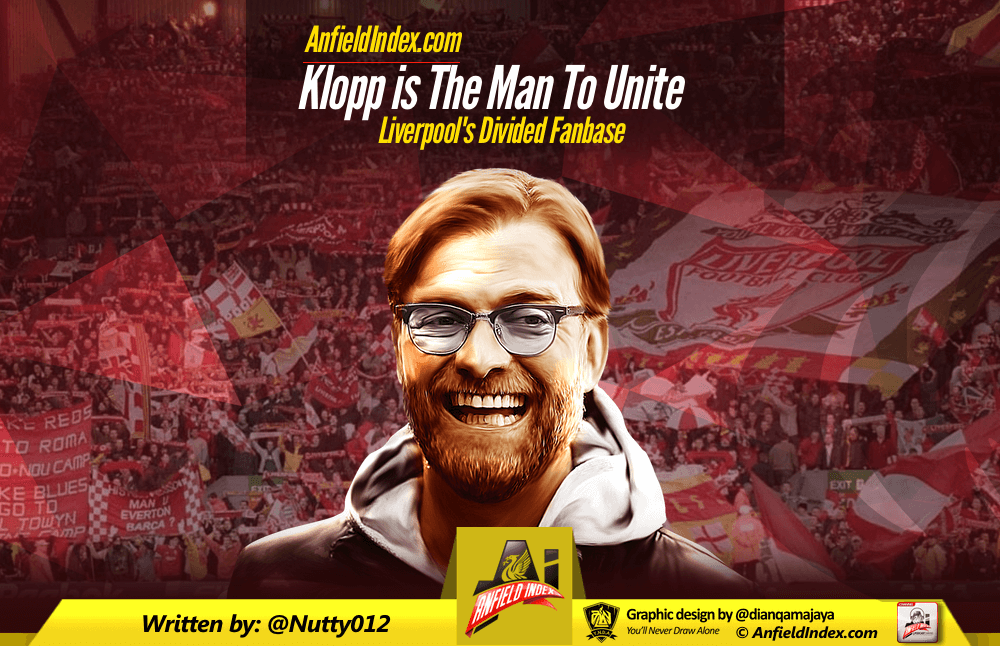 Klopp is The Man To Unite Liverpool's Divided Fanbase
During my 21 years on the planet, the Liverpool fanbase has always been a divergent lot. Chasms of opinion have existed over matters both trivial and sincere. In the age of Football Twitter the various factions of Liverpool support have become increasingly clear and ghettoised, united and divided by opinions on various issues of support, players, managers, or ownership. However, these divisions did not always exist, and I believe they have only manifested from an era of unsuccessful football. And, for the first time in my life, I believe that under Jurgen Klopp the divided Liverpool fan-base can find a unity that it has not had in decades.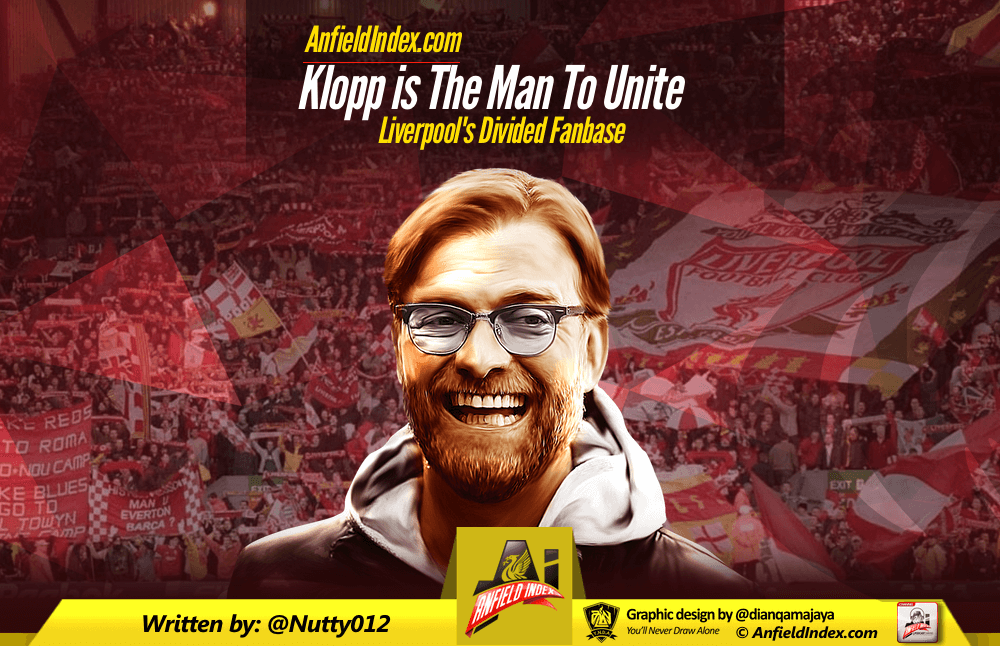 As a young fan, one natural divide has always ben between the generations. On the one hand, a growing minority of young fans like myself have never lived through an era of Liverpool success. We have been raised on stories of players like Dalglish, Rush and Keegan, and on managers like Shankly, Fagan, and Paisley. We know that Liverpool used to be the best team in the land, we understand how good the football must once have been, but we did not live through it, we did not experience it like those telling the stories.

The club has not had the success it would have wanted in my lifetime, and it is rather cringe-worthy how we cling on to the history sometimes, how we hear every new Liverpool player answer in their first LFCTV interview a question about our successes when they were a mere child. We want to live in the moment and actual feel the success ourselves, not be regaled with stories from the past. Sometimes it feels like this history has made the club far more complacent about success than it has any right to be, and perhaps the older generations have some responsibility in this.
Having said that, the younger cohort of fans must be equally frustrating too. Older fans look at the likes of Rodgers, Hodgson, and even Dalglish in his second reign and must sigh with exasperation about how inferior our leaders are. When they read about the third rebuilding project in 5 years, it must be so frustrating after our era of success when Liverpool seemed to build a team so simply and quickly that our eventual victories were akin to destiny. The simplicity of the factors for success is now being increasingly muddied by disgruntled, impatient and ignorant young fans who are increasingly shouting the loudest on forums like Twitter.
The difference in perspectives though is so natural and organic. How could we expect anyone to be any different, people had no say in when they were born and we should not hold our frustrations against either generation. Instead, we need to realise that fans are really just united in our frustrations about a poor team. We all want a return to the glory days, and our discontent should be firmly with an underperforming club, not each other.
Similarly, there have also been conflicts over the nature of our support and crowd makeup. Out-of-towners are sometimes spoken about with derision, often due to the perception that Anfield's atmosophere has deteriorated alongside the growing presence of non-Scouse fans. On the other hand, Liverpool's size of a club makes us proud to have such a global fan base, but sometimes it feels like that global fan base is viewed with a serious amount of contempt by Scousers. As Liverpool fans we should be proud of our city's multicultural heritage and our fans' varied backgrounds. Some of the support on our global tours have been far better than some support we have given in games; frankly we should all take some responsibility for improving the support ourselves if we deem it to not be good enough.
Individuals, particularly managers have been divisive too. Brendan Rodgers' dismissal came after his stock had plunged so low that no one could complain, but even after he finished 2nd and claimed Manager of the Season there were media figures and fans that did not rate him. Hodgson's appointment was praised in some quarters, mocked in others. Benitez's sacking polarised opinion perhaps more than any other though. Every Liverpool fan who is plugged in to twitter will know the positions of the famous fans, journalists or ex-players on every single one of these managers, and we wrongly judge them according to their opinions.
We need to understand that the key theme behind each managers' eventual dismissal was simply bad football. To put it bluntly, Liverpool's managers have failed the club over the last 20 years. Of course, the failure is relative and not absolute: there have been individual successes, a smattering of silverware – mostly second-rate competitions though – and some fun seasons; however, all have failed in the sense that performances in many regards did not match the standards that anyone associated with Liverpool even want.
To the present: Liverpool fans, old or young, Scouse or Indonesian, all universally believe that they have got a fantastic manager. I can hardly remember a time in my life when there has been such unity behind a man, behind his principles and his ideas. Even Steven Gerrard divided opinions more than Jurgen Klopp has in his first week. Forget any of the issues that Liverpool may be suffering, as fans we know that when we are united and in full force there are very few supporters in world football who will match us with the same fierce passion.
'The Liverpool Way' is something that has been installed in every Liverpool fan's psyche from the day they started following the club, whatever the background. However, barring the odd blip maybe once every 7 or 8 years, our club has been frankly bang average for the last 20 years. There has been so much friction between fans in this period that it should be so straightforward to build the association between discontent and simply poor performances, but there are still so many issues over which we wage wars. Under Jurgen Klopp though, Liverpool now have a unique chance to finally rebuild a fractioned fanbase into the greatest in the world, and maybe we can finally put some of these silly arguments behind us.