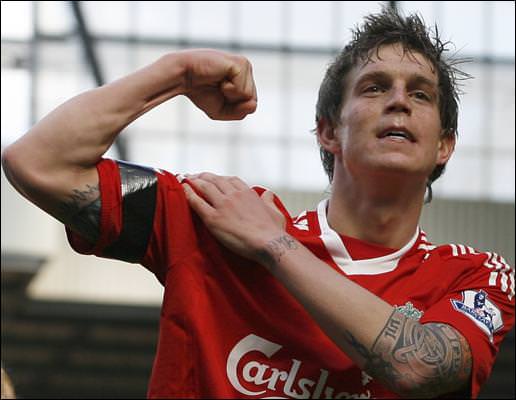 Daniel Agger - Too good to keep?

In the 2006 January transfer window, Daniel Agger moved to Liverpool from Brondby for what was a club record fee for a defender, at £5.8m.  Agger made his Liverpool debut that February against Birmingham City, a match which also saw the 'second coming' of Robbie Fowler.  However, the Dane was limited to just 4 appearances for his new club that season due to injury.[rss-cut]
Agger forced his way into the team during his first full season at Liverpool. Sami Hyypia, who had made 57 appearances in the previous season, played just 29 times, compared to Agger's 43, as Liverpool made it to their second Champions League final in three years.  However, in the years since, injuries have restricted Agger to less playing time, with 6 appearances in 07/08, 26 in 08/09 and 36 in 09/10.  These numbers suggested progress, but with more injuries this season, Agger now looks unlikely to play 30 games for the third time in his five full seasons at Liverpool.
There has often been uncertainty surrounding Agger's injuries, be it unfair rumours about his personal life, or him returning from international duty to be out for an unspecified length of time.  At the time of writing, it is rumoured that Agger will return to the Liverpool team to face Braga in the second leg of the Europa League last 32, after already missing several games under Dalglish through illness.  Also, today it has been confirmed that Agger will be in the Denmark squad for the upcoming international matches, something Liverpool fans will dread because of his history of returning from international duty injured.
Under Rafael Benitez, Agger was crucial to Liverpool's style of play.  The team generally pressed high up the pitch, so needed a defender with at least some pace and needed defenders who were comfortable on the ball for the possession football.  In Benitez's 4-2-3-1 formation, Agger often pushed forward with the ball, working well with the deep lying central midfielders, usually Javier Mascherano and Xabi Alonso.
With Roy Hodgson in charge, Liverpool abandoned the pressing game, opting for a rigid midfield 4 in front of the regular 4 defenders.  Long balls up to Fernando Torres were encouraged and, unsurprisingly, results faltered.  Despite certain quotes since being dismissed by the club, it was clear that Agger was far from happy under Roy Hodgson.  Agger included, Liverpool's best players were not suited to Hodgson's small club tactics and it was a case of 'the sooner the better' for Hodgson's sacking.
The return of Kenny Dalglish as manager brought a return to the Liverpool way.  Passing football is now encouraged, rather than frowned upon, the opposition is pressurised, as opposed to being allowed time on the ball and, perhaps most importantly, the style of play suits Liverpool's best players, instead of alienating them.  When utilised as part of a four man defence under Dalglish, Agger is not only allowed to play the ball and start attacks from the back, he is encouraged to do so.  When a 5-3-2 formation (or a variant of it) is adopted, Agger benefits further, playing as a spare player at the back when Liverpool are in possession and utilising his offensive skills.  This is something which is particularly beneficial at Anfield when teams play for a 0-0 draw.  The first goal against Stoke City in February came from a free kick won following one of Agger's many forays forward with the ball.
The addition of Andy Carroll could also bring out the best in Agger.  As mentioned earlier, long balls under Roy Hodgson were aimed at Fernando Torres or David Ngog, neither of whom is suited to that style of play.  However, Agger is capable of playing accurate long passes, opposed to the 'hit and hope' long balls from other defenders.  Accurate long passes to Andy Carroll would be useful as an extra option for Liverpool, without having to be the preferred style of play.  If the opposition chose to push up, Suarez's pace would be more of a threat.  Sit back and Carroll can be given the ball in more dangerous areas and Agger would have more space to move into from the back.
Liverpool's squad needs strengthening further, but a ball playing central defender would be one of the more crucial additions.  In what he can offer from centre back, Daniel Agger is unique in the current crop.  Carragher, Skrtel and Kyrgiakos all have their strengths, but none of them are as confident and capable in possession as Agger, who also offers more 'balance' in being left footed.  Danny Wilson has had a few games and could possibly offer something similar to Agger, but is clearly one for the future, not right away.
Clearly, Liverpool are a much better team when Daniel Agger plays, so he should be a first choice in the centre of defence at the moment.  However, because Agger offers so much, his absence is felt much more than that of other players.  From full back, Fabio Aurelio is a strong passer of the ball and clever going forward, but also suffers too much from injuries.  However, Glen Johnson and Martin Kelly can also provide attacking intent from this position, so he is not as badly missed.
The ball playing defender is integral to Liverpool's style of play, allowing better possession, more attacking football and more effective high pressing (if the ball is won high up the pitch, the defender can actually use it).  With Agger being injured so often though, and at 26 showing no signs of staying fit for a full season, somebody new needs to come in.  Playing two central defenders comfortable on the ball works well for Barcelona, but they are a phenomenon.  Should Liverpool choose to play Agger alongside this suggested new signing, it could mean the end for Jamie Carragher, which would have repercussions itself.  Another option would be to have Agger as back up but, approaching the prime of his career, he is unlikely to settle for that.  Liverpool's new owners are also well known for their dislike of overpaid, underused players, and would presumably be against Agger collecting around £60,000 per week to sit on the bench.  The only remaining option would be to sell Agger.
Admittedly, selling Agger would be controversial.  After all, he is a quality player who adds something that others in the Liverpool squad cannot and is well recognised in Europe as a fine defender.  However, his transfer value, and his input to the Liverpool team, drops with every injury he picks up.  Buying a defender who can do the same, very valuable job and be available for the majority of games would be Liverpool's best option.  Unfortunately for Agger, this could mean him leaving, not because he isn't good enough, but because he is too good to keep.
Twitter – @PaulBoyham
Originally posted on The Kop: Daniel Agger: Too good to keep?