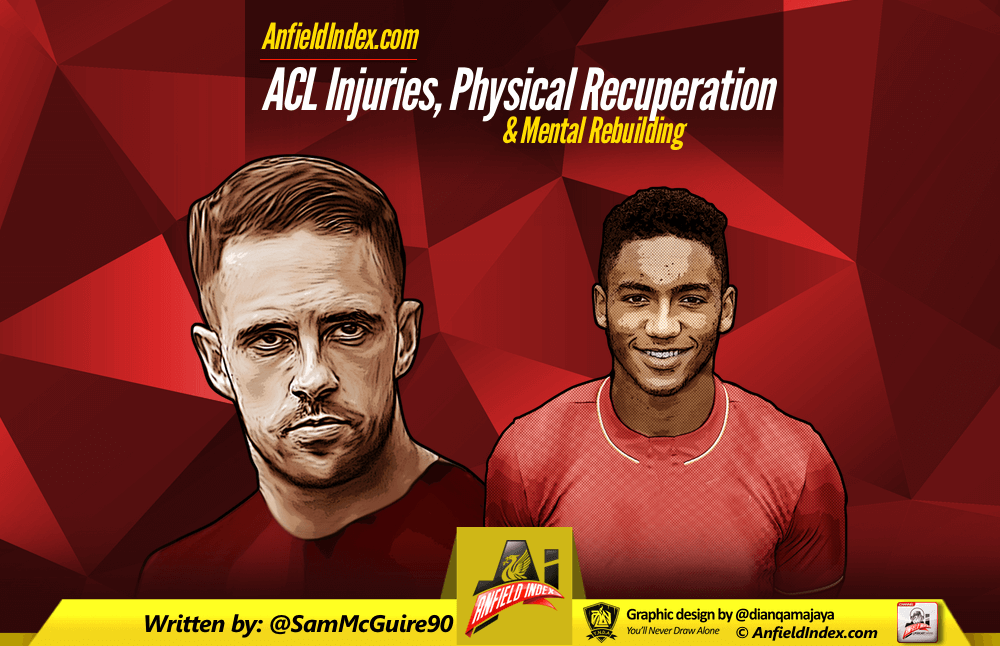 ACL Injuries, Physical Recuperation and Mental Rebuilding

There's been a feel good factor around Liverpool for the past 10 days. The appointment of Jurgen Klopp have given new fans a new sense of belief and hope. However,  like everything in life all good things must come to an end and Liverpool fans have been brought back down to earth with a bump this week with the news that both Joe Gomez and Danny Ings are ruled out for the rest of the season with Anterior Cruciate Ligament injuries.
I've seen a lot of people tweet about this injury. There's a general consensus that the development in modern science means nearly every injury can be fixed without lasting effects. Modern day science is amazing, but players aren't like cars. You can't just fix a problem and carry on as normal. With players there can be lasting damage, not physically but mentally.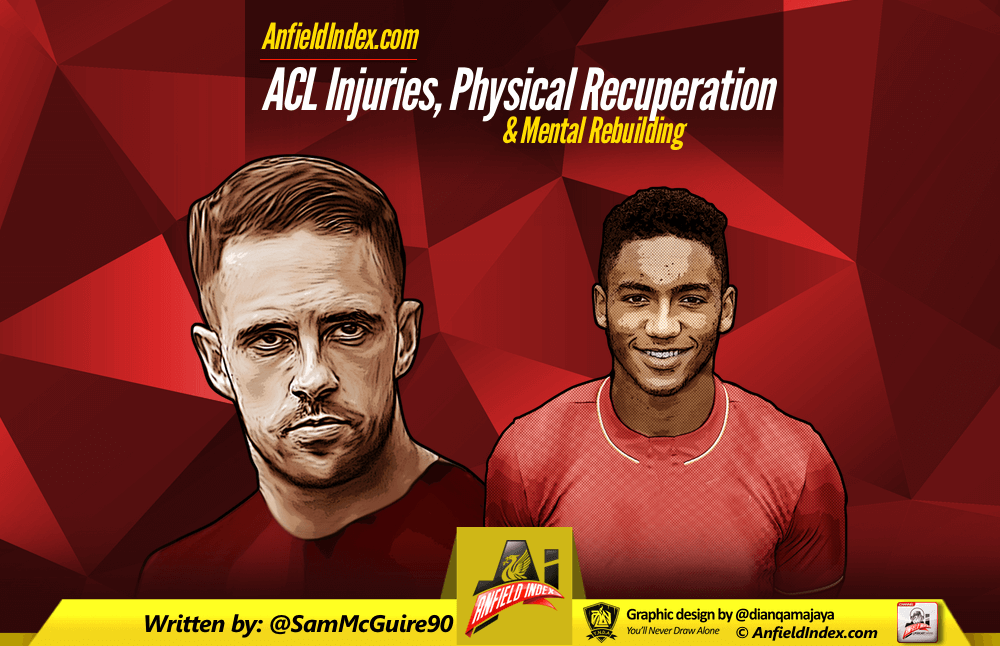 I speak from experience when I say recovering from an ACL tear is a struggle. I was unfortunate enough to tear mine when I was 16. At the time I was on the books of Manchester City. I was playing for my county, my town, my school and my local team whilst training with City every fortnight. I was a goalkeeper at the time which was a chance situation. When I was about 12 the club I played for lost their 'Keeper (no he didn't die, he just moved away), my Dad was the coach of the team and stuck me in goal because when we used to play football in the back garden I'd go in goal and call myself Buffon.
I've watched matches in the past when players have done their ACL and the commentators make out as though an innocuous tackle shouldn't do that much damage.
 "It's just a knock, they'll run it off."
I'm not particularly sure why commentators seem to think their needs to be a big crash and bang for an injury to be severe. A leg doesn't need to be bent in half for it to be severe. Blood doesn't need to be gushing.
I'm embarrassed to say I tore my ACL after buying new boots and being eager to bed them in before my match the following weekend. It was a Sunday evening and I was playing a game of finals with a few friends after training had finished. I went to take a shot and one of them stood on my foot and planted it as the rest of my knee tried to follow through with the shot. Sounds like nothing, right?
I'm not sure how to describe the pain really. I felt like something pulling, getting really taut and then popping when the pressure got too much. I used a few choice words as I picked myself back up and took the penalty I decided I was owed. The games ended and I hobbled home like the idiot I was (and still am).
Whenever I picked up a knock I used the process they taught in GSCE Sports: RICE. This stands for Rest, Ice, Compression and Elevate. So I took myself off to bed with a strap around my knee and ice tucked inside and thought nothing of it. Until the next morning.
I can still remember it vividly. I woke up for school, went to stand up and it felt like my knee had exploded. I'm not sure if you're familiar with Deep Heat, that stuff they say to put on aches and it makes the muscle feel warm, but it felt like my knee had been injected with that. I was rolling around on the floor, not able to formulate a sentence and throwing things at my door to get the attention of my sister who in turn shouted my Mum and I somehow ended up in the car on the way to the hospital.
The X-rays are always fun.
"Just bend your knee please."
Yeah, I really can't.
"You can, I'll help you…"
No, wait, that sounds ominous. It's like they want to test your resolve. Bending the sore knee until you eventually swear and audition for a part in the Exorcist.
"Your mother sucks cock in hell, stop touching my f*cking knee".
Things get a bit blurry then. Painkillers are a beautiful thing.
It gets boring being on crutches and not being able to participate in sports. Whilst I was injured my school team had a semi-final at Anfield and I had to sit on the bench and watch. That's when it starts getting you down mentally. You go from "I'll get back from this" to "this is never ending". Weeks turn into months and then the real struggle begins: the physio.
It's designed to help. It's designed to push you but if they push too hard they'll break you. It's emotional torture getting back from physio and being in excoriating pain because they wanted you to do those 10 extra reps. Then it's even worse knowing the next day you have to get up and do it all over again.
That's not it though. You get through all of the physio sessions and you face another civil war with your mind. The moment you step back onto a football pitch. People always say it looks like a player is holding back when they return from an injury and I know exactly why if that's the case. You know the pain football can cause, you don't want that pain so you, in some ways, go into safe mode.
I was cleared to play. Doctors and the physio said my knee would be stronger than ever and I should've been raring to go but I was scared to play. There's a mental block that you sometimes just can't push past.
The 70-30 tackle in your favour you jump out of.
The time you hesitate to play a long pass because of the strain it puts on your knee.
The save you could make but you fear pushing off that knee at pace would ruin you again.
Your head can be a scary place at times and the physio can't fix that part of you. You're sat with your own thoughts reliving the pain of the injury every single day.
An Arduous Journey
I'm sure both Joe Gomez and Danny Ings will come back stronger than before. I'm sure they'll get the best treatment available, FSG's ties to the experts in America will see to that. I just hope the mental side isn't overlooked and the players themselves aren't afraid to admit it if that's the case. It's a mental challenge as well as a physical rebuild.
It's not just about the first step. It's about the first tackle. The first shot. The first everything. It'll be like that up until instinct kicks in and it becomes natural again. Instead of thinking about doing it you're just doing it. My moment came in the final that happened to be at Anfield. A shot was deflected, I was going one way and had to adjust to keep it out and without even thinking I'd reached the shot and tipped it wide. My knee didn't give way and confidence took over. It was something that simple.
I wish both players a speedy recovery.