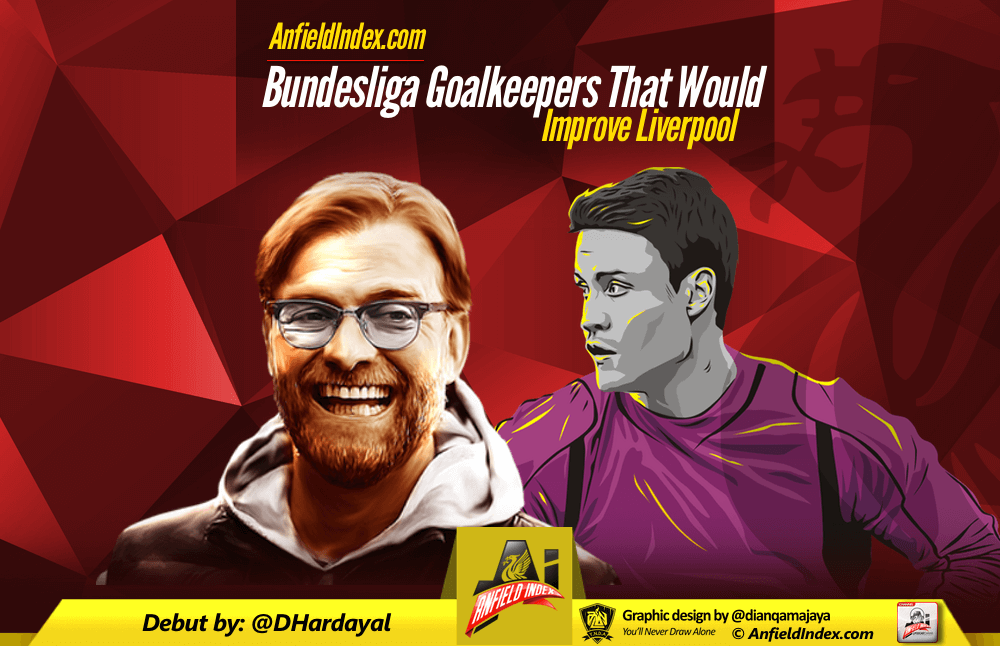 Bundesliga Goalkeepers That Would Improve Liverpool FC

It's fair to say David De Gea almost, certainly, single-handily dragged our bitter rivals to that Champions League spot last season, so I guess it wouldn't be imprudent to slap a heavy investment towards a dominant number one.
Whilst newly appointed Liverpool boss Jurgen Klopp may well work his magic on some of the fringe players in the squad, it may be prove to be an arduous task to convert Simon Mignolet into the quality required to compete at the highest level.
I guess in that case, it would be appropriate to ransack Klopp's former domain in search for a potential replacement. With Marc-André ter Stegen and Kevin Trapp making big money moves to Barcelona and PSG, it seems as though the Bundesliga may well be the harvesting ground of Europe's top keepers.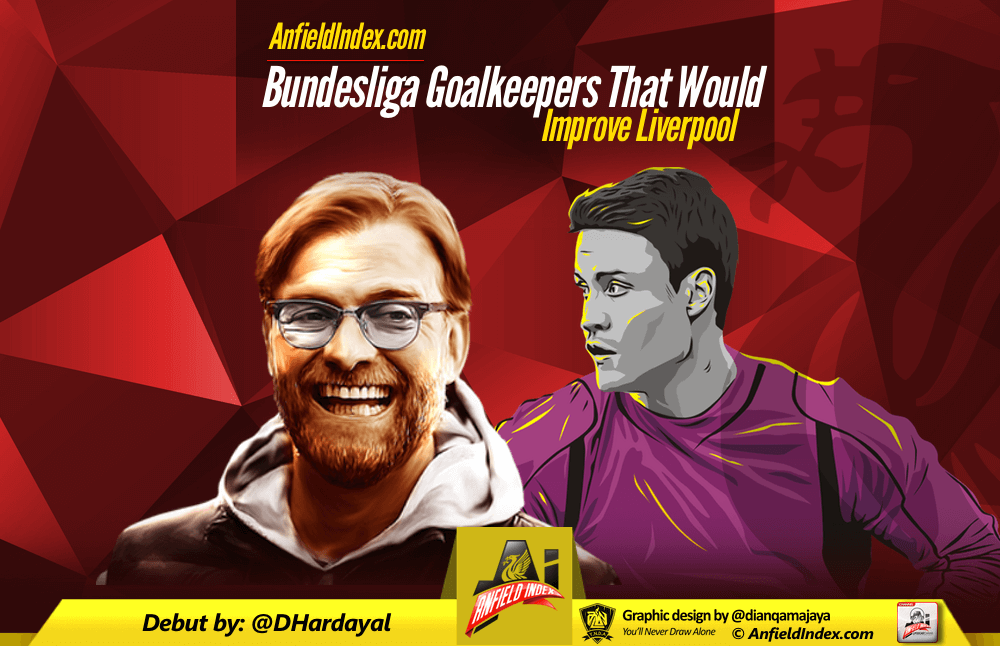 The goalkeeper position is not exactly the most glamorous, neither is it the most proactive over the course of a match, making assessing goalkeepers quite a challenge. Therefore instead of being heavily reliant on just my own opinion I have factored in a number of stats to portray a more balanced evaluation of my selections.
For the following examples I have included Manuel Neuer as a guideline, but given his speciality at his role and Bayern's superiority, he'll probably show up as an extreme in most of the data sets. The remaining keepers I believe are the pick of the bunch and are reasonably attainable.
Although, I love the eccentricity of Hoffenheim's Oliver Baumann, I doubt Anfield will be as forgiving with his moments of mayhem, therefore I've excluded him from my selection. Roman Burki's recent move to Dortmund in the summer makes him far from a viable option but is worth mentioning given his standout performances from last season. The Swiss international has hastily replaced the wilting Roman Weidenfeller and is well on track to joining Europe's elite.
I guess we should start discussing a few feasible alternatives then?
Borussia Mönchengladbach attained Basel's Yann Sommer in the summer of 2014, a masterful coup to the replace fan-favorite ter Stegen, the former was drafted in from Basel for a respectable fee of just €9m. It's fair to say that Sommer has excelled between the sticks for the Borussian club. His rendition of 'No Diggity' during his initiation was actually quite fitting: "I got to bag it up" – which is exactly what the 26 year-old did, offering ample protection in his first season, keeping 15 clean sheets in the Bundesliga in the process. Apart from the number of impressive saves aiding Gladbach to achieve Champions League qualification, Sommer also took charge of the defensive unit, organising his back four where required and to great effect, a laudable feat considering only just have being integrated into the squad.
FC Köln were one of Bundesliga's surprise packages last season following their promotion, and much of that credit should be commended towards Timo Horn. Not only does Horn strike a remarkable resemblance to the lovable Alberto Moreno (or is it just me?), he also really strutted his athleticism in his first full season at the top level and has carried on his form into this season.
Below we have a bubble chart, the size of the bubble indicating the number of shots faced this season, the bigger the bubble the greater the number of shots faced. The Y-axis displays the save success of each keeper, hence the higher up the bubble the more impressive the save success.
I made a slight error on my part with this graph, having realised I only used stats from this season halfway through designing this chart! But, I guess it displayed more or less what I imagined with Yann Sommer being a slight exception due to Gladbach's poor start to the season.
Here, we see Timo Horn and Loris Karius have faced the most shots (which is expected given Köln and Mainz are not the same calibre as the teams the other goalkeeper play for) but both have outstanding save success rates (74.5% and 77.8% respectively). Mignolet's rate of 61.5% makes for bleak reading, just to put it into context, from keepers to have started every match in the Premier League this season, only three others have fared worse.
Ralf Fährmann boasts the most impressive save success rate this season of 83.3%, one of the best in Europe, having faced a reasonable number of shots too. Schalke's number one was a major determinant in securing a Europa League spot following a slightly mundane 14/15 season for the club. The 6ft 5in keeper poses quite an imposing figure as the Miners' last line of defence. Often with tall keepers you could question their mobility but Fährmann possesses great agility, begging the question as to why he's been often overlooked by Joachim Löw for a call up to the national team. Fährmann, having recently purchased a house not too far from Gelsenkirchen, has stated he still sees his long-term future at Schalke, potentially making it a difficulty for us to pry him away from André Breitenreiter's side.
One aspect of Mignolet's game that has proven to be an irritant to Liverpool's fans is his tendency to punch the ball rather than claim balls launched into the box. So, I've produced a bar chart (above) to help visualise which one of these options the selection of keepers I've chosen prefer. Only one other keeper replicates a similar habit; Karius' punches clear per game and successful high claims per game only differ slightly, an area of the young keeper's game we should be wary of despite his confidence on the pitch. He's comfortable on the ball and may be worth a punt for Liverpool considering he possesses the attributes required to develop into a class keeper and would probably command a lower fee than the other keepers mentioned.
At this current period, I believe Liverpool are not in a position to nurture a prospect given the paramount of importance a keeper will bring to our back four, and therefore we should opt for the more experienced Fährmann, Sommer or even a slightly younger Bernd Leno, with either the abundantly talented Horn or Karius as back-up…if we're being greedy that is!